Sichuan 'Fish Fragrant' Pheasant
October 19, 2020 | Updated January 22, 2021
As an Amazon Associate I earn from qualifying purchases.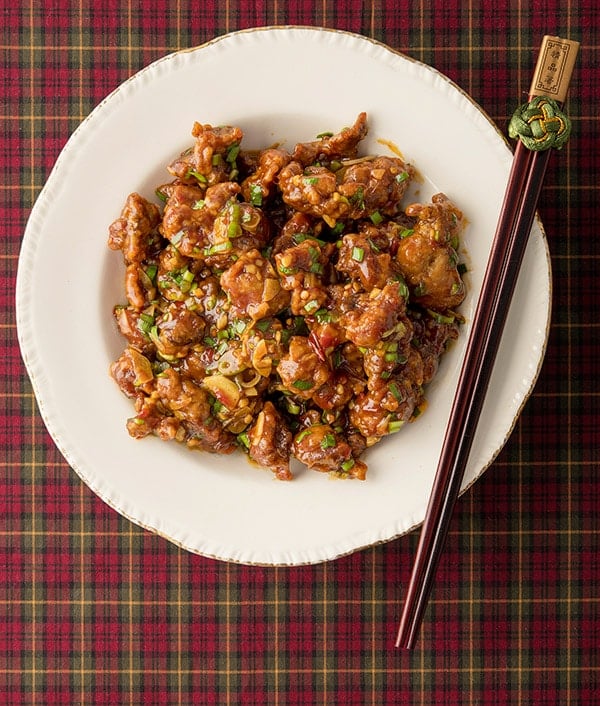 I know, many of you are wondering what the heck I'm talking about. Fish fragrant? Yu Xiang? Are we talking about a fish dish or a chicken or pheasant dish here?
A 'fish fragrant' sauce is a venerable sauce in Sichuan cuisine, and while there are many theories as its origin, the one I believe in is that this spicy sauce was used to mask fish from the province's rivers that might have gone a little off.
Called yu xiang in Chinese (Sichuan? Not sure which exact dialect), fish fragrant anything is zippy and spicy and tingly from a healthy mix of ginger, scallions, garlic, chiles and Sichuan peppercorns — these are the powerful, memorable, addicting flavors that first seduced me as a child, when I used to eat often at a Hunan restaurant; Hunan cooking uses this sauce, too.
You will often see fish fragrant sauce paired with eggplant, in no small part due to the success of Fuchsia Dunlop's excellent book The Food of Sichuan, which I highly recommend. That said, fish fragrant beef, pork slivers, and chicken are all pretty common. So why not pheasant?
After all, pheasants are Chinese in origin. And sexing up an otherwise mild (bland?) disco chicken breast with a fish fragrant sauce is just the thing.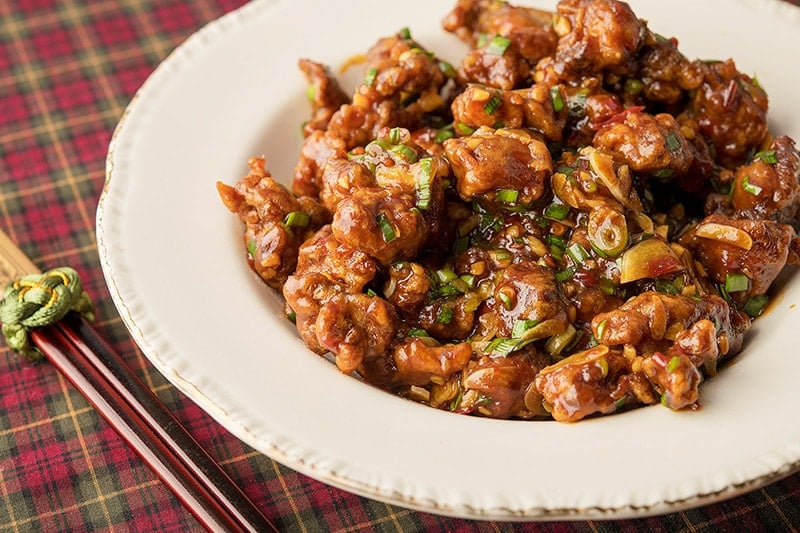 While I, like most American lovers of Sichuan food, am influenced by Dunlop, my recipe's origin is another addictive pheasant recipe I make: General Tso's pheasant, which if you haven't made, you need to. It's basically crack. It's the same breading and pre-frying process, only in this case I use a different sauce.
Nothing in yu xiang sauce is hard to find with the possible exception of Sichuan peppercorns. I buy Sichuan peppercorns from Penzey's, but I've been really enamored with green Sichuan peppercorns
lately, which are more citrusy and fragrant than the regular ones; you can get them on Amazon via that hotlink.
And if you don't have pheasant breasts, virtually any other meat will do. Obviously chicken, turkey, quail, grouse, partridge are all good options, but so would slivered pork loin. If you are a vegetarian, try it with substantial mushrooms, like cremini or chanterelles or porcini.
I haven't tried making fish fragrant venison or duck yet, but I can't see how it would be bad. I have made a fish stir fry with the fish fragrant flavor combination.
As with all stir-fries, you want to have everything cut and ready in advance, as it comes together quickly. The initial frying step can be done up to a few hours in advance, however. That's how they do it in Chinese restaurants.
Serve with steamed rice and a beer.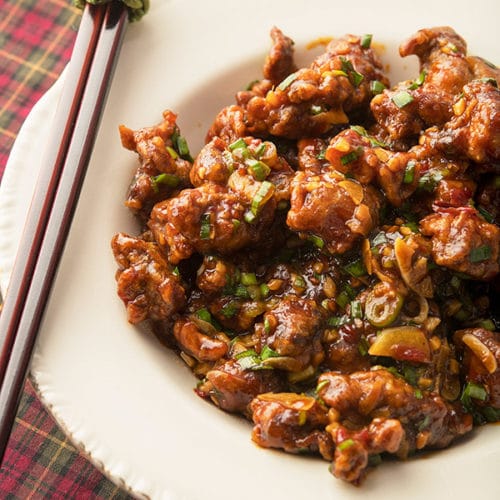 Sichuan 'Fish Fragrant' Pheasant
As I mention above, you can use any tender white meat in this recipe. You will want the Sichuan peppercorns if at all possible, but in a pinch you can leave them out. It won't be as good, though.
Ingredients
MARINADE
1

pound

pheasant breast meat, cubed

4

tablespoons

potato, tapioca or corn starch

2

egg yolks

1

tablespoon

soy sauce

Oil for frying
STIR FRY
2

tablespoons

minced garlic

2

tablespoons

minced ginger

4

scallions, sliced thin

(white and green parts separated)

6 to 10

small hot chiles, like Thai chiles, minced

(optional)

2

tablespoons

chile bean paste

(Pixian or doubanjiang)

1/2

teaspoon

potato, tapioca or corn starch

1/4

cup

chicken stock

2

tablespoons

Chianking or malt vinegar

2

teaspoons

soy sauce

1

teaspoon

ground Sichuan peppercorns
Instructions
Whisk together the marinade ingredients (except the oil), leaving no lumps, then work them into the pheasant breast with your hands until each piece is well coated. Let this sit while you chop everything else.

Using a mortar and pestle or a spice grinder, grind the Sichuan peppercorns to a powder.

In a wok or deep pot, heat several cups of oil until it hits about 325°F to 350°F. If you don't have a thermometer, flick a little flour into the oil and when it sizzles instantly you are good to go. Add about 1/3 of the pheasant pieces and use a butter knife or chopstick to separate them. Let them fry until golden brown, about 3 minutes or so. Move the pheasant to a cooling rack set over paper towels to drain. Repeat with the next third of the meat, and then the last third. This all can be done up to a couple hours before you serve.

When you are ready to serve, have your steamed rice already made. Heat about 3 tablespoons of the oil in a wok or frying pan over very high heat. When it begins to smoke, add the garlic, ginger and the white parts of the scallions, as well as the chiles (if using), and stir fry them about 30 seconds. Add the chile bean paste and the reserved pheasant and toss to combine for a few seconds.

Whisk in the 1/2 teaspoon of corn starch with the stock and add that to the wok, along with the vinegar and soy sauce. Toss to combine and boil furiously for a minute or so. Turn off the heat, add the Sichuan peppercorn and the green parts of the scallions, toss to combine, and serve over rice.
Notes
NOTE: The chile bean paste is in most supermarkets in the Asian aisle. As for the frying oil, it can be strained and reused several times before discarding. 
Nutrition
Calories:
283
kcal
|
Carbohydrates:
17
g
|
Protein:
26
g
|
Fat:
12
g
|
Saturated Fat:
4
g
|
Cholesterol:
167
mg
|
Sodium:
488
mg
|
Potassium:
351
mg
|
Fiber:
1
g
|
Sugar:
5
g
|
Vitamin A:
475
IU
|
Vitamin C:
20
mg
|
Calcium:
39
mg
|
Iron:
2
mg
Nutrition information is automatically calculated, so should only be used as an approximation.