Cactus Salad, Ensalada de Nopales
May 28, 2020 | Updated March 22, 2021
As an Amazon Associate I earn from qualifying purchases.
No nation eats more cactus than Mexico, and you will see it most often as ensalada de nopales, cactus salad.
I know to many this sounds weird. Aren't cacti spiny and awful? Indeed they are. But once you know how to clean nopales, as they are called in Spanish, you are good to go.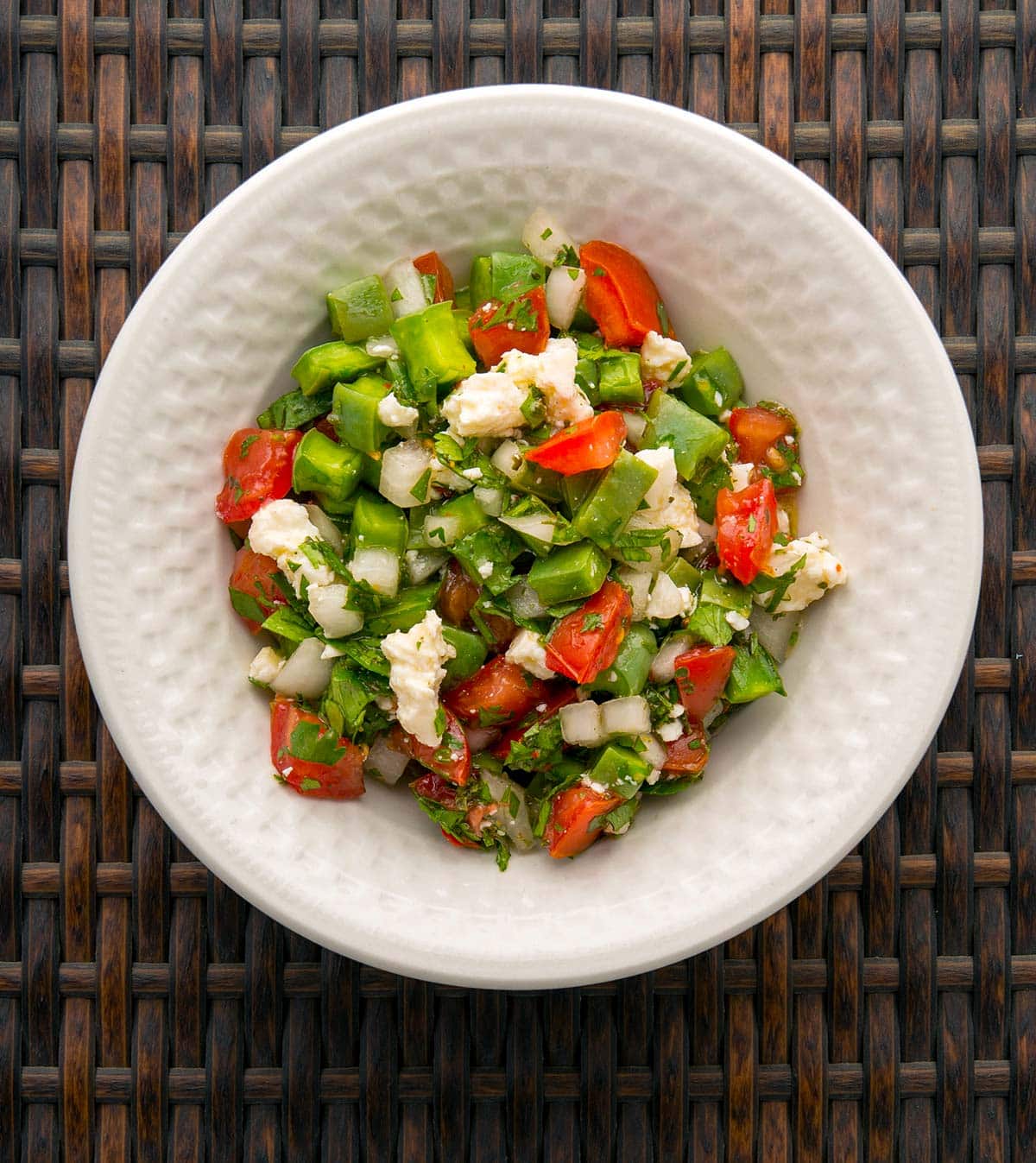 Keep in mind I am talking about the paddles from the various species of opuntia cactus, the prickly pears or beavertail cacti. The paddles of all species are edible, but they are best eaten when young and tender, nopalitos in Spanish.
Some species of prickly pear grows pretty much everywhere from Canada to South America. There are cultivated varieties with fewer spines or larger paddles. I bought a few from my local farmers market years ago and now, every spring, it's nopales season. They only set new paddles in spring where I live, and this will be true in most places, although in the desert and in Mexico they will set after significant rain.
Why bother? Aside from the fact that nopales are super nutritious and are apparently a good thing to eat if you have diabetes. I eat them because they taste good. Imagine a lemony, crunchy green bean.
What about the nopales' legendary slime? The babas, a slime worthy of Ghostbusters? Yes, it's true. But there are a lot of ways to remove the slime from nopales. Incidentally, a single paddle is called a nopal, just as a single dumpling in a batch of tamales is called a tamal.
Many recipes for ensalada de nopales will have you cook your nopales to remove the slime. This is perfectly OK and if that's how you like your cactus salad, go for it. I, however, prefer to eat them raw. The flavor is brighter and nicer.
I learned the method of removing the slime from raw nopales in the awesome cookbook Nopalito: A Mexican Kitchen. Dice the paddle as you want to later eat it, then toss with a fair bit of fine salt — fine salt is important because it draws out the slime better — let it sit and then rinse, rinse, rinse. Doneski.
After that, toss with the standard "Mexican salad" ingredients — you know it as pico de gallo — of diced tomatoes, white onion soaked in lime juice, a little Mexican oregano, cotija or feta cheese, a chile or six, and lots of cilantro. You can add a touch of olive oil if you want, too.
Ensalada de nopales is a healthy, tasty, easy salad to make that is a bit different from what you might be used to. After all, 126 million Mexicans can't be wrong!
If you want to make this a cactus feast, I'd add either a nopales tacos or nopales en escabeche, a cool pickled nopales recipe that you could also put in your tacos.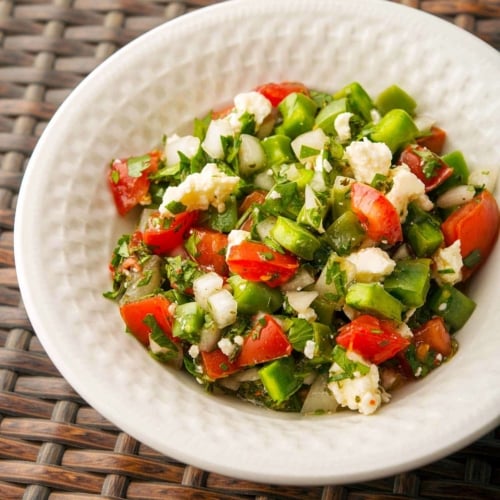 Ensalada de Nopales, Cactus Salad
This is an easy, healthy salad that hinges on the young paddles of the prickly pear cactus. If you don't gather them yourself, you can buy them already de-spined, and sometimes already diced, in Latin Markets. One note on this salad: Eat it straight away. It will get a bit slimy if you leave it for a day or two.
Ingredients
4

nopales paddles, despined

Fine grain salt

4

plum tomatoes, seeded and diced

1/2

white onion, chopped

1/4

cup

lime juice

2

serrano or jalapeno chiles, seeded and minced

1

teaspoon

Mexican oregano

(regular oregano is fine)

1

tablespoon

olive oil

1/4

cup

chopped cilantro

1/2

cup

crumbled cotija or feta cheese

1

avocado, diced

(optional)
Instructions
Dice the nopales and toss with salt. You want all the cut sides of the nopales to have salt on them. Put them in a colander in the sink and let this drain for 1 hour. When the time has elapsed, rinse the nopales under cold water until they are no longer slimy, which should take maybe 3 to 5 minutes. Pat dry with a kitchen towel put into a large bowl.

While the nopales are sitting in the colander, mix the diced onion with a little salt and the lime juice and let them pickle a bit. This takes the harsh edge off the raw onion. If you want, you can add the minced chiles to the lime juice, too.

When you're ready, mix all the ingredients together and serve.
Nutrition
Calories:
184
kcal
|
Carbohydrates:
11
g
|
Protein:
5
g
|
Fat:
15
g
|
Saturated Fat:
4
g
|
Cholesterol:
17
mg
|
Sodium:
218
mg
|
Potassium:
449
mg
|
Fiber:
5
g
|
Sugar:
4
g
|
Vitamin A:
765
IU
|
Vitamin C:
21
mg
|
Calcium:
116
mg
|
Iron:
1
mg
Nutrition information is automatically calculated, so should only be used as an approximation.