British Duck Pie
February 28, 2021 | Updated June 06, 2022
As an Amazon Associate I earn from qualifying purchases.
When life gives you lots of ducks, make a duck pie. This is a British meat pie, filled with lots of duck bits. It's mostly geared toward hunters, who get lots of ducks, but it can be made with farmed birds as well.
This is an absolute meat bomb of a duck pie. Based on Hugh Fearnley-Whittingstall's English pork pie recipe in his book The River Cottage Meat Book, I have adapted it with my own spices — and lots and lots of duck.
I use wild duck and goose meat here, although you could use domestic, and I find this is an especially good recipe to use with Canada geese, snow geese and diver or sea ducks, which need to be skinless and have all the fat removed. If you have trouble finding duck sausage, you can use pork sausage.
I make my own duck sausages, and I used my recipe for Toulouse sausages here. Feel free to use whatever floats your boat. I have lots of other sausage recipes here.
I'll say it again: This duck pie is heavy. It's for people who do a lot of manual labor, or hunters coming in from the field. Or you can just serve thin slices. You must — and I'm not kidding — serve this with a good quality mustard and lots of pickles. You need the acidity and zing of the mustard to counteract the meat and fat.
The one piece of special equipment you need to make this pie is a springform pan. If you don't have one, buy an 8-inch to 10-inch pan here.
I will acknowledge that this recipe is time-consuming. But many steps can be done days in advance, and when you are finished, this pie will keep in the fridge for up to three weeks.
I have a selection of other British style pies here on Hunter Angler Gardener Cook, including a steak and kidney pie, a British fish pie with leeks, and of course Cornish pasties.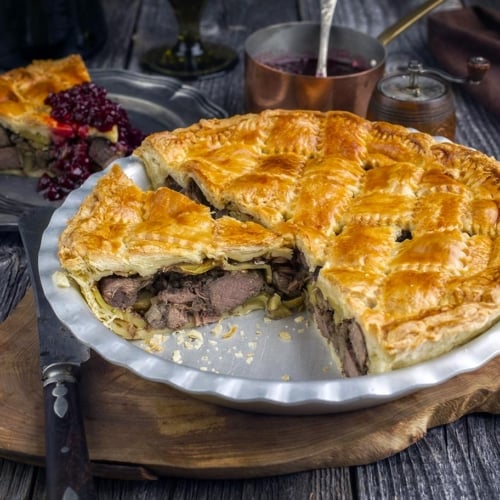 British Duck Pie
This is a great make-ahead recipe that can become your lunches for a week if you make it on a Sunday. 
Ingredients
CRUST
4 1/4

cup

all-purpose flour

1 1/2

teaspoons

salt

7

tablespoons

lard

7

tablespoons

butter or duck fat

1

cup

warm water

1

egg,

beaten
FILLING
2

pounds

duck or goose legs

2

cups

duck,

chicken or beef stock

Salt

1 1/2

pounds

duck or pork sausage

10

ounces

pancetta or bacon,

minced

12

sage leaves,

minced

A 3-inch sprig of rosemary,

chopped

1

teaspoon

salt

2

teaspoons

black pepper

1

teaspoon

cayenne

1 

egg,

beaten
Instructions
Start by braising the duck legs in the stock. Salt the legs well and arrange in a Dutch oven or other heavy lidded pot. Pour in the stock and cook at 300°F until the meat falls off the bone, which could take anywhere from 90 minutes to 3 hours, depending on how old your birds are. When the meat is done, pull it off the bone and reserve. This step can be done up to several days in advance.

Make the crust. Mix the flour and salt in a large bowl and make a well in the center. Melt the lard and butter or duck fat in a small pot, then pour it into the well. Pour in the warm water and beaten egg and mix into a dough. Knead it by hand for 3 to 4 minutes, until it forms a cohesive ball. Chill in the fridge for at least 1 hour. This dough can be made a day in advance.

Make the pie. Cut off about 1/4 of the dough and set aside. Roll out the rest with a rolling pin until it is somewhere between 1/8 and 1/3 of an inch thick. It is supposed to be a thick crust you can manhandle, so don't get dainty. Make sure the dough can fit into your springform pan and up the sides. This usually determines how thick you roll the dough out. Press the dough into the springform pan so it reaches well up the sides, ideally to the top.

Preheat the oven to 350°F. Mix all the meats well with the herbs and spices. Fill the pie with the mixture.

Roll out the remaining dough to about the same thickness as the rest of the crust. Paint the top of the crust with the beaten egg and lay the rolled out dough on top. Seal by crimping the edges. Cut a hole in the center of the top about 1/2 inch in diameter.

Bake the pie at 350°F for 30 minutes. Lower the heat to 325°F, and bake for another 1 hour and 15 minutes.

Take the pie out of the oven and release the springform sides carefully. Paint the whole pie with the remaining beaten egg and bake for another 15 to 20 minutes, or until golden.

Remove the pie from the oven and let it rest. There is a chance that the meats may settle inside the pie, leaving a big under the top. This does not always happen. If it does, you can either leave it alone — the pie will still taste fine — or you can fill the gap with some warmed duck demi-glace (or any demi-glace). It must be gelled because the liquid will need to set up as a solid when the pie is chilled.

Leave the pie at room temperature for several hours, until cooled. Then store in the fridge. Serve chilled or at room temperature with homemade mustard and pickles.
Notes
Note that prep time does not include the time it takes to braise your meats beforehand. 
Nutrition
Calories:
811
kcal
|
Carbohydrates:
42
g
|
Protein:
38
g
|
Fat:
54
g
|
Saturated Fat:
22
g
|
Cholesterol:
214
mg
|
Sodium:
1527
mg
|
Potassium:
341
mg
|
Fiber:
2
g
|
Sugar:
1
g
|
Vitamin A:
682
IU
|
Vitamin C:
5
mg
|
Calcium:
36
mg
|
Iron:
5
mg
Nutrition information is automatically calculated, so should only be used as an approximation.