As an Amazon Associate I earn from qualifying purchases.
Fesenjan is one of the iconic dishes of Persian cuisine, and is one of the best ways to cook duck legs. Chicken or pheasant work well, too, but I love that this recipe was created, thousands of years ago, as a duck recipe.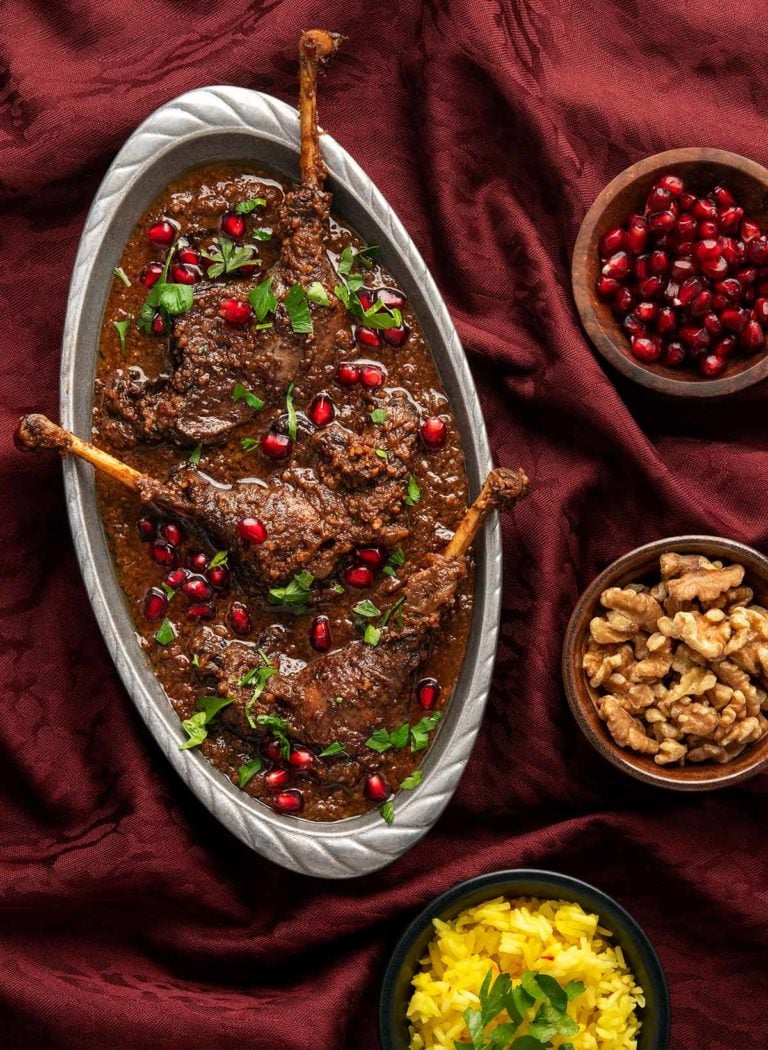 Fesenjan hinges on two ingredients, one easy to get, one less so: Walnuts and pomegranate molasses.
Walnuts are easy enough to find, but you will need a fancy supermarket like Whole Paycheck, or a Middle Eastern store near you to find pomegranate molasses, although you can easily buy it online.
There is a hack, however, that will get you close: cranberry juice. It's not the same, but since pomegranate molasses is very tart and reasonably sweet, and so is cranberry juice, it will get you close enough so that you can enjoy this dish without a mad search for the molasses.
Fesenjan, most commonly pronounced "fess-en-JOON," is traditionally garnished with pomegranate seeds, and pomegranates are typically available in supermarkets from November to January. If you can't find them, skip it.
My recipe also uses a little saffron, but you can skip that if you can't find it. Not all fesenjan recipes include it.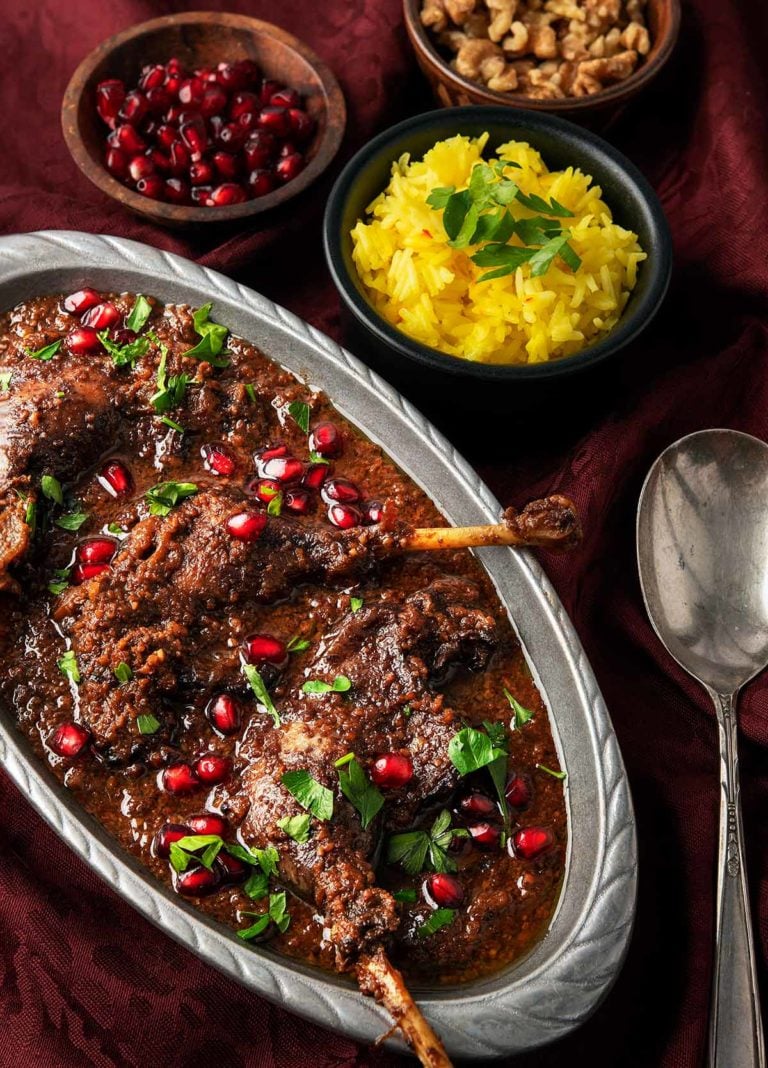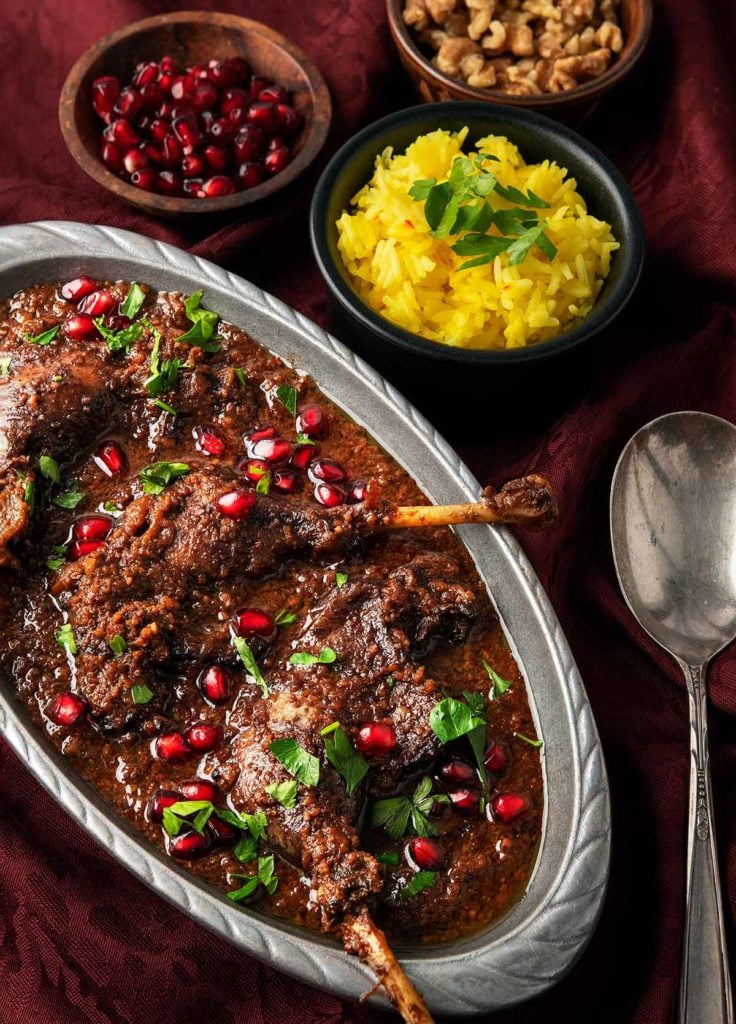 Not going to lie: Without the pomegranate seeds and parsley to garnish, fesenjan isn't the prettiest dish in the world. But the richness of the walnut sauce and the bright acidity of the pomegranate molasses will make you forget how it looks.
(Like this recipe? Try making my stuffed grape leaves as an appetizer to go with it.)
The origins of fesenjan are unclear, but according to Gil Marks' Encyclopedia of Jewish Food, the dish originated near the Caspian Sea, where there are extensive wetlands, and fesenjan became a favorite for the holiday of Rosh Hashanah. The Wall Street Journal has a great article on the history of fesenjan, which may well date back to 500 BCE.
If you are using store-bought duck or chicken, this will come together in about 90 minutes or so. Wild birds will take longer, so be patient: The dish is done when the legs are tender.
And while like most stews, fesenjan is better the day after it was made, it does not freeze well. Eat it within a week.
Fesenjan, Persian Walnut and Pomegranate Stew
This dish is normally done with duck or chicken legs, but you can use goose, pheasant, or turkey, too. Pomegranate molasses can be found in specialty store and Whole Foods, or online. Barring that, try using cranberry juice, which will get you close.
Ingredients
1

tablespoon

duck fat or clarified butter

3

pounds

duck legs

(or chicken legs)

1

large onion,

chopped (about 3 cups)

1/2

cup

pomegranate molasses

(see above for substitutes)

2

cups

walnut halves, toasted and finely ground

(about 1/3 pound)

2

cups

duck stock

(or chicken stock)

1/4

teaspoon

saffron,

(optional)

1/4

teaspoon

cinnamon

1/2

teaspoon

nutmeg

1

teaspoon

ground black pepper

Pomegranate seeds for garnish

(optional)

3

tablespoons

chopped parsley,

for garnish
Instructions
If the duck is fat, pierce the skin of the legs all over with a needle or the sharp point of a knife; do not pierce the meat. For most wild ducks you won't need to do this. Salt well and set aside.

In a large sauté pan, heat the tablespoon of duck fat over medium-low heat. Add the duck legs, skin side down and brown slowly, rendering the fat. Remove the legs as they brown and set aside.

Add the chopped onion and sauté until translucent. Return the duck legs to the pan, skin side up. Add enough duck stock, cover and simmer gently for 1 hour.

Stir in the ground walnuts, pomegranate molasses and the spices. Cover and cook over very low heat until the meat is tender, stirring every 20 minutes or so to keep the walnuts from sticking to the bottom of the pan. Turn off the heat and add more stock or salt to taste. You want the stew to be very thick, but not pasty.

Garnish with pomegranate seeds and parsley and serve with rice.
Notes
One interesting option you can do to make the stew more red is to add 1/2 to 1 cup of grated, raw, red beet into the stew about 30 minutes before you serve. This mostly adds color, not flavor. 
Keys to Success
Duck legs, especially wild ones, can take anywhere from 90 minutes to 3+ hours. This dish can handle long cooking time, so it's done when the meat is tender. 
If you use chicken, it should only take about 90 minutes total. 
If you can't find the pomegranate molasses, sub in an equal amount of cranberry juice.
Serve this alongside Persian saffron rice. 
Once made, this will keep a few days in the fridge. It does not freeze well. 
Nutrition
Calories:
678
kcal
|
Carbohydrates:
17
g
|
Protein:
50
g
|
Fat:
46
g
|
Saturated Fat:
9
g
|
Polyunsaturated Fat:
22
g
|
Monounsaturated Fat:
13
g
|
Cholesterol:
185
mg
|
Sodium:
199
mg
|
Potassium:
283
mg
|
Fiber:
3
g
|
Sugar:
9
g
|
Vitamin A:
179
IU
|
Vitamin C:
7
mg
|
Calcium:
67
mg
|
Iron:
5
mg
Nutrition information is automatically calculated, so should only be used as an approximation.