Chinese Tangerine Venison
December 16, 2019 | Updated August 11, 2022
As an Amazon Associate I earn from qualifying purchases.
Tangerine beef, in China, is the origin of the ubiquitous "orange" chicken or beef you see all over Americanized Chinese restaurants. But where that dish is all about a puffy batter and a cloyingly sweet sauce, real tangerine beef is all about tang, heat and crunch. Here's how to make it.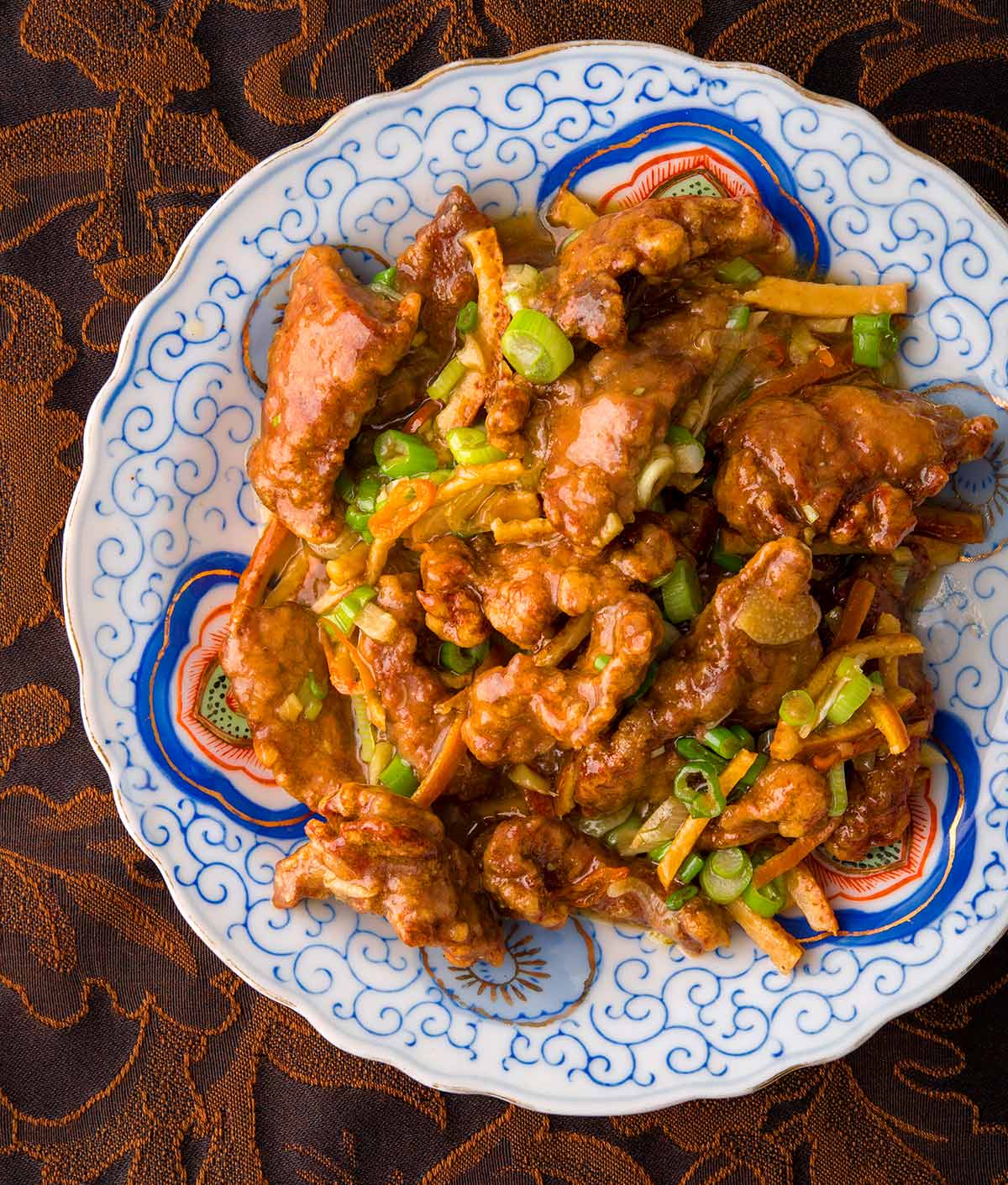 Tangerine beef has only a touch of sweetness, although you could sweeten it more if you wanted to, and there are enough chiles to make you notice. There's something more, too: The tangerine peels are ever so slightly bitter, which really add a layer of complexity to the dish.
According to my friend Kho Kian Lam, who runs the Chinese food website Red Cook, tangerine beef is originally a Sichuan dish served cold, without rice, as a sort of snack while drinking wine.
Dried tangerine peel is pretty easy to come by. You or your kids are probably addicted to those little mandarins, variously labeled as "cuties" or "halos." That's the tangerine I'm talking about. Peel a few, let them dry on the counter for a few days and you're good to go.
They keep in a glass jar on the pantry forever, however, and the Chinese prefer to use peels that are at least a year old. I've kept them in a Mason jar for years, aided by one of those little silica packets to absorb moisture so they don't mold.
If you are using beef, you would normally use sirloin. You can use the same cut from a deer's hind leg, but I prefer it with loin, backstrap. Use any lean, sinew-free part of the animal.
That said, if you do use tougher cuts, like hind leg meat, for tangerine beef, take a tip from the Chinese and marinate it in baking soda overnight first. Sprinkle about 2 teaspoons of baking soda over the thinly sliced meat, toss to combine and store in the fridge overnight. The next day, rinse off the meat, pat it dry and proceed with the recipe. This will tenderize it nicely.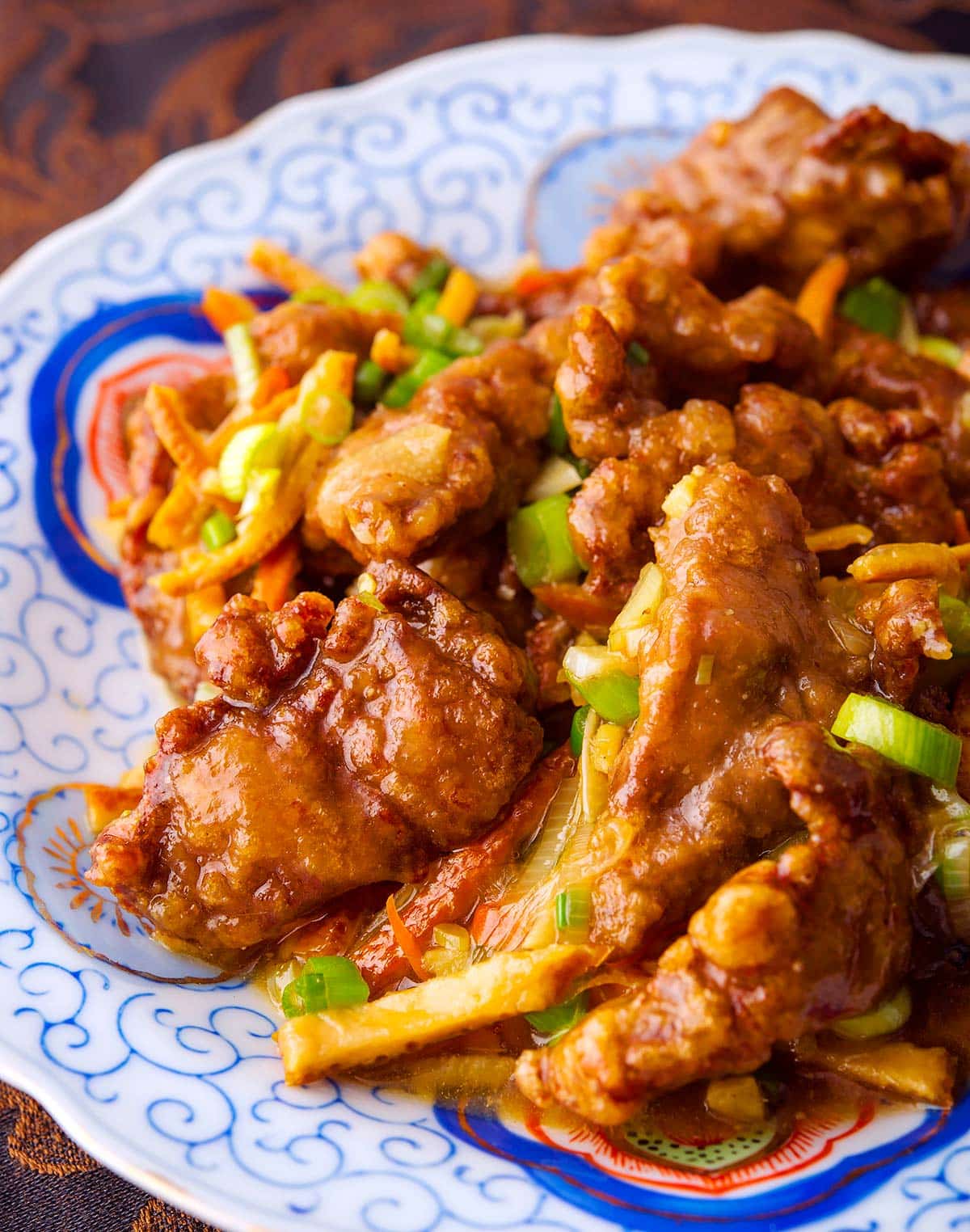 As with all stir fries, you need to have everything in place before you start, as it will all come together very fast.
Ideally, tangerine beef is made in a wok. If you don't have one, you will need more oil to fry the meat in. Don't worry, you can strain and reuse the oil several times.
Looking for other classic Chinese dishes that can use beef or venison? I have lots. Try my kung pao venison, venison with broccoli, or just a simple, straight up venison stir fry.
Tangerine Beef or Venison
This is a classic Chinese stir-fry that hinges on dried tangerine peels. Just buy some mandarins or "Cuties" or "Halos" and leave the peels out to dry. Serve with steamed rice.

Ingredients
MARINADE
2

egg whites

¼

cup

Shaoxing wine or dry sherry

2

tablespoons

peanut or other cooking oil

½

cup

corn or potato starch
SAUCE
¼

cup

venison or beef stock

3

tablespoons

tangerine soaking water

(See below)

2

tablespoons

soy sauce

2

tablespoons

Shaoxing wine,

dry sherry or dry white wine

2

tablespoons

rice or cider vinegar

1

tablespoon

sesame oil

1 to 3

tablespoons

sugar

2

teaspoons

corn or potato starch

½

teaspoon

salt

½

teaspoon

white pepper
STIR FRY
1

pound

beef sirloin or venison,

sliced into bite-sized pieces 1/8 inch thick

Dried peel of 1 or 2 thin-skinned tangerines

(Mandarins are best)

2

cups

peanut or other cooking oil

(see above)

2 to 6

dried hot chiles,

chopped (tsien tsin, Thai or arbol or cayenne)

4

garlic cloves,

minced

A 2-inch piece of ginger,

peeled and minced

6

green onions,

sliced into 1-inch pieces, green and white parts separated

2

teaspoons

crushed Sichuan peppercorns

(optional)
Instructions
Put the sliced venison pieces in a large bowl. Add the egg whites and use your hands to massage the meat with the egg whites, making sure each piece is coated. Now add the wine and oil and do the same thing. Finally, add the corn starch and mix to coat. It'll be a gloopy mess, but that's OK. Put the meat in the refrigerator for 30 minutes while you do the rest of the prep.

Place the tangerine peels in a bowl and pour hot water over them. Cover the bowl. In another bowl, mix all the ingredients for the sauce together (except for the tangerine water, which you'll add in a bit), and do your chopping of the chiles, garlic and green onions. Slice the tangerine peel into thin slivers and set aside. The peels will still be a little hard, but that's OK. When you've sliced the tangerine peels, add the 3 tablespoons of the soaking water to the sauce.

When you are ready to start, heat the oil in a wok or heavy, deep pan to about 350°F. Set a baking sheet or similar container nearby and get a Chinese strainer or slotted spoon, and either a chopstick or butter knife ready. Put about 1/2 of the venison in the hot oil and immediately use the chopstick to separate all the pieces, which will want to stick together. Fry over high heat until the venison turns golden brown and crispy, about 6 minutes. Remove with the strainer and set in the baking sheet to drain. Repeat the process with the other half of the venison

Drain off all but about 3 tablespoons of the oil (you can reuse it). Add the chiles to the hot oil and stir fry until they turn fragrant, about 30 seconds. Add the ginger and white parts of the green onions, and stir fry 1 minute. Add the garlic and tangerine slivers and stir fry 30 seconds. Add the venison back to the wok and toss everything to combine.

Stir the sauce vigorously (the corn starch will have settled on the bottom of the bowl). Pour it into the wok and toss to combine. Allow this to boil and thicken for 1 minute, then add the green parts of the green onions. Toss to combine. Add the Sichuan peppercorn if using. Serve at once with steamed rice.
Nutrition
Calories:
406
kcal
|
Carbohydrates:
26
g
|
Protein:
39
g
|
Fat:
13
g
|
Saturated Fat:
3
g
|
Cholesterol:
90
mg
|
Sodium:
929
mg
|
Potassium:
834
mg
|
Fiber:
2
g
|
Sugar:
5
g
|
Vitamin A:
246
IU
|
Vitamin C:
5
mg
|
Calcium:
48
mg
|
Iron:
6
mg
Nutrition information is automatically calculated, so should only be used as an approximation.