Chinese Duck Legs
November 13, 2017 | Updated June 11, 2020
As an Amazon Associate I earn from qualifying purchases.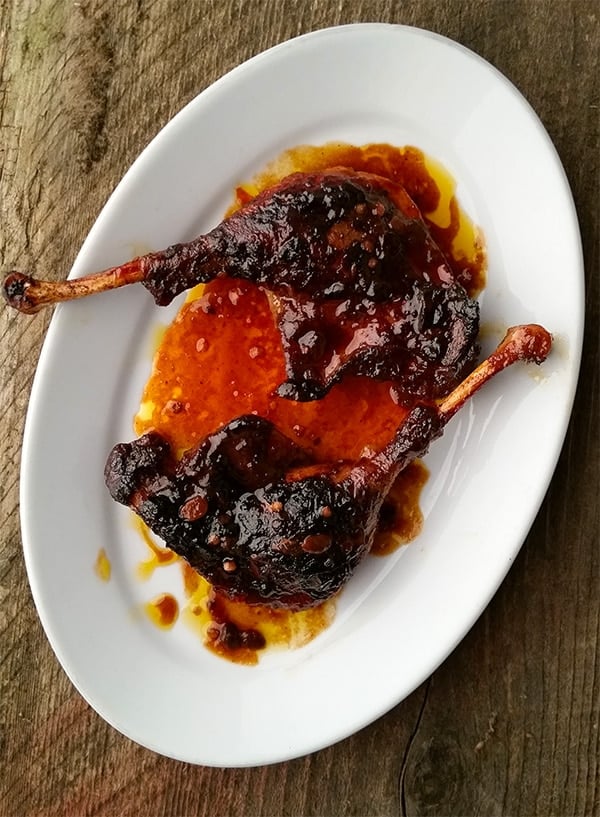 If you're looking for one go-to duck legs recipe, this one should definitely be in the running. It's like Chinese char siu barbecue, only the duck legs — or goose legs, in the picture above — are braised in the BBQ sauce, basted all the way until near the end, when the skin gets crispy.
These are crazy good, and stupid easy to make. Hell, you can even buy Chinese char siu sauce, but I am going to tell you how to make it from scratch.
Any store-bought duck leg will work with this recipe, but as a hunter, I typically go one size up and use legs from geese; these are specklebelly goose legs in the picture. Skin-on Canada goose legs are just as good, if not better, and there is no reason you can make this a snow goose recipe — if you keep the skin on their legs.
And yes, you can certainly use wild duck, too, but I'd wait until you had legs from fat mallards, pintails or canvasbacks to do it.
If you are worried that your duck legs or goose legs will be full of tendons like, say, a wild turkey leg, don't be: Waterfowl don't run around for a living, so they don't develop those nasty tendons.
That said, waterfowl, especially Canada geese, live a long time, so need to be braised until tender. That's where this cooking technique comes in. If you are making this recipe with store-bought duck legs, you can actually skip the braising step and simply roast your legs in this sauce. But that rarely works with wild waterfowl.
For wild ducks and geese, you thin the Chinese barbecue sauce with water, and use that to braise the meat, leaving the skin above the level of the liquid. This keeps the meat moist and, ultimately, tender, and helps render out fat underneath the skin and crisps it up. It's a perfect technique.
Serve these duck legs as an appetizer, or alongside other Chinese dishes. You eat them with your fingers, so it's best as a messy first course or something.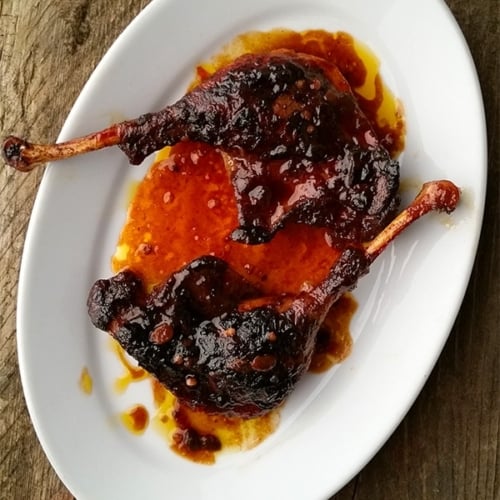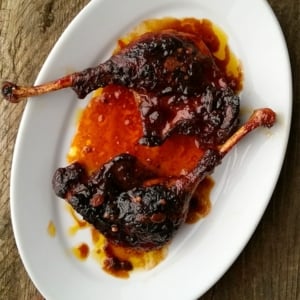 Chinese Duck Legs
This is a sort of hybrid barbecue and braise, great for farmed duck legs or wild goose legs. I like to use Canada goose or specklebelly goose legs. As you braise the legs, the thinned-out BBQ sauce reduces to its proper consistency. Any left is good on other meats. Most of the ingredients are easy to find in most supermarkets; if you can't find the chile bean paste, leave it out.
Ingredients
SAUCE
1/2

cup

Shaoxing wine or dry sherry

2

tablespoons

honey

3

tablespoons

soy sauce

3

tablespoons

hoisin sauce

2

tablespoons

hot chile bean paste

2

teaspoons

garlic powder

2

tablespoons

peeled, minced fresh ginger

1/2

teaspoon

Chinese five-spice powder
DUCK
8 to 12

store-bought duck or wild goose legs,

about 4 pounds
Instructions
To make the sauce, put everything in a blender and puree. Pour the sauce into a large bowl. Do not clean the blender bowl just yet. Preheat the oven to 350F.

Find a shallow, ovenproof dish that can just about hold all the duck legs. Coat the duck legs in the sauce and set them in the dish skin side up.

Add just enough water to catch the remaining BBQ sauce in the blender bowl and in the bowl you coated the duck legs in. Pour this flavorful water into the dish with the duck legs, up to the level of the skin. Do not submerge the legs, and if you need more water, add it.

Set the dish in the oven and cook the duck legs, uncovered, until tender, which can take anywhere from about 90 minutes for store-bought ducks to 3 hours for old Canada geese. Baste the duck legs with the sauce every 30 minutes or so.

When you have about 30 minutes to go, stop basting the legs and increase the temperature in the oven to 400F. Let the legs cook for a final 20 to 30 minutes, keeping an eye on them so the skin doesn't burn. Serve at once with lots of napkins.
Nutrition
Calories:
869
kcal
|
Carbohydrates:
22
g
|
Protein:
95
g
|
Fat:
40
g
|
Saturated Fat:
10
g
|
Cholesterol:
394
mg
|
Sodium:
1331
mg
|
Potassium:
97
mg
|
Fiber:
1
g
|
Sugar:
16
g
|
Vitamin C:
5
mg
|
Calcium:
47
mg
|
Iron:
8
mg
Nutrition information is automatically calculated, so should only be used as an approximation.