As an Amazon Associate I earn from qualifying purchases.
Canederli are wintry, soulful, rich and filling dumplings from the Italian Alps. They are easy to make and are great served in broth, or with a variety of sauces.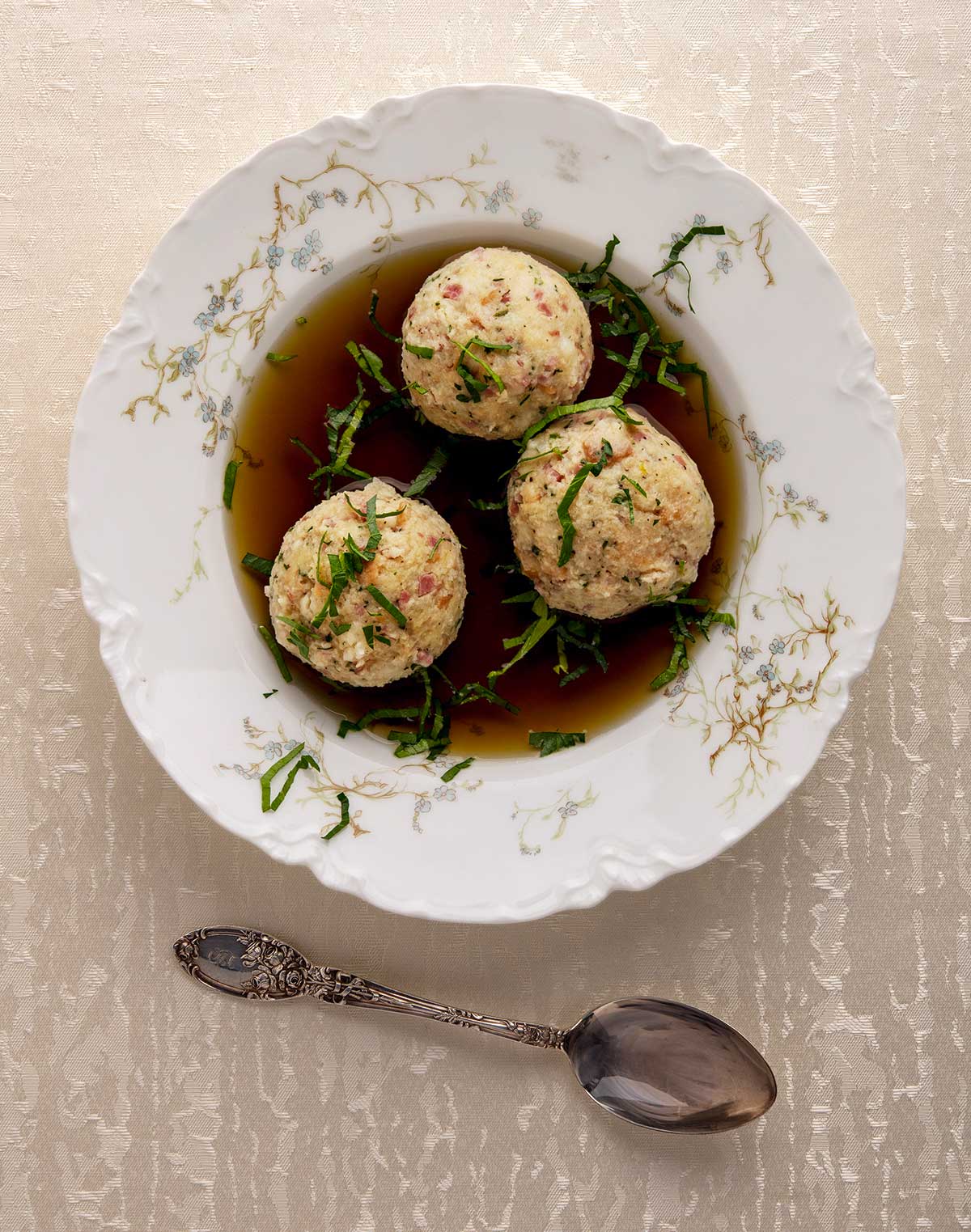 At their core, canederli, pronounced can-uh-DARE-lee, are bread dumplings with other good things mixed in. They are a lot like the Bavarian dumplings in my recipe for roast venison, and this makes sense, since it's not that far between Trentino in Italy, where these are best known, and Bavaria.
Round dumplings appear all over Central Europe, and Italy has its share; I also make a spinach dumpling — although I usually make these with nettles or lambsquarters — that hails from Northern Italy as well.
According to the bible of pasta, Oretta Zanini de Vita's Encyclopedia of Pasta, canederli exist in countless forms across the north of Italy, from Lombardy to Fruili. Some of the ingredients she mentions sound thrilling.
There is a form that is a quasi-fish ball, bound with pike or eel.
Some are bread-and-liver dumplings, which makes me want to make some with fatty wild duck livers.
Some canederli are made in part with buckwheat flour because that crop will grow in high Alpine valleys.
Most include some cured meat, from salami to speck, the local ham. Mine contains that, as you'll see below.
You can make canederli in two ways: Super large, cannonball-like rustic dumplings, where like one is a serving, as they do in Germany, or make them with finely chopped ingredients, smaller, so you can eat them like you would a meatball. I do the latter.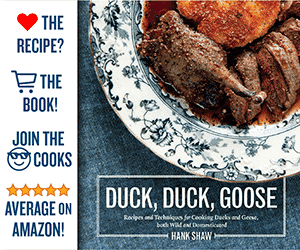 Making Canederli
Canederli always start with stale bread. These dumplings are icons of thrift in the mountains, where bread was traditionally only baked once a week, or less. You can use fresh bread if you don't have an old loaf lying around.
The bread is stripped of its crust, torn into small chunks and soaked in milk until soft. While this is happening, you're usually cooking some onions and garlic until they're soft and chopping greens or herbs or mushrooms.
Whatever is going into the dumplings needs to be chopped small so they'll hold together, especially any cured meat. I mince bits of ham — smoked or cured ham like speck or prosciutto, not the boiled stuff — and add that, too.
You squeeze out the excess milk in the bread, crack a couple eggs, and mix it all very well to form a paste that will adhere to itself. Form balls with wet hands, simmer in salty water or broth, and you're good to go.
All in all, making canederli takes about a half-hour.
How to Serve Canederli
If you're just whipping some up, you might just want to serve them Central European style, with butter and caramelized onions, maybe with the slightest drizzle of honey.
Mostly, however, you will serve canederli with broth. What broth is up to you. With these, I prefer a dark, rich broth made from mushrooms, game or beef.
In the pictures I am serving the dumplings with wild duck consommé. I love it because it is loaded with flavor, clear and pretty. But really any broth will do, and it will dictate the mood of your meal.
Try a tomato or a carrot consommé in summer or early fall. Use venison stock, or fish stock if you want, or even experiment with a flavorful shrimp stock or crab broth. Play with it.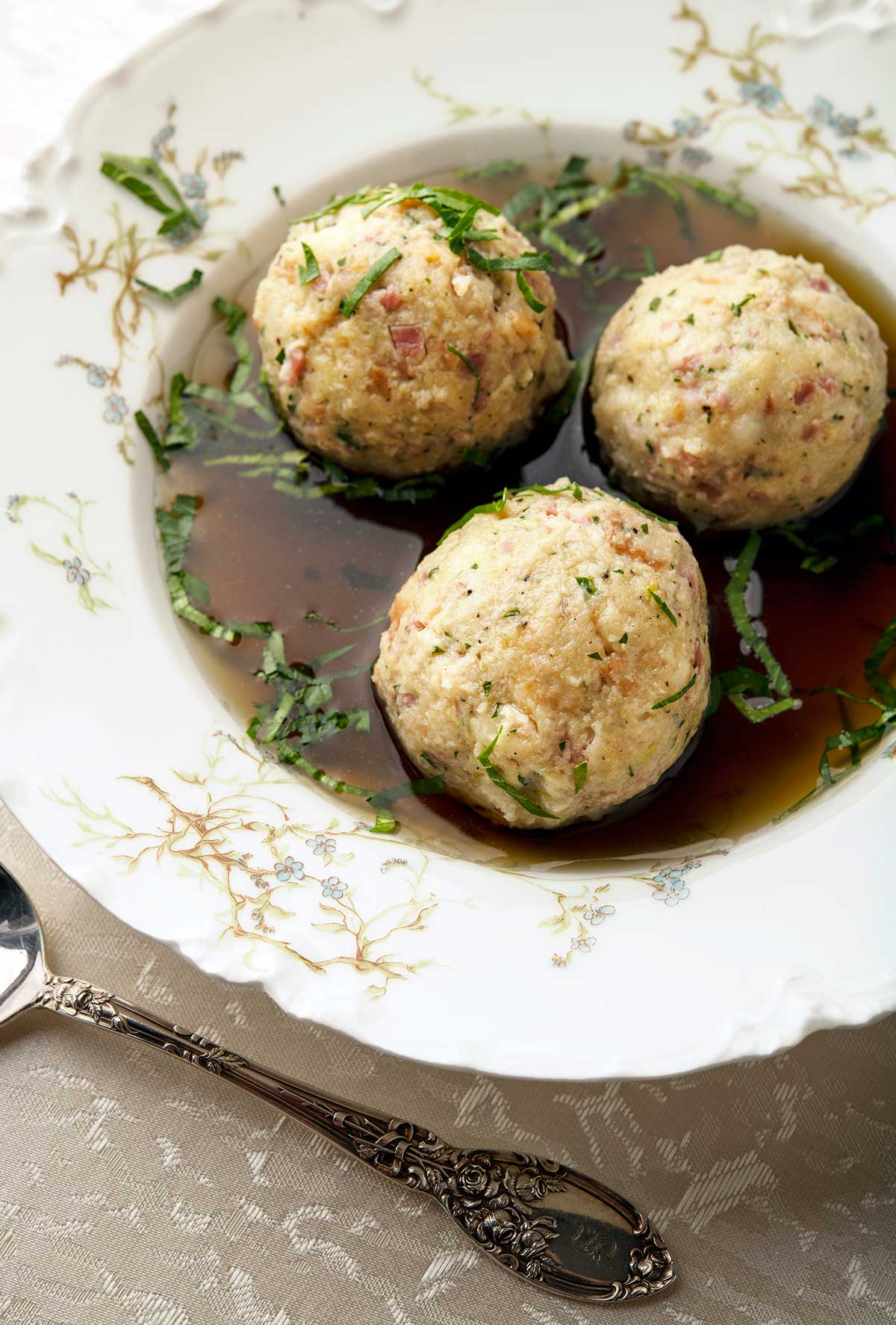 Storing
Alas, canederli don't store well. I mean you can, but they seem to become heavy and leaden when you reheat them. And because these dumplings are made from pantry ingredients that store well in themselves, and because they can be made fairly quickly, best to make a batch of canederli and just eat them.
If you liked this recipe, please leave a ⭐️⭐️⭐️⭐️⭐️ rating and a comment below; I'd love to hear how everything went. If you're on Instagram, share a picture and tag me at huntgathercook.
Canederli
These dumplings are very similar to those in Austria and Germany, and are a spectacular way to use up little bits of this and that you have lying around. Serve in the broth of your choice, or with butter and caramelized onions.
Ingredients
4

ounces

stale bread, crusts removed

(about 4 healthy slices)

1/2

cup

milk

(or broth)

2

tablespoons

butter or olive oil

1/2

cup

onion, minced

2

ounces

speck, prosciutto or salami,

minced

3

tablespoons

minced parsley,

or chard, spinach, etc.

3

tablespoons

finely grated parmesan cheese

1/4

teaspoon

nutmeg

1/4

teaspoon

white pepper

1/2

teaspoon

salt

1 or 2

eggs,

lightly beaten

flour

(see below)
Instructions
Tear the bread into bits and put in a bowl with the milk. Squash it all down and let this soak while you chop onions, parsley and the meat.

While the bread is soaking, sauté the minced onion in the butter or olive oil until soft. It's OK if it browns a bit, but you don't need it caramelized. Remove it from the pan and put it into a large bowl to cool.

Have a large pot of simmering water ready, with enough salt to make it taste like the sea.

Squeeze out excess milk from the bread and add it to the bowl with the onions. Add the minced meat, parsley, cheese, nutmeg, pepper and salt. Mix well. Stir in the eggs and work this mixture well, like its a dough. If it's too wet, add flour 1 tablespoon at a time until it comes together like a proper dough you can roll balls out of.

Roll out round dumplings with your palms. Size is up to you, but I like to make them the size of a walnut in the shell; they expand a bit when cooking. Do this with all the dough, then gently put them in the simmering water.

The canaderli are done about a minute or two after they float to the top. Serve by giving everyone a few dumplings in a bowl, then pouring some rich broth over them. Chopped herbs like parsley, lovage, savory, or sage are nice here.
Notes
If you want to use the crusts in this, you will want to chop them very fine, or dry them completely, pulverize and add them to the canederli as breadcrumbs. They are tasty, but won't fully soften in the milk. 
Nutrition
Calories:
186
kcal
|
Carbohydrates:
12
g
|
Protein:
8
g
|
Fat:
12
g
|
Saturated Fat:
5
g
|
Polyunsaturated Fat:
2
g
|
Monounsaturated Fat:
4
g
|
Trans Fat:
0.2
g
|
Cholesterol:
103
mg
|
Sodium:
460
mg
|
Potassium:
143
mg
|
Fiber:
1
g
|
Sugar:
3
g
|
Vitamin A:
463
IU
|
Vitamin C:
4
mg
|
Calcium:
91
mg
|
Iron:
1
mg
Nutrition information is automatically calculated, so should only be used as an approximation.