Braised Pheasant with Mushrooms
January 07, 2015 | Updated June 18, 2020
As an Amazon Associate I earn from qualifying purchases.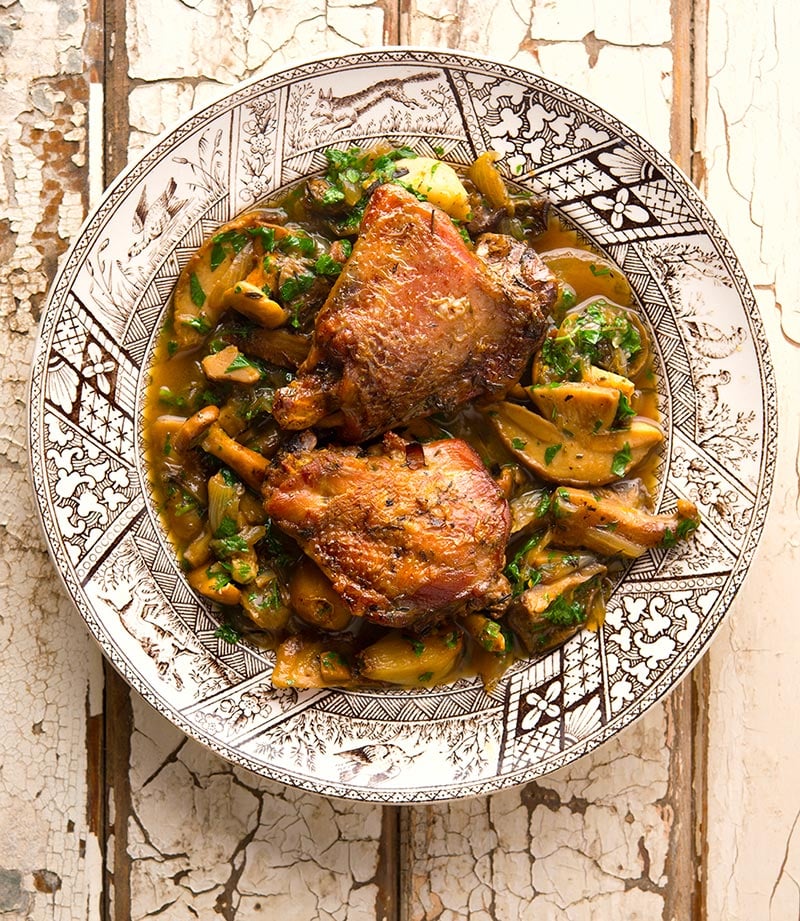 I am an avowed leg man, especially when it comes to poultry. But as a hunter, I understand that there's a huge difference between store-bought legs and wild ones. I love chicken drumsticks, but eating a pheasant or wild turkey drumstick isn't so pleasant; it's those steel tendons they have.
But the thighs of wild upland birds aren't so much different from those of their easy-living, domesticated cousins. So I separate all the drumsticks from the thighs of my pheasants and turkeys. (And if you happen to be from New Zealand, pukeko thighs are great this way, too!)
I find that grouse and quail and partridges are small enough to cook the legs whole. For whatever reason, they don't seem to get so tough, either.
This recipe is designed for thighs. Could you use drumsticks, too? Sure. But strip off all the meat and throw it into the stew before you serve.
Could you use breasts? Probably, but you will want to cook everything else for that first hour, and then toss in the breasts for only about 20 minutes. Overcooked pheasant and turkey breasts are a sad thing.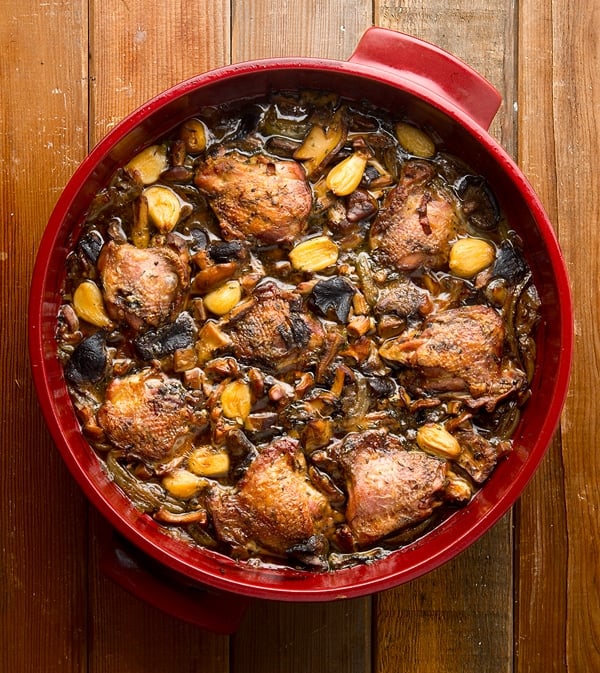 My inspiration is from a chicken recipe that appears in Paula Wolfert's excellent book, The Cooking of Southwest France
. Her recipe is from Dordogne, and relies on unripe grape juice called verjus. You can make your own verjus if you have grapes nearby, or you can buy buy verjus online. Don't want to bother? Use lemon juice.
I love this dish on warmer days in winter, when there's a clear, cool sun that makes you think of the springtime to come. It's a break from the heavier, red wine-based, brooding braises we normally eat this time of year, but it's still super hearty.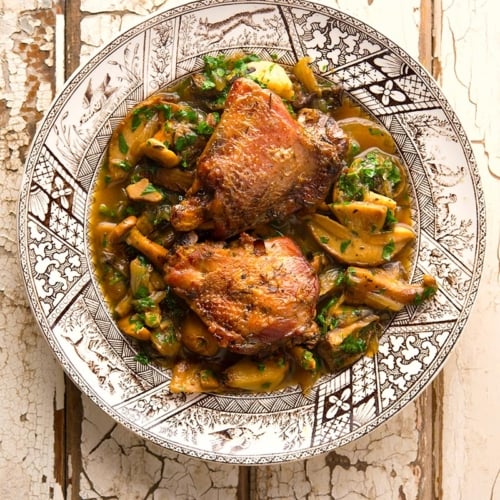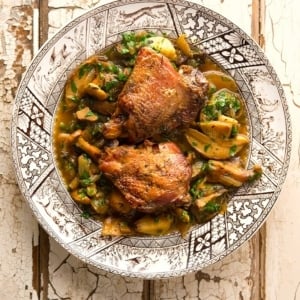 Braised Pheasant with Mushrooms
While I use pheasant thighs here, obviously chicken thighs will work, too, and in fact might even be better. I also use a variety of wild mushrooms I pick, but feel free to use whatever array of mushrooms you want. Try to use several different kinds, and yes, you can use reconstituted dried mushrooms, too. I really like to use verjus for the tartness in this recipe -- verjus is preserved, unripe grape juice -- but it can be tough to find. Freshly squeezed lemon juice is a good substitute.
Ingredients
8

to 12 pheasant thighs,

or 4 turkey thighs

4

tablespoons

unsalted butter

1

large onion,

sliced thinly from root to tip

1

to 2 pounds fresh mushrooms

(use a variety)

1

whole head of garlic

cloves peeled but left whole

1/2

cup

white wine

1

quart

chicken,

turkey, pheasant or vegetable stock

Salt and black pepper

A splash of lemon juice,

white wine vinegar or verjus

4

tablespoons

minced parsley
Instructions
In a large Dutch oven or pot, heat the butter over medium-high heat and brown the thighs. Take your time and don't crowd the pot. Do it in batches if need be. Preheat the oven to 325°F.

Remove the pheasant and add the sliced onion and mushrooms. Turn the heat up to medium-high and stir well. You may need another tablespoon of butter, as mushrooms soak up a lot. Cook, stirring often, until the onions begin to brown. Salt everything as it cooks.

Deglaze the pot with the white wine; turn the heat up to high. Scrape any browned bits off the bottom of the pot with a wooden spoon. Add the garlic and the pheasant, skin side up. Let the wine cook down by half.

Pour in enough stock to come up to the level of the pheasant skin without submerging it. Doing this will keep the skin crispy when you finish the dish. Cover the pot and cook in the oven for 45 to 60 minutes; you want the meat to be just barely tender. Uncover, turn the heat to 400°F and cook for another 15 to 30 minutes, until the skin crisps up. To finish, add the parsley, then salt, black pepper and some form of acid -- lemon juice, vinegar, etc -- to taste.
Notes
Serve this with good, crusty bread or potatoes, or even polenta. I like a good bitter greens salad alongside and a nice white wine, like a white Cotes du Rhone, a white Burgundy or an oaked Chardonnay. If you are drinking beer, I can think of no better beer to go with this than a blonde bock.
Nutrition
Calories:
810
kcal
|
Carbohydrates:
8
g
|
Protein:
52
g
|
Fat:
61
g
|
Saturated Fat:
21
g
|
Cholesterol:
313
mg
|
Sodium:
300
mg
|
Potassium:
895
mg
|
Fiber:
1
g
|
Sugar:
2
g
|
Vitamin A:
912
IU
|
Vitamin C:
8
mg
|
Calcium:
50
mg
|
Iron:
3
mg
Nutrition information is automatically calculated, so should only be used as an approximation.