As an Amazon Associate I earn from qualifying purchases.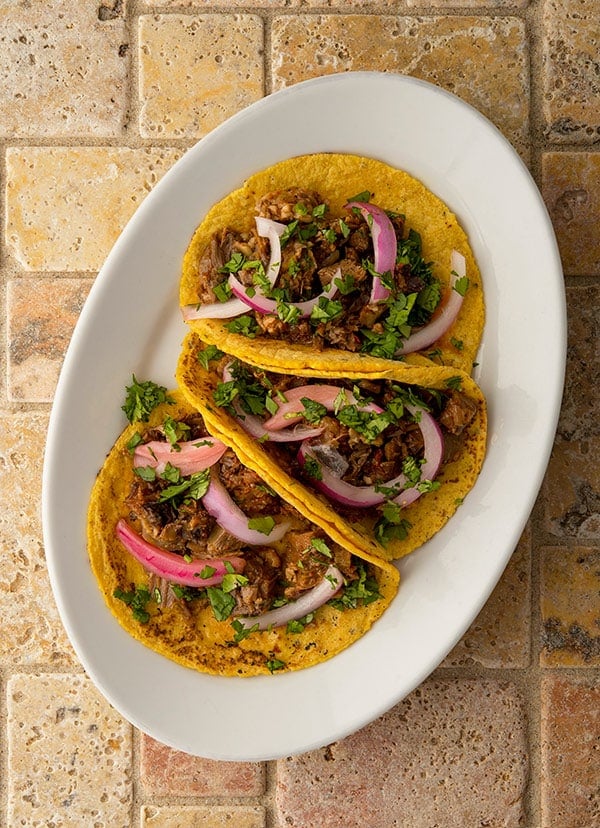 In much of Mexico, tacos de cabeza is made with a cow's head; indeed, this is what you'll get when you order cabeza at any taco truck in Sacramento, where I live.
But in Quintana Roo, a Mexican state on the Yucatan Peninsula, they use a pig's head. This is my rendition of their method.
I learned about this recipe in the book La cocina familiar en el estado de Quintana Roo
, one of the fantastic series of state-level Mexican cookbooks that, now that I can read in Spanish, have become a major source of inspiration for me.
The recipe is super simple, and bears some resemblance to the more familiar dish cochinita pibil. Incidentally, if you want to make this recipe but don't happen to have a pig's head available to you, go ahead and make that cochinita pibil recipe, using pork shoulder. Only major difference would be in texture, and the chop. In this recipe you chop the meat, and in cochinita pibil you shred it.
The other primary difference between the two is that you want to give the pig's head a full blast of smoke for a few hours before you braise it. You can even do the whole process in the smoker if you want. You will need to wrap the pig's head in foil or banana leaves after a couple hours anyway, so it makes no difference where you finish it.
Making tacos de cabeza is something of an all-day affair, because it can take many hours for the pig's head to fall off the bone, especially if you are using a wild pig or a javelina.
I used a skinned head, incidentally, but a skin-on one works fine, too. As for what to do when it's done, you will want to pull off all the meat you can find, as well as other naughty bits here and there tucked away in the skull. Brains? Sure, if you want. Eyes? I didn't, but I sure used the meat behind them. Palate? That was a big nope, but people in Mexico like it.
Oh, and I peel the tongue, but you don't have to if you don't want to. It's messy, but I don't like the thick skin on it.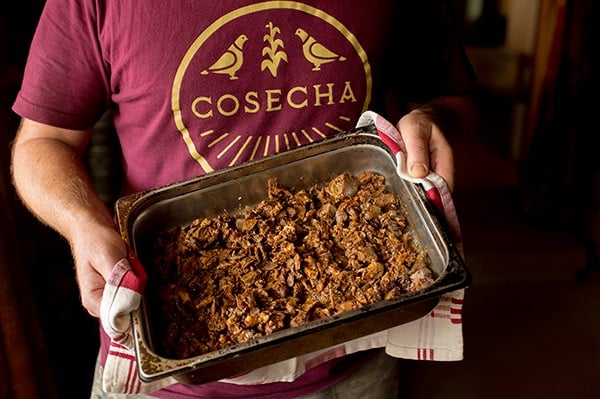 All of this gets chopped with all the fat and juices and marinade, then served very simply in corn tortillas. I just went with red onions soaked in lime juice and cilantro. If you happen to have the herb culantro around, use it; it's more authentic.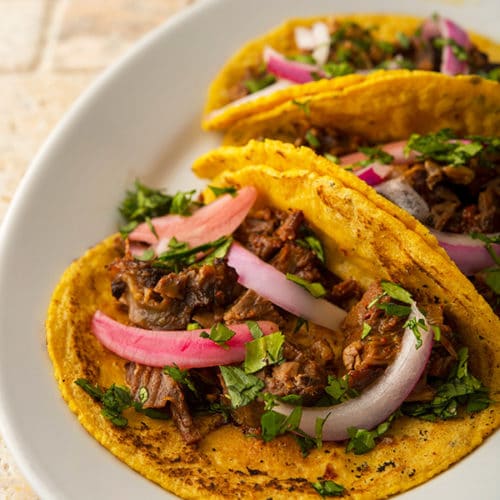 Tacos de Cabeza
This version uses a pig's head, although there's no real reason you could not use a sheep, goat or cow's head if you wanted. If you do use a cow's head, double the marinade.
Ingredients
1

pig's head

4

ounces

Achiote paste

1

head

garlic

1

cup

Sour orange juice

(see notes)

1

tablespoon

dried Mexican oregano

1

tablespoon

smoked paprika

1

teaspoon

ground cumin

Salt
Instructions
Mix all the ingredients together. Have more achiote paste and sour orange juice on hand, because you want the mixture to have the consistency of runny pancake batter or house paint. If you have them, don some gloves and smear this all over the pig's head. Save any marinade that remains and put everything in a lidded container in the fridge overnight.

The next morning, get your smoker to 200F. I prefer mesquite here, but use any wood you like. Remove the head from the marinade, reserving any extra. Set the head in the smoker as is, don't wipe it off. Smoke for 2 to 4 hours.

Wrap the pig's head in banana leaves or foil, or both. Before you seal the head up, add any remaining marinade. Continue to cook at 225F until the head falls apart, typically another 2 to 4 hours.

Pull all the meat off the head, peel the tongue and chop everything up for tacos. Discard any bits that freak you out; for me, that's the eyeballs and palate.

Serve the meat on corn tortillas with red onions soaked in lime juice and cilantro.
Notes
NOTE: You can buy shelf-stable sour orange juice, naranja agria, in Latin markets, or make a substitute by mixing the juice of 1 grapefruit, 1 lime and 2 oranges. 
Nutrition
Calories:
25
kcal
|
Carbohydrates:
4
g
|
Protein:
1
g
|
Fat:
1
g
|
Saturated Fat:
1
g
|
Cholesterol:
2
mg
|
Sodium:
3
mg
|
Potassium:
93
mg
|
Fiber:
1
g
|
Sugar:
2
g
|
Vitamin A:
403
IU
|
Vitamin C:
13
mg
|
Calcium:
19
mg
|
Iron:
1
mg
Nutrition information is automatically calculated, so should only be used as an approximation.