Venison Swedish Meatballs
February 01, 2010 | Updated June 06, 2022
As an Amazon Associate I earn from qualifying purchases.
If you are looking for an authentic Swedish meatballs recipe, you've found one. This is my grandmother's recipe for Swedish meatballs, also known as köttbullar, are so good they should be a controlled substance.
I never knew my grandmother so I can't remember her ever making Swedish meatballs, but I do have several strong memories of mom making these little balls of yum long ago, in the 1970s. Of course we ate Swedish meatballs in the Seventies — everyone did. They were right next to the fondue.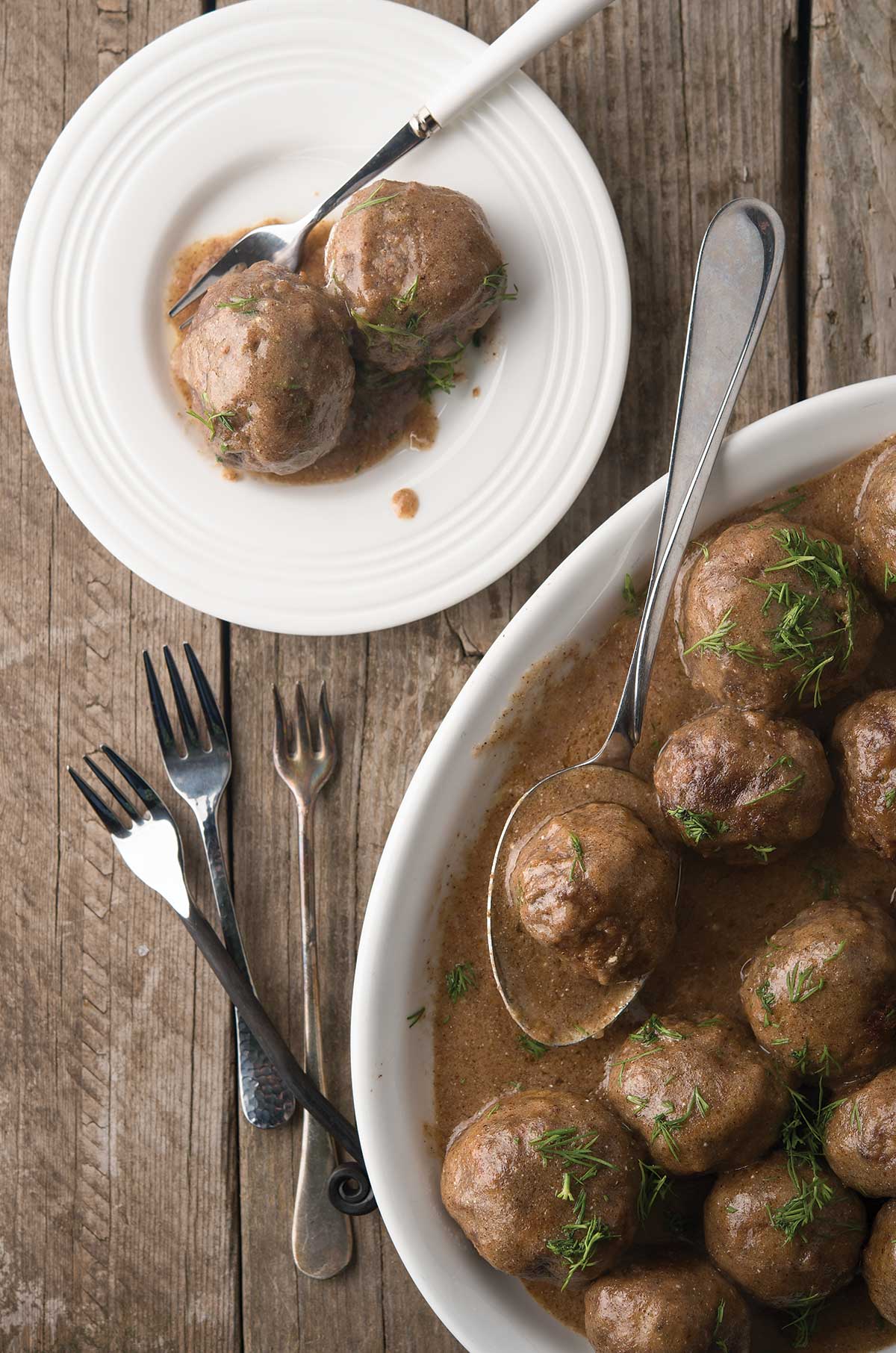 But even this was simply withdrawal symptoms of the Swedish meatballs' heyday a decade earlier. Can't you just see the chafing dish, the Sterno and the meatballs nestled in that slowly congealing-yet-somehow-irresistible gravy? Groovy baby, yeah!
Yet of all the crazy throwback foods of that much-maligned decade, Swedish meatballs are high on the list for preservation. If you've eaten well-made ones, can any among you honestly say you have not stuffed yourself on them? What the heck is it about these meatballs?
Sure, they a lot smaller than Italian meatballs, or at least Italian American meatballs, so they go down real easy, one after the other… I've eaten several dozen at a sitting before, only to feel later like an anaconda that swallowed a cow made of butter.
Butter. Maybe that's it? Every authentic Swedish meatballs recipe calls for obscene amounts of butter.
The gravy is part drippings from frying the meatballs in butter, flour, stock and, in some cases, lingonberry or cranberry syrup or jelly. Still, I've eaten lots of rich things before without succumbing to gluttony.
Maybe it is a Swedish meatball's size. Small. Bite-sized, to be exact. Dangerous. My Italian meatballs are big, honking brontosaurus balls; you need at least three bites to get one down. These little Swedish meatballs are just a tablespoon.
That's not so much. Maybe I'll have just one more…
What follows is my Swedish meatball recipe, adapted from one given to my mother from her mother, who was a Massachusetts Swede. They call these meatballs Svenska Köttbullar, and they are traditionally served with a lingonberry or cranberry sauce. In Scandinavia, the meatballs are sometimes made with reindeer, so venison is a natural. You could use any red meat.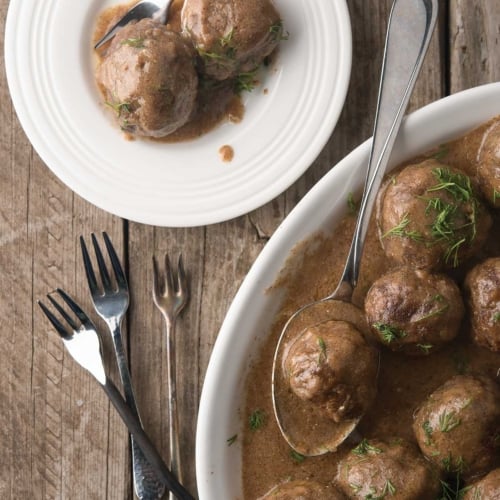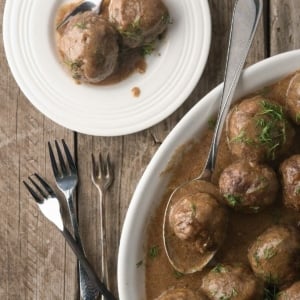 Venison Swedish Meatballs
If you can't find lingonberry jelly, use cranberry or highbush cranberry jelly. Obviously pre-ground venison (or whatever) will work here. Just make sure it has fat in the grind and that the grind is fine. Swedish meatballs need to be ground fine.
Ingredients
4

slices

stale bread,

crusts removed

2/3

cup

milk

3

pounds

venison

or beef

1

pound

pork fat

2

eggs

2

teaspoons

Kosher salt

2

teaspoons

ground allspice

1

teaspoon

caraway seeds

1

teaspoon

black pepper

1

grated yellow onion

Flour

1

quart

beef stock or venison stock

1/2

cup

sour cream

1/3

cup

lingonberry jelly

Salt

Butter or oil for frying
Instructions
If you are not using pre-ground meat, chill the venison and pork fat until it is almost freezing by sticking it in the freezer for an hour. Cut both the meat and fat into chunks that will fit into your grinder. Grind through your fine die in a meat grinder. If you do not have a meat grinder, you can use a food processor, set on pulse. Don't crowd the processor and chop the meat in pulses until you get something that looks like ground meat — it will not be as good as with a grinder, but it is easier than hand-mincing everything, which is also an option. Put the meat in the fridge.

Pour the milk into a pot and set it on low heat. Cut the crusts off the stale bread and break it into pieces. Add the pieces to the pot. They will begin to absorb the milk. Turn off the heat and mash everything into a paste. Let it cool to room temperature.

In the meat bowl, add the grated onion, salt and spices. Crack the eggs into the bowl, then pour the bread-milk mixture in. With clean hands, gently mix everything together. Do not knead it like bread, and do not squeeze things together. Just gently work the mixture: Think cake, not bread. When it is mostly combined — you need not get everything perfect — grab a tablespoon and scoop up some. Roll it into a little ball with your palms.

Gently roll the meatballs in the flour; you'll probably need about a cup. You may need to re-shape them before putting them onto a cookie sheet lined with wax or parchment paper.

When the meatballs are all made, get a large pan ready; I use a big cast-iron frying pan. Fill it with a little less than 1/4 inch of oil. I use canola oil with a little butter tossed in for flavor. Bring it up to temperature over medium-high heat. When a drop of flour flicked in the oil immediately sizzles away, drop the heat to medium and add the meatballs. Do not crowd them.

You want the oil to come up halfway on the meatballs. Add a little oil if need be; don't worry, you can reuse it. Fry on medium heat for 3 to 5 minutes. You are looking for golden brown. Turn only once. The other side will need 2 to 4 minutes. When cooked, set the meatballs on a paper towel or wire rack to drain. They can be used right away or cooled and then refrigerated for a week, or frozen for several months.
THE SAUCE
Once the meatballs are cooked, drain all but about 3 or 4 tablespoons of butter/oil from the pan. Over medium heat, add an equal amount of the flour left over from dusting the meatballs. Stir to make a roux and cook slowly until it turns a nice golden brown. Think coffee with cream.

Add the stock gradually and turn the heat up to medium-high. Stir well to combine and add more stock or some water if need be — you want this thicker than water, thinner than Thanksgiving gravy. Taste for salt and add if needed. Add the lingonberry or highbush cranberry jelly to the pan. Let it melt and then mix it in gently.

Put the meatballs in the pan, coat all the meatballs with the sauce, cover and cook for 10 minutes over medium-low heat. Add the cream and just warm through, maybe 3 or 4 minutes. Serve over mashed potatoes or with German egg noodles.
Notes
Serve these little meatballs in the sauce over mashed potatoes. A salad or sauteed greens would round things out. This is a large recipe, so you can either halve it or freeze extra meatballs after you brown them.
Nutrition
Calories:
872
kcal
|
Carbohydrates:
21
g
|
Protein:
45
g
|
Fat:
66
g
|
Saturated Fat:
26
g
|
Cholesterol:
249
mg
|
Sodium:
1016
mg
|
Potassium:
884
mg
|
Fiber:
1
g
|
Sugar:
10
g
|
Vitamin A:
182
IU
|
Vitamin C:
3
mg
|
Calcium:
93
mg
|
Iron:
7
mg
Nutrition information is automatically calculated, so should only be used as an approximation.