Rhode Island Stuffed Clams
May 27, 2019 | Updated June 14, 2022
As an Amazon Associate I earn from qualifying purchases.
Stuffed clams is what this recipe is called officially, but in our household, they've been known as "clam things" for at least two generations.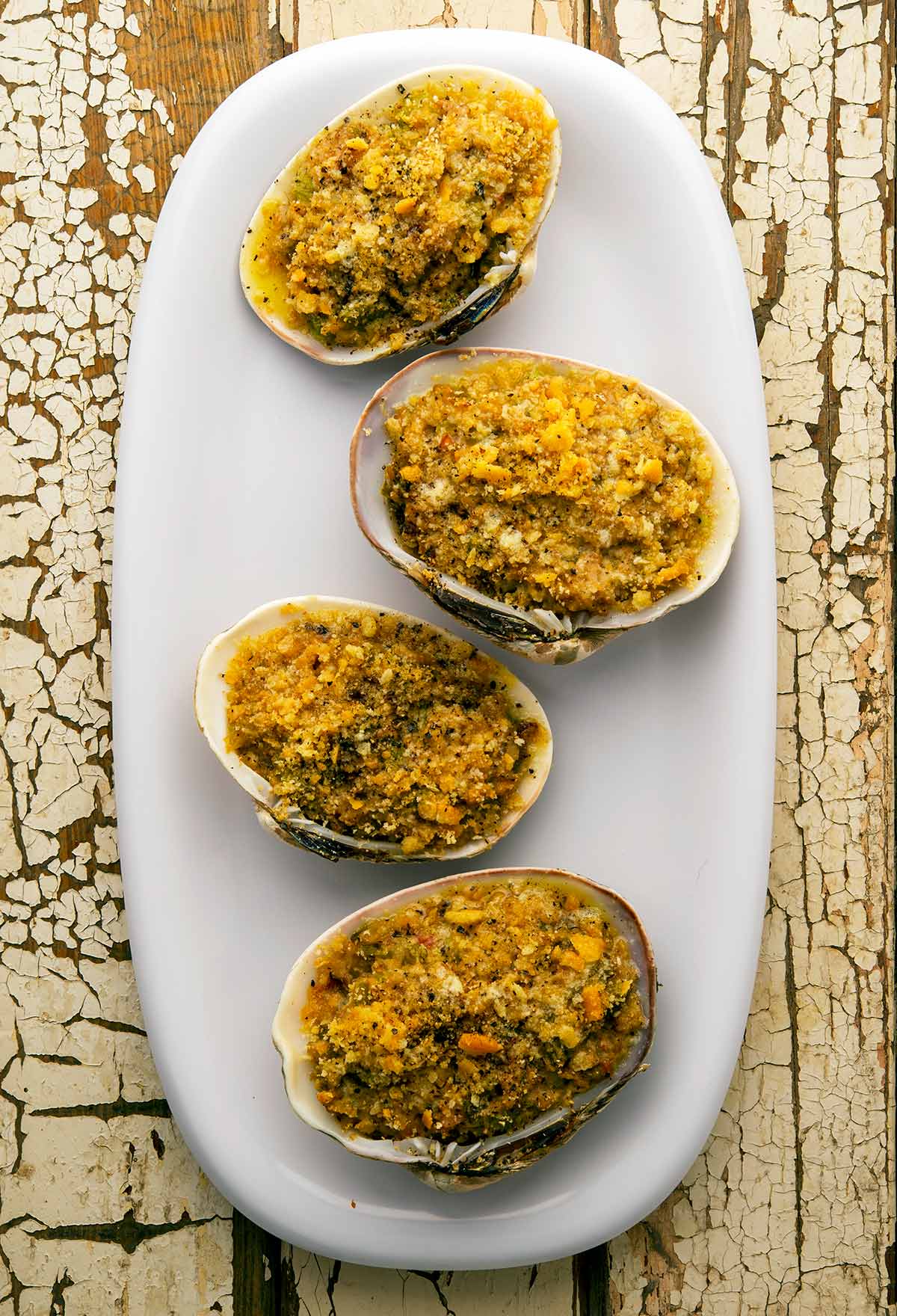 My mom named them that, and even had pretty green ceramic clam shell bowls strictly for the purpose of making clam things. I didn't even know that she was making a variant of Rhode Island "stuffies" until I saw it on a menu in Rhode Island when I was a twentysomething.
What are stuffies? Basically chopped clams, usually but not always quahogs (Mercenaria mercenaria), mixed with breadcrumbs or crushed crackers, with sautéed onion, celery and green pepper, sometimes bits of bacon, and often hot sauce and/or Worcestershire.
You stuff the mixture into large, clean clam shells, ramekins, or, if you happen to have the clam shell bowls, those would do nicely.
The main difference between stuffed clams and the better-known clams casino is that stuffed clams are generally made with larger clams that are ground or chopped. Clams casino is normally made with smaller, bite-sized clams like littlenecks.
Mom's recipe demands a particular ingredient I would never have in the house otherwise: Ritz crackers. Sure, you could use breadcrumbs, but it's just not the same. I buy the packages of Ritz that have several small sleeves of crackers, because, well, I never eat them as-is, and want them to be fresh for the next batch of stuffed clams.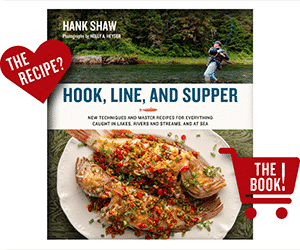 Mom also uses butter, lots of it. But another perfectly good option is to fry some bacon, chop it up and add it to the mix, and use the bacon fat instead.
I do deviate in one place from Mom's recipe: I roast my green peppers where she does not. I also prefer to roast Anaheim or poblanos instead of regular green peppers. You can do either.
Well, to be perfectly honest, I deviate from Mom's clam things in another way: I use the clams available to me, which are horseneck or butter clams, which are also called Washington clams. They are large, open-shelled clams of the Pacific Coast I dig every year.
Any clam will work for stuffed clams, though. My preference would be ground sea clams, butter clams, horseneck clams or a big chowder-sized quahog. Stuffed clams doesn't need pretty little topnecks or Manila clams.
If you have those, you'll want to make New England fried clams, or Spanish clams and chorizo. If you really want to do a New England clam feast, my mom's Maine clam chowder will do well as the soup course.
And yes, you can make stuffed clams with canned clams, but I don't.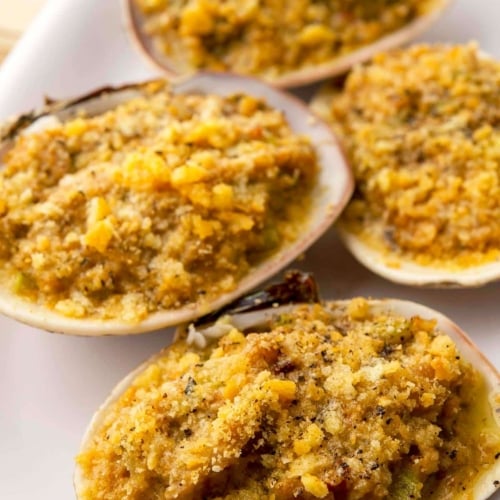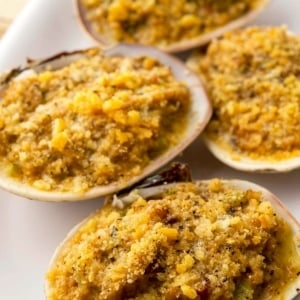 Stuffed Clams
These are baked, stuffed clams served either in their shell or a ramekin. It's a fantastic appetizer or starter for a seafood feast.
Ingredients
2

Anaheim, poblano or green bell peppers,

roasted, peeled, seeded and chopped

5

tablespoons

unsalted butter, divided

(You'll need 3 tablespoons melted)

1 1/2

cups

minced yellow or white onion

1 1/2

cups

minced celery

Salt

3

cups

chopped or ground clams,

or 3 cans of clams

Tabasco or other hot sauce to taste

Worcestershire sauce to taste

3

tablespoons

grated parmesan cheese

1

sleeve

crushed Ritz crackers (or Saltines), or 2 cups breadcrumbs

Black pepper to taste

Lemon wedges, for garnish
Instructions
Once you have your green peppers ready and your clams ground or chopped, preheat your oven to 350°F. In a large frying pan, heat 2 tablespoons of the butter and sauté the onion and celery until softened and translucent, but not browned. Salt them as they cook.

Remove the vegetables to a bowl to cool. When they are cooled, mix well with the clams, the chopped green pepper, Tabasco, Worcestershire, cheese and half of the crushed Ritz crackers. Stir in enough of the clam juices to make a thick paste.

Stuff the mixture into clam shells or ramekins or small, oven-proof bowls. Top with the remaining crushed crackers and drizzle the remaining butter over them. Grind black pepper over them.

Bake uncovered for 20 to 25 minutes. I like to put the clam shells on a baking sheet so I can take them all out at once. Serve with lemon wedges.
Notes
You can make these either with large clams with the meat chopped, or as individual clams if you use small clams like cherrystones. If you do that, no need to chop the clams. 
Nutrition
Calories:
135
kcal
|
Carbohydrates:
7
g
|
Protein:
4
g
|
Fat:
10
g
|
Saturated Fat:
6
g
|
Cholesterol:
32
mg
|
Sodium:
227
mg
|
Potassium:
132
mg
|
Fiber:
2
g
|
Sugar:
3
g
|
Vitamin A:
478
IU
|
Vitamin C:
6
mg
|
Calcium:
56
mg
|
Iron:
1
mg
Nutrition information is automatically calculated, so should only be used as an approximation.