Spanish Clams and Chorizo
August 15, 2014 | Updated July 11, 2022
As an Amazon Associate I earn from qualifying purchases.
There is nothing more Iberian — meaning Spanish, Basque or Portuguese — than the combination of shellfish and pork, and that usually means clams and chorizo.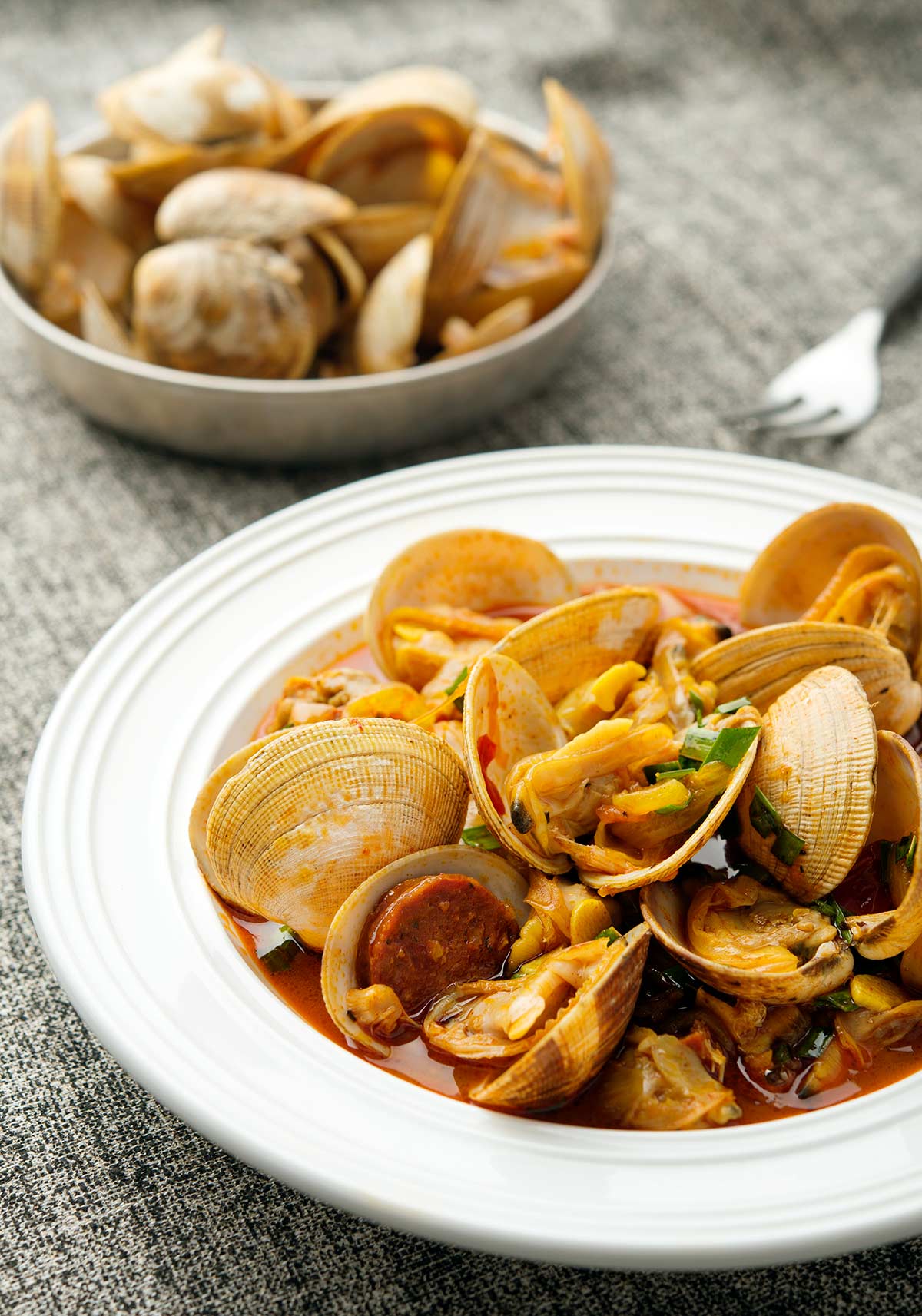 It's a magical pairing, unless you are Jewish, in which case it's a double whammy of "nope, can't eat that." Indeed, some food historians think this combination originated with the Spanish Inquisition, as a way of testing Jews who had supposedly converted to Catholicism. Yikes…
Anyway, it's a damn good plate of food, and fun to eat. The double hit of savory umami from the clams and chorizo, tartness from lemon juice, saltiness from both the broth and the sausage makes this dish a classic for a reason.
I foraged my own clams at an Undisclosed Location on California's North Coast, and made the Spanish chorizo myself, kinda-sorta following the recipe from Charcutería: The Soul of Spain. You can of course buy your clams and your chorizo. Much easier.
If you do buy your clams, buy them at a place that sells a lot of clams. In most cases this is not your grocery store. Clams can live several days out of water, but they will die eventually. Gaping clams are not necessarily dead, either, but gaping clams that don't respond when you tap them probably are.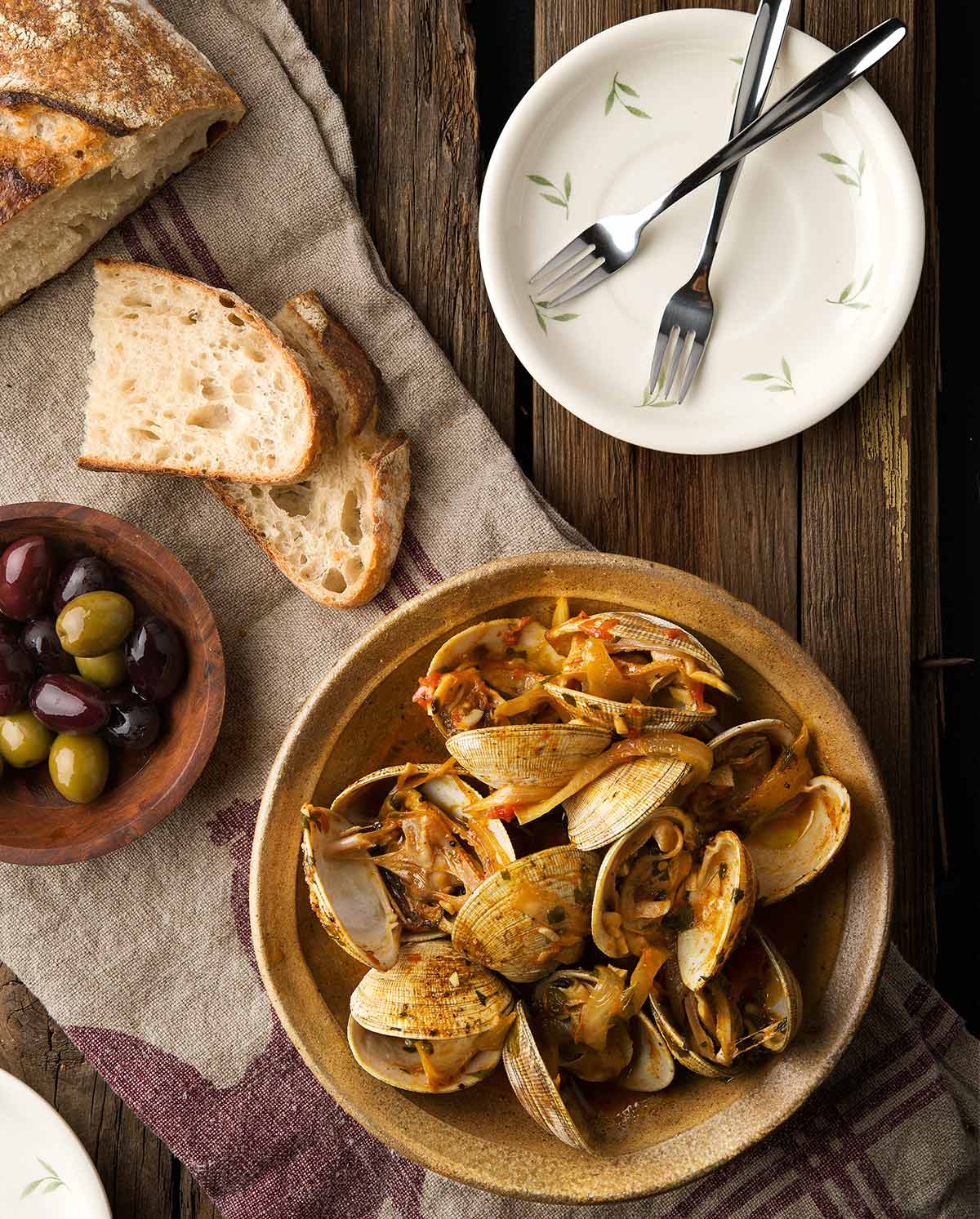 Turnover is key. When I am forced to buy clams for cooking events I do, I get the fishmonger all pissed off by requiring him to set out the clams so I can touch them. I then tap each one that's gaping, and if they respond I take them. And yes, I usually apologize to the person in line behind me.
If you collect your own clams, be sure to purge the sand out of them first. I wrote a tutorial on how to get sand out of clams, so you can follow that.
As for the chorizo, specialty stores will have Spanish chorizo, which is a hard salami, but I have also done this with fresh chorizo from a Mexican market. Different, but both work.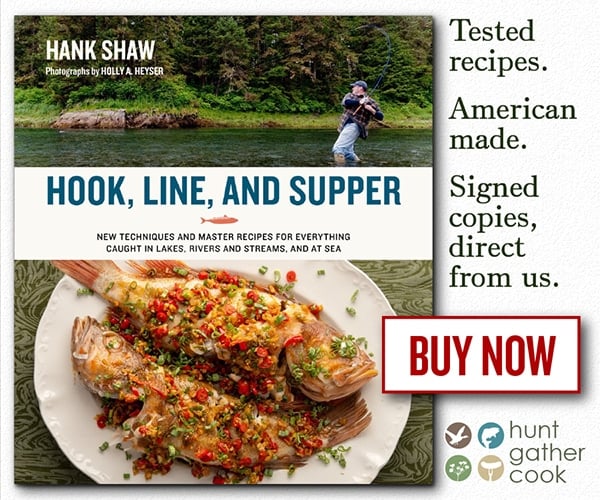 My final piece of advice to get the most out of this recipe is to do your best to get real Spanish pimentón, the smoked paprika they use a lot, and to get the best loaf of bread you can find.
And please don't slice your bread all dainty-like: Tear it into pieces as you eat, using it as a "spoon" to get yummy things onto your fork and to soak up the fantastic broth. Eating a bowl of clams and chorizo should be primal, and the torn bread just seems more natural.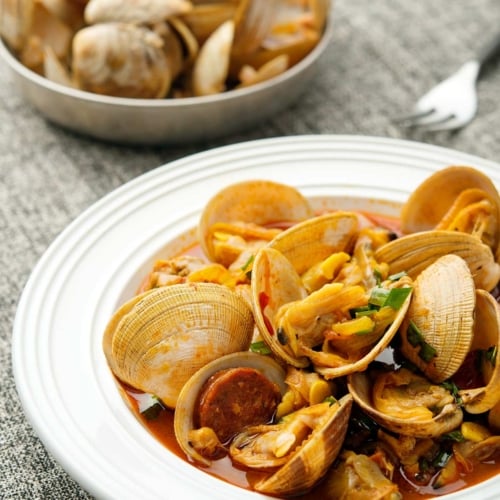 Spanish Clams and Chorizo
I use Western littleneck clams for this recipe because that's what I can forage for here in NorCal. You could use any small hard-shell clam, and Manila or Eastern littlenecks are just as good or even better than then Western clams I use.
Ingredients
25

to 50 small hard-shell clams

1/4

cup

olive oil

1

large onion,

sliced thin

4

garlic cloves,

sliced thin

1

to 3 dried,

hot chiles, broken up

1/2

pound

dry Spanish chorizo,

sliced

1 1/2

cups

white wine

A pinch of saffron

(optional)

2

teaspoons

Spanish smoked paprika

Juice of a lemon

2

tablespoons

chopped cilantro or parsley

Black pepper
Instructions
Lay the clams in a wide pan, like a big frying pan, in one layer; you may need to do this batches. Pour 1 cup of white wine in the pan and turn the heat to high. Cover the pan and steam the clams open. Keep an eye on the pan and check every minute or two and remove each clam as soon as it pops open. Move the opened clams to a bowl. Keep doing this, adding and removing clams, until they are all opened. Tap on the shells of those clams that don't seem to want to open, and sometimes they'll pop. If they stay resolutely closed, toss them.

Your choice here: I remove all but a few of the clams from their shells because it's easier to eat this way; I leave a few clams in the shells for garnish. Some people just like to pick through the whole shebang, and if you're one of those, go for it.

OPTIONAL: Strain the clam juice through a paper towel to remove grit. You can use this for the finished dish.

Wipe out the pan you cooked the clams in and heat the olive oil over medium-high heat. When it's hot, sauté the onions until they are soft and the edges have browned a bit. Add the chiles, garlic and chorizo and cook for another minute or two.

Crumble the saffron over the pan and sprinkle the paprika over everything. Add the remaining white wine, the clams and enough of the strained clam juice (or water) to halfway cover everything. Boil this furiously for about 90 seconds. Turn off the heat, add the lemon juice, chopped herbs and black pepper. Serve at once with a big loaf of crusty bread.
Notes
I like to eat this with good bread and a dry rose or a very light red, like a Spanish Garnacha, California Gamay or French Beaujolais. Hard cider is another good choice here, as would a full-flavored white wine like a Portuguese Verdelho.
Nutrition
Calories:
385
kcal
|
Carbohydrates:
7
g
|
Protein:
12
g
|
Fat:
27
g
|
Saturated Fat:
7
g
|
Cholesterol:
39
mg
|
Sodium:
765
mg
|
Potassium:
139
mg
|
Fiber:
1
g
|
Sugar:
2
g
|
Vitamin A:
781
IU
|
Vitamin C:
3
mg
|
Calcium:
25
mg
|
Iron:
2
mg
Nutrition information is automatically calculated, so should only be used as an approximation.