Smoked Oysters
January 09, 2017 | Updated June 17, 2020
As an Amazon Associate I earn from qualifying purchases.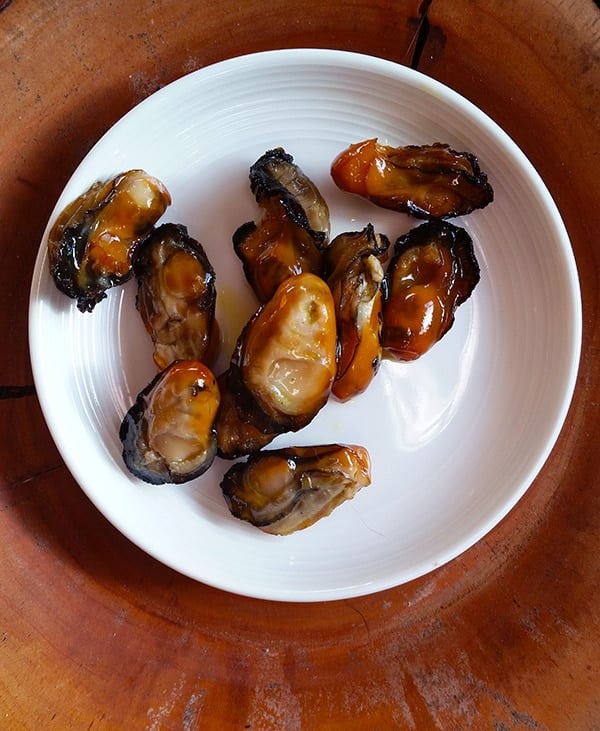 If you've ever had industrial smoked oysters, you might be put off by this recipe. Don't be. Freshly smoked oysters are about as close to the stale, canned things as Spam is to ribeye.
Freshly smoked oysters are delicate, juicy and only mildly smoky. They are wonderful on their own as a snack, or put back in their shell and served with a zippy mixture of minced shallot and vinegar, the famous mignonette. Or add them to pasta, rice, stews or chowders.
My preference is to use small oysters for this recipe, as they are daintier and more fun to eat. I was lucky enough to be given a bag of lovely little oysters from the Hog Island Oyster Co. in Tomales Bay, one of my frequent haunts. These tasty bivalves are excellent raw on the half shell, but while I like raw oysters, I don't love them (I love raw clams, however).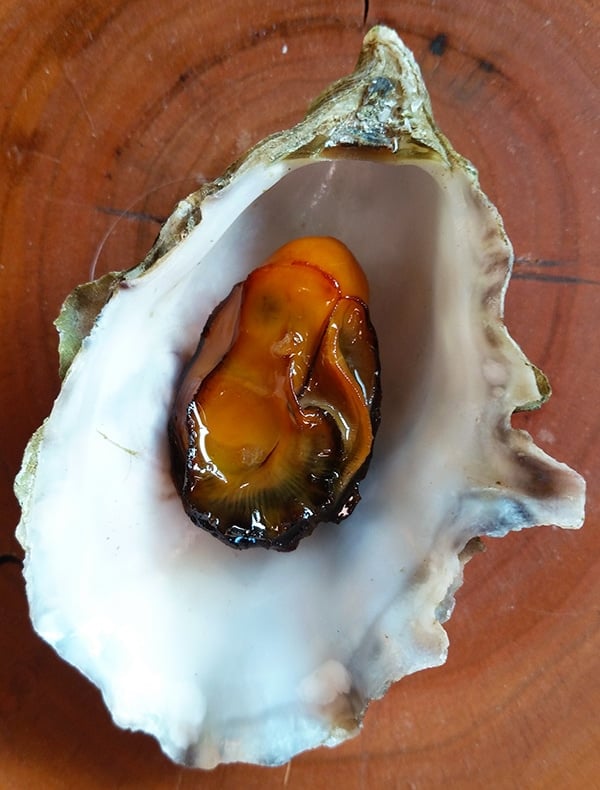 In winter one of my all-time favorite appetizers is smoked mussels, and this recipe more or less follows that one.
The result is briny, smoky, tender and oyster-y. If you make these, you will not be sad.
The best way to preserve your smoked oysters is to vacuum seal them once they're cold. If you do this, they will keep for a year. Otherwise, you can put them in a jar of olive oil and they will keep in the fridge for about two weeks.
Oh, and can you do this with pre-shucked oysters? I suppose so, but it would not be my preference.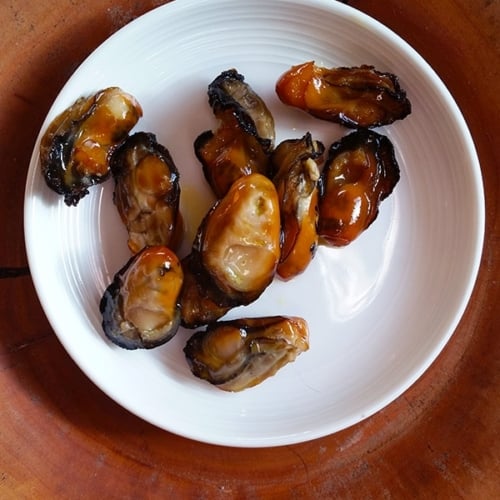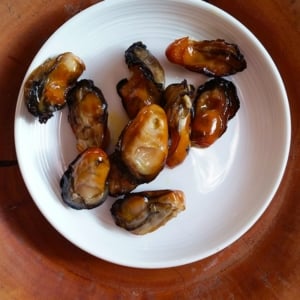 Smoked Oysters
This is an easy way to make smoked oysters, where you make your own brine while prepping them. You can of course shuck all your oysters raw and use the liquor to brine them, but it's a bit harder and I don't like the end product quite so much. But either way works.
Ingredients
40

to 50 oysters in the shell

1

cup

dry vermouth or white wine

1

cup

water

About 1/4 cup high quality olive oil or other oil,

such as walnut or hazelnut
Instructions
Make sure all the oysters are clean by running them under cold water. Bring the vermouth and water to a boil and add some oysters in a single layer. Cover and steam until they are open, which should take between a minute and 3 minutes. Move opened oysters to a bowl or baking sheet and add more fresh ones until you've steamed them all open.

Strain the cooking liquid through a paper towel or cheesecloth (to remove all the debris) into a bowl. Set aside.

Use a small, sharp knife to remove the oysters from the shells, trying your best to get the little "scallop" muscle that holds the oyster in its shell -- it's tasty! When it's done, drop each oyster into the strained broth. Make sure all the oysters soak for at least 20 minutes.

Fire up the smoker. I use alder or cherry wood, and I like the temperature to be around 145°F. Keep in mind oysters are small, so you will need a fine grate to prevent them from falling through. I use dehydrator mats. Smoke the oysters for 90 minutes to 2 hours -- you don't need a whole lot of time here, just enough to get a smoky flavor without overcooking them. Don't let the smoker get too hot!

When they are done, toss the oysters in the oil and eat, or store in a glass jar in the fridge for up to a week. Freeze what you don't eat.
Notes
Once made, these oysters are excellent in a mixed seafood chowder, stew or pasta -- at the last minute, remember they are cooked. You can also just eat them as an appetizer on crackers. Something acidic, like minced shallot or chile soaked in lime juice, is an excellent accompaniment.
Nutrition
Calories:
110
kcal
|
Carbohydrates:
5
g
|
Protein:
2
g
|
Fat:
1
g
|
Saturated Fat:
1
g
|
Cholesterol:
11
mg
|
Sodium:
30
mg
|
Potassium:
44
mg
|
Sugar:
1
g
|
Calcium:
17
mg
|
Iron:
1
mg
Nutrition information is automatically calculated, so should only be used as an approximation.