Smoked Canada Goose Sausage
December 21, 2007 | Updated October 28, 2020
As an Amazon Associate I earn from qualifying purchases.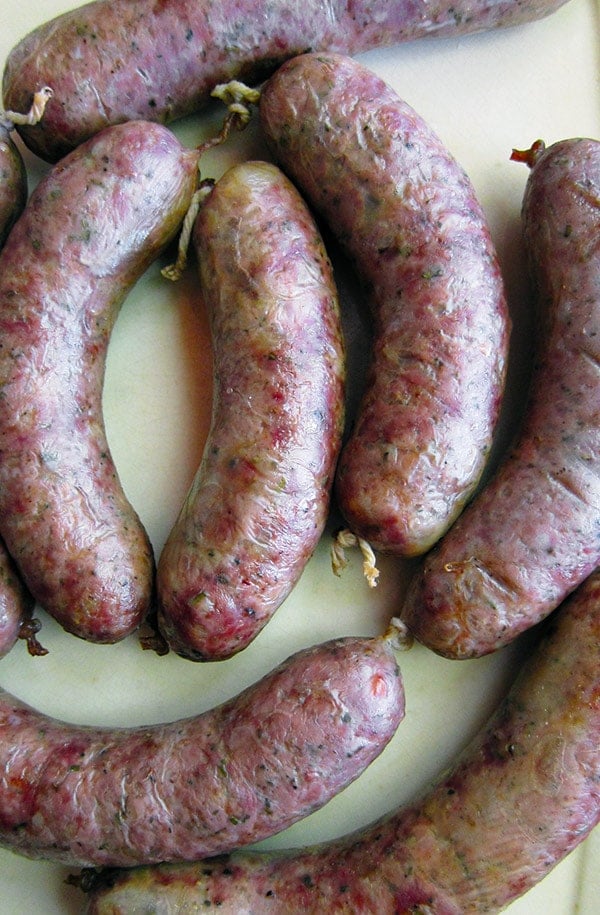 Goose sausage is a must if you happen to hunt geese, especially Canada and snow geese, which are often skinned.
Canada geese are especially good, as they are large and meaty and the devil to pluck — I typically only pluck the nicest of my Canadas — you end up with a lot of skinned meat, mostly from the breasts and those big ole' legs.
You really can make any sausage designed for beef, lamb or venison using goose or duck meat, and you can cut pork 50-50 with goose in those sausages and not lose a lot of character.
One tip if you use pork is to try and find never-frozen pork belly or shoulder to cut in with the goose. The reason is because unfrozen pork will bind to itself better than any other meat, and so will give your goose sausage a better bind.
Like most dark meat sausages, many of which come from Northern Europe, goose sausage loves smoke. Use whatever smoker you have around, but I use a Traeger Timberline. As for wood, anything goes, but I prefer cherry or apple.
Making these goose sausages requires some equipment, however. You will need:
A meat grinder. If you have a KitchenAid mixer, buy the grinder attachment. It works OK. Weston and The Sausage Maker both make excellent grinders.
A sausage stuffer. You can get them special order from a restaurant supply store, or over the internet. Buy no smaller than the 5-pound version.
Casings. Regular hog casings are fine here, but you could use narrow sheep casings or some of the thinner diameter beef casings, if you wanted to.
A smoker. If you can't hang these sausages comfortably, they will not be right. You can of course not smoke them. They will be good, but not the same.
Once made, these sausages will keep a week in the fridge, and for years in the freezer if you vacuum seal them.
New to making sausage? You can find my detailed tutorial on how to make sausages at home here.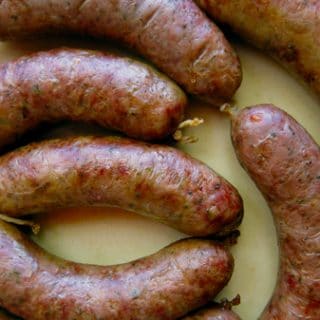 Smoked Goose Sausages
This is a deep, rich, smoky sausage that will go well with lentils or other beans. It's also good with a wild rice pilaf, or farro. And, like any sausage, is excellent as a sandwich with some good mustard! This recipe works with snow geese, ducks, Canada geese — really any wild game, actually.
Ingredients
2

pounds

duck or goose meat

1

pound

fatty pork shoulder or pork belly

17

grams

kosher salt,

about 1 tablespoon plus 1 teaspoon

3

grams

Instacure No. 1, about 1/2 teaspoon

(optional)

2

tablespoons

minced fresh rosemary

4

cloves

garlic, minced fine

1

tablespoon

freshly ground black pepper

1

teaspoon

dried marjoram

1/3

cup

chilled red wine or ice water
Instructions
Dice meat and fat into about 1 inch chunks. Toss in salt, pepper, rosemary, garlic and marjoram. Mix well.

Soak casings in tepid water. You will need about 6 feet worth.

Make sure all meat and fat is cold. You can even keep it in the freezer until it get a little bit frosty. When it is 40°F or colder (but not a sold rock), grind through the small die of your grinder. If it is hot out, or really if your kitchen is warmer that 68°F or so, grind into a bowl that is set in another bowl full of ice. The cold is critical to bind the meat and fat nicely. If it gets too warm, it will break and feel crumbly when you eat it, which isn't very nice.

Put the meat mixture into the bowl of a stand mixer. Add the wine and mix on the lowest setting of your mixer for 1 minute to 90 seconds. You can do it by hand with a wooden spoon, too. You want it to look like a paste.

Put the meat in the fridge and set up your stuffer. Put a casing on the stuffing attachment, leaving about 6 to 8 inches free on the open end. Fill your stuffer with the meat and crank it down. Let the air come through the casing first, then when you see the meat coming through, hold the casing to let the meat totally fill it, then release as you go. You want it reasonably tight. Let the casing fill completely without twisting it into links.

When you are done, twist into short links. I do short links with this sausage because it is so rich you don't need that much to be satisfied. Make the links by pinching the casing down, then twisting away from you a few times. The next link needs to be twisted toward you a few times. Alternate down the whole length, twisting away from you, then twisting toward you. (This video shows how I do it.) Tie the ends in a knot. You can tie again with butcher's string if you'd like.

Hang for at least an hour in a cool room. This lets it dry off.

Smoke for about 3 hours, or until the interior gets to be about 150°F. Shock in a cold water bath, then pat dry. They are now ready to be stored, cooked in your favorite dish, or eaten right away.
Nutrition
Calories:
120
kcal
|
Carbohydrates:
1
g
|
Protein:
19
g
|
Fat:
4
g
|
Saturated Fat:
1
g
|
Cholesterol:
65
mg
|
Sodium:
490
mg
|
Potassium:
285
mg
|
Fiber:
1
g
|
Sugar:
1
g
|
Vitamin A:
40
IU
|
Vitamin C:
4
mg
|
Calcium:
8
mg
|
Iron:
3
mg
Nutrition information is automatically calculated, so should only be used as an approximation.