Classic Salmis of Duck
March 14, 2014 | Updated June 18, 2020
As an Amazon Associate I earn from qualifying purchases.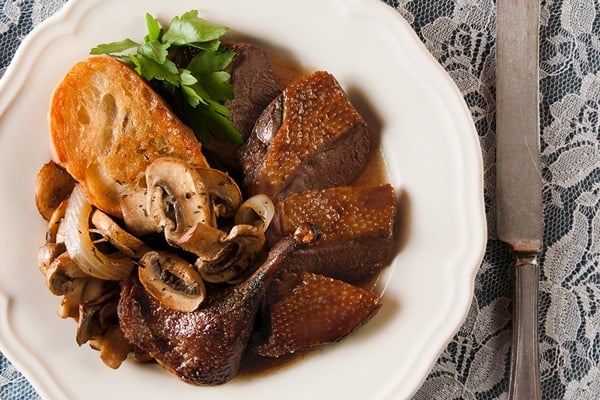 It's not every day you get to taste history.
Salmis (pronounced sal-me) is an ancient French dish that calls for roasting a wild duck in a very hot oven, carving it, and then making a rich sauce with the carcass. It is a classic dish within classical French cuisine, just as are beef bourguignon or hare a la royale.
It's unclear when salmis originated, but suffice to say this method, more or less, has been used for at least 400 years.
Make no mistake. This dish is for date night, Sunday dinner, holidays or whenever you want to stretch a little. There are a lot of moving parts in the recipe, but I hope I've laid them all out easily and clearly in the recipe instructions below.
I really do hope you try this. It is perhaps my favorite French recipe for duck, so much so that I made sure to put it in my cookbook Duck, Duck, Goose: The Ultimate Guide to Cooking Waterfowl, Both Farmed and Wild.
And if you are a long-time reader of this site, you will also know that I've had a version of this recipe on HAGC since early 2008… only that original version was an abomination. I am as embarrassed by that rendition of salmis as I am proud of this one. I've come a long way in six years.
If I had my choice of ducks to make this recipe with, I'd choose a fat wigeon or wood duck, or a pair of teal. All are excellent single servings. In fact, the French loved doing this with teal so much they separated the dishes into salmis de canard sauvage and salmis de sarcelles, the French word for teal. But whatever ducks you use, use pretty ones, with some fat and not too shot up.
This is a lovely, transcendent dish when everything comes together: You got meat, you got crunch, you got a great gravy.
Eating it may just make you think of all the many generations of men and women who have enjoyed it in this same way: What were they talking about over their plates? Had they shot their own birds? Were they humble folks or rich swells with private cooks? Who knows, but it's fun to daydream over a roasted bird, ain't it? Eating this dish is eating a slice of history. Enjoy.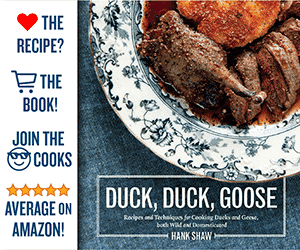 Salmis of Duck
I prefer small ducks for this recipe, like fat green-winged teal, wigeon or wood ducks. But you can certainly use bigger ducks, too, and yes, even domesticated birds -- although this is a dish specifically designed for wild game. Yep, you can also see salmis of hare, woodcock, pheasant, etc in classic French cookery.
Ingredients
2

to 4 wild ducks,

4 teal or 2 bigger ducks

Kosher salt and freshly ground pepper

2

cups

hot water

Small handful of celery sticks

plus 1 celery stalk, chopped

1/2

cup

chopped shallot

1

carrot,

peeled and chopped

2

leaves

bay

1/2

ounce

dried mushrooms,

about a handful

1

teaspoon

dried thyme

1/4

cup

brandy

1 1/2

cups

red wine

1

cup

duck stock or beef stock

1

pound

sliced fresh mushrooms,

such as button or cremini

1/2

cup

chopped yellow onion

1

slice

crusty baguette

cut into thick

2

tablespoons

unsalted butter

for finishing the sauce

Duck liver pâté,

optional

Chopped fresh flat-leaf parsley,

for garnish
Instructions
Preheat your oven to 500°F or its highest setting. Let it heat for a full 30 minutes. Pat the ducks dry with a paper towel, salt well inside and out, and then let sit at room temperature while the oven heats. In a small bowl, soak the dried mushrooms in the hot water to reconstitute them. When they are soft, lift them out of the water, squeeze them dry, chop, and reserve. Line a fine-mesh sieve with a plain paper towel, and pour the soaking water through it into a measuring cup. Reserve 1 cup of the soaking water.

When the oven is ready, pat the ducks dry again with a paper towel, then smear with the duck fat or olive oil. Put the celery sticks in the bottom of a cast-iron frying pan or other ovenproof pan to serve as a rack for the ducks, then pour just enough water into the pan to cover the bottom, about 2 tablespoons. Place the ducks breast side up on the celery sticks. Put the ducks into the hot oven and set the timer for 15 minutes. At the 10-minute mark of roasting, baste the ducks with the juices that have collected at the bottom of the pan. After 15 minutes have elapsed, take the pan out of the oven and rest the ducks on a cutting board. (If you roasting teal, they will need to be basted after 5 minutes, and will need only about 10 minutes in the oven.) If you are roasting a Muscovy duck or other domesticated bird, transfer it to the cutting board after 22 to 25 minutes have elapsed. You want the breast meat to be rare and the legs a little undercooked.

Turn off the oven. Let the ducks rest for 10 minutes, then carve them. Pour off the juices from the pan and set the legs and wings, skin side up, in the pan. Put the pan back in the oven. The carryover heat should be hot enough to finish cooking the legs and wings while you make the sauce. Set the breasts, skin side up, on the cutting board for now.

Cut the carcasses into small pieces with heavy kitchen shears or chop with a cleaver and put the pieces in a Dutch oven or other heavy pot with 2 tablespoons of the duck fat or butter. Place over medium-high heat and brown the carcass pieces. Add the shallot, chopped celery, carrot, and rehydrated mushrooms and cook, stirring occasionally, for 8 to 10 minutes, until the vegetables begin to brown. Mix in the bay leaves, thyme, and brandy and cook until almost all of the brandy boils away. Stir in the wine, stock, and the reserved mushroom water, raise the heat to high, and bring to a boil.

While the sauce is boiling, place a sauté pan over high heat. When it is hot, add the fresh mushrooms, shaking the pan as they go in. Let the mushrooms sear in the dry pan for about 4 minutes, until they give off their water. Add 2 tablespoons duck fat or butter, a little salt, and the onion and sauté over medium-high heat for about 6 to 8 minutes, until nicely browned. Remove the mushrooms and onions from the pan, reserve and wipe out the pan.

Strain the sauce through a fine-mesh sieve into a small saucepan, place over high heat, and boil until reduced by half. While the sauce is reducing, set the duck breasts, skin side down, in the pan you cooked the mushrooms in. Turn the heat to medium-high to crisp the skin; you might need a extra tablespoon of butter or fat of things are too dry. Toast the bread slices (or fry them in duck fat or butter) and set aside.

When the sauce is ready, remove from the heat and swirl in the 2 tablespoons butter. The sauce should have the consistency of thin gravy. Season the sauce with salt and pepper.

To finish the dish, give the legs a quick dip in the sauce, then arrange on plates. Dip the breasts into the sauce and arrange them, skin side up, on the plates. Spread the pâté on the toasted bread slices and give everyone some mushrooms. Pour a little extra sauce over the duck and garnish with parsley. Enjoy your taste of history!
Notes
Salmis is historically served with big croutons--think Texas toast--and sautéed mushrooms. A bold French red wine, such as a Bordeaux, Côtes du Rhône, or Châteauneuf-du-Pape, is a must with this recipe.
Nutrition
Calories:
1780
kcal
|
Carbohydrates:
16
g
|
Protein:
50
g
|
Fat:
157
g
|
Saturated Fat:
54
g
|
Cholesterol:
305
mg
|
Sodium:
420
mg
|
Potassium:
1477
mg
|
Fiber:
2
g
|
Sugar:
4
g
|
Vitamin A:
848
IU
|
Vitamin C:
15
mg
|
Calcium:
77
mg
|
Iron:
11
mg
Nutrition information is automatically calculated, so should only be used as an approximation.