As an Amazon Associate I earn from qualifying purchases.
Recado negro is one of the more unusual, and distinctive, flavor bases in Mexican cooking. It comes from the Maya regions, so Yucatan on south into the countries of Guatemala and Honduras.
As you can guess, it's black, and hinges on charred ingredients. Here's how to make it at home.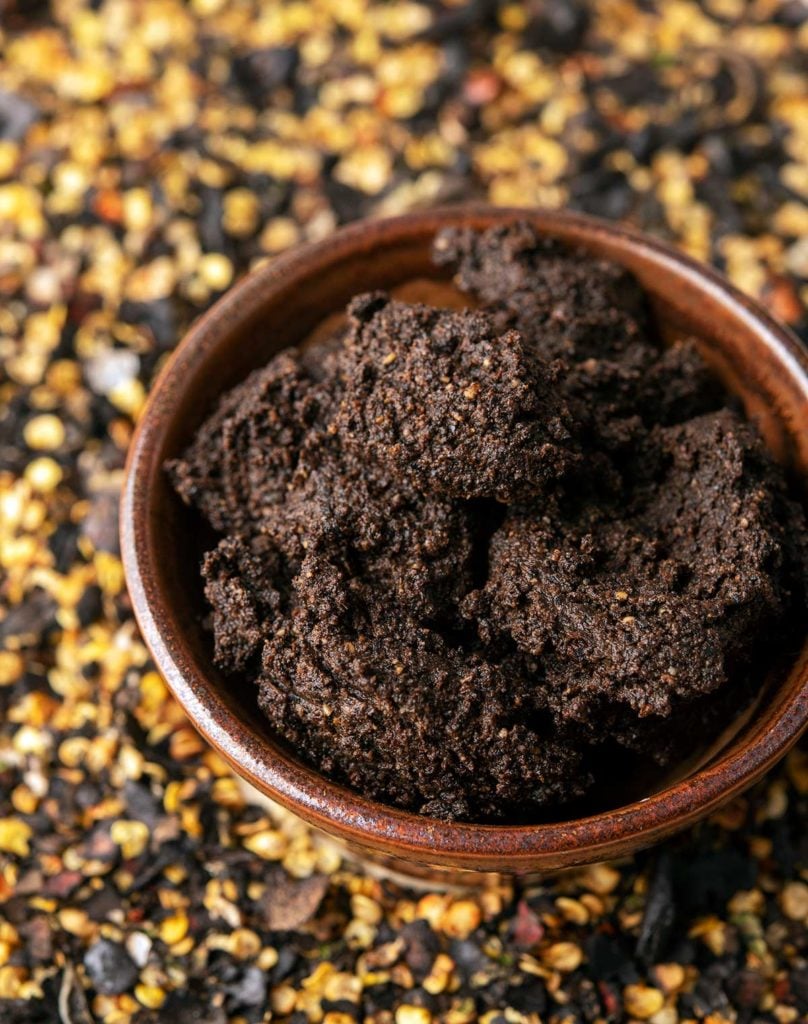 What you'll be making is a thick spice paste that you will keep in the fridge pretty much indefinitely, dipping into it to make dishes like relleno negro, or what you see in this post, a sort of picadillo cooked with diluted recado negro.
Recado negro will take you to cool, smoky places, with warming flavors both picante and sweet.
The flavor of recado negro is heavy on the char, with spiciness from burnt chiles, depth from charred garlic and corn tortillas, and a touch of the exotic from the toasted spices.
I'll be honest, though: If you eat it straight, the burnt flavor is overpowering. This is why you always dilute recado negro. And why it takes 24 hours to make it. More on that in a moment.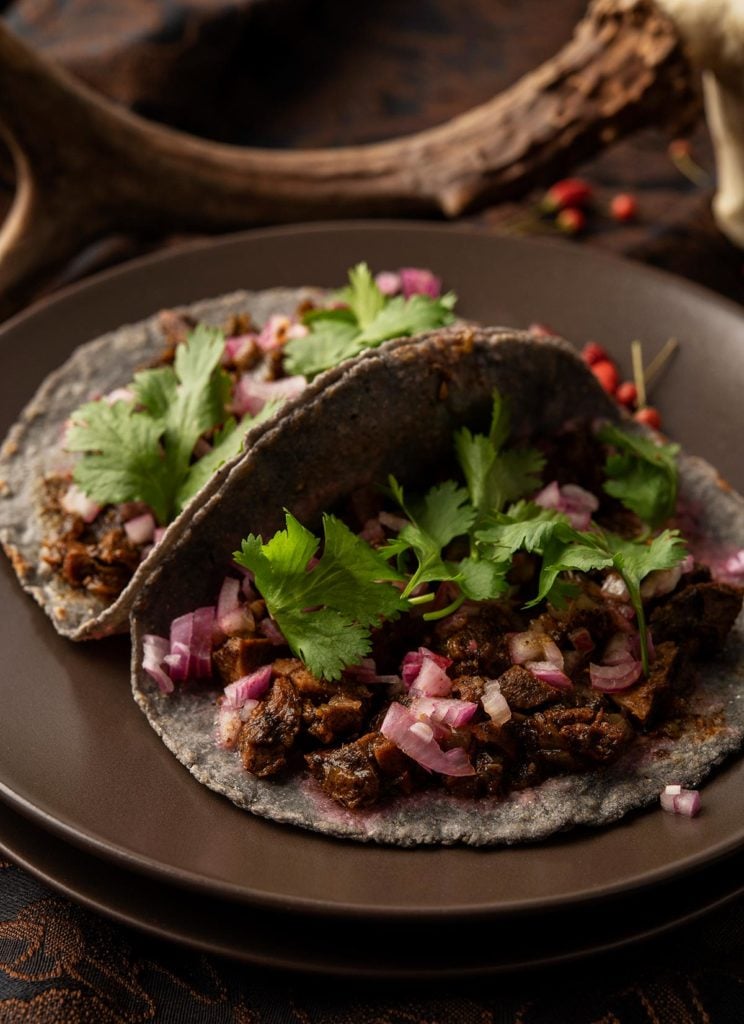 I am indebted to the late David Sterling, whose life's work culminated in the amazing book Yucatan, which I can't recommend highly enough. His recipe is the backbone to this one, although I researched several dozen others in both English and Spanish to come up with mine.
Most recipes ask you to literally set fire to a bunch of dried chiles, but there is no need for that. You do want them totally blackened, but the caustic flames of burning chiles are a bit much, even for me.
Better instead to do what Sterling suggested, which is to roast them in a very hot oven with the fan on for about 15 minutes or so. You then need to crush the burnt chiles, run water through them a few times, then finally soak them overnight. This process tames a lot of the "burnt ashtray" effect you'd get with straight burnt things.
And it is vital that you don't skip this step.
You also need to more or less set corn tortillas on fire to blacken them, and then char garlic and onions.
Ultimately you blend all this with spices and such, then wring it through cheesecloth to remove a lot of moisture, which leaves the recado negro drier, but also way more stable.
A splash of vinegar and a hit of salt further extend its life.
Other than relleno negro, you can use recado negro in Yucatecan picadillo, or as part of a marinade for carne asada.
Note that this is not the same stuff as mole negro, which is another black dish from Mexico. That one is from Oaxaca.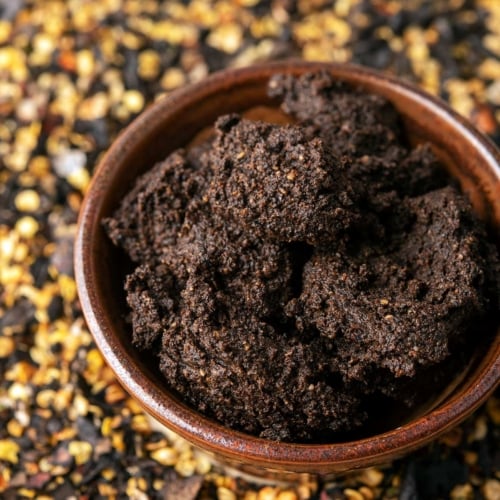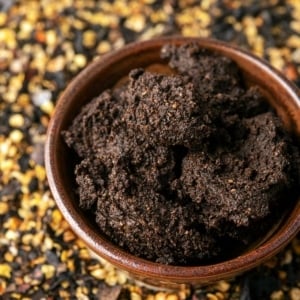 Recado Negro Spice Paste
This is a recipe for the spice paste itself, which you then use, often diluted, in a variety of recipes from the Maya region of Central America, from the Yucatan to Honduras.
Ingredients
1

ounce

dried arbol chiles

7

ounces

dried guajillo or New Mexican chiles

10

stale corn tortillas

(7 ounces)

1

tablespoon

achiote paste

1

teaspoon

achiote verde

(optional)

1

tablespoon

black peppercorns

1

teaspoon

cumin seed

1

tablespoon

allspice berries

10

cloves

1

head

garlic

1

large white onion,

peeled and quartered

2

chipotle chiles

2

tablespoons

Mexican oregano

3

tablespoons

vinegar,

distilled, cider or banana

2

tablespoons

salt
Instructions
Preheat your oven to 425°F. Remove the stems from the dried chiles and arrange them in a large roasting pan, ideally in one layer. Roast them until they are completely black and smoking (use your oven fan!!!), about 15 minutes or so. Turn off the oven but leave the chiles in there another 30 minutes.

While this is happening, it's a good idea to take out your tortillas and set them on the counter. You want to work with stale tortillas the following day.

Move the chiles to a large pot and just barely cover with water. Crush and mash them with a potato masher or somesuch. Don't puree them. Put all the chiles into a strainer that you have lined with cheesecloth. Squeeze out all the water. Discard this water, which will taste like an ashtray.

Put the chiles back in the pot, or a bowl, and cover with water again. Use running water to clean your cheesecloth into the bowl, so you catch the bits of chile stuck to it. You will want to soak the blackened chiles overnight, changing the water 2 times. Just pour off the water each time, no need to use the cheesecloth for this.

The next day, char your tortillas. If you have a gas burner, this is easy: Set them on the burner until they catch fire, blow them out, and flip and char the other side. If you just have electric, you can do the same thing but it's not as easy. You can also just set them on a very hot cast iron pan or griddle until you get lots of blackening.

Crush the tortillas and put them in a blender. Add to the blender the achiote paste and the achiote verde, if using.

Toast the peppercorns, allspice berries, cumin seed and cloves in a dry pan until everything smells wonderful. Grind this in a spice grinder, then add to the blender.

After you've charred the tortillas, you will need to char your onion and garlic. Separate the cloves of the garlic without peeling, then blacken the skins on a comal, griddle or cast iron pan. Do the same with the quartered onion, charring the two cut sides of the onion quarters. Chop all this an add to the blender.

Strain the chiles, reserving the water. Add that, the chipotles and the Mexican oregano to the blender. Puree all of this thoroughly, adding the soaking water as needed to make the blades run smoothly.

Now, set up that strainer and cheesecloth again and pour the contents of the blender into it. Squeeze out as much water as you can.

Finally, scrape the mixture into a clean bowl and add the vinegar and salt. Mix well, pack into glass jars, and store in the fridge. It will last, more or less, forever.
Notes
Keep in mind that my chile suggestions are not authentic, but realistic. In a perfect world you'd use a thin walled, medium spicy pepper. Chile puya is a perfect choice, but isn't always available in markets. Pasilla apaseo, salsero or chiles de pais are all excellent choices.
Keys to Success
This is an involved recipe, but it will last a long time in the fridge, so you need only make it once in a while to have a good supply. 
The achiote paste is in pretty much every Latin market in America, so that shouldn't be a stopper for you. Ditto for Mexican oregano. Both are available online, too. 
Do not skip the water changes in that first overnight soak. It's vital to the success of the recipe, taming the bitter, acrid taste of the freshly burnt chiles. 
Nutrition
Calories:
76
kcal
|
Carbohydrates:
16
g
|
Protein:
2
g
|
Fat:
1
g
|
Saturated Fat:
1
g
|
Polyunsaturated Fat:
1
g
|
Monounsaturated Fat:
1
g
|
Trans Fat:
1
g
|
Sodium:
716
mg
|
Potassium:
269
mg
|
Fiber:
5
g
|
Sugar:
5
g
|
Vitamin A:
3019
IU
|
Vitamin C:
5
mg
|
Calcium:
34
mg
|
Iron:
1
mg
Nutrition information is automatically calculated, so should only be used as an approximation.