Pulpo a la Gallega
November 25, 2013 | Updated March 19, 2021
As an Amazon Associate I earn from qualifying purchases.
Pulpo a la gallega. Man, is this good! I can't tell you when I first ate this Spanish classic, but it was probably sometime in my late teens, and probably at a Spanish restaurant on New Jersey's Route 22 whose name escapes me now. But I remember it being real-deal Spanish — or at least what I imagined it might be, considering I've never been there.
Pulpo a la gallega is basically an octopus salad. Most octo-eating cultures have their versions, and the Spaniards are no different.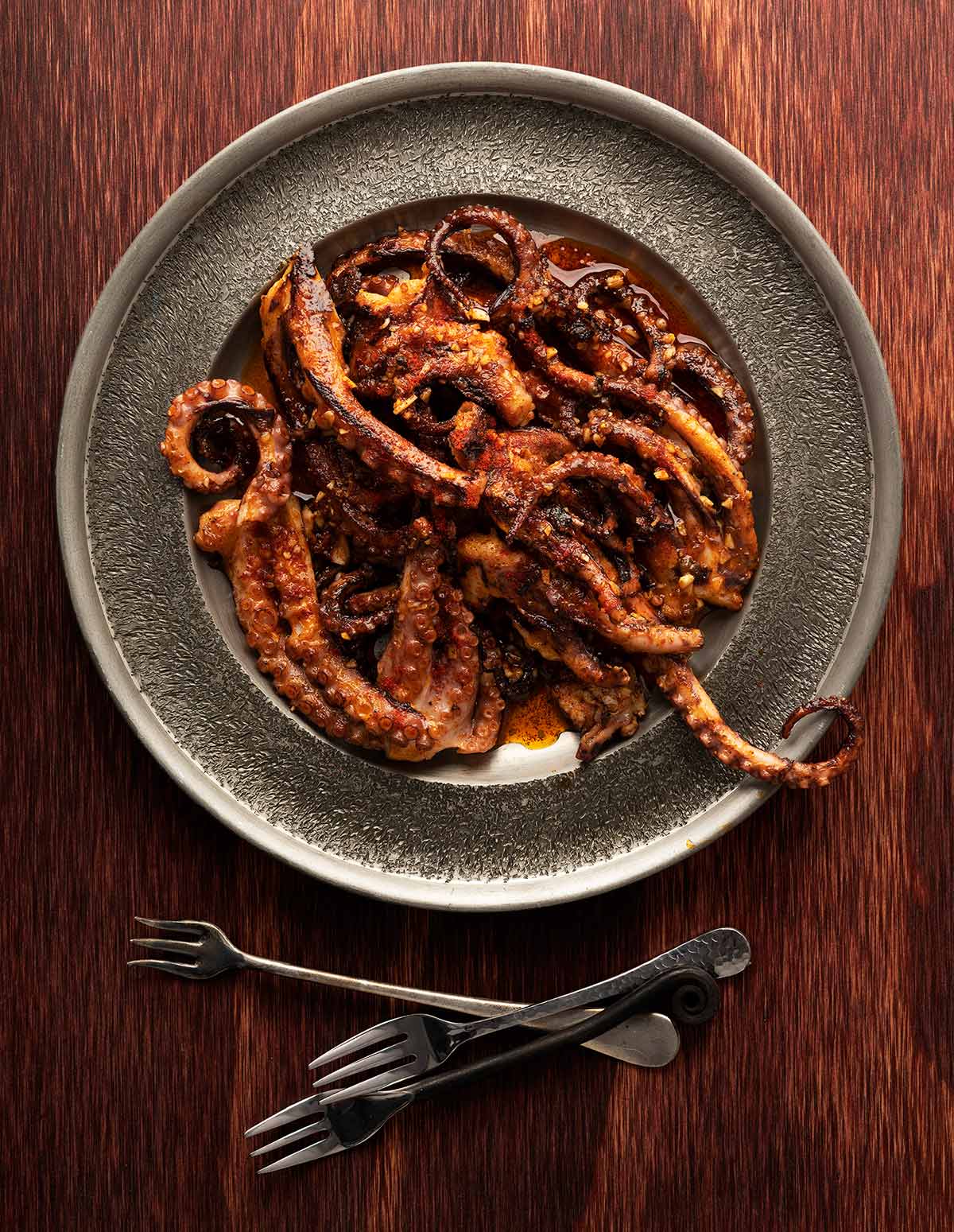 According to the late, great cookbook author Penelope Casas in her The Foods and Wines of Spain, "a la gallega" is from Galicia, and it means anything cooked with paprika and olive oil… to my mind, everything is good with paprika and olive oil, but octopus is especially good.
You will also find this recipe called pulpo a la feria, because it is common festival, or fair, food in Spain.
And while most octopus salads are summertime fare, pulpo a la gallega works in any weather, likely because Galicia is in the cold, northern part of Spain. I think it's the paprika and garlic that gives you a warming feeling when you eat it.
And while yes, I often finish the octopus on the grill, I do live in California, where this is easily done all year. You can either grill or use the broiler — the point is to get a little char on the octopus. If you use the broiler, keep an eye on things because while a little char is good, a lot will ruin the dish.
(I also have a straight-up grilled octopus recipe.)
Once the octopus is ready, you toss is in olive oil with paprika, a little cayenne, salt and black pepper and squeeze lemon juice or sherry vinegar on it.
Pulpo a la gallega is a perfect tapas dish, party appetizer or hell, just something to chew on with crusty bread while watching football. If you want to make this part of a cool Spanish tapas feast, I'd whip up some salt cod fritters to go alongside it, as well as boquerones and maybe even quail or partridges en escabeche.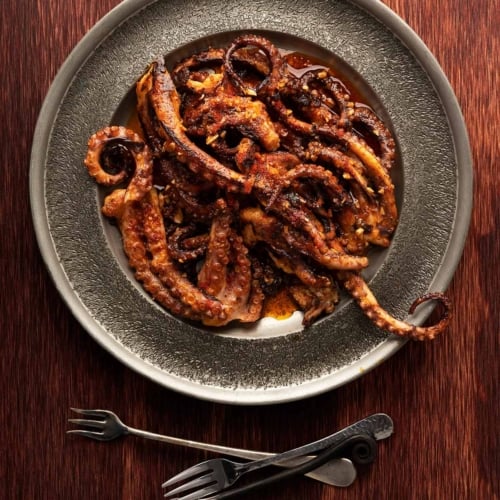 Pulpo a la Gallega, Spanish Octopus with Paprika
Since this recipe is good either warm or at room temperature, and because it keeps for several days, it is a perfect make-ahead recipe for parties or whatever. I like dipping into a stash of pulpo gallego while watching TV; it's perfect to munch on with good, crusty bread. You'll note that my method of cooking octopus does take a while, but it's the best way I know to concentrate the flavor of octopus while at the same time tenderizing it.
Ingredients
2

to 3 pounds octopus

1

bunch of parsley

Tops from a fennel bulb

1

sprig oregano

2

to 3 green onions,

chopped roughly

2

bay leaves

4

garlic cloves,

crushed and minced

1/2

cup

extra-virgin olive oil

1

tablespoon

paprika

1

teaspoon

smoked paprika

(optional)

1/4

teaspoon

cayenne

Salt and black pepper

Lemon wedges to serve
Instructions
First you'll need to tenderize the octopus. Boil a large pot of salty water. Cook the octopus for 2 minutes, then remove to a cutting board. While the octos are cooling turn the oven to 225°F.

Line a heavy, lidded pot with the parsley, fennel fronds, oregano, green onions and bay leaves. Trim fatty bits from the octopus and clean out the heads (normally this last step has been done for you, but not always). Cut the octopi into large pieces and nestle into the pot of greens. Cover the pot and cook for 90 minutes to 4 hours, depending on how large and tough the octopi are. I typically shoot for 2 hours. Don't worry about the lack of liquid in the pot: The octos will release enough to make a flavorful broth.

When the octopus is tender, remove from the pot and cut into serving-sized pieces. Coat with some of the olive oil and either grill or broil until you get some char marks, about 8 to 10 minutes.

Toss the octopus with the rest of the olive oil, garlic, the paprika, smoked paprika and cayenne. Add salt and black pepper to taste and serve with lemon wedges, at room temperature or slightly warm. Serve with bread.
Nutrition
Calories:
167
kcal
|
Carbohydrates:
2
g
|
Protein:
1
g
|
Fat:
18
g
|
Saturated Fat:
3
g
|
Cholesterol:
1
mg
|
Sodium:
3
mg
|
Potassium:
42
mg
|
Fiber:
1
g
|
Sugar:
1
g
|
Vitamin A:
773
IU
|
Vitamin C:
1
mg
|
Calcium:
6
mg
|
Iron:
1
mg
Nutrition information is automatically calculated, so should only be used as an approximation.