Pheasant with Apples
January 22, 2013 | Updated April 29, 2020
As an Amazon Associate I earn from qualifying purchases.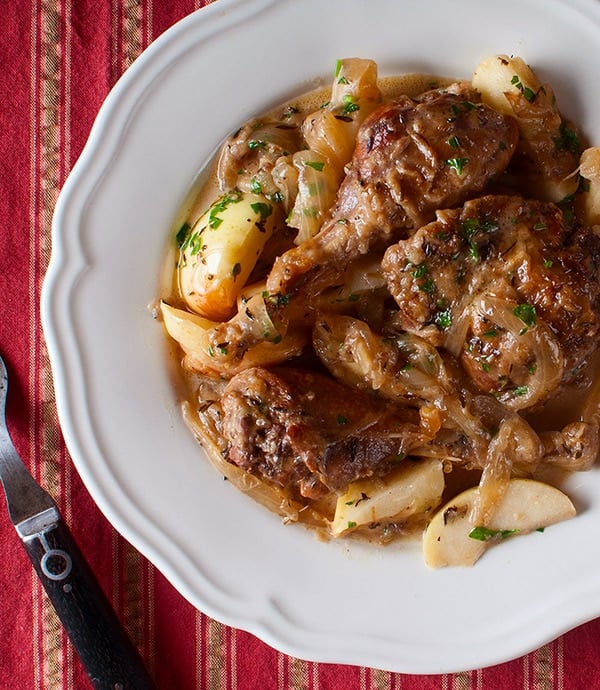 There is something about the combination of pheasant and apples that just sings. For that matter, chicken with apples, or hell, any poultry with apples is pretty awesome.
I have no idea why it works, but it just does. Duck and Apples is another one of my go-to dishes in winter. This dish is properly called Pheasant Normandy and is a wild game variation of a French classic done with chicken.
I first learned about chicken Normandy while watching Emeril Lagasse, of all things; he made it on his stand-and-stir show nearly 20 years or so ago. Been making it ever since.
This recipe is a simple mix of sweet onions, gently cooked apples, cider, cream, brandy and chicken… or pheasant in this case. There is no special technique involved here, no great difficulty or esoteric ingredients.
Obviously you will want decent ingredients: Brandy you'd be happy drinking, good cream, fresh cider — regular cider, not hard cider — as well as cooking apples like Fuji or Gala. Granny Smiths work, too.
You will enjoy this more if you use pheasant thighs, leaving the legs, with all their sinew, for another dish. That said, as you can see from the picture, legs are fine, too, especially if you know the trick to removing pheasant tendons.
This is comfort food, and all it asks of you is a little time.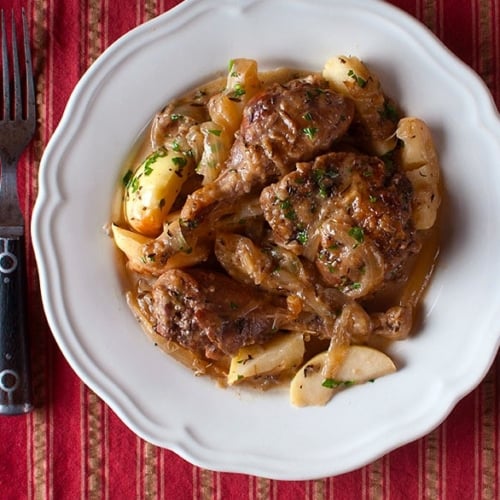 Pheasant Normandy
I designed this recipe for skinless pheasant legs, which can be cooked entirely on the stovetop. If you have skin-on legs, you can crisp the skin in at 375°F oven at the end. Obviously this will work with chicken, but it's also great with partridges or ruffed grouse as well. You could also use wild turkey thighs.
Ingredients
4

tablespoons

unsalted butter

2

cooking apples,

cored and sliced into wedges

Flour for dredging

4

to 6 pheasant legs

with thighs

Salt

1

large onion,

sliced root to top

1/2

cup

Calvados or other apple brandy

2

cups

apple cider

1

teaspoon

dried thyme

1/4

cup

heavy whipping cream
Instructions
Salt the pheasant legs and let sit at room temperature for 30 minutes.

Heat 2 tablespoons of the butter in a Dutch oven or another large, oven-proof pan over medium heat. Add the apple slices and sauté until they turn a little brown around the edges, turning occasionally. Sprinkle the apple slices with a little salt. Set aside on paper towels.

Dust the pheasant in flour and add the remaining 2 tablespoons of butter to the pan. Brown the pheasant for 3 to 5 minutes per side. Remove from pan and set aside.

Add the onion and increase the heat to medium-high. Sauté, stirring occasionally, until they just begin to brown, about 5 to 8 minutes.

Take the pan off the heat and pour in the brandy. Put the pan back on the heat and, using a wooden spoon, scrape any browned bits off the bottom of the pan. Let the brandy boil until it has reduced by about half. Add the cider and bring it to a boil. Add the thyme. Lay the pheasant legs in the pan, cover and simmer gently until tender, anywhere from 90 minutes to 2 1/2 hours.

Fish out the pheasant legs and strip the meat off the bones if you want to. Turn the heat to high, add the apples and boil down the sauce by half. When the sauce gets a little syrupy, turn off the heat and add the cream. Add salt to taste. Serve by spooning some apples and onions on everyone's plate and topping it with the pheasant.
Nutrition
Calories:
651
kcal
|
Carbohydrates:
29
g
|
Protein:
25
g
|
Fat:
41
g
|
Saturated Fat:
17
g
|
Cholesterol:
192
mg
|
Sodium:
126
mg
|
Potassium:
564
mg
|
Fiber:
3
g
|
Sugar:
22
g
|
Vitamin A:
730
IU
|
Vitamin C:
7
mg
|
Calcium:
51
mg
|
Iron:
2
mg
Nutrition information is automatically calculated, so should only be used as an approximation.