As an Amazon Associate I earn from qualifying purchases.
For some of you, the idea of pasta with sardines will bring back fond memories. But for most, it sounds nasty, like something you'd concoct in a dorm room after a night of drinking cheap beer. I can assure you it's not.
Nope, pasta con le sarde is a venerable dish in Italian cuisine, one that has variations all up and down the peninsula.
My version of pasta with sardines rests firmly on foundations laid by the late, great Italian chef Guilliano Bugialli. He has several versions on this recipe in his books; the one I use as a jumping off point is in his book Bugialli on Pasta.
For starters, you can use either fresh or tinned sardines for this recipe. And if you want to use fresh fish that aren't sardines, any small fish you can get little fillets out of will do. Big anchovies, really small mackerel, smelt, etc. The Italians call these, collectively, pesce azzurro, or "blue fish."
If you use tinned sardines, try to get them reasonably plain. This particular recipe for pasta with sardines doesn't use tomato, so you don't want sardines in tomato sauce.
This rendition is heavy on the fennel. If you happen to live where wild fennel lives, use that. If not, garden variety is fine. If you happen to hate fennel, fear not. A lot of it is used to perfume the pasta water, so you can skip that, and more is used in the sauce itself; substitute fresh parsley or mint there.
You'll also notice that there are both anchovies and sardines in this sauce. The reason is because salted anchovies are far stronger and saltier than sardines, and they help form the base of the sauce. The sardines will get mashed up, but you will still be able to see bits here and there. The double hit of little fish is really nice…
…when you use good sardines and good anchovies. This matters. I got some fresh sardines from E-Fish, and you can find fresh sardines more and more in markets. Definitely look there first before you go the tinned route. The best canned sardines come from Spain or Portugal. I am partial to Matiz and to Nuri. Good supermarkets have them, or you can buy them online.
Does it matter? Absolutely, 100 percent, you-have-no-idea-how-much. Really. It does. Hell, it's worth buying a couple tins for the pantry since they keep for years. These fancy canned sardines aren't the horrid, stinky, cat-foody cheap things you might have experienced after an evening of bad decisions. These you actually want to eat.
Anchovies play less of a role here, so you can go cheap if you want. I still always prefer anchovies packed in salt over those packed in oil. So buy that kind if you can.
Other keys to enjoying your pasta with sardines are good, extra virgin olive oil — it'll be in the can in those fancy tinned sardines — fresh lemon, not bottled lemon juice, freshly peeled and sliced garlic, and, if you have it, real saffron. I prefer my saffron from Spain, but saffron from Iran and India is excellent, too. You can skip the saffron altogether if you don't have any.
As for the pasta in pasta with sardines, since I basically always make pasta by hand, I made bigoli from a torchio I happen to have; this is thick spaghetti with a rough surface to catch tiny bits of sauce. Regular ole' spaghetti works just fine. I do prefer this pasta dish with long pasta, but no one will come to your house and beat you up if you use short pasta.
(For other great seafood pasta recipes, try my spaghetti with crab sauce, or my lobster fra diavolo.)
One final note: See the amount of sauce in the picture? That's what you want. It's like a condiment here, not a heavy coating like your typical spaghetti with marinara. The sauce is powerful, and a little goes a long way.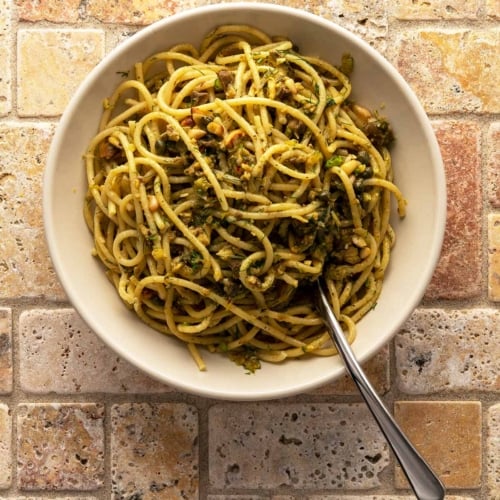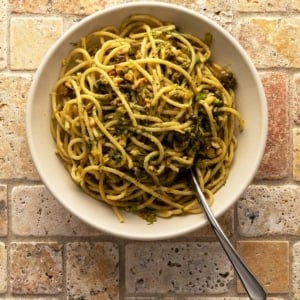 Pasta with Sardines
While this will be a better dish with fresh sardines and homemade pasta, quality tinned sardines and good store-bought dried pasta are almost as good. This is not a dish that keeps well. Eat it, enjoy it, and move on. Leftovers can get fishy.
Ingredients
8

ounces

sardines,

fresh or tinned

3

tablespoons

pine nuts

1/4

cup

extra-virgin olive oil

1

red onion,

minced

4 to 8

anchovies

2

cloves

garlic

A pinch of saffron

(optional)

1

tablespoon

capers

1/2

cup

chopped fennel fronds

Zest and juice of a lemon

Black pepper to taste

1

pound

spaghetti
Instructions
Toast the pine nuts in a dry pan over medium-high heat until they smell nice and are slightly browned. Move to a bowl and set aside.

Pull the backbones out of all the sardines. It doesn't matter if they are a bit messy or if there are any teeny ribs or somesuch. They're going to get broken up anyway.

Bring a large pot of water to a boil and add a palm full of salt. If you have it, Put the tops of a fennel bulb, or, even better, a big bunch of wild fennel into the water and boil it for 15 minutes. Remove the fennel and discard. The idea is to perfume the pasta water. Once this is done, start boiling your pasta.

In a large pan, heat the olive oil over medium-high heat and add the onion and anchovies. Sauté, mashing the anchovies as you go. They'll dissolve into a paste. Add the garlic and sauté another minute, then all the sardines. Stir well and break up the sardine pieces. Cook about 5 minutes.

Add the saffron, pine nuts and capers and continue to cook until the pasta is ready. Move the pasta to the pan with the sauce, add the fennel and the lemon zest and juice and toss to coat. Grind some black pepper over it all and serve.
Notes
Keys to Success
Quality really matters here. Good sardines, fresh or tinned, good olive oil, fresh garlic and lemon, quality pasta. You will really taste the difference.
If you use salted anchovies, you need to rinse them first. 
Don't use too much sauce. Big globs will come off fishy. A light coating is what you want. 
Serve with a crisp white wine, like a Sancerre or Pinot Grigio or Albariño. 
Variations
You can add a tablespoon or two of tomato paste with the anchovies.
You can substitute herring, smelt or other small fish for the sardines. 
Nutrition
Calories:
731
kcal
|
Carbohydrates:
90
g
|
Protein:
31
g
|
Fat:
27
g
|
Saturated Fat:
3
g
|
Cholesterol:
83
mg
|
Sodium:
360
mg
|
Potassium:
630
mg
|
Fiber:
5
g
|
Sugar:
4
g
|
Vitamin A:
83
IU
|
Vitamin C:
4
mg
|
Calcium:
263
mg
|
Iron:
4
mg
Nutrition information is automatically calculated, so should only be used as an approximation.