Pan-Seared Woodcock
September 30, 2019 | Updated June 15, 2020
As an Amazon Associate I earn from qualifying purchases.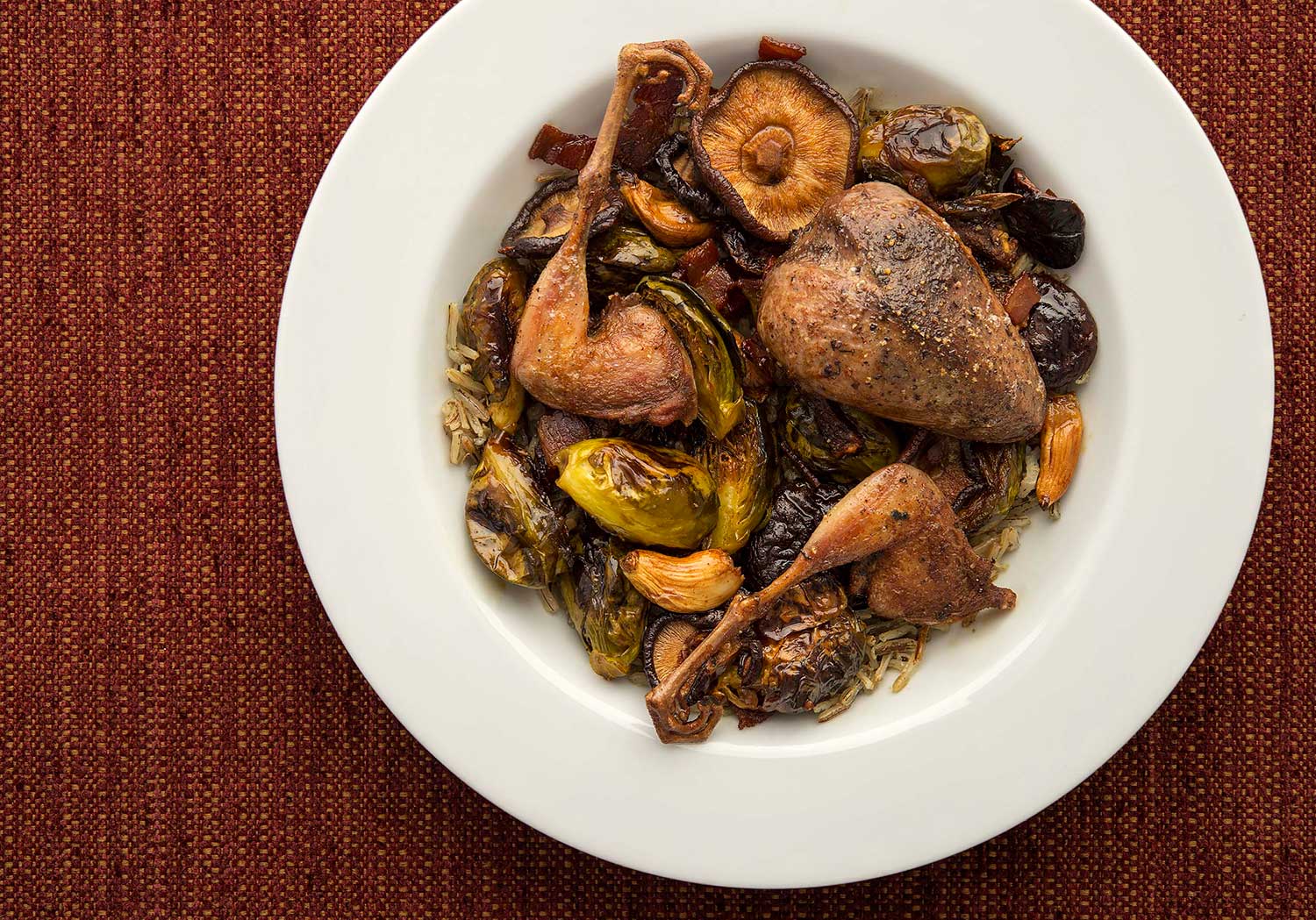 Woodcock are such a special bird that they ought to be treated specially in the kitchen; thus this simple woodcock recipe.
Unlike my recipe for roast woodcock, this one can be done on the stovetop in a pan. I am generally using the same technique I use for quail and partridges, and pairing the birds with roasted mushrooms, garlic cloves and Brussels sprouts.
I like to serve all this on a bed of wild rice, and while you could skip that if you want, wild rice and woodcock are both symbolic of Minnesota's Northwoods, a place I return to time and again to chase these funny birds.
Mudbats, timberdoodles, bog suckers, whatever you call them, woodcock are an odd bird. They hang out in very dense alder thickets, so dense that the saying is if you can toss your hat and it actually hits the ground, you need to move to thicker cover.
Shooting a limit, usually three birds, ranges from anything from impossible to laughable. I've walked from dawn to dusk with none, and have also shot a limit in 30 minutes. But hunt them while you can. Woodcock are migratory birds, so they will only be in your woods a few weeks at best.
Unless, that is, you live in Louisiana, where it is said that all woodcock spend their winters. Someday I will chase them there in January…
Back to this woodcock recipe.
Woodcock are opposite birds, meaning they have dark meat breasts and light meat legs. And you want both the legs and the skin for this recipe. Why? They taste amazing, like nothing else — certainly nothing like you'd imagine a worm-eating ground bird would taste.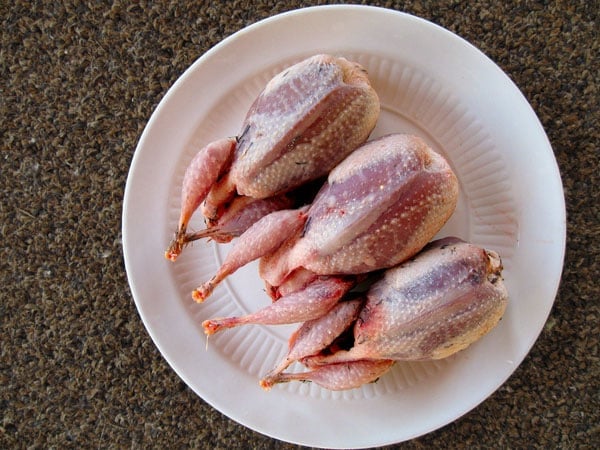 See all that fat on those plucked woodcock? You want that. Yes, you do…
Woodcock happen to be easy to pluck. No wax or water needed. Just take your time and it'll be fine. And yes, you might mess up a few birds before you perfect it, but know that plucking a woodcock is nowhere near as hard as plucking a grouse.
Sometimes I like to leave the feet on the legs, mostly because they look cool. You can snip them off. You will want to sear the breast meat of the woodcock to about medium, and cook the legs a little longer. Err on undercooking the breast and overcooking the legs.
As for the vegetables, I really like the combination of shiitake mushrooms and Brussels sprouts, with some big garlic cloves tossed in. Oil them, salt them and roast at 400°F uncovered until things get all brown and toasty, about an hour.
Serve it all together in a shallow bowl, maybe with a dash of Worcestershire sauce, and you are good to go.
Pan Seared Woodcock
This general recipe will work with all small birds, from quail to snipe, doves, pigeons, partridges or teal ducks. You can very the vegetables, too, if you want. I like this over a simple plate of buttered wild rice.
Ingredients
VEGETABLES
1

head

garlic,

cloves separated but not peeled

1

pound

Brussels sprouts,

halved if large

1

pound

shiitake or other fresh mushrooms

3

tablespoons

sunflower or olive oil

Salt

Worcestershire sauce to taste
WOODCOCK
4 to 8

whole woodcock

3

tablespoons

Canola or grapeseed or avocado oil

Salt and black pepper

2

tablespoons

unsalted butter
Instructions
VEGETABLES
Preheat your oven to 400F. Coat the vegetables and mushrooms in the oil, then salt well. Arrange in one layer in a pan and roast until nicely browned, about 45 minutes.

When they're done to your liking, peel the garlic, toss everything with a little Worcestershire sauce and serve with the woodcock.
WOODCOCK
While the vegetables are roasting, coat the birds with oil and salt well. Put the rest of the oil in a frying pan large enough to hold the birds and get it hot over medium-high heat. Remove the backbones from the birds and separate the legs from the breasts; keep the breasts on the bone as you see in the picture.

When it's hot, set the legs and breasts of the birds in the pan and start searing. Ideally there is enough oil in the pan to almost cover the legs, or at least halfway. Sear until golden brown, about 8 to 10 minutes total, flipping once or twice.

The way you cook the breasts is to keep them bone-side down most of the time. You spoon hot oil over the breasts to cook them while the legs are frying, and when the legs are almost ready, tip the breasts upside down to get contact with the hot oil directly. This will brown them. Only let this happen for about a minute per side -- since a breast won't sit flat, you will need to tip them to one side, then the other.

To finish, turn off the heat and add the butter. When it melts, spoon it all over the birds. This is for flavor. You've been using a neutral, high smoke-point oil, and this adds nice flavor. Serve with the vegetables and some wild rice.
Nutrition information is automatically calculated, so should only be used as an approximation.