Pan Seared Cod
October 07, 2019 | Updated December 22, 2020
As an Amazon Associate I earn from qualifying purchases.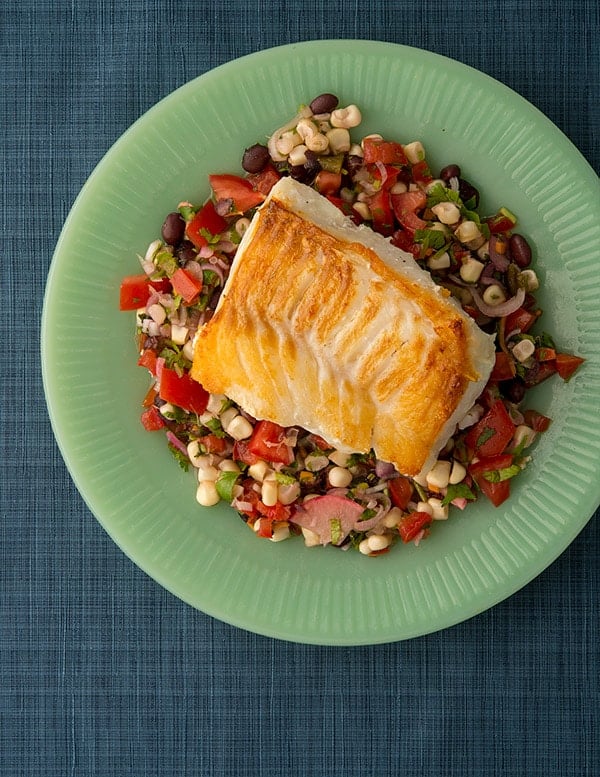 Pan-seared cod is one of my favorite ways to eat this fish. It's a classic restaurant technique you can easily do at home.
Let me walk you through it. First, you need a substantial piece of fish, not a skinny fillet. Second, you need the fish to be dry. Third, you need the right pan and oil, and finally you need patience.
I know it sounds obvious, but your goal is pan-seared cod, not pan-fried cod. So no flour or batter for this one. The goal is to sear, to caramelize, one side of the fish while not overcooking the rest.
To really do this, you need a piece of fish, cod or otherwise, at least as thick as your thumb, about a half-inch or thicker. And an inch is better. Why? Thin fillets will overcook before you get that nice sear. Also, they tend to be fragile. Pan searing is a fierce method of cooking.
I'll say it again: Any thick piece of fish can be pan seared, not just codfish.
Also, the fish can be skinless or have its skin, obviously scaled — unless it's salmon or mackerel, which I never scale. If you are using a skin-on fish, you sear the skin side. If you are searing a skinless fish, sear the side that used to have the skin. Why? Because it is flatter. Incidentally, pan-seared cod is best skinless, at least in my opinion.
I pre-salt my fish an hour or so beforehand, to season it and bring some moisture to the surface. You then dry the fish thoroughly with paper towels before searing.
Now, the pan. Yes, you can sear fish in a non-stick pan, but it's not ideal because the teflon doesn't like the intense heat you need for a good sear. But, if you are dealing with a very thick piece of fish, like a block of Pacific halibut or king salmon, you will want to use medium-high heat instead of high, so you can use a teflon pan.
I prefer a stainless steel pan with slanted sides, but a properly seasoned cast-iron pan will work well, too. The ideal, what we used in the restaurant years ago, is a black steel pan with slanted sides. All are non-stick to some extent and hold heat well.
The general idea is this: get the pan hot, put a little oil in it, let that get almost to the smoking point, then place the fish down. Let this cook until you get the sear, drop the heat, add butter and baste the other side of the fish until it's done.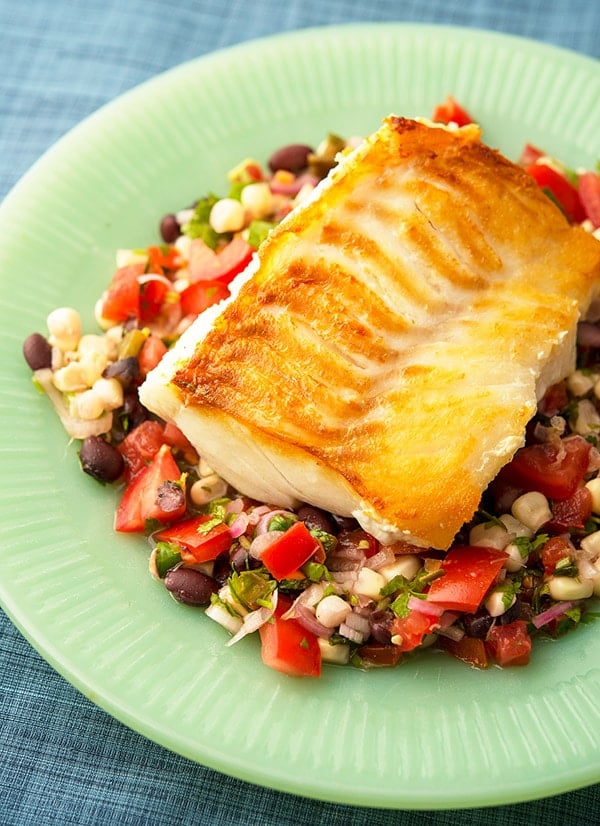 Your oil needs to be sturdy, with a high smoke point. In order of preference, I use avocado oil, rice bran oil, grapeseed oil, canola oil, safflower oil. All are very high smoke point oils that can stand the heat.
Note that pan-seared cod, or any other fish, isn't flipped. You sear the one side crispy, drop or even remove the pan from the heat, add butter and baste the rest of the fish with the hot butter until it's cooked through.
Serve your fish with anything you like, really. I typically raid the garden and make a salad. Oh, and if you want a sauce, it goes under the fish — you want the crispy side to stay crispy, no?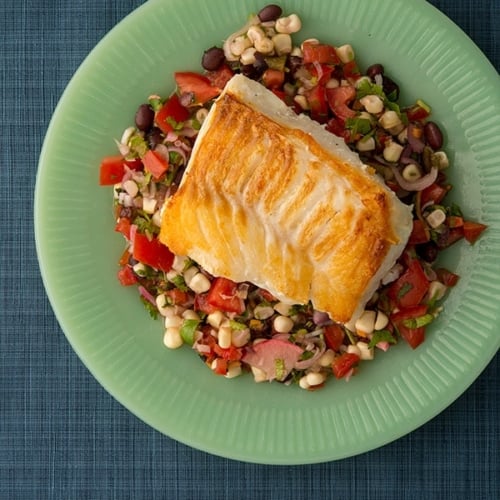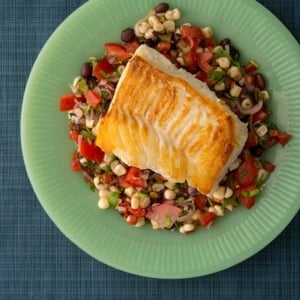 Pan-Seared Cod
Keep in mind this recipe works with any thick block of fish, skinless or skin-on. Serve with a salad, rice, bread, whatever makes you happy.
Ingredients
1 to 1 1/2

pounds

cod

Salt

1

tablespoon

avocado, grapeseed or canola oil

4

tablespoons

unsalted butter
Instructions
Salt the blocks of fish well and set in the refrigerator for one hour.

Get your pan hot over a high heat burner, about 2 minutes. While this is happening, pat the fish dry with paper towels. Make sure it's dry. Add the tablespoon of oil and swirl it around. It will heat up very fast.

As soon as you see a wisp of smoke coming from the oil, lay the fish pieces down in the pan, well spaced, skin side down (or the side where the skin used to be). Turn the heat down to medium-high and let them cook, undisturbed, for 5 minutes, or until you see the bottom starting to caramelize. Using a thin metal spatula, ideally a fish spatula, carefully try to lift the fish from the pan. It should come up easily, or stick in only one or two spots. If not, keep cooking it -- the fish will release when it's ready.

When that happens, add the butter, and once it melts, drop the heat all the way to low. Use a spoon to baste the butter over the pieces of fish until they turn opaque. You will need to tilt the pan to do this properly. Serve the fish seared side up.
Nutrition
Calories:
271
kcal
|
Carbohydrates:
1
g
|
Protein:
30
g
|
Fat:
16
g
|
Saturated Fat:
8
g
|
Cholesterol:
103
mg
|
Sodium:
93
mg
|
Potassium:
703
mg
|
Sugar:
1
g
|
Vitamin A:
420
IU
|
Vitamin C:
1.7
mg
|
Calcium:
31
mg
|
Iron:
0.6
mg
Nutrition information is automatically calculated, so should only be used as an approximation.