Mushroom Ravioli
December 03, 2020 | Updated March 30, 2021
As an Amazon Associate I earn from qualifying purchases.
I started making mushroom ravioli many years ago, when I began seriously hunting mushrooms. These little parcels of love pack a ton of flavor, and are best served simply, with an herb or two, maybe some additional fresh mushrooms, and lots of butter or good olive oil.
You'll notice the pasta is brown. That's because I like to make mushroom ravioli with mushroom powder in the pasta dough, and I also prefer to use whole wheat flour because it's earthy flavor marries very well with the mushrooms.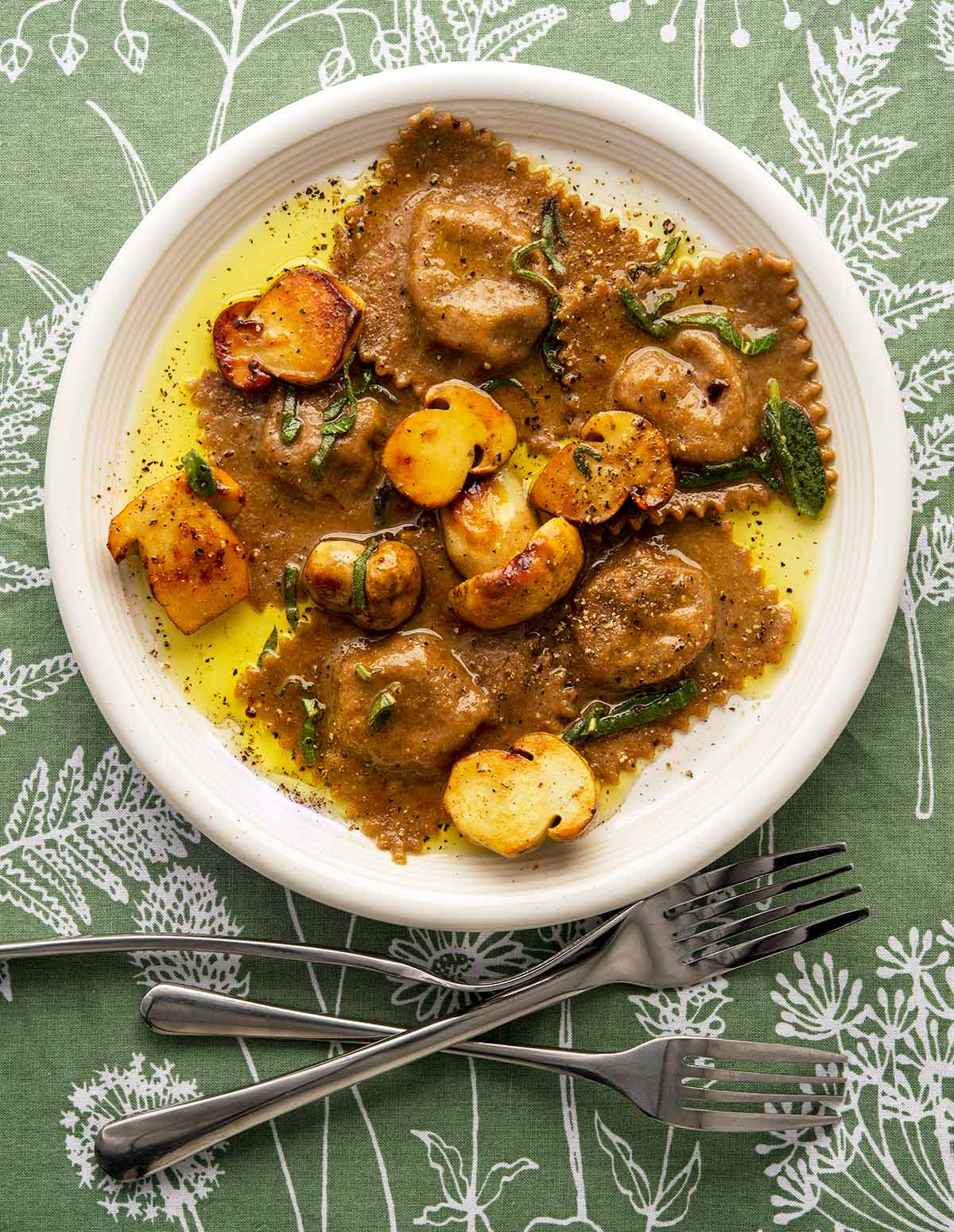 Mushroom powder is merely dried mushrooms ground to a powder. You can buy it, or you can buy dried mushrooms and grind them in a spice grinder. Or you can skip it.
As for the mushrooms, you can see that I am not using standard button mushrooms. These are porcini, which I gather in California's Sierra Nevada every spring and fall. Unless you are wealthy, you won't be using them, as porcini can run $40 a pound if you have to buy them. But I've made these ravioli with pretty much any mushroom I've collected or bought over the years.
So anything you can buy in the store will work, but it should be flavorful. A great, inexpensive combination is to use fresh shiitakes, and for the filling dried porcini, which you can buy in most supermarkets. Simply rehydrate them in hot water for about 30 minutes. You will want about 1 ounce of dried mushrooms if you go that route.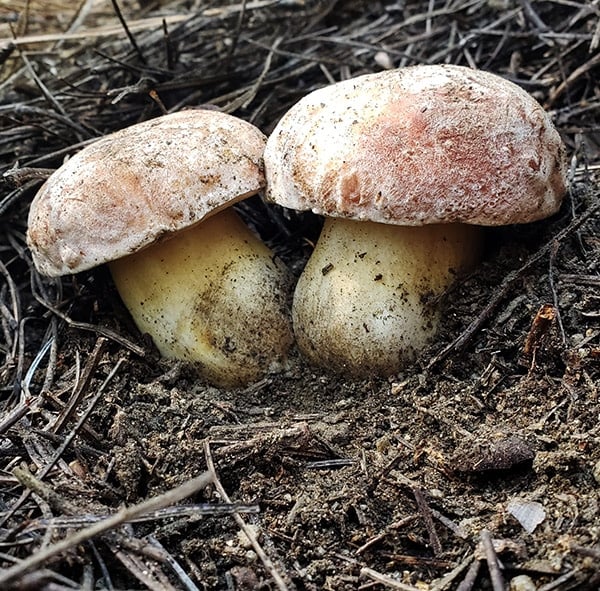 The best way to make ravioli, at least square ones, is to roll out thin sheets of pasta about three inches wide. Cut the long sheet in equal parts, then place the filling in the center of one. Flattening it out makes a better raviolo, in my opinion, because you get more area of filling than the "fried egg" style, where the filling is piled up.
To do all this, I use an Atlas pasta machine
to roll out the pasta, then a cheap pasta cutter to cut out the individual mushroom ravioli.
You can of course go all Italian grandmother and use a rolling pin to get the dough about 1/16 inch thin and then use a knife to cut them, or, better, a wineglass to cut out round ravioli.
If you've never made ravioli before, wait and do this on a weekend. But once you get the hang of it you can pull this off in about 2 hours. Once trick to speed up the dough — it needs to fully hydrate to stretch right — is to vacuum seal the dough. This will hydrate it instantly.
Once made, you can keep your ravioli in the fridge a couple hours. For longer storage, set them in one layer on a plate in the freezer and let them sit overnight. Then put your mushroom ravioli in a heavy freezer bag, where they will keep a couple of months before getting overly brittle. To reheat, go right from the freezer to the boiling water.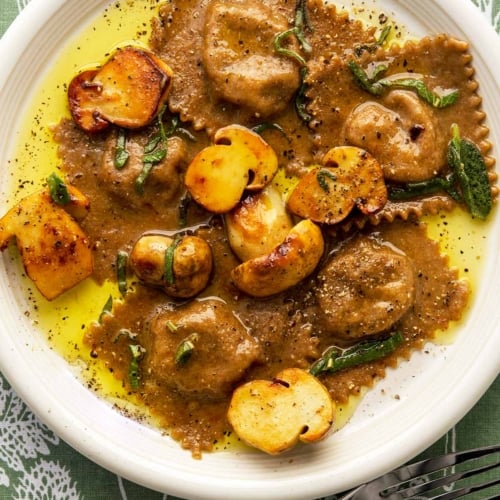 Mushroom Ravioli
I use porcini mushrooms here, but any mushroom you can find will do. As for the optional porcini powder, you can make your own or grind store-bought dried porcini with a spice grinder.
Ingredients
PASTA
4

ounces

farro, spelt or whole wheat flour

(about 1 cup)

4

ounces

all-purpose flour

(about 1 heaping cup)

5

ounces

water

(about 3/4 cup)

0.5

ounces

porcini powder

(about 2 tablespoons)
FILLING
1/2

pound

fresh porcini, or cremini mushrooms,

chopped

2

cloves

garlic

1/2

cup

heavy cream

3

tablespoons

butter

1

teaspoon

dried thyme

Salt to taste
TO SERVE
3

tablespoons

butter

1/2

pound

fresh mushrooms, halved or kept whole if small

2

tablespoons

chopped fresh sage

black pepper to taste

Lemon juice to taste
Instructions
Mix the two flours and porcini powder in a large bowl and mix to combine. Make a well in the center of the flour. Pour the water into the well in the flour. Mix with a fork until shaggy, then mix with your hands until the dough comes together. Knead on a floured surface for 4 to 6 minutes, or until the dough is elastic, and not sticky. Wrap in plastic wrap, and set aside for at least 1 hour, and up to a day in the fridge.

Brown the porcini in the butter, then add the garlic. Sprinkle some salt over the pan. Saute everything until the garlic turns golden, then pour in the cream and the thyme. Simmer gently until the porcini are soft, about 5 minutes. Toss the thyme sprigs and scrape everything into a blender. Buzz into a puree. Taste for salt again and add some if needed.

Set yourself up a large area to work. Cut the dough into four pieces. Cover the rest with the plastic wrap. Roll the dough out until it is a long, thin sheet -- but not all the way to the final setting; I go to No. 6 on my Atlas machine, where No. 9 is the thinnest. Cut the sheet in half. Place about a teaspoon of filling at the center of one sheet, about 2 inches apart. Pat the filling down into a flattish disk. Lay the other sheet on top of the first one, and press it down around the filling, leaving no air pockets. Use a pasta cutter or a knife to cut the ravioli out. Set each one on a baking sheet dusted with cornmeal.

To finish, get a large pot of water boiling, and salt it well. In a large saute pan, melt the butter over high heat. Add the mushrooms to the pan, cut side down if you've halved them. Brown them well on that side, then flip and cook on the other. At this point, move the ravioli to the boiling water, about 10 at a time. Boil for 1 minute after they float to the surface. Move them to the pan and toss with the fresh mushrooms and butter. Add the sage and freshly ground black pepper. Spritz with a touch of lemon juice and serve.
Nutrition
Calories:
348
kcal
|
Carbohydrates:
34
g
|
Protein:
8
g
|
Fat:
21
g
|
Saturated Fat:
9
g
|
Cholesterol:
42
mg
|
Sodium:
76
mg
|
Potassium:
474
mg
|
Fiber:
5
g
|
Sugar:
1
g
|
Vitamin A:
490
IU
|
Vitamin C:
1
mg
|
Calcium:
74
mg
|
Iron:
11
mg
Nutrition information is automatically calculated, so should only be used as an approximation.