As an Amazon Associate I earn from qualifying purchases.
Mojo de ajo is the quintessential garlic sauce of Latin America, and many countries have their own version. This one is Mexican, and its simplicity made it the perfect sauce for my first snook recipe.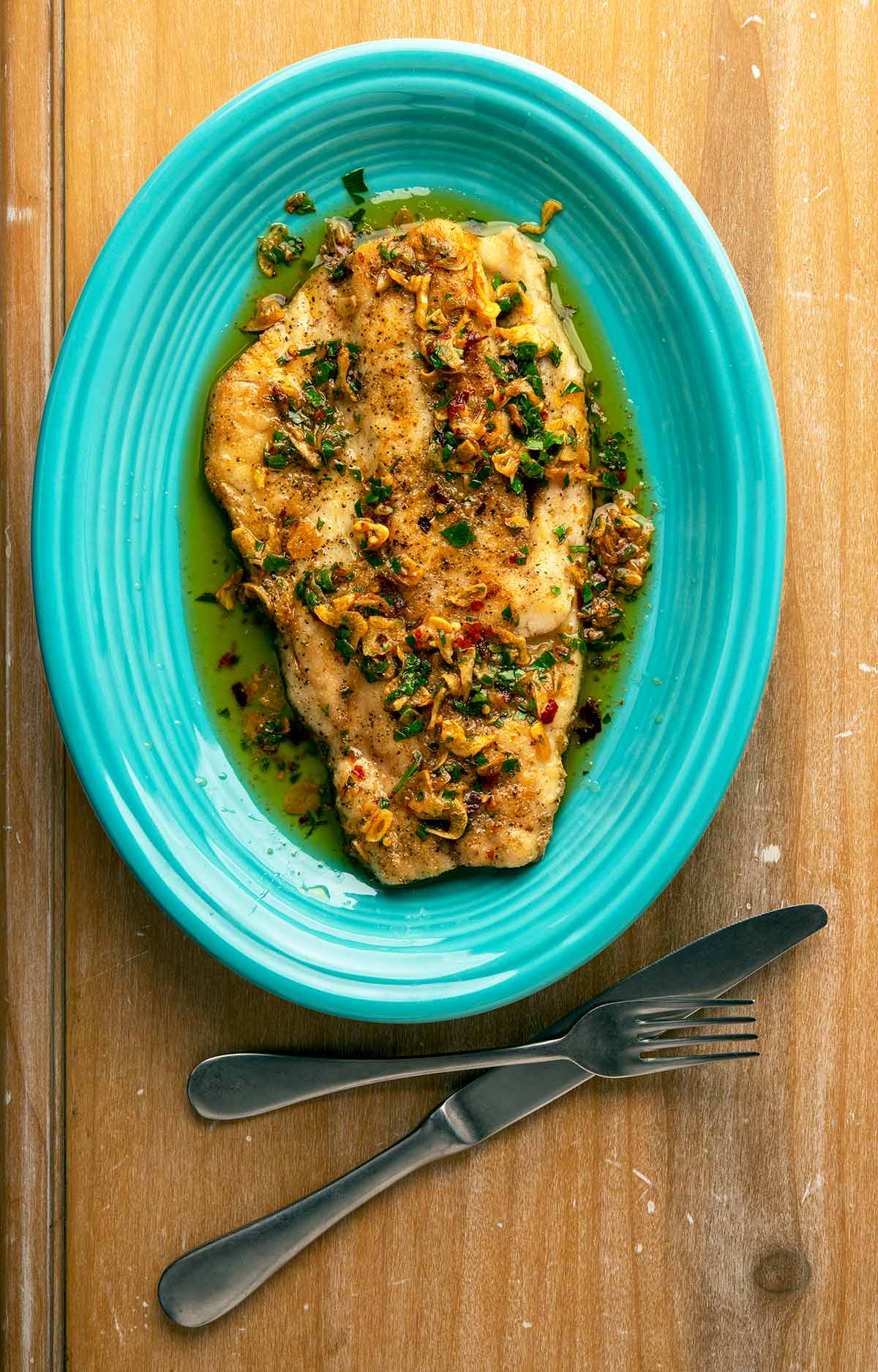 Snook, if you've never heard of it, is a semi-tropical fish known as robalo in Spanish, and which is arguably one of the top 10 eating fish in North America. Imagine a walleye, only better. Firmer, sweeter, and way, way more fun to catch.
I caught my first one in Brownsville, Texas, recently, and my friend Mike Ortiz and I immediately decided that mojo de ajo would have to be the first way I'd prepare it.
The reason I chose this sauce for my first snook recipe is because the combination of garlic, something tart (vinegar or citrus), butter or some other flavorful oil, and a fresh herb is, to my mind, the single best way to cook fish or seafood so you can appreciate its natural flavor.
I'm not alone in this idea, since you can see this combination repeated all over the world — If you've ever used lemon pepper or garlic salt on fish, it's the same basic idea.
If you are familiar with Italian scampi sauce, this is very similar. Lots of butter, lots of garlic, a squeeze of lime, parsley or cilantro, and maybe some chile. That's it.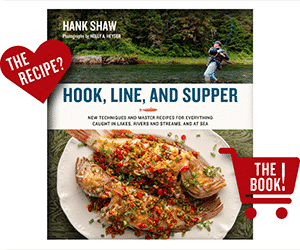 I first ate mojo de ajo with shrimp in Baja Sur, Mexico, many years ago. It's the default method of preparing whatever it is you caught that day; in our case, pargo and dorado. I've eaten it exactly as you'll see in this recipe, but I've also seen it blended not unlike Basque pil pil, which is also a garlicky sauce with fish.
Incidentally, the word mojo (moe-hoe) is just another world for sauce in Spanish. You see it used a lot in the Canary Islands. Ajo (ah-hoe) just means garlic.
There is a Cuban version of mojo de ajo that uses the juice of bitter Seville oranges that is nice, too. Sometimes you will see oregano and cumin in that version, and if you like that, you could add maybe a 1/2 teaspoon of each.
Obviously you don't need snook to enjoy mojo de ajo. I've had it on a wide variety of fish and seafood (it's especially good on spot prawns or royal red shrimp), but you'll also see it on any other white meat — chicken, quail, rabbit, pheasant, grouse, partridge, and turkey. I've even seen it on toast.
Technically speaking, because butter burns easily, you will want to do one of two things when you're making dinner: Either cook the fish (or whatever) in some other oil or, better yet, clarified butter (ghee), and add whole butter after the fish is cooked, or just be very careful to not let your butter blacken as you are cooking your protein.
I prefer the clarified butter route when I am cooking for only a few people, but if it's for a crowd, you will want to switch to a high smoke point oil like peanut, grapeseed or avocado because cooking fish after fish will eventually wreck even clarified butter. Then, when all the fish are cooked, you make the mojo de ajo.
This is really a pan sauce, and doesn't keep very well, so make it, enjoy it, then make it again.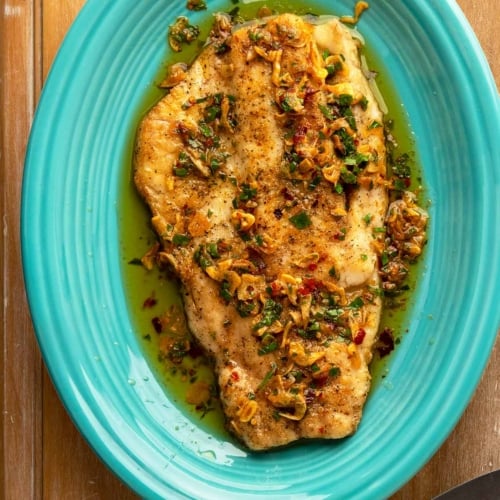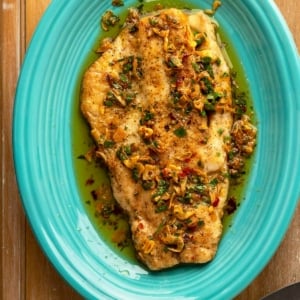 Mojo de Ajo Garlic Sauce
This is a very simple pan sauce for fish, seafood or other white meats such as chicken, quail, rabbit or turkey. I like to serve this with simple rice, or crusty bread. Potatoes would be good, too.
Ingredients
FISH
1 to 2

pounds

skinless fish fillets

Salt and pepper

1

cup

flour,

for dusting

Clarified butter or oil,

for frying
MOJO DE AJO
1/2

cup

butter

6 to 8

cloves

garlic,

sliced thin

Crushed, dried, hot chiles,

to taste (I use chiltepins)

3

tablespoons

minced parsley

2

limes,

zested and juiced

Salt
Instructions
Salt and pepper your fish fillets. Let the salt do its thing for 10 minutes or so while you chop parsley and slice garlic, etc. Add enough clarified butter or cooking oil of your choice to a pan and start heating it on medium. Set a cooling rack over a baking sheet in your oven and turn the oven to "warm."

Once the fillets are a little damp from the salt extracting moisture, dust them in flour, pressing it in well. Jack the heat up to high to get the oil or clarified butter between 325°F and 350°F, When it's hot, fry the fish until it's golden brown on both sides, about 2 to 4 minutes per side depending on how hot the oil is and how thick your fish is.

Move the finished fillets to the cooling rack in the oven while you finish the rest.

When they're all done, pour off the oil and wipe the pan out. Add the butter, and melt it over medium heat. Add the sliced garlic and the crushed, dried chiles and cook until the garlic is tan, but not brown.

This is the only tricky part: Turn the heat to low and start swirling the pan so the hot butter begins to swirl. Pour in the lime juice little by little until it emulsifies with the butter and garlic. Once it does, add the parsley, lime zest and a little salt. You can add black pepper, too, if you want.

Return the fish to the pan and bathe them in the sauce for a moment or two. Move them to plates, and divvy up the remaining sauce on each piece of fish. Serve with bread, rice or potatoes.
Notes
Any white meat protein you can cook quickly, like chicken or pheasant breasts, quail, thin pork loin medallions, any fish fillet, shrimp, scallops, lobster tails, etc., will work here. 
Variations
You can mix and match the citrus. Use Seville orange juice, or lemons, or yuzu or whatever. Or use vinegar, or even verjus. 
Ditto for the herb. Parsley, cilantro, culantro for a Cuban touch, pipicha, huacatay, summer savory, lovage, celery leaves, you name it. 
If you're not a butter fan, use a really good oil of your choice in its place, like a good olive oil, or an unrefined nut oil. 
Nutrition
Calories:
329
kcal
|
Carbohydrates:
5
g
|
Protein:
19
g
|
Fat:
26
g
|
Saturated Fat:
15
g
|
Polyunsaturated Fat:
2
g
|
Monounsaturated Fat:
7
g
|
Trans Fat:
1
g
|
Cholesterol:
127
mg
|
Sodium:
234
mg
|
Potassium:
482
mg
|
Fiber:
1
g
|
Sugar:
1
g
|
Vitamin A:
1036
IU
|
Vitamin C:
16
mg
|
Calcium:
46
mg
|
Iron:
1
mg
Nutrition information is automatically calculated, so should only be used as an approximation.