Marinated Venison Kabobs
July 25, 2013 | Updated June 22, 2020
As an Amazon Associate I earn from qualifying purchases.
Eating venison in high summer usually means grilling.
And while I prefer a perfectly grilled venison backstrap, I seem to run out of it long before I eat the rest of the deer. Venison kebabs are perhaps the best summertime thing to cook with meat from the hind legs of the deer. And after all, who doesn't love to eat a good kabob?
There is a certain jazz-like quality to kabobs, a/k/a kebabs. You can vary the veggies to suit your preference, and you can marinate your venison kabobs with anything from a green herb sauce to Italian dressing to teriyaki… to this marinade, which is a mixture of red wine vinegar and harissa, which is to North Africa what ketchup is to us.
Harissa is a condiment whose main flavors are chiles and caraway. And while it's supposed to be spicy, it's not supposed to be blow-your-head-off spicy. You'll note in my recipe below most of the chiles are milder varieties like poblano, pasilla or ancho. If you are not into hot food, go easy on the really hot ones like the cascabels or Aleppo.
But don't get all hung up on the marinade. I love this one, but if it doesn't float your boat, go with whatever you want. The real key is how you cook your venison kabobs. If you follow these general directions, you'll make a better kabob — no matter what meat you are using:
Cut the meat into chunks no smaller than 1 1/2 inches and not much bigger than 2 1/2 inches. Too big and the outside gets charred before the inside cooks. Too small and you get shoe leather in a hurry.

Trim all silverskin and connective tissue out! Grilling will tighten up these tissues and leave you chewing and chewing and chewing…

Vegetables need to be about the same size as the meat. Otherwise they won't cook properly.

Use bamboo skewers, or freeze your metal ones. Metal conducts heat, which can cook your kabobs from the inside. It's MUCH harder to get a medium-rare kebab with a metal skewer.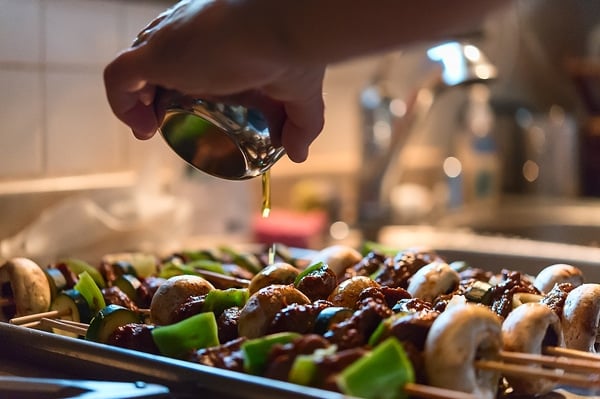 Use two skewers instead of one. Yes, it's harder to set them up, but you will have a far easier time turning them with two skewers. Meat and especially veggies tend to spin when you only have one skewer.

Leave a little space between everything on the skewers. If you pack the skewers, the space where one item meets another will take a long time to cook. 

Start with cold meat! Doing this is insurance against overcooking the center of the venison.
Hot fire, open grill. Don't be tempted to close your grill. That creates an "oven effect" which can overcook your meat in no time. Better to have a really hot fire on one part of the grill and a cooler section off to one side if things get too hot too fast. Remember: kebabs are supposed to be cooked over open fire, with no cover.
Follow those general rules and you will be in business.
Marinated Venison Kabobs
You can buy harissa in many supermarkets now; it comes in tubes. You can also buy harissa online. And honestly, the main point is to get a good long marinade on the meat, so whatever you use should be fine -- just make sure it has some acid and some salt. If you have no venison handy, use lamb, bison or beef. One thing to be very sure about, however, is to trim off all silverskin and connective tissue. It will definitely make your kebabs gristly and tough.
Ingredients
HARISSA
8

dried guajillo,

ancho, pasilla or New Mexican chiles

4

to 8 dried Aleppo or cascabel chiles

(these are hot)

1

teaspoon

caraway seeds

1

?2 teaspoon coriander seeds

1

?2 teaspoon cumin seeds

1

teaspoon

dried mint

1/4

cup

olive oil

2

teaspoons

kosher salt

4

to 6 garlic cloves,

mashed and minced

Lemon juice
KEBABS
2

pounds

venison,

trimmed of sinew and cut into 1 1/2 to 2 inch chunks

1/4

to 1/3 cup harissa

1/4

cup

red wine vinegar

Salt

Various vegetables cut to the size of the venison

such as mushrooms, onions, bell peppers or zucchini
Instructions
If you are making your own harissa, start by removing the stems and seeds from the dried chiles. Tear the chiles into pieces and pour enough hot water over them to just barely cover. Weigh the chiles down with a small plate or something and let the chiles soak for an hour or two, until they are soft.

Once the chiles are soft, put them and the remaining ingredients into a blender or food processor and process into a paste -- it can be smooth or rough, depending on how you like it. You might need a little bit of the soaking water to loosen things up. You can make the harissa days or even weeks in advance and store it in the refrigerator; it lasts for months that way.

To marinate the venison, mix the harissa and the red wine vinegar into a slurry in a bowl. Massage the marinade into the venison and pour the whole shebang into a lidded container. Refrigerate for at least a few hours, and as long as a day.

When you are ready to cook, remove the venison from the marinade. Cut the various vegetables into pieces roughly the size of the venison. Carefully skewer them onto two skewers -- doing this makes it much easier to turn the kebabs. I say carefully because you want to watch out for the pointy ends; I've stabbed myself a couple times when I get distracted. When you've made all your skewers, salt everything well and put them back in the fridge.

Get your grill nice and hot. Make sure the grill grates are clean. When your grill is ready, soak a paper towel in some vegetable oil and use tongs to wipe down the grates. Lay the skewers down on the grill so they are not touching. Grill for 6 to 10 minutes on the top and bottom of the skewers, plus another 1 to 2 minutes on the sides to "kiss" the edges. Use the finger test for doneness to determine how you want your venison.

Let the kebabs rest for 5 minutes, then pull the meat off the skewers and serve.
Notes
I like to serve these kebabs with something simple, like grilled potatoes or bread or if I am feeling like a low-carb day, cole slaw. The cole slaw in the picture is a recipe from my friend Elise over at Simply Recipes.
Nutrition
Calories:
359
kcal
|
Carbohydrates:
21
g
|
Protein:
38
g
|
Fat:
14
g
|
Saturated Fat:
3
g
|
Cholesterol:
129
mg
|
Sodium:
880
mg
|
Potassium:
1012
mg
|
Fiber:
8
g
|
Sugar:
12
g
|
Vitamin A:
7425
IU
|
Vitamin C:
9
mg
|
Calcium:
26
mg
|
Iron:
7
mg
Nutrition information is automatically calculated, so should only be used as an approximation.