Hungarian Venison Goulash
December 29, 2014 | Updated June 09, 2022
As an Amazon Associate I earn from qualifying purchases.
Venison goulash. Love the name. Sounds so mysterious, like something warriors in the Dark Ages would have wolfed down to make them strong before battle. I grew up eating my mum's goulash, and it was good.
Sadly, that wasn't actually goulash. It was chili. I only learned this years later, after I ordered goulash at a Hungarian restaurant in Wisconsin. What they served me looked nothing like chili, and everything like what you see above: A thick, meaty stew heavy on the paprika, served with little pasta dumplings on the side.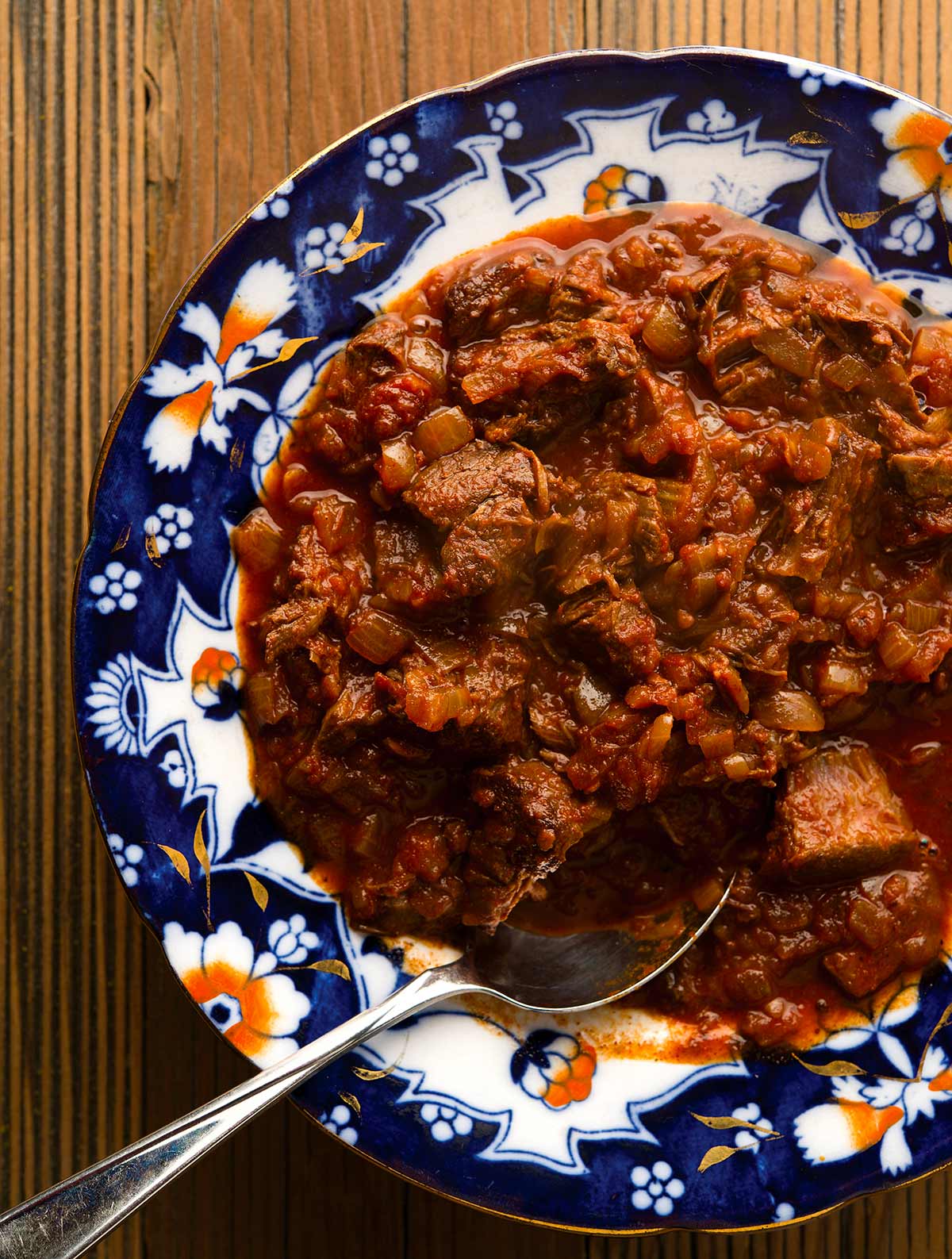 But guess what? Even that wasn't actually what the Hungarians would call gulyás. It was pörkölt. Wha? Yeah, I know, all those umlauts over the "o's" make my head hurt. Best I can tell, this word is pronounced something like "purr-cult."
Oh. And before we get too deep, this is absolutely not the bizarre, macaroni-stuffed, ground meat thing that some Americans think of as goulash. This is a Hungarian dish.
Making anything authentically Hungarian is like running a gauntlet. There really is no one "authentic" goulash, as every Hungarian cook makes it her own way.
Tomatoes? Green peppers? Verboten in some recipes, required in others. Sour cream? Typically only allowed as a tableside condiment, if at all — there is another dish, paprikash, that includes sour cream mixed into the stew itself and is usually done with chicken. Vegetables? Sometimes, and most often carrots, parsnips and potatoes — those are in an actual gulyás. Wine? Only with venison, apparently. Stock. A little. Beans? Hell, no!
After no small amount of research, the only constants I can determine are paprika and onions. Lots of onions and lots of paprika. More than you think you'd need.
As for the meat, beef is the most common I've seen, but venison goulash is a thing in Hungary. Feel free to use any red meat here, however, from beef to bison to any form of venison; I used some the blacktail deer for the pictures. If you are a vegetarian, I've seen mushroom goulash in Hungarian cookbooks, so use them instead.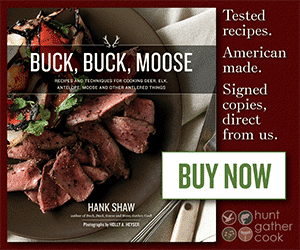 What to serve your venison goulash with is also variable. Mashed, boiled or smashed potatoes are all common, as is spätzle. This, I think, is an Austrian touch: Those of you who remember your history might recall that there was once this thing called the Austro-Hungarian Empire.
Anyone care to guess who Franz Ferdinand and Gavrilo Princip were? Ultimately, I went with the Hungarian version of spätzle: a little pasta dumpling called nokedli.
The key to my version of Hungarian pörkölt (venison goulash) is time. Cooking venison requires patience… and either forks or a potato masher. You cook the stew slowly for hours and then, when the meat is thinking about falling apart, shred or mash the whole shebang with a potato masher to combine.
This integrates everything and prevents that dryness you can get in the center of stewed venison chunks. I've never seen this done in Hungarian recipes, but trust me, you want to do it.
Venison goulash is a perfect hunting camp meal or easy Sunday dinner. All it asks of you is time, and it rewards you with a spicy, rich, meaty bowl of goodness that sticks to your ribs and makes you want to come back for seconds. Jó étvágyat!
Look for more flavors of Eastern Europe? I have a whole collection of Eastern European recipes here.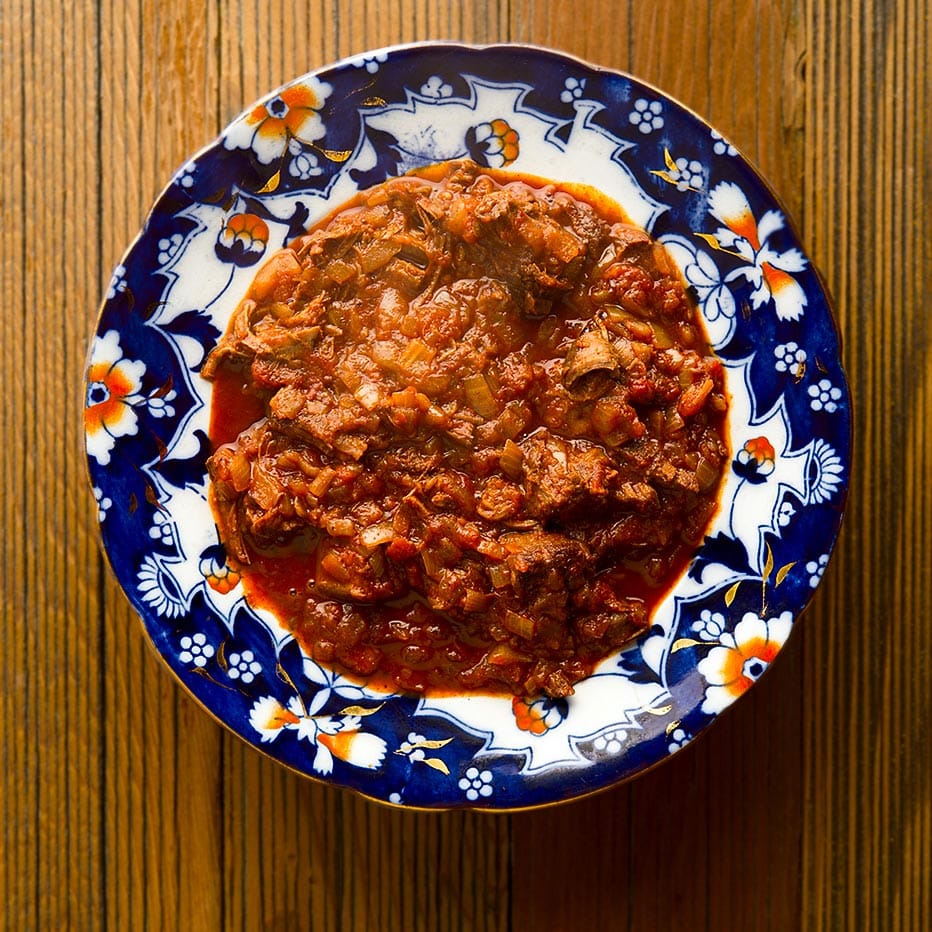 Hungarian Venison Goulash or Pörkölt
You will want fresh paprika for this recipe, meaning the stuff that has likely been sitting around in your pantry since the Jurassic Period won't cut it. Paprika needs to be bright red and smell wonderful. And if you don't want angry Hungarians beating down your door, buy Hungarian paprika.
Ingredients
NOKEDLI DUMPLINGS
2

cups

flour

1

teaspoon

salt

4

eggs,

beaten

A little water or milk
GOULASH
1/4

cup

lard,

bacon fat or sunflower oil

2

pounds

venison stew meat,

cut into 3 to 4-inch hunks

Salt

5

cups

chopped onions

1/4

cup

sweet paprika,

Hungarian if at all possible

2

teaspoons

hot paprika

2

teaspoons

caraway seed

1

teaspoon

dried marjoram

1

cup

crushed tomatoes

2

cups

venison or beef stock

1

cup

red wine
Instructions
Heat the lard or bacon fat over medium-high heat in a large Dutch oven or stewpot and brown the venison in batches. Salt the venison as it cooks. It will take 20 minutes or so for all the meat to brown. Remove the venison as it browns and set aside.

Add all the onions and caraway seeds and turn the heat to medium. Sauté the onions, stirring often, until they are browned. This will take a solid 30 minutes if you do it right. I cover the pot about halfway in. Add the venison back, then all the other ingredients. Mix well and bring to a simmer. Cover and cook over low heat for 2 hours, or until the meat wants to fall apart.

When the meat is ready, make the nokedli dumplings by mixing all the ingredients in a bowl until you have a thick batter. Get a large pot of water boiling and add enough salt to make it salty. Push the batter through a colander with large holes or a spaetzli maker into the boiling water. Boil the nokedli dumplings until they float, then 1 minute more. Drain and set aside.

Use a pair of forks or a potato masher to shred the meat in the pot. Add salt if needed. Serve the goulash alongside the dumplings with some sour cream at the table to mix in.
Notes
Any stew meat from any red meat animal will work. Oh, and don't freak out about the huge amount of onions. They cook down.
Nutrition
Calories:
428
kcal
|
Carbohydrates:
39
g
|
Protein:
36
g
|
Fat:
12
g
|
Saturated Fat:
6
g
|
Cholesterol:
193
mg
|
Sodium:
598
mg
|
Potassium:
903
mg
|
Fiber:
5
g
|
Sugar:
7
g
|
Vitamin A:
2270
IU
|
Vitamin C:
10
mg
|
Calcium:
76
mg
|
Iron:
7
mg
Nutrition information is automatically calculated, so should only be used as an approximation.