Ghanaian Red Red
May 21, 2020 | Updated January 22, 2021
As an Amazon Associate I earn from qualifying purchases.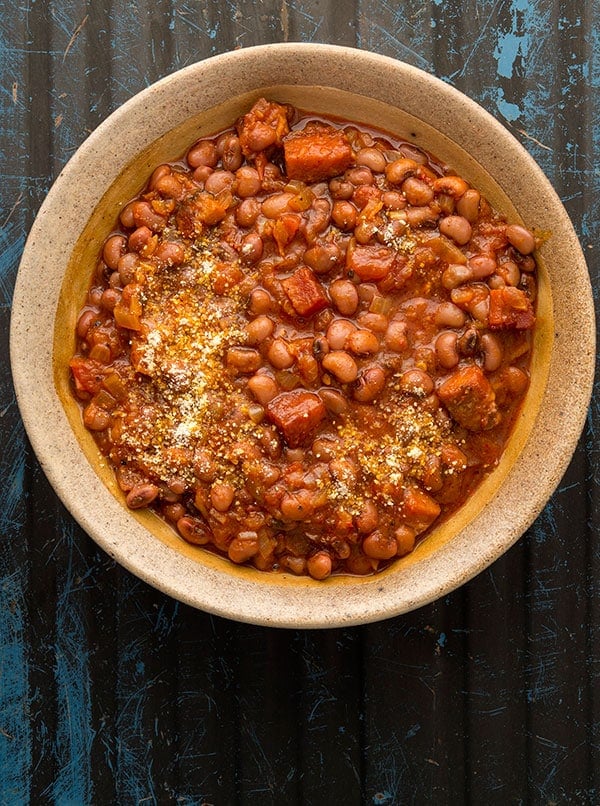 If you like pork and beans and rice, you will absolutely love red red. One of the signature dishes of Ghana, red red gets its name from cowpeas cooked in red palm oil with tomatoes.
I happen to grow a red cowpea called a Bisbee red (it's from Arizona), and I added some smoked ham to the mix, effectively making this red red red red. Yeah, I am easily amused.
Seriously, though this is arguably the most wonderful bowl of pork and beans I have ever eaten, and that is saying a lot. I eat this combination, with wild or feral pork or javelina, as much as I can. And this recipe wins the prize.
My rendition owes a lot to the recipe I found in what I consider the finest Ghanaian cookbook around, Zoe's Ghana Kitchen, which, if you are at all interested in West African food, should be on your wishlist.
There are two "odd" ingredients in traditional red red: Red palm oil and gari, which is fermented cassava meal. Red palm oil is actually not terribly hard to find in fancy supermarkets and health food stores, and you can buy sustainably farmed red palm oil
here. (You want to try to get sustainably farmed palm oil, because there is a whole industry out there that is wrecking the tropics for this stuff.)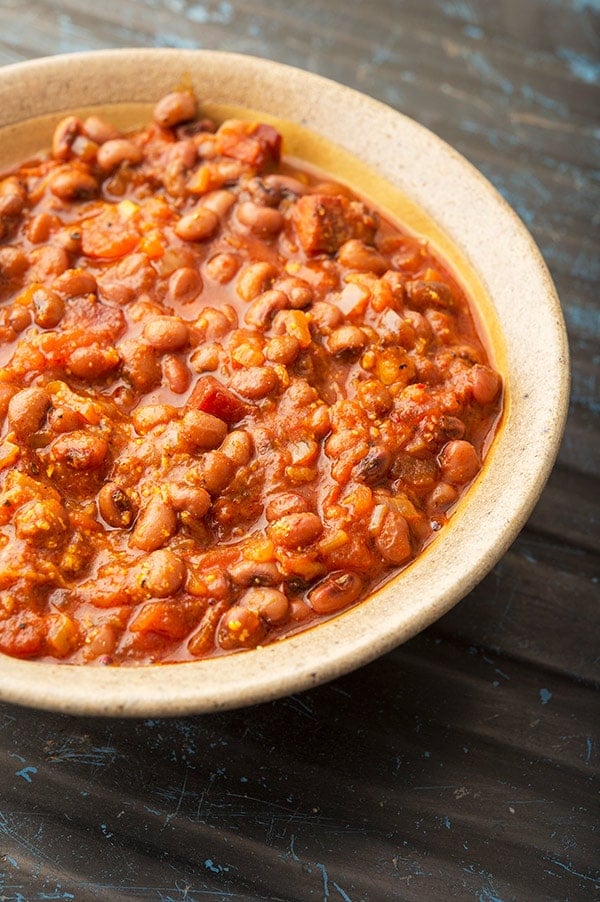 As for gari? I think you can get it online, but you can also just skip it; it's a garnish.
If you don't want to go through the trouble of buying palm oil but still want a red oil, set some oil over low heat and drop in a few annatto seeds, or, if you're like me an like things spicy, some dried red chiles. Let them sizzle gently a few seconds, then take the oil off the heat and let it steep overnight. Voila! Red oil.
Still too much? Use lard or whatever fat or oil makes you happy. Just make this dish.
Oh, and pretty much everyone uses regular black-eyed peas here, not my fancy red ones. That said, if you want to go for full redness, you can buy Sea Island Red Peas
, which are very similar.
No matter what bean you use, they must be cooked separately from the rest of the stew because the acidity of the rest of the ingredients will make the beans take hours and hours and hours to cook. This holds true for all beans, incidentally, which is why Boston baked beans take all day.
Typically you would serve your red red stew with fried plantains, but I prefer it over simple white rice.
If you want to serve this as part of a larger West African meal, try it alongside my version of Senegalese mafe, which is a shank (lamb, deer, elk, veal, etc.) braised in a peanut sauce, or a Ghanaian palaver sauce, which is a stew of greens and meat, in my case venison.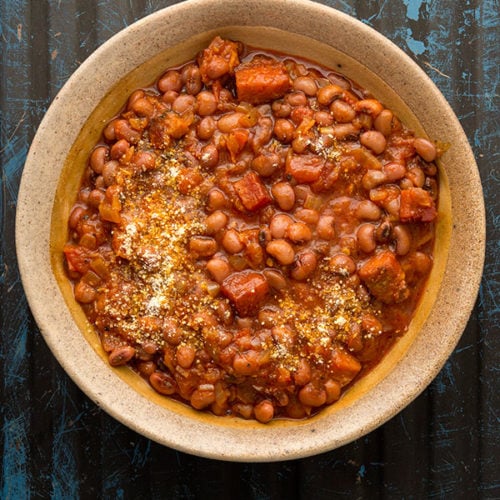 Ghanaian Red Red Stew
This is a wonderful dish of beans with tomatoes and a touch of chile and curry. I add some pork to it, too, which is not traditional. Use red palm oil if you can, because it is one of the signature ingredients; if you can't find it, substitutions are above.
Ingredients
1 1/2

cup

cowpeas of any kind

(black-eyed peas are the most common)

1/4

cup

red palm oil, or substitute

(see above)

1

red onion, chopped

A 1-inch piece of ginger, peeled and grated

1

Scotch bonnet or habanero chile, minced

1/4

pound

smoked pork, chopped

(or ham)

1 to 3

teaspoons

cayenne

1

teaspoon

curry powder

4 to 6

plum tomatoes, chopped

1

cup

tomato puree or crushed tomatoes

1

tablespoon

tomato paste

Salt and black pepper to taste
Instructions
Cook the cowpeas in plain water until they are tender. Add a big pinch of salt, cover the pot and remove it from the heat. Set aside for now.

In a medium pot, heat the palm oil over medium heat. When it's hot, saute the onions for about 3 minutes, then add the Scotch bonnet and the chopped, smoked pork. Saute for another minute or three. Stir in the cayenne and the curry powder, then the chopped fresh tomatoes.

Add the remaining ingredients and the cowpeas. Remove the cowpeas from their water with a slotted spoon. It's OK if some cooking water gets into the pot. Stir well to combine and simmer for 30 minutes. Serve with fried plantains or simple white rice.
Notes
NOTE: If you are using canned black-eyed peas, just drain them in a colander and rinse well, and add them to the stew as directed above. 
Nutrition
Calories:
412
kcal
|
Carbohydrates:
50
g
|
Protein:
22
g
|
Fat:
16
g
|
Saturated Fat:
7
g
|
Cholesterol:
14
mg
|
Sodium:
409
mg
|
Potassium:
1298
mg
|
Fiber:
10
g
|
Sugar:
11
g
|
Vitamin A:
1175
IU
|
Vitamin C:
23
mg
|
Calcium:
96
mg
|
Iron:
7
mg
Nutrition information is automatically calculated, so should only be used as an approximation.