Garlic Butter Scallops
April 22, 2021 | Updated May 12, 2021
As an Amazon Associate I earn from qualifying purchases.
I tend to view garlic butter scallops as more of a beginning than a whole dish in and of itself — unless you feel rich and want to gorge yourself on sweet scallops, rich butter and savory garlic, that is.
Great as an appetizer by themselves, garlic butter scallops are fantastic added to any number of your favorite meal vehicles.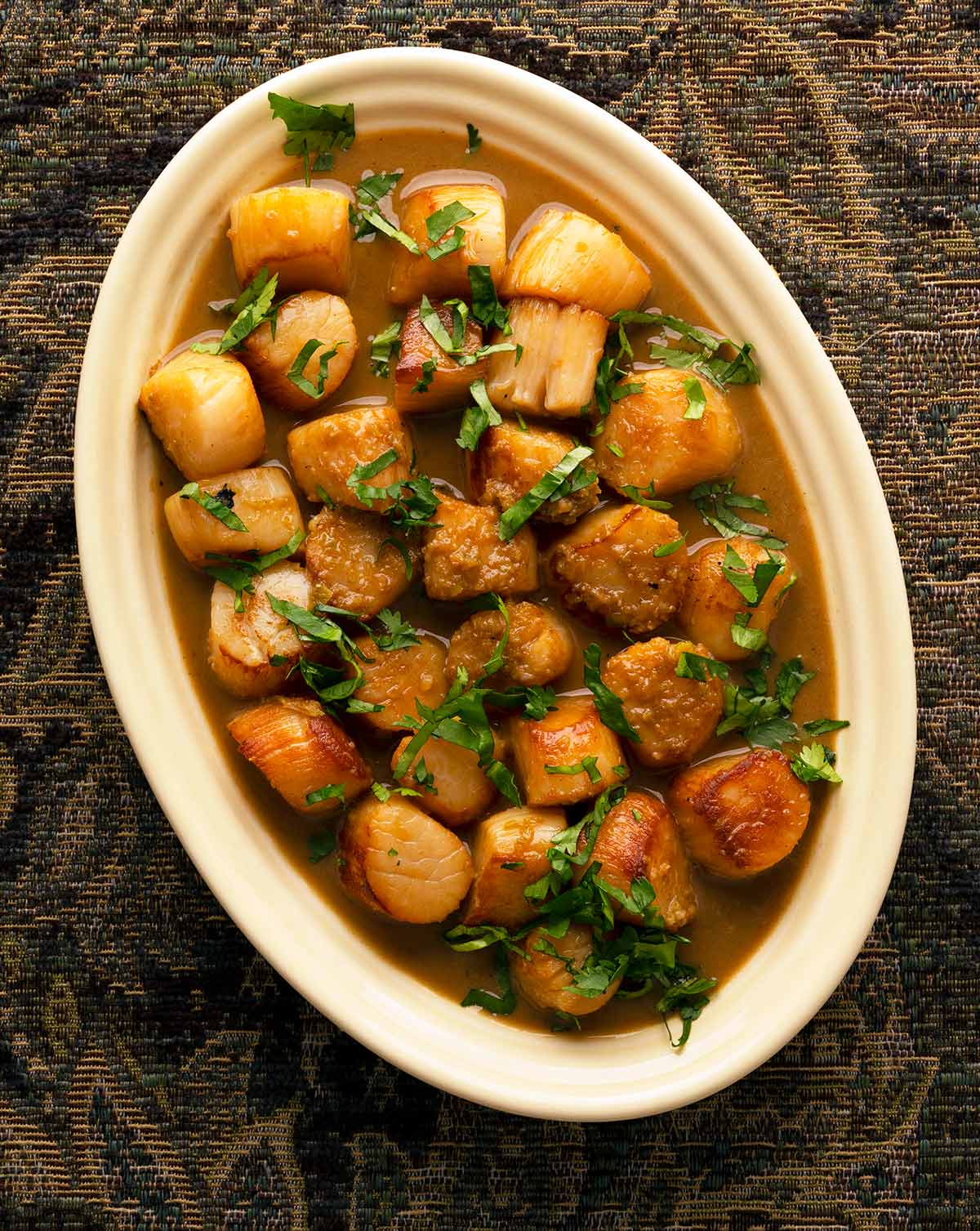 I mostly add them to pasta, serve them as tacos or on tostadas, on top of rice or a big main-course salad, and they are pretty damn good in a sandwich.
The trick to really good garlic butter scallops is not to cook the scallops in the garlic butter, but to sear your scallops in a small amount of high-smoke point oil and then toss them with the butter sauce at the end. A little lime or lemon juice and some herbage — parsley, cilantro, basil or somesuch — at the end.
Actually the real key for this recipe is the quality of the ingredients. As always, when you have only a few ingredients, they all must shine to make the whole dish shine.
In a perfect world, you would use herbs and garlic from your own garden. There really is a difference when you use an herb that was growing minutes before; you can taste the vitality. And tired old Gilroy garlic is, well, OK, but nothing like homegrown, or garlic from the farmer's market. That said, fresh Italian parsley and garlic from the supermarket will still make good garlic butter scallops.
More important are the butter and the scallops themselves. As for the butter, use unsalted, and buy the best you can afford, with the highest butterfat content. I prefer cultured butter, too. There are lots of brands that are nice, so pick one you like.
Scallops. I mostly use weathervane scallops from Alaska, but any small or medium scallop will do. Really large sea scallops do work, but the cooking process is a bit different: You'd sear those scallops on one side, basting the tops with the hot oil, then simply dress the large scallop with the butter sauce.
Get "dry scallops" if you can, as they will not be injected with sodium tropolyphosphate, which keeps them moist looking long after they shouldn't be. Wet scallops don't sear well. Thawed or fresh is fine. I mostly use thawed scallops.
With small or medium scallops, you get them nice and dry, then sear them in one layer, leaving space between the individual scallops, in hot oil like canola, grapeseed or safflower, then toss them once or twice to get another side seared.
Add garlic and butter to the pan, drop the heat and toss, toss, toss — doneski. Garlic butter scallops. Easy peasy.
A few more considerations. First, I love my carbon steel pan for this, but they aren't that common. Stainless steel pans are good, as are cast iron skillets. Don't use non-stick, because they don't like the intense heat you need for this recipe. Second, know that this could easily be garlic butter shrimp, or crawfish. Or you could lightly flour chunks of firm fish and go from there.
Finally, you'll want a little touch of acidity. I prefer lemon juice right when you serve, but any citrus or vinegar would do well, as would verjus if you can find it.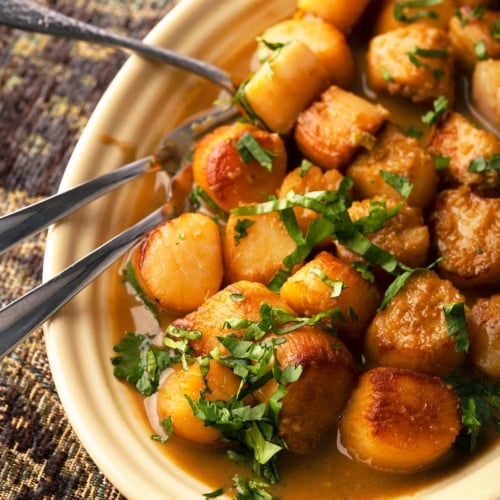 Garlic Butter Scallops
Definitely read the headnotes for tips and tricks on making this recipe as best as it can be. Once made, this is best eaten straight away, but it's also OK at room temperature.
Ingredients
2

tablespoons

canola, safflower or grapeseed oil

1

pound

scallops

5

cloves

garlic,

minced

5

tablespoons

unsalted butter,

cut into chunks

Salt

3

tablespoons

minced parsley

Zest and juice of a lemon
Instructions
Get a pan large enough to hold all the scallops hot, set over high heat. While it's heating, pat the scallops dry with paper towels. Add the canola oil to the pan and swirl it around.

When you see the slightest wisp of smoke coming up from the oil, toss in the scallops, moving the pan constantly -- the goal is to toss the scallops in and coat them with the hot oil before they stick to the pan. This should just take a few seconds. Then let the scallops rest undisturbed for 2 minutes. Toss the pan to move the scallops around, then let them sear 1 minute. Salt them as they sear.

Add the garlic and toss to combine. Drop the heat to medium-low and add the butter, one tablespoon at a time. Toss to coat after each tablespoon melts. When it's all combined, turn off the heat, add the parsley, zest and lemon juice and serve.
Nutrition
Calories:
272
kcal
|
Carbohydrates:
5
g
|
Protein:
14
g
|
Fat:
22
g
|
Saturated Fat:
10
g
|
Trans Fat:
1
g
|
Cholesterol:
65
mg
|
Sodium:
449
mg
|
Potassium:
268
mg
|
Fiber:
1
g
|
Sugar:
1
g
|
Vitamin A:
694
IU
|
Vitamin C:
5
mg
|
Calcium:
22
mg
|
Iron:
1
mg
Nutrition information is automatically calculated, so should only be used as an approximation.