Elderflower Fritters
June 19, 2012 | Updated March 03, 2022
As an Amazon Associate I earn from qualifying purchases.
Elderflower fritters. It is the default recipe for those who gather elderflowers, and for good reason. But you will notice that mine are a little different. I think you'll like my elderflower fritters better if you give them a try.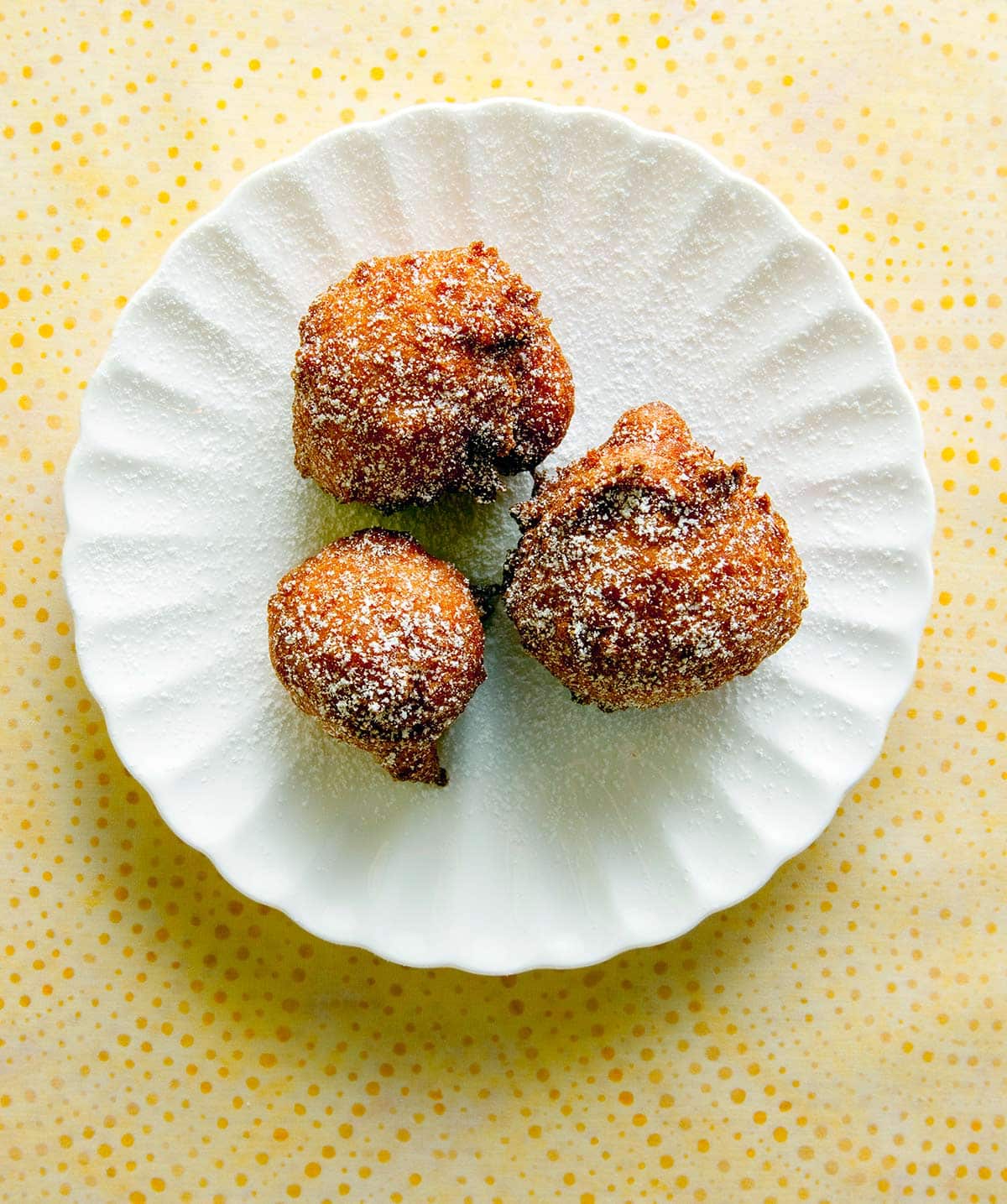 Frying the flowers captures their sweet aroma and delicate flavor better than most anything else. (Most likely because the elderflower's aromas are fat soluble.) But I have a problem with every elderflower fritters recipe I've ever seen: They all involve dipping the whole flower heads into batter and frying them.
What's the big deal? Well, all parts of the elderberry are toxic, except for the flowers and ripe berries. The typical image of batter-fried elderflower fritters gives the impression that the whole head is edible. Not so. If you eat too many of the stems, you will get sick. A few little stems here and there is not an issue, but I've seen people chow down on whole heads and, predictably, get nauseous afterwards.
So I present to you my version of elderflower fritters. It's basically an elderflower beignet, where elderflowers and a little elderflower cordial are mixed in with the batter. The result is a fluffy, lightly-sweet pastry that packs a powerful elderflower punch — an effect you can't get by merely dipping the flowers in batter.
Elderflowers are in season from March in the Deep South to September in the north, or at high altitudes. Generally speaking, look for elderflowers in late spring.
And just to be clear, I am talking about blue elderberry here, not red elderberry. Red elderberry is mostly a Pacific plant, but it can be found sporadically across the country. Red elderberry is, depending on who you talk to, either just nasty or is outright toxic.
I prefer to make elderflower fritters with fresh flowers, but you could also use dried. If you are not near any elder bushes, you can buy dried elderflowers or in home brewing shops. You will also need elderflower cordial or syrup: Use my recipe for elderflower cordial or buy it online.
If you have fresh flowers, start by shaking the flower heads over a large bowl. This will shake loose lots of flowers… and any bugs. The earlier in the day you gather, the fewer the bugs. Then pick the flowers off the stems. The teeny stems that hold each flower onto the head are OK, but try to get out as many of the stems as possible. My method is to pick quickly, then do quality control on the bowl when you're done.
I deep-fry my elderflower fritters, and you will need to fry them in at least an inch of oil, preferably a lot more. The shallower the oil, the flatter the fritters will be. I like them like beignets, so I use my deep fryer. Your choice.
Another cool tip? Fry the whole batch, and if you don't eat them all at one sitting (possible, but improbable), you can refry them for a minute or so the next time you want to eat the fritters and they will be just as crispy.
The result is addictive. These elderflower fritters are essentially an aromatic, floral doughnut hole. Dusted with confectioner's sugar and eaten with coffee or tea, you could do a lot worse on a Sunday morning.
Elderflower Fritters
These are pretty little pastries that pack a powerful elderflower punch, thanks to lots of elderflowers and some elderflower cordial. They will last a couple days after they're made, but are best the moment they emerge from the hot oil. You can eat leftovers at room temperature, or you can refry them for a minute to crisp them up again. This recipe can also be used with rose petals and rose water, too.
Ingredients
2

beaten eggs

1/2

cup

buttermilk

1/4

cup

sparking wine,

pilsner or lager beer, or seltzer water

2

tablespoons

elderflower cordial

1

cup

elderflowers

A pinch of salt

1/2

cup

sugar

1 3/4

cup

cake flour or all-purpose flour

1 1/4

teaspoon

baking powder

Vegetable oil for frying
Instructions
Pour enough oil into a deep fryer or a large, heavy pot to come up to a depth of 4 inches or so. You can use as little as an inch's worth of oil, but your fritters will be flatter. Turn the heat to medium-high and bring the oil to 350°F.

When the oil is hot, mix all the other ingredients into a large bowl. Make sure there are no lumps. The consistency should be thicker than pancake or beer batter, but not so thick that it will completely hold its shape if scooped. If it is too thin, add flour. Too thick, add more beer, champagne or seltzer.

Drop about a tablespoon of batter into the hot oil for each fritter. It is important not to crowd them, so you'll have to cook the fritters in batches. After about 30 seconds or so, if the fritters have not floated to the surface of the hot oil, use a chopstick or butter knife to dislodge them from the bottom of the fryer or pot. Fry until golden brown on both sides, about 5 minutes.

Drain on paper towels as you cook the rest of the fritters. When they are cooled a bit, dust with confectioner's sugar.
Nutrition
Calories:
61
kcal
|
Carbohydrates:
12
g
|
Protein:
2
g
|
Fat:
1
g
|
Saturated Fat:
1
g
|
Cholesterol:
14
mg
|
Sodium:
11
mg
|
Potassium:
43
mg
|
Fiber:
1
g
|
Sugar:
5
g
|
Vitamin A:
27
IU
|
Calcium:
17
mg
|
Iron:
1
mg
Nutrition information is automatically calculated, so should only be used as an approximation.