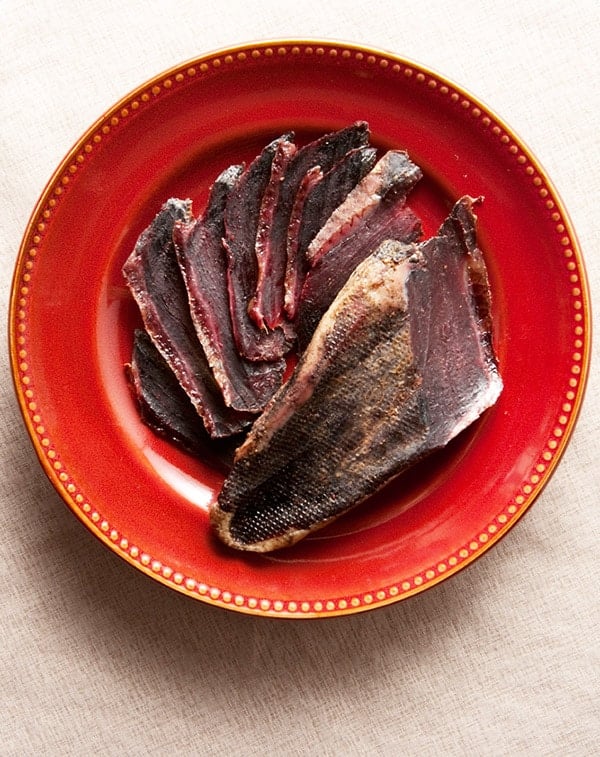 Duck prosciutto (or goose prosciutto) is an old Italian tradition that originated, as best I can tell, in the country's Jewish community, for whom regular pork prosciutto was forbidden.
Some recipes, especially those around Venice and Friuli, cure the leg and thigh of large geese, while others stick to the breast meat. Either way, the result, when done right, creates a dark, rich, almost funky cut of meat that really stands out on a charcuterie plate.
Slice it as thin as you can on the diagonal and serve it with melon, figs, good cheese, on top of a fried egg, with bruschetta — you get the point.
And the best thing about duck prosciutto? It's probably the easiest charcuterie project you can undertake. It is where you should start if you are a beginner.
Hunters, take note: Most wild ducks are too small to do this justice. But mallards, canvasbacks, redheads and pintails are OK. I find that Canada and specklebelly geese work even better. Non-hunters, buy breasts from Muscovy or moulard ducks, or use goose breasts.
I do not wrap my duck prosciutto in cheesecloth for hanging, as many do. Some people prefer this because they say it helps keep the meat moist. I prefer to achieve this through proper humidity control. If you plan on hanging your duck for only a few weeks, go ahead and use cheesecloth, as it makes the breast easier to hang.
There is another reason I skip the cheesecloth for long hanging: Mold. Mold can grow on meat whether it's wrapped or not, but when it is wrapped, you can't see it until the mold has grown substantially. White mold is good, black mold means you need to toss the meat. Green mold you should wipe away with salt water.
You will see I have a very spare cure for my duck prosciutto. Just salt, sugar and some thyme. You can add other spices if you want, as I used to. But the more you make duck prosciutto, the more you want it pure, without the interference of so many spices.
How long to hang your duck prosciutto? From 2 weeks to 3 months, depending on the size of the breasts and the amount of fat and the temperature and the humidity. If you are a beginner, hang your duck breast in the refrigerator for 2 weeks before eating. It will be tasty, and should whet your appetite for a longer cure later.
Hang Time Matters
Why bother with a long hang time? Because the longer meat hangs, the more complex it gets: Think about the difference between a nice rosé and Barolo that's been aging for a generation.
I can tell in a bite whether someone's charcuterie has hung for a long time, or for just the bare minimum. There is a beguiling funk to well-aged charcuterie that cannot be rushed. The more you eat cured meats, the more you crave that flavor.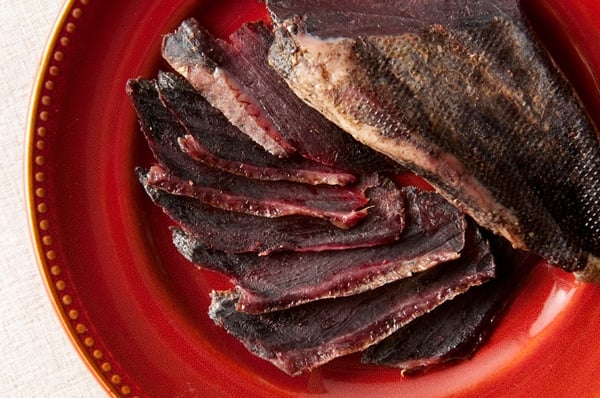 I cure my longest duck prosciutto for two months by starting the drying in 85 to 90 percent humidity, then ratcheting it down 5 percent a week each week until I get down to 65 percent, then I hold it there. I can hang it this way for a few more weeks, but there is such a thing as too long — you are making charcuterie here, not jerky, so the meat should retain some moisture.
What happens if you inadvertently make duck jerky from your prosciutto? All is not lost. If you really can't slice it super-thin because it's hardened too much, chop it into small dice and add it to a long-simmering stew. The prosciutto will soften and you'll appreciate it's chewy texture in the stew.
Once your duck prosciutto is ready, you can eat it straight away or wrap it and store it in the fridge for a few months. It will continue to dry out in the fridge, however. It also freezes well for a year or more.