Pigeon, Dove or Duck Ragu
October 29, 2018 | Updated January 22, 2021
As an Amazon Associate I earn from qualifying purchases.
Only a fool stops learning.
I've always known this, but this old saying came to mind the other day while I was cooking alongside my friend Michael Easton, chef at Il Corvo in Seattle, one of the best pasta restaurants in the nation.
Let me state at the outset that I am good at making pasta, and pasta sauces. I've been doing it for decades. But Michael is better. And he showed me some tricks I want to pass along to you.
Michael made a seemingly simple dish for our dinner: A pigeon ragu, sugo di piccione in Italian. He served it with little agnolotti filled with parsnip puree. It was a breathtaking dish. Freshly made pasta, sweet parsnip, and an intensely savory sauce that lingered in your mind, like the chorus of your favorite song.
How can something so simple be so complex? That is the paradox of pasta.
A good pasta dish starts with good pasta, either handmade or of excellent store-bought quality. I made the pasta in the pictures above; it's a shape called gargati, which means "gullets" in Italian. (If you've ever seen an esophagus, you'll know why.) I made them from a whole wheat pasta using an antique pasta extruder called a torchio. They are chewy, hearty and they hold sauce really, really well.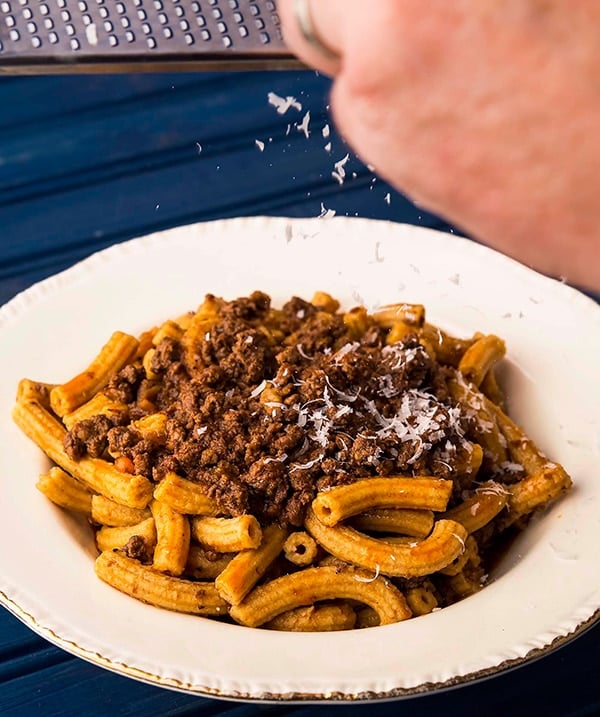 You need not go to such lengths when you make your squab sugo. A simple homemade pappardelle would be nice, or really any shape that makes you happy — but it does need to be substantial. This is not a gossamer springtime ragu.
And this ragu is something special. I asked Michael how to make it, and his answer took the better part of a full typewritten page. It exposes the complexity of sugo, of ragu, the long-cooked sauces that are to a jar of Prego what a Hyundai is to a Rolls Royce.
He starts with stock, made using other stock. Then slowly cooks that together until all is soft, then smashes it all through a coarse strainer until he has a sauce the consistency of thin gravy. To this he adds finely ground breast meat and giblets from the pigeons, which he browned in lots of butter. The two go together and then they reduce together into a silky, meaty sauce that goes a long way in a bowl.
This is a method I'd never done before, but it is a brilliant way to make a pasta sauce from birds: Carcasses, legs and wings cooked slowly, slowly, slowly, then breasts ground fine and added for the final hour or so.
Michael also likes to use many animals in his stocks. In this case, it was rabbits and pigeons and chickens. I do this a lot, too. You get a better "meat stock" from multiple animals, although I still like single-animal stocks when I want the character of that critter to shine through.
What follows is not Michael's recipe, it's mine. But I use his method.
Before you start, a couple caveats: First, this is a rainy Sunday recipe. It's not quick, and is in fact impossible to make in one day — if you don't already have stock lying around.
Second, you don't need pigeons. It occurred to me that this sugo di piccione could easily be sugo d'anatra, although I already have an excellent recipe for duck sugo. Think dark meat animals here: Ducks, geese, sharp-tailed grouse, rails, squirrels, jackrabbits, and yes, even larger animals like deer. If you go the venison route, slow cook neck, shank or shoulder and grind some hind leg meat.
Look at this plate of food one more time. It looks like just a simple plate of pasta. But it is so much more than that.
Sugo di Piccione: Squab, Dove or Pigeon Ragu
While I use doves and pigeons for this recipe, you can use ducks, geese, grouse (see note below), rails or really any dark meat animal. The key is to long simmer the tough parts of the animal, and finely grind the tender parts to finish it.
Ingredients
12 to 20

whole doves or pigeons, or 4 dark-meat grouse

Salt

A little olive oil

2

quarts

wild game or beef stock

2

cups

red wine

1

6 ounce can

tomato paste

3

carrots, chopped

3

celery stalks, chopped

1

large onion, chopped

4

cloves

garlic, chopped

1

handful

dried porcini mushrooms

(optional)

12

black peppercorns, crushed

12

juniper berries, crushed

12

allspice berries, crushed

1

star anise

(optional)

6

whole cloves or 1/2 teaspoon ground

3

bay leaves

4 to 6

tablespoons

unsalted butter

black pepper to taste

sherry or red wine vinegar to taste

1

pound

pasta, homemade or dried

Cheese for grating
Instructions
Cut off the breast meat from all the birds and set aside. Salt the carcasses well and coat them with a little oil. Roast the carcasses in an oven at 400F until they are well browned, about an hour.

Put the roasted carcasses along with everything in the ingredient list up to the butter into a large stockpot. Add another quart of water. Pour one more quart of water into the roasting pan you just used and use a wooden spoon to scrape up all the browned bits in that pan. Pour this into the stockpot, too.

Bring the sugo to a simmer and let it cook gently, with no lid and slightly bubbling away, as long as you can stand it, about 4 to 8 hours. While this is simmering, grind the breast meat through meat grinder using a fine die. If you don't have a grinder, you can either hand chop the meat or pulse it in a food processor. Keep this in the fridge as the sugo cooks.

As the sugo cooks, mush everything in the pot down every so often. Then, when you are ready, pour the contents of the pot through a chinois, colander or other strainer with large holes that has been set into a large bowl. Wipe out the stockpot and return the free-flowing sauce to that pot. Use a ladle and mash the meat, vegetables, etc. in the colander to remove as much liquid and good stuff as you can. You want the resulting "cake" in the colander to be dryish, as in no liquid dripping from it. Toss that or feed it to the cats.

Mix the strained stuff in with the free-flowing liquid. Get a large, wide pan like a big frying pan and add the butter. Heat it over medium-high heat, and add the ground meat. Stir well and add a little salt. You want to break up the meat as much as possible and brown it well.

When it's well browned and broken up, pour in the sugo and stir well. Bring this to a boil and reduce it to meat sauce consistency. If you can stand it, the sugo will be better if you let this process take an hour or so. But you can boil it down faster if you want.

Get your pasta water ready by bringing a large pot of salty water to a boil. Start boiling your pasta. As it cooks, add salt, black pepper and vinegar to the sugo to taste. Get a big bowl ready.

When the pasta is ready, put it in the big bowl and add a ladle of sugo. Toss to combine. Give everyone some pasta, top with some more sauce and grate some cheese over it.
Notes
This is a dark meat recipe, so if you are using grouse, use sharp-tailed grouse, spruce grouse, sage grouse or prairie chickens.
Nutrition information is automatically calculated, so should only be used as an approximation.