Homemade Agnolotti
December 21, 2017 | Updated July 03, 2020
As an Amazon Associate I earn from qualifying purchases.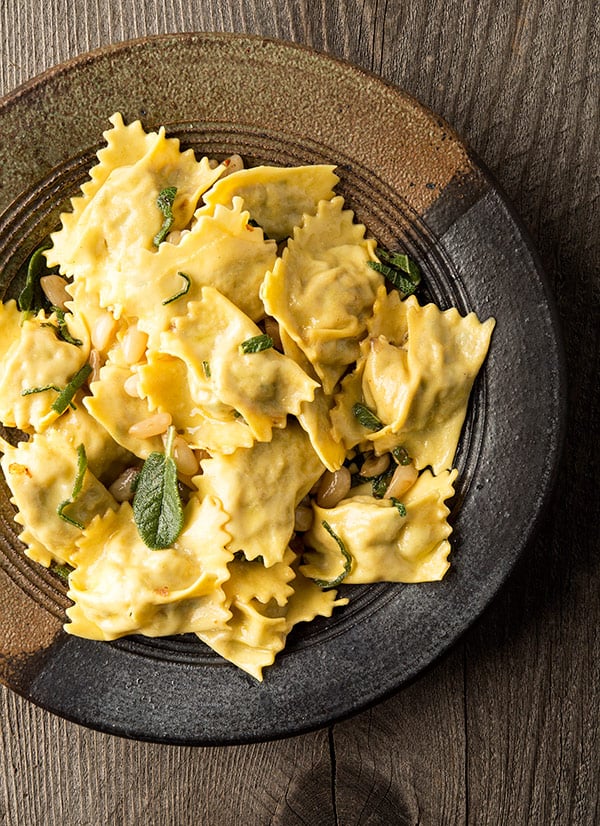 While I am jokingly calling these "squirrel packets," tongue firmly in my cheek, this is really a basic agnolotti recipe. Agnolotti, pronounced something like an-yo-LOAT-ee, is one of the many Italian filled pastas. You know, like ravioli.
Only agnolotti are easier to make than ravioli. Really, they are. And agnolotti can be filled with anything. I have a recipe for venison agnolotti in my book Buck, Buck, Moose
, and these are filled with squirrel. Yep, squirrel.
Don't get all worked up over it. This same agnolotti recipe is normally done in Italy with chicken or rabbit, so you can substitute those meats with no problems. I use squirrel because I had it on hand.
Basically when you are making meat-filled agnolotti, or any filled pasta, you want to make a tasty meat paste. Yeah, that sounds not-so-good, but it is. You need it to be so good you find yourself eating it uncontrollably, and it needs to be very finely chopped or processed so that when you eat an agnolotto it all comes together seamlessly.
The filling is braised. So your meat is browned, cooked in a bit of broth until falling apart, then deboned and chopped fine; I pulse it in a food processor. Then you mix it with cheese and herbs.
You then make a very basic pasta dough, roll it out in long sheets and drop little bits of filling at intervals on the pasta. You then fold one side of the pasta sheet over the dots of filling.
Then you pinch each one off, pushing out any air pockets. This makes what's called agnolotti dal plin, which is a specialty of the Piedmont in northern Italy.
After they're all pinched off, you use a ravioli wheel
to cut a pretty edge. You don't have to do this, but a ravioli wheel is less than $10 and makes everything look nice. You can use a knife if you want.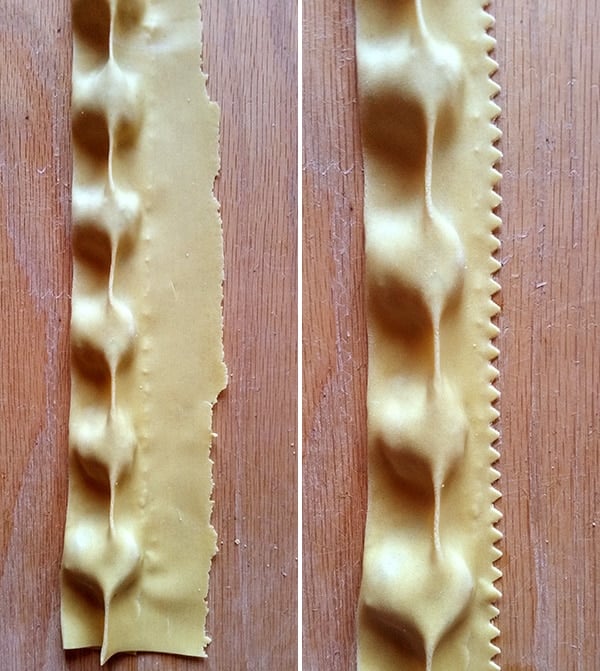 The wheel is more important when you separate each agnolotto. You use a wheel to roll forcefully down the line, from the back of the pasta toward the edge. Doing this forcefully seals each agnolotti and rolls it forward, which gives it its characteristic shape.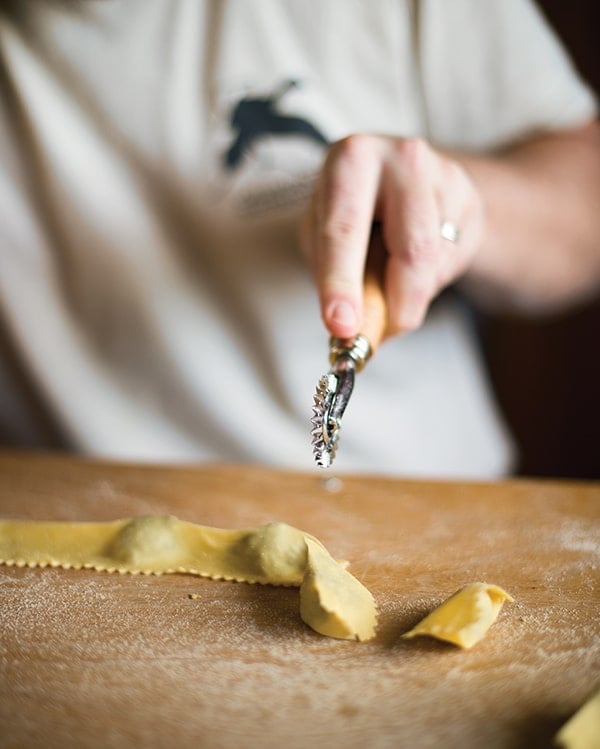 It's all super easy after you've done it a few times. In a restaurant setting, you'll see agnolotti often because of this. I can make agnolotti for 100 in half the time it would take me to make ravioli, and in maybe a quarter of the time it would take me to make tortellini.
How to serve your agnolotti? Simply. In Italian cooking, when you have filled pasta of any type, the filling is the star. The sauce plays backup. That's why you see brown butter and sage a lot, and that's what I use here, although I added toasted pine nuts because, well, there are pine squirrels in the filling. Seemed appropriate.
I also added pine pollen to the pasta dough for the same reason, but I don't expect you to have pine pollen kicking around. Skip it and it'll still be fine.
If you are looking for a cool, vegetarian alternative to meat-filled agnolotti, use the filling from my mushroom ravioli for this recipe.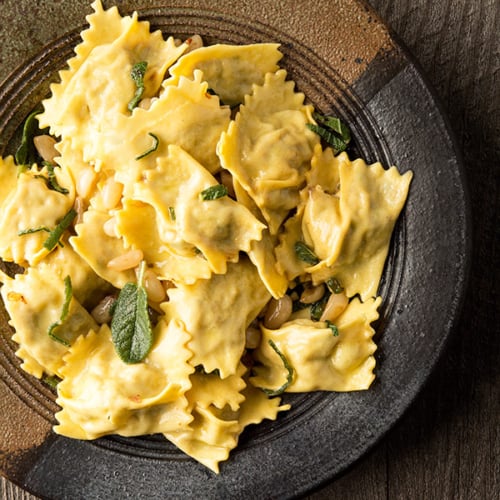 Agnolotti with Brown Butter and Sage
This is a classic Italian agnolotti recipe that normally uses chicken or rabbit for the filling; feel free to use these meats. Serve this filled pasta with a simple brown butter, sage and some nuts. I like to use pine nuts. If you make more than you can eat at one sitting, freeze them uncooked on a plate or baking sheet, then bag them up.
Ingredients
COOKING THE MEAT
10

ounces

light meat,

rabbit, chicken, quail, squirrel

2

tablespoons

olive oil

1

carrot, chopped

2

celery stalks, chopped

1

onion, chopped

2

bay leaves

1

cup

sherry or white wine

1

quart

broth, chicken, rabbit or squirrel
FILLING
1

cup

ricotta cheese

1/2

cup

freshly grated parmesan cheese

2

tablespoon

minced tarragon, parsley or fresh oregano

1

egg, lightly beaten

Nutmeg, salt and black pepper to taste
PASTA
300

grams

flour,

about 2 heaping cups

3

eggs, lightly beaten

2

egg yolks, beaten with the whole eggs
TO FINISH
1/2

cup

unsalted butter

1/3

cup

toasted pine nuts or walnuts

12

fresh sage leaves, sliced thin
Instructions
MAKE THE FILLING
Brown the meat in the olive oil, removing the pieces as they brown. Add the chopped carrot, celery and onion and saute this until translucent. Add the bay leaves, sherry and broth and return the squirrel pieces to the pot. Bring to a simmer, cover and cook until the meat wants to fall off the bones. 

Fish out the meat and debone it. Chop roughly and put the meat into a food processor. Pulse it into an almost-paste. Let it cool in a bowl. Once the meat is cool, add all the remaining filling ingredients and mix well.
MAKE THE PASTA DOUGH
While the meat is cooking, make the pasta dough. Mix all the pasta ingredients together in a bowl and knead well for about 5 minutes. Wrap in plastic wrap and let the dough sit an hour to hydrate, or vacuum seal and it'll hydrate immediately. 
MAKE THE AGNOLOTTI
Once the dough has hydrated and the filling is ready, cut the pasta into five pieces. Keep all but the piece you are working on wrapped in plastic so it doesn't dry out.

Roll out the pasta into long, thin rectangles. On my Atlas pasta roller, I roll to No. 7, which is two settings away from the thinnest, which is No. 9. That'll give you an idea how thin to roll it.


Place a teaspoon of filling at intervals on the pasta sheet. Remember you are folding over this sheet, so put the filling about halfway down the sheet. Fold the sheet over the filling. Using the thumb and forefinger of both hands, pinch the pasta over the filling to seal, pushing out all the air.

Use a ravioli cutter to even out the edge of the whole sheet where the top and bottom come together. Discard that little bit of pasta. Use the same ravioli roller to separate each agnolotto. Set them on a baking sheet dusted with semolina flour or corn meal. Repeat with the remaining dough.
TO FINISH
Bring a large pot of water to a boil and add enough salt to make the water taste salty. Boil the agnolotti until they float, and then 1 minute more.

Meanwhile, heat the butter in a large pan, ideally non-stick. Add the sage and toasted pine nuts and let this fry over medium heat. When the agnolotti are cooked, move them to this pan, toss to coat with the sage brown butter and pine nuts, and serve at once.
Nutrition
Calories:
657
kcal
|
Carbohydrates:
48
g
|
Protein:
23
g
|
Fat:
39
g
|
Saturated Fat:
17
g
|
Cholesterol:
243
mg
|
Sodium:
279
mg
|
Potassium:
527
mg
|
Fiber:
3
g
|
Sugar:
3
g
|
Vitamin A:
2830
IU
|
Vitamin C:
3.5
mg
|
Calcium:
263
mg
|
Iron:
4.9
mg
Nutrition information is automatically calculated, so should only be used as an approximation.