As an Amazon Associate I earn from qualifying purchases.
Cotechino is a sausage spiced with meaning. It's a wide, cooked, usually pork sausage served in winter, and especially around Christmastime, that evokes nostalgia in Italians the way Hoppin' John or oyster stew does with Southerners, or lutefisk and lefse does in Minnesota.
Turns out it's not hard to make, if you've made a few batches of sausage before. Even if not, it's not that challenging.
Let's start with what the heck is cotechino, anyway? Flavorwise, it lives in the same galaxy as traditional summer sausage in that you use "Christmas" spices like coriander, allspice, cinnamon and ground ginger.
Normally this is a pork sausage, but so long as you have some pork or beef fat in there, you can use other meats. The cotechino you see in the picture was made with duck and pork. One thing that makes this a unique sausage is the presence of skin. Yes, skin. It's cooked, and ground fine.
What the addition of skin does is a) makes use of an often unloved bit of the animal, and b) improves the texture of the sausage, making it kinda bouncy. It's the collagen. I can tell you that you do not notice it as skin, but you do notice the neat new texture, if you are used to eating regular sausages.
If you want to make cotechino at home, you will need some special equipment, however, a meat grinder chief among them. Ideally, you also have a sausage stuffer, too. That said, you can make cotechino without either casings or a stuffer, and I'll get into that in a moment.
I do recommend that you buy casings for this, and for real-deal cotechino, they need to be wide beef middles. (I buy mine from The Sausage Maker.) These are cleaned intestines of a cow and are far wider, and a bit tougher, than standard hog casings. I suppose you could use wide, artificial "summer sausage" casings, too, but where's the fun in that?
Another interesting thing about cotechino is that after you make the sausage in the usual way, which I'll get into below, you hang it, uncooked, for several days to ripen. You need some curing salt to do this safely, but it's less than a spoonful. This process improves flavor and texture, and tightens the sausage in its skin.
You can skip both the curing salt — because I know some of you out there have this weird fear of nitrite, and some others are actively allergic to it — and long curing process, and your cotechino will still be OK, but it won't be a pretty pink or as good as these are. If you do skip the curing salt and hanging process, you will only hang your sausages for a few hours.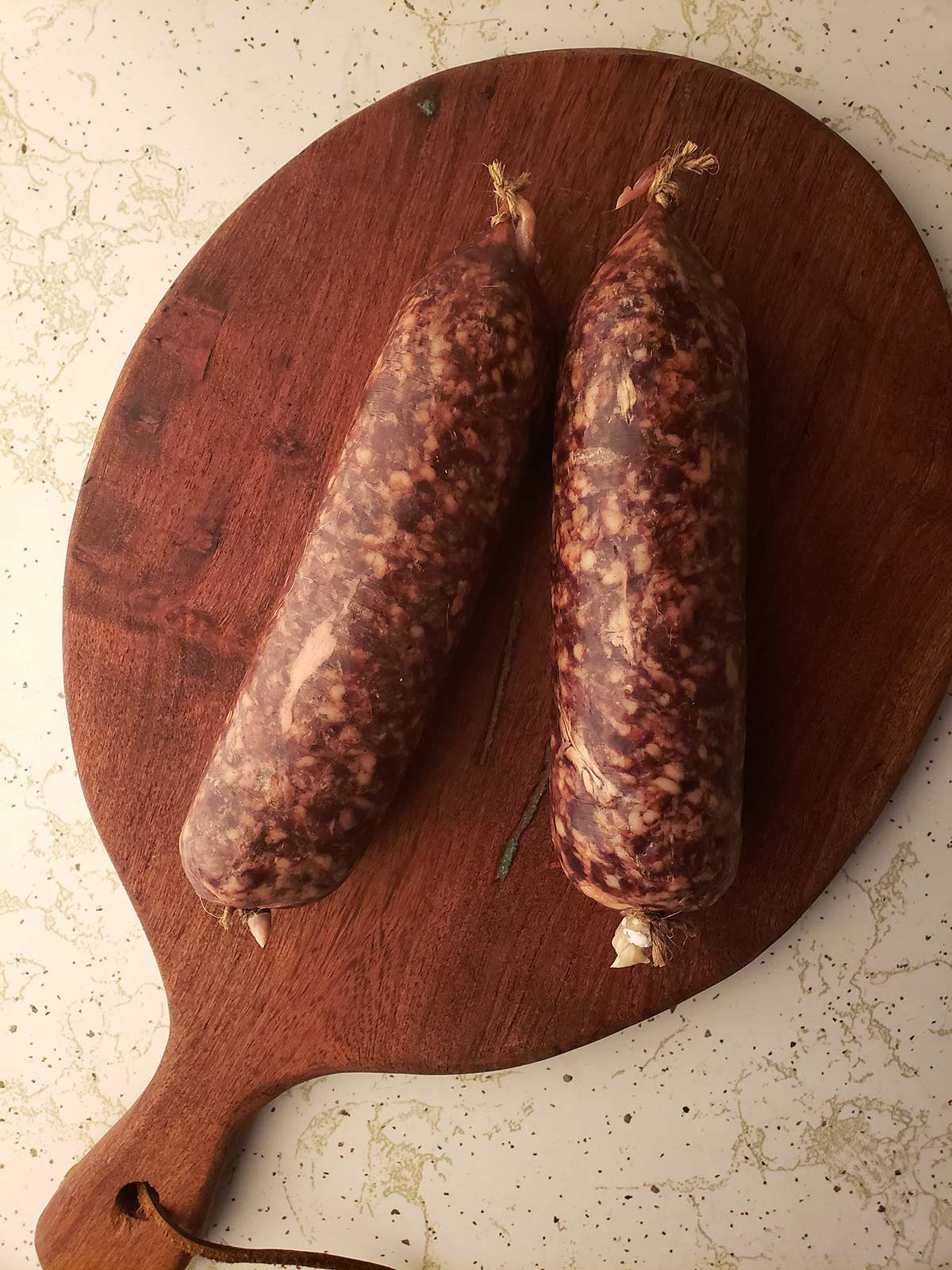 Regardless, when you are done hanging them, you will need to cook your sausages. Cotechino is gently poached in salty water for about an hour. And when I mean gently, I mean it. You want 160°F, which is steaming water, not simmering. This sets everything nicely.
You can eat your cotechino at this point, but most people will sear the sausages in pork fat or olive oil, either with the casing on or off. I peeled mine off. Beef casings are thick, and this is not a hard sausage, so the eating experience was better with skinless links.
If you want to make cotechino without casings or a sausage stuffer, here's what you do. After grinding and mixing, you lay out big sheets of plastic wrap on a large work surface, and when I say big I mean like two or even three feet of it. You want two layers. Lay some sausage mixture in a log in the center of this, and wrap it tightly. You want long ends of plastic wrap on either side of the link, and you will need to tie these together.
You wrap the link in the plastic wrap, then roll and tighten it as if it were a big piece of salt water taffy. Then tie the ends of the wrap together. Note that if you do this, you can't really hang or age your sausage.
Once it's made, can eat cotechino any way you want, but it's traditionally seared, sliced and served over lentils. I happen to hate lentils, so I served mine over black beans. You do you.
Cotechino will keep a week to two weeks in the fridge, and it freezes well.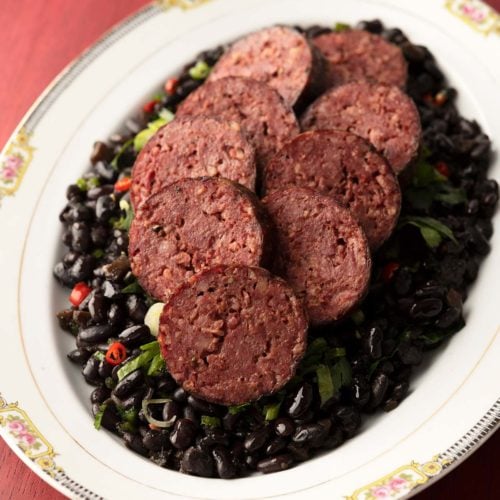 Homemade Cotechino
As I mention above, you can use a variety of meats here, plus either pork fat or beef fat. You do need either pork skin or waterfowl skin (duck or goose) to make this a real cotechino. Keep in mind this recipe works as a ratio and can be scaled up. Where I use grams, that indicates a place you need real precision.
Ingredients
300

grams

duck or pork skin,

cut into large pieces

350

grams

pork belly or fatback,

cut into chunks

500

grams

lean pork, duck, venison, etc.,

cut into chunks

25

grams

salt

3

grams

curing salt no. 1

2

teaspoons

coriander seeds,

or 1 teaspoon ground

6

allspice berries,

or 1/4 teaspoon ground

1

teaspoon

black peppercorns,

or 1/2 teaspoon ground

1/2

teaspoon

ground white pepper

1/2

teaspoon

ground ginger

1/4

teaspoon

ground cinnamon

1

teaspoon

sugar

(optional)

1/4

cup

white wine,

chilled

Beef casings
Instructions
Start by simmering the skin until it is very tender. Simply simmer the pieces -- remember they will need to ultimately fit into your grinder -- for about 30 minutes if it's duck or goose skin, and 1 hour (or more) for pork. You will know they are ready when they are fragile, easily torn. Set them on a plate or baking sheet to cool completely.

When everything is cool, mix all the ingredients except for the wine together. Set this in a covered container in the fridge overnight. This step helps the sausage bind to itself later, but if you are in a hurry you can skip it. I don't recommend that, though.

The next day, grind everything. I prefer a medium grind (6.5 mm die), but this is up to you. I've seen cotechino with a finer, 4.5 mm grind, as well as a mixture of grinds.

Add the wine to the mixture and with your (very clean) hands, knead and mix it for about 2 minutes, until it forms a cohesive mass you can pick up without bits falling off it. You will also see a sort of white film on the edges of the bowl you are mixing in. That means you are ready.

Stuff your sausages into the beef middles, or whatever it is you are using. If you are using beef middles, chances are you won't be able to stuff them tight initially. Just stuff them as best you can, aiming for individual links about 10 to 14 inches long. They will compress when you tighten them in a moment, so you want the links longer now than they ultimately will be. If you are using hog casings, just stuff as normal. Either way, leave long "tails" of unfilled casing on either side of each link.

When you have your series of individual sausages, loosely stuffed, you now need to compress the mixture in the links. Do this from either side, expelling as much air as possible. You will have big air pockets, most likely. Take a sausage pricker or a needle you sterilized in a flame to pierce the casing at the air pockets. Now gently squeeze the link to fill that air pocket. Now tie off one end of each link. Repeat the process of squeezing and removing air pockets.

When it comes time to tie off the other end of the links, you want to be diligent about removing air pockets -- and you want to tie it off with a loop you can hang your links from. I use kitchen twine for this.

Hang your sausages in a cool place for a few hours if you are not using curing salt, and up to 3 days if you are. You won't likely need to spritz them with water unless your humidity is very low, like under 50 percent. But if it is that dry, spritz the links with water once a day.

When you are ready to cook, fill the largest stock pot you have with water and bring it to a gentle simmer. Add a handful of salt; you want the water to be salty. Poach your links in this at the steaming point, around 160°F, for 1 hour. Remove and cool completely.

You can eat your cotechino this way, or you can sear it, casing on or off. Either way you eat cotechino in slices.
Notes
This recipe makes a bit more than 2 pounds. 
Nutrition
Calories:
269
kcal
|
Carbohydrates:
1
g
|
Protein:
10
g
|
Fat:
24
g
|
Saturated Fat:
9
g
|
Cholesterol:
51
mg
|
Sodium:
841
mg
|
Potassium:
188
mg
|
Fiber:
1
g
|
Sugar:
1
g
|
Vitamin A:
8
IU
|
Vitamin C:
1
mg
|
Calcium:
13
mg
|
Iron:
1
mg
Nutrition information is automatically calculated, so should only be used as an approximation.