The White Rabbit
January 10, 2013 | Updated August 01, 2022
As an Amazon Associate I earn from qualifying purchases.
Follow me down into my burrow for a moment, for I am about to show you the wonders of the white rabbit, a wondrous Italian rabbit recipe.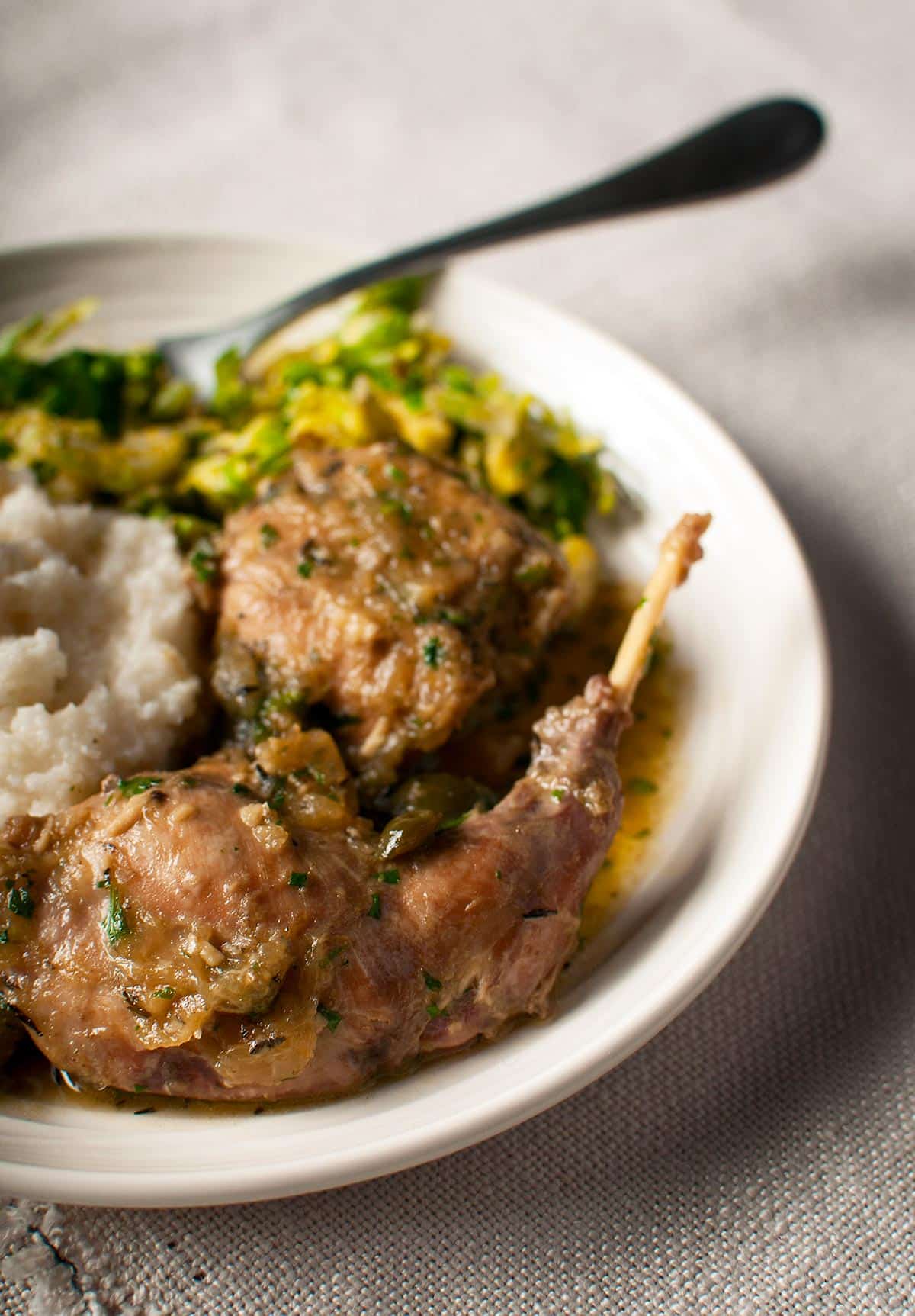 Wha, white rabbit? No, no drugs involved. I have something more rare, more fleeting, in mind: Restraint. Subtlety and restraint are two traits rarely seen in American cooking. We Americans like Big Food, with Big Flavors. Red things, like chili and barbecue sauce and tomatoes. Chipotle for all!
Rabbits don't like big loud things. They get easily overwhelmed. Slather BBQ sauce on a rabbit and it's still good, but it becomes less of a rabbit and more of an anonymous white protein.
To shine, rabbit needs to surround itself with ingredients and cooking methods that are more demure. This Italian rabbit recipe does exactly that.
I draw my inspiration for it from one of my "desert island" cookbooks, Paul Bertolli's Cooking by Hand. Chef Bertolli is a master of braised meats, and he notes that rabbit is one of the few foods that really doesn't benefit from browning the way say, duck or lamb does. That caramelization, the mighty Maillard Reaction we all know and love, strips rabbit of much that is special to it.
So this recipe skips that step and uses a Chinese technique instead: To prevent your braise from getting a layer of frothy scum on top (a layer caused by coagulating blood and proteins from uncooked meat), you blanch the rabbit briefly, before it goes into the braising pot.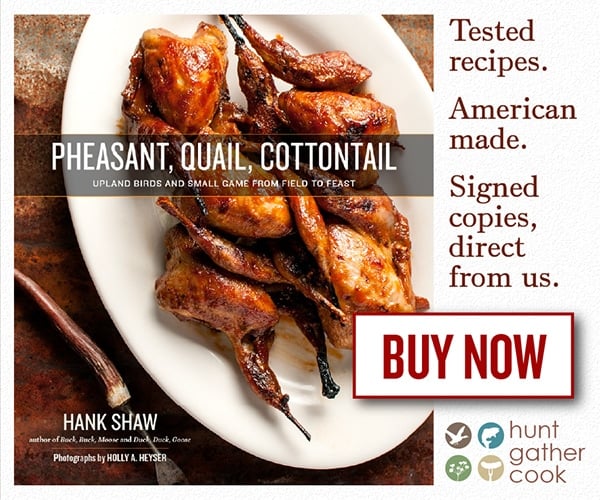 You then surround the bunny with white wine, olive oil, a very quick stock you make from the "off" parts of the rabbit, along with roasted garlic and green olives.
Eating this Italian rabbit will make you taste rabbit in a whole new way. You will realize, perhaps for the first time, that rabbit does not in fact taste like chicken, although it looks like it. Rabbit tastes like rabbit. And this, you will see, is a good thing.
What Sort of Rabbit?
Regular, store-bought rabbits are perfect here; you can often find them frozen in the supermarket, or, sometimes, at farmer's markets. I normally use cottontails here, and you'll need three to serve four people. Snowshoe hares are another great choice, and you could use chicken or squirrel, too, if that's what you have.
Don't use hares or jackrabbits, as they are dark meat.
Looking for more rabbit recipes? I have another braised rabbit recipe here, a German rabbit soup, as well as a lovely Greek rabbit stew.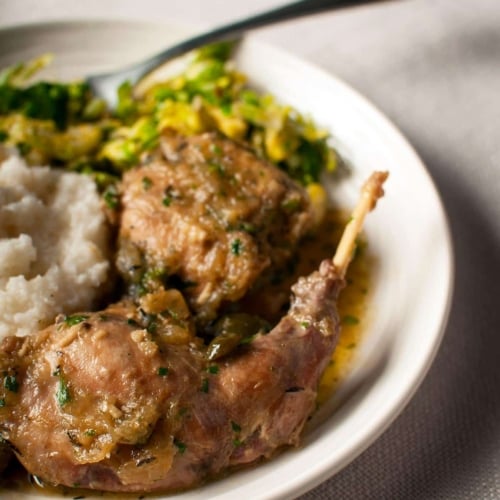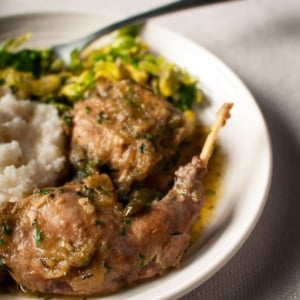 Coniglio Bianco, Italian Braised Rabbit
You will want at least 2 cottontail rabbits for 3 people, although this will serve four in a pinch. One snowshoe hare feeds two easily, and a domestic rabbit feeds 2 to 3 people. Still, this dish is so good, and it reheats as leftovers so well, that I'd suggest you make more than you think you will need.
Ingredients
QUICK RABBIT STOCK
Ribs,

neck and belly flaps from the rabbits

2

bay leaves

1/2

teaspoon

fennel seeds

1

teaspoon

coriander seeds

10

crushed juniper berries

(optional)

1

teaspoon

cracked black peppercorns

Salt
BRAISED RABBIT
2

to 4 cottontails,

snowshoe hares or domestic rabbits

Salt

1/3

cup

olive oil

1

medium yellow or white onion,

sliced root to stalk

1

teaspoon

dried thyme

1/2

cup

white wine or vermouth

1

cup

quick rabbit stock

(see above)

5

to 6 cloves,

roasted or preserved garlic

10

to 20 green olives,

pitted and cut in half

3

tablespoons

chopped fresh parsley
Instructions
First you must break down your rabbits. (See note below) Save the stray bones in the pelvis, ribs, belly flaps and neck for the stock.

To make the stock, Cover all the rabbit pieces -- not just the stray ones -- into a pot and cover them with cool water by about 1/2 inch. Bring this to a boil, then turn off the heat. Skim off any sludgy stuff that floats to the top. Fish out all the good pieces of rabbit -- legs and saddle -- and put them in a bowl in the fridge. Add the remaining stock ingredients, return everything to a bare simmer and cook for 1 hour. Strain and set aside.

Now find a heavy, lidded pot such as a Dutch oven and heat the olive oil over medium heat. When it is hot, add the sliced onions and cook until soft and translucent. Do not brown them. Add the white wine, 1 cup of the stock, the rabbit pieces from the fridge, the thyme and the garlic cloves. Bring to a simmer and add salt to taste. Turn the heat down to low, cover the pot and cook until the meat is tender, about 90 minutes to 2 hours.

Finish the dish by adding the green olives and fresh parsley. Cook for 2 to 3 minutes and serve.
Notes
Here are instructions on how to cut up a rabbit.
Keys to Success
No rabbit? You can do this with chicken thighs.

I use

my preserved garlic

for this recipe, but you can also simply roast a head of garlic: Slice the top quart off a head, set it in foil, drizzle olive oil over it, close the foil, then bake at 375°F for about 45 minutes to 1 hour.

Serve with mashed potatoes, white polenta or rice. A green thing alongside is always nice, too.
Nutrition
Calories:
534
kcal
|
Carbohydrates:
5
g
|
Protein:
74
g
|
Fat:
21
g
|
Saturated Fat:
4
g
|
Cholesterol:
270
mg
|
Sodium:
286
mg
|
Potassium:
1366
mg
|
Fiber:
1
g
|
Sugar:
1
g
|
Vitamin A:
195
IU
|
Vitamin C:
5
mg
|
Calcium:
68
mg
|
Iron:
11
mg
Nutrition information is automatically calculated, so should only be used as an approximation.