German Rabbit Stew
September 10, 2012 | Updated July 11, 2022
As an Amazon Associate I earn from qualifying purchases.
This is an unusual German rabbit stew with the memorable name of eingemachtes kaninchen, according to Mimi Sheraton in her excellent book The German Cookbook: A Complete Guide to Mastering Authentic German Cooking. It's a light, bright counterpoint to the more famous hasenpfeffer, which is made with hare.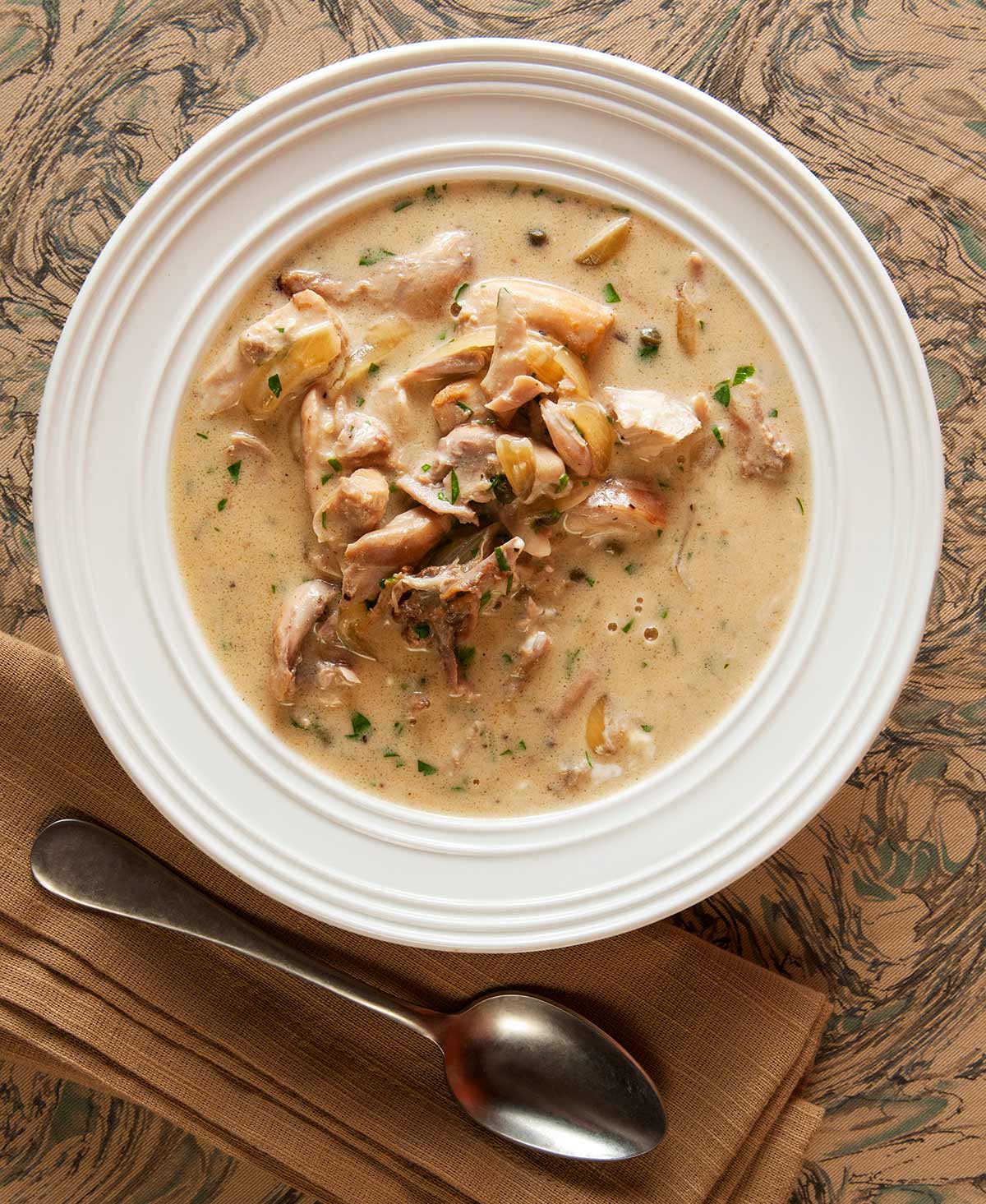 This particular rabbit stew is a Swabian recipe, from Southern Germany. For those of us in the United States, when we read the recipe and we don't immediately think of Germany, but rather of that country's former financial nemesis: Greece. Lemon, capers and bay leaves play a prominent role in this stew.
But instead of oregano and olive oil and yogurt, the Germans use parsley and butter and sour cream. It is brothy, meaty and tart, with just a whiff of creaminess. Think avgolemono with more fiscal discipline. (If you want to go full Greek, I have a recipe for Greek rabbit stew.)
You may be wondering if this rabbit stew is some sort of variant on the most famous German rabbit recipe, hasenpfeffer. It is most definitely not.
For starters, hasenpfeffer requires a hase, a hare. And a hare is not a rabbit. Rabbits are light, mild white meat. Hares are heavy, strongly flavored red meat, and hasenpfeffer is a heavy, strongly flavored stew. In America, hasenpfeffer should be made with jackrabbit.
If you want some variation, try this stew with chicken, pheasant, quail, grouse or turkey. I bet it would be good with a firm fish like halibut, too. It is very good with boiled or mashed potatoes, or rice or just some crusty bread.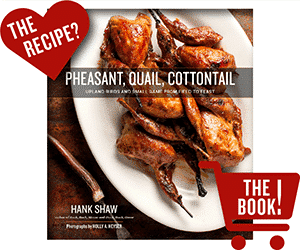 This recipe, however, is a perfect stew for cool nights, yet still light enough to enjoy with a chilled white wine outside on the porch as you watch the sunset, thinking about the next time you'll get a chance to chase Mr. Cottontail.
Chances are if you're a hunter, you know how to joint a rabbit. But for those of you buying your bunny, they all come whole, so you will need to part it out yourself. I've written a tutorial on how to cut up a rabbit here.
Be sure to read the recipe's headnotes, because while the base of this rabbit stew will keep for a few days, once you add the cream, you're committed. So my advice would be to make the base and only add the cream and white wine right before you serve the stew.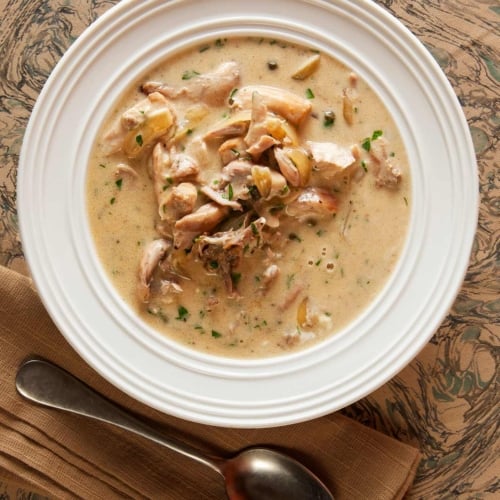 German Rabbit Stew
Chicken thighs would work well here, too, as would pheasant. There is another version of this stew in Germany that uses veal, too. It is a two-step stew, meaning you make the base and "mount" it with sour cream, white wine and capers right at the end. Once you add those final ingredients you are committed, so if you want to make this for dinners or lunches for the week, store just the base (up to Step 4) and add the remaining ingredients when you want to eat.
Ingredients
2

cottontail rabbits,

or 1 domestic rabbit, cut into serving pieces

Salt

2

tablespoons

unsalted butter

2

tablespoons

flour

1

to 2 cups chicken stock

1

onion,

sliced root to tip

Zest of a lemon

white pith removed, cut into wide strips

2

to 3 bay leaves

1/4

cup

lemon juice

2

tablespoons

capers

1/2

cup

sour cream

White wine to taste,

at least 2 tablespoons

Black pepper

Parsley for garnish
Instructions
Salt the rabbit pieces well and set aside for 10 minutes or so. Set a Dutch oven or other heavy, lidded pot over medium-high heat. Add a tablespoon of butter. Pat the rabbit pieces dry and brown well on all sides. You may need to do this in batches, so don't crowd the pot and don't rush things. Remove the rabbit pieces once they're browned. This may take 15 minutes or so.

Add the remaining tablespoon of butter, then the sliced onion and cook until the edges just begin to brown, about 6 minutes. Sprinkle with flour and stir well. Cook, stirring often, until the flour turns golden, about 5 minutes.

Return the rabbit to the pot and add enough chicken stock to cover. Use a wooden spoon to scrape any browned bits off the bottom of the pot. Add the lemon zest, bay leaves and lemon juice and bring to a simmer. Cover and cook gently until the rabbit wants to fall off the bone, which will take anywhere from 90 minutes to 3 hours, depending on how old your rabbit was.

This is an optional step, but I prefer it: Turn off the heat, fish out the rabbit pieces and let the cool on a baking sheet. Pull all the meat off the bones and return the meat to the stew. I don't like fiddly stews with bones in them, so I do this. You can leave everything on the bone if you want.

You can now store the stew for several days. Or you can serve it at once. Turn the heat to low just to make sure the stew is nice and hot. Do not let it simmer. Add the sour cream, capers and as much white wine as you want -- you want the stew to be a bit zingy. Stir in a healthy amount of black pepper and garnish with parsley.
Notes
Serve this with bread or potatoes and a crisp, German white wine. A lager beer would be good, too.
Nutrition
Calories:
705
kcal
|
Carbohydrates:
8
g
|
Protein:
110
g
|
Fat:
23
g
|
Saturated Fat:
10
g
|
Cholesterol:
435
mg
|
Sodium:
386
mg
|
Potassium:
1986
mg
|
Fiber:
1
g
|
Sugar:
2
g
|
Vitamin A:
354
IU
|
Vitamin C:
8
mg
|
Calcium:
98
mg
|
Iron:
16
mg
Nutrition information is automatically calculated, so should only be used as an approximation.