Blackberry Syrup
July 09, 2015 | Updated June 17, 2020
As an Amazon Associate I earn from qualifying purchases.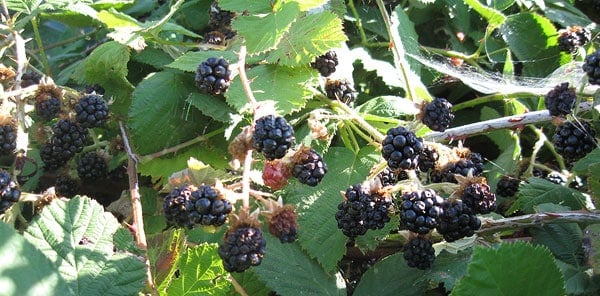 When life gives you mushed blackberries, make blackberry syrup.
There's a thing about blackberry picking: The berries are painfully fragile. I pick into long, wide, lidded containers so I don't have so many layers of blackberries crushing the poor berries on the bottom. But even then it happens. A lot.
And once you have even slightly mushed berries, the clock starts ticking. Soon you will have fermented or moldy blackberries, a sad thing. You didn't get all those scratches on your legs and hands for nothing, did you?
Blackberry syrup was my favorite syrup when I was a little kid eating silver dollar pancakes at IHOP, and even though I haven't been to one since college, I still remember the tart, sweet, slightly wild flavor of that syrup. As it happens, it's pretty easy to make at home.
You need blackberries. A few pounds at least. You then need a pot to cook them in, sugar, a spoon to stir them, a potato masher or somesuch to mush your mushed blackberries even further, and, finally, you need a very fine-meshed sieve. I recommend this strainer
. Oh, and you'll need some Mason jars to store your syrup in.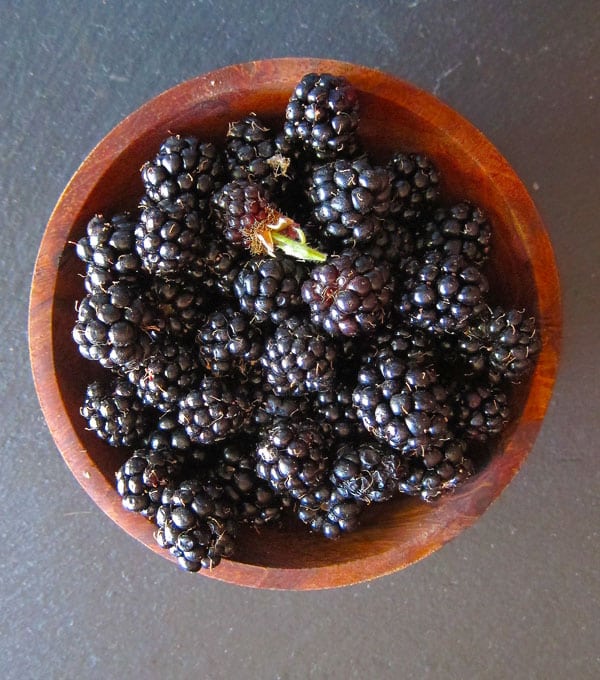 This is a recipe I use for any of the compound fruits. Blackberries, yes, but also raspberries, loganberries, boysenberries, salmonberries, etc. It won't work with blueberries or huckleberries — you need a fruit with a soft enough skin to melt under low heat.
My method results in a clear, beautiful syrup. Use it over pancakes, in drinks, as an ingredient in a barbecue sauce, as a base for ice cream or sorbet — the possibilities are wide.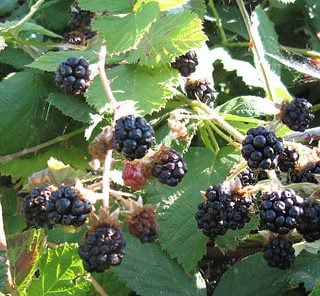 Blackberry Syrup
Any bramble fruit, fresh or frozen, wild or store-bought, will work with this recipe. Blackberries, blackcap raspberries, regular raspberries, dewberries, cloudberries, salmon berries, thimbleberries, etc. My method works really well for any normal kitchen. But, for those of you with fancy juicers, you can pretty much make an instant puree/juice from your blackberries. Just measure out equal parts blackberry juice to sugar, heat the mixture to dissolve the sugar, then strain and put in jars.
Ingredients
2

pounds

blackberries,

raspberries or similar fruit

2

pounds

sugar
Instructions
Pour the blackberries into a saucepan and turn the heat to medium. Pour the sugar all over the berries, but do not stir. Let the heat begin to break the blackberries before stirring gently, about 5 minutes.

Stir every five minutes, just to keep anything from burning on the bottom of the pan. Let the blackberries melt with the sugar slowly, about 15 to 20 minutes. Turn off the heat, and mash the berries with a potato masher. You don't need to wail on them, but you want to get as much juice as you can.

Set a very fine-meshed sieve over a large bowl. Carefully ladle out some free-run syrup, which will be beneath the floating blackberries. Pour it through the sieve. Keep doing this until you have all the blackberries in the sieve. Let this drain for 1 hour, or up to overnight in the refrigerator. Once the berries are in the sieve, do not mash them, or you will get cloudy syrup.

Pour off the syrup into jars and either keep in the fridge or seal in a hot water bath for 10 minutes. Oh, and the leftover blackberries? Mix them with plain yogurt and they are delicious!
Notes
Some people want a less-sweet syrup, which is perfectly fine. You can add sugar to taste if you want. The tradeoff is longevity. If you don't use this much sugar, your syrup will not store as long; sugar is a preservative. Done my way, this syrup will store in the fridge a long time, easily a year or more.
Nutrition
Serving:
20
g
|
Calories:
78
kcal
|
Carbohydrates:
20
g
|
Protein:
1
g
|
Fat:
1
g
|
Saturated Fat:
1
g
|
Sodium:
1
mg
|
Potassium:
29
mg
|
Fiber:
1
g
|
Sugar:
19
g
|
Vitamin A:
40
IU
|
Vitamin C:
3.8
mg
|
Calcium:
5
mg
|
Iron:
0.1
mg
Nutrition information is automatically calculated, so should only be used as an approximation.