Arrowhead Chips
January 14, 2016 | Updated December 28, 2020
As an Amazon Associate I earn from qualifying purchases.
Arrowhead, wapato, katniss, duck potato, sagittaria. This is a plant of a hundred names. And there is a reason for that. The various species of sagittaria live all over the world — and all are eaten by someone. What you call it depends on where you live. If you are not familiar with them, wapato is one of the finest wild "potatoes" you will ever eat.
Which means arrowhead chips are even better than potato chips.
There are about 30 species of arrowhead worldwide. They are an aquatic species, growing in great clumps in swamps and alongside slow-moving steams or rivers. They need permanent, or near-permanent water, and grow tubers ranging from the size of a marble to the size of a goose's egg.
You mostly eat the tubers, but my friend Sam Thayer says the young shoots — before the leaves are fully unfurled — are delicious cooked like spinach and have the same sweetish, corn-like flavor as the tubers. If you can find them, you want Sagittaria latifolia, which has the largest tubers.
As you may have imagined, the plant gets one of its names from the leaves, which are shaped like an arrowhead.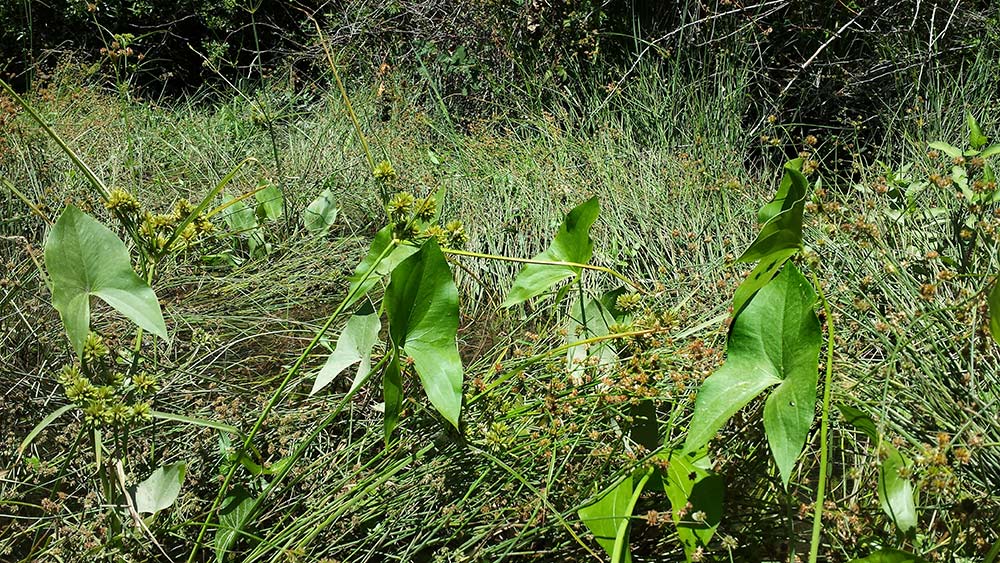 Buried in the mud underneath these leaves are long, clumpy rhizomes that are the heart of the plant. As the season progresses, the plant sets tubers (actually corms, botanically speaking) that grow and sweeten until they hit their peak in fall. To collect them, you need to get wet. The ideal situation is what we had in Oregon last fall: My friend Kathleen and I were invited to a friend's farm, and he pointed us to the wapato patches in the wetlands near his fields.
The water was barely calf deep, which allowed us to wade in and reach down into the muck to feel for the tubers. This is a far more effective method than twisting your feet into the muck — but only if you are wearing waders. Thayer, a well-known hard case, prefers to strip down to shorts, jumping into chilly water and using his bare feet to do the job. I am shivering just thinking about it.
Sam does this because in his spot, the tubers are often in waist-deep water — too deep to do the reach-down method Kathleen and I used. I'd do it that way, too, if I had to. Here in my part of California, wapato is rare. In fact, I've only found it in a few places here, mostly tucked into corners of the Delta, where the picture above was taken. I hear it grows in rice fields, but I've never seen it there.
One advantage while harvesting wapato is that the tasty tubers float. Yep, when you dislodge them, they float up to the surface, making your job a lot easier. If you get into them, you can gather in serious quantity, too. Kathleen and I got this bag of about 5 pounds of tubers in less than 1 hour, in a patch no bigger than a master bathroom.
As you can see, the tubers are mucky and need to be washed. You can also see the "comma," the nascent growing shoot sticking out of the tuber. It is edible, but just kinda "meh." It has a weird, fibrous texture. It's the tuber you really want. Wash them well and rub off the brown stuff. Dry the tubers well and you get this: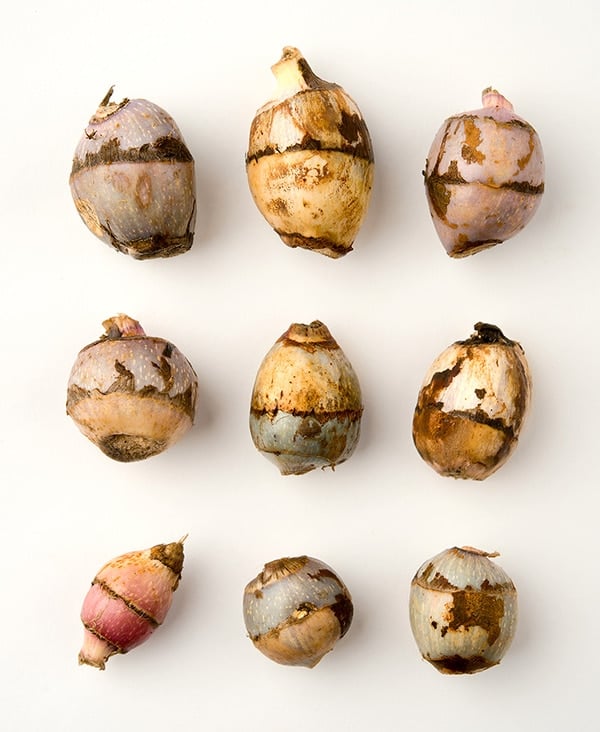 Pretty, eh? I don't know what will tinge a wapato pink or blue, but they are lovely to look at. Sadly, you will get rid of that pretty color when you cook them. But for now, store them this way in a plastic bag in the fridge, and you can keep them there for a couple months. For longer storage, you will want to peel your wapato, slice into disks and boil until soft, about 15 minutes or so. You then dehydrate the slices and they'll keep forever. Sam Thayer grinds them into flour, which I've done.
But beware: Wapato is hard on your grinder, so if you don't have a sturdy one, you need to be careful about overheating it. What do you do with wapato flour? Gnocchi spring to mind, also a coating for fish, or German spätzle or as an additive to bread. There's no gluten in wapato flour, so just keep that in mind.
Don't eat soft or rotten tubers, as they taste weird. How will you know? Peel your tubers, and you will see imperfections. Slice them off until you are left with pearly white, very light white goodness. The texture of the peeled duck potatoes is drier and fluffier than regular potatoes, and if you make mashed wapato you will need a bit more cream and butter — but that's not such a bad thing, is it?
You can do anything with wapato that you can you do with potatoes. Sam likes them as mashed potatoes and as a breakfast cereal made with the flour. Me? I like fried things. Lots of fried things. And fried arrowhead chips are a gift from God.
Look to Asia for the chief example. Arrowhead is what they call the tubers, and arrowhead chips are a big-deal snack for Lunar New Year. You can actually find Asian arrowhead tubers right before the holiday, which is normally in February.
If you slice the wapato thick, you get a "steak fry" effect, which is floury and fluffy in the middle. Slice thin and fry and you get crispy arrowhead chips that are part potato, part sweet corn, part something else — but wholly good.
And when I mean good, I mean great. Sam says he loves these tubers so much he's toyed with the idea of moving closer to his master wapato spot. I spent several years locating a spot, and I fully intend to visit it every year. Arrowhead is that good. So look for them this spring, keep an eye on your patch and harvest when the weather cools and the leaves begin to die down. You will be happy you did.
Arrowhead Chips
These are best made with the corms of S. latifolia, which have the largest tubers, but any species will do. You can also use this same method with jerusalem artichokes, although if you do, beware: Unless the sunchokes are older, i.e., harvested or eaten after a few months of frosty weather, you will get explosive farts from eating them this way. Fortunately, this does not happen with wapato. I use a regular potato peeler to peel mine, but a paring knife works well, too.
Ingredients
1/2

to 1 pound arrowhead corms,

peeled and sliced thin

About 2 cups cooking oil

Salt

(finely ground if possible)

Smoked paprika

(optional)
Instructions
Peel the arrowhead corms and slice them thinly. You can do this by hand for more of a "steak fry" effect, or 1/8 inch thin on a mandoline for more of a potato chip effect. If you want, you can soak them in salty water while you do the rest. This preseasons them.

Heat the oil in a fryer or a heavy pot to somewhere between 350°F and 360°F. A flick of flour should sizzle instantly at this temperature. The arrowhead slices will want to stick to each other, so slide them into the hot oil as if you were dealing playing cards. Don't overcrowd the pot. Fry until golden brown, about 2 minutes or so. Remove the chips with a slotted spoon and let them rest on a paper towel. Salt them the moment they hit the paper towel. Add a little paprika if you're doing that. Repeat with the rest of the slices. Serve hot or at room temperature. They will stay crispy for a day or two.
Nutrition
Calories:
57
kcal
|
Carbohydrates:
14
g
|
Protein:
1
g
|
Fat:
1
g
|
Saturated Fat:
1
g
|
Sodium:
9
mg
|
Potassium:
134
mg
|
Fiber:
3
g
|
Sugar:
3
g
|
Vitamin C:
1
mg
|
Calcium:
5
mg
|
Iron:
1
mg
Nutrition information is automatically calculated, so should only be used as an approximation.