Wild Mushroom Bisque
November 28, 2016 | Updated June 17, 2020
As an Amazon Associate I earn from qualifying purchases.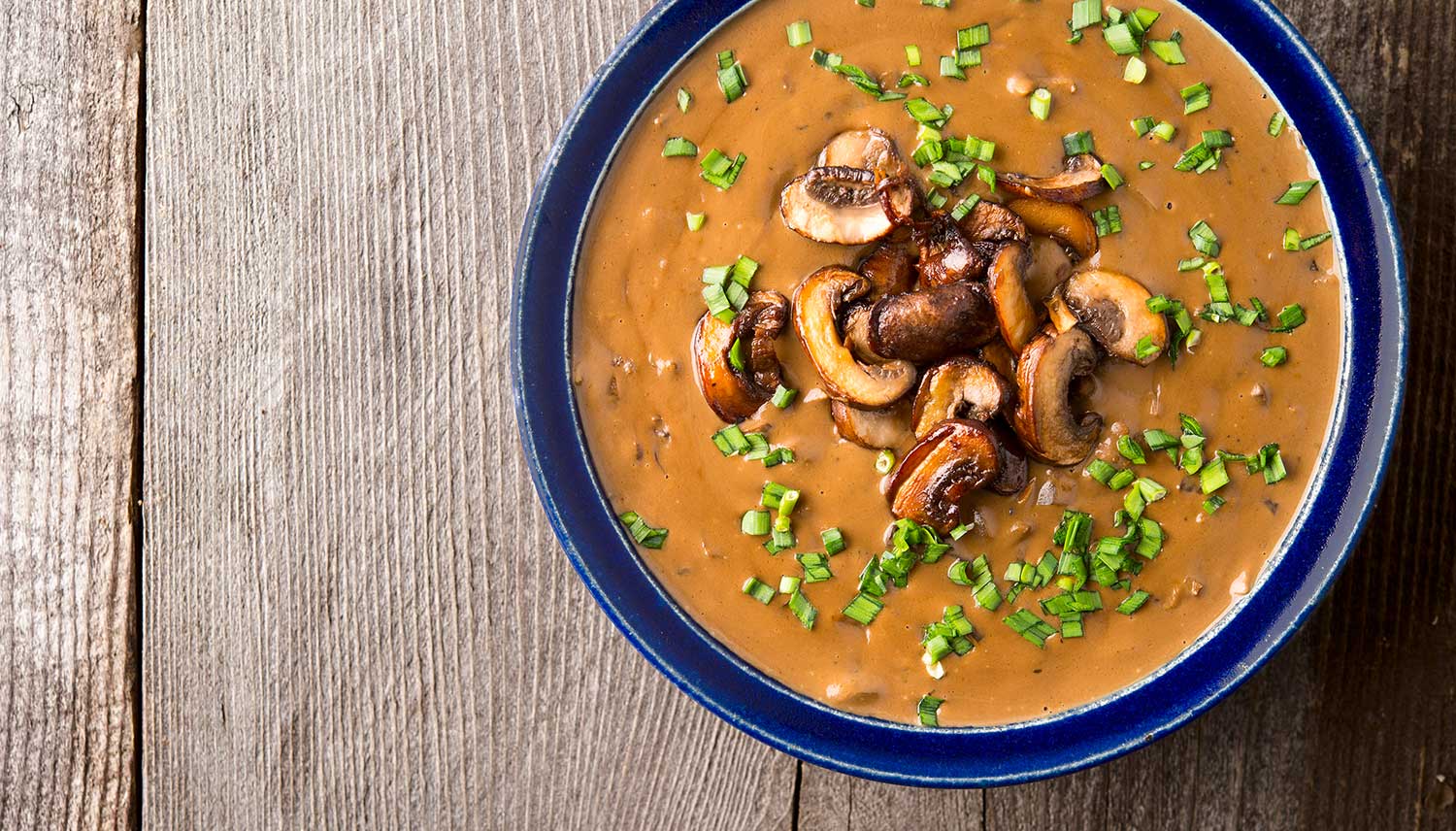 Birch bolete bisque. These words have been rolling around in my head a long, long time, and when I finally made the dish that I'd been thinking of, it did not disappoint.
Don't get me wrong, you can make a mushroom bisque with any mushroom — indeed, the garnish on mine were simple cremini mushrooms from the supermarket. But birch boletes just kinda lend themselves to soup. And I'll admit I like the alliteration.
What is a bisque? Technically it's a creamy seafood soup from France, but the term has morphed to mean any creamy soup. Think of this recipe as one for real-deal, homemade cream of mushroom soup.
What is a birch bolete? Well, it is a cousin of the King of All Mushrooms, the porcino, a/k/a cepe, penny bun or steinpilz. These 'shrooms tend to be smaller, however, and, as you might expect, like to live around birches.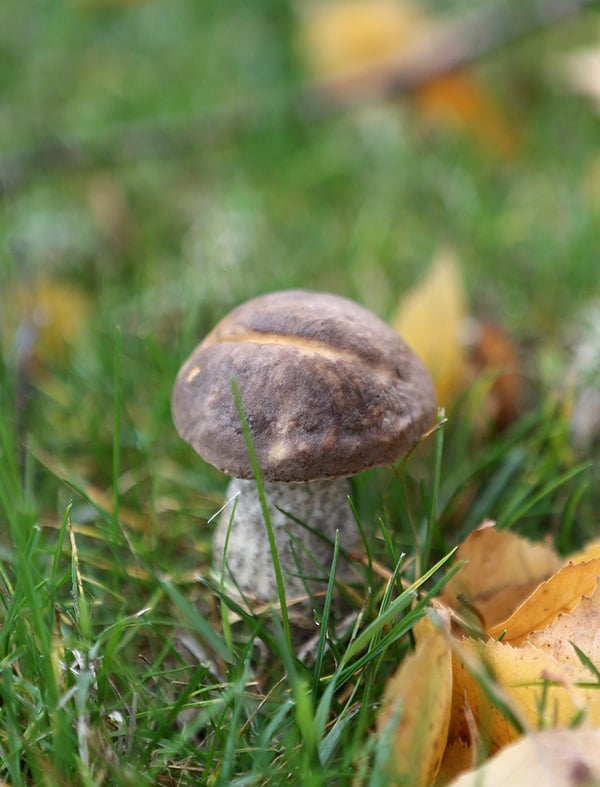 We have no real birch forests here in NorCal, but they are often used as landscaping plants. Look for them here in late November and December. Technically they are a leccinum, L. scabrum to be exact… ish. You see, there are lots of different kinds of these. Most have red or orange tops. Birch boletes don't. They're pretty gray-brown all over. And so far as I can tell, have never made anyone sick — the same can't be said for the orange-topped aspen bolete in Colorado.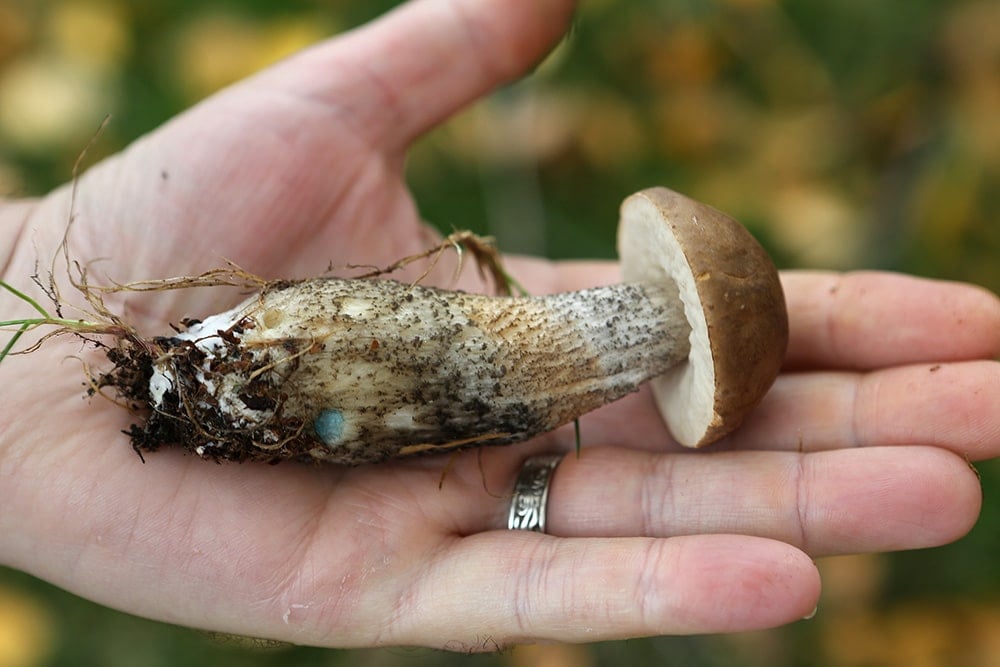 Anyway, don't get all hung up on birch boletes. Like I said, any mushroom will do.
The secret to this recipe is to use both dried and fresh mushrooms, and to use the soaking water as the broth. Sure, you can use chicken broth, but it won't be quite so mushroomy then.
Another key is to blend only part of the soup, so it will be smooth and creamy, but still with some texture. I find that if I blend the whole thing, everyone thinks I am serving them a bowl of gravy… not that there's anything wrong with eating a bowl of gravy.
Note that unlike many mushroom bisque recipes, I use no flour to thicken the soup — the mushrooms themselves do that — and I only use a little cream. Feel free to use more if you'd like, but I find that too much cream makes the soup impossibly rich.
Again, not that there's anything wrong with impossibly rich…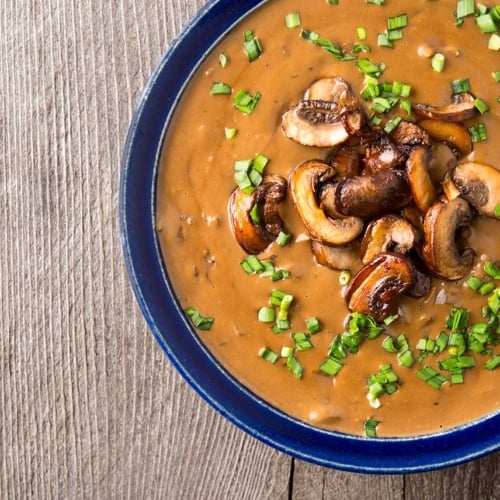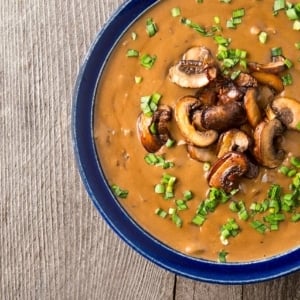 Wild Mushroom Bisque
While I relied on wild birch boletes and store-bought cremini mushrooms here, you can really use any mushroom you'd like. Each one will make the bisque a bit different, and you will ultimately come up with your own blend that suits your taste, your time, and your place. Whatever green garnish you choose, please use something. I find that the bisque gets disturbingly like gravy if you don't have something bright and green in it. And while yes, this is vegetarian, feel free to use chicken or beer or wild game broths in its place.
Ingredients
4

ounces

of dried mushrooms

5

cups

hot water

3

tablespoons

unsalted butter,

plus one more tablespoon

1

pound

fresh mushrooms,

minced (save aside a few nice mushrooms for garnish)

1

large yellow or white onion,

minced

1/3

cup

sherry or brandy

Salt

(smoked salt if you have it)

1

teaspoon

dried thyme

2

to 4 tablespoons heavy cream

Chives,

parsley or some other green herb to garnish

Lots of black pepper
Instructions
Break the dried mushrooms up and soak them in the hot water for 45 minutes to an hour. Chop fine once they're soft. Save the soaking water and strain it through a paper towel to remove debris and dirt.

Heat 3 tablespoons of butter in a soup pot and cook the onions and mushrooms over medium heat, stirring occasionally, until they start to brown, about 10 minutes.

Add the reconstituted mushrooms to the pot, stir well and cook another minute or three. Add the sherry, a healthy dash of salt and the thyme. Stir well and scrape off any browned bits from the bottom of the pot.

Add 4 cups of the soaking water and bring to a simmer. Cook gently for 20 t0 30 minutes.

Meanwhile, slice the garnish mushrooms and saute in the remaining tablespoon of butter until nicely browned. Set aside.

Ladle about 1/3 to 1/2 of the soup into a blender and puree. Chances are it will seize up and be too thick, so add the remaining soaking water to loosen things up. Return this to the pot, stir well and add some water if you think it's too thick. Return to a simmer.

To serve, stir in some heavy cream and lots of black pepper. Ladle into bowls and garnish with the sauteed mushrooms and herbs.
Notes
Once made, this bisque will keep in the fridge a week. It doesn't freeze very well once it has the cream in it, so if you make a big batch to freeze, skip the cream until you plan to eat it.
Nutrition
Calories:
143
kcal
|
Carbohydrates:
19
g
|
Protein:
4
g
|
Fat:
6
g
|
Saturated Fat:
4
g
|
Cholesterol:
16
mg
|
Sodium:
9
mg
|
Potassium:
567
mg
|
Fiber:
3
g
|
Sugar:
3
g
|
Vitamin A:
175
IU
|
Vitamin C:
4
mg
|
Calcium:
13
mg
|
Iron:
1
mg
Nutrition information is automatically calculated, so should only be used as an approximation.