As an Amazon Associate I earn from qualifying purchases.
Cooking venison ribs can be worthwhile, and in the case of this recipe is definitely so, but there are some things you should know before starting. Otherwise, you could end up with a mouth full of chewy meat and waxy fat. And no one likes that.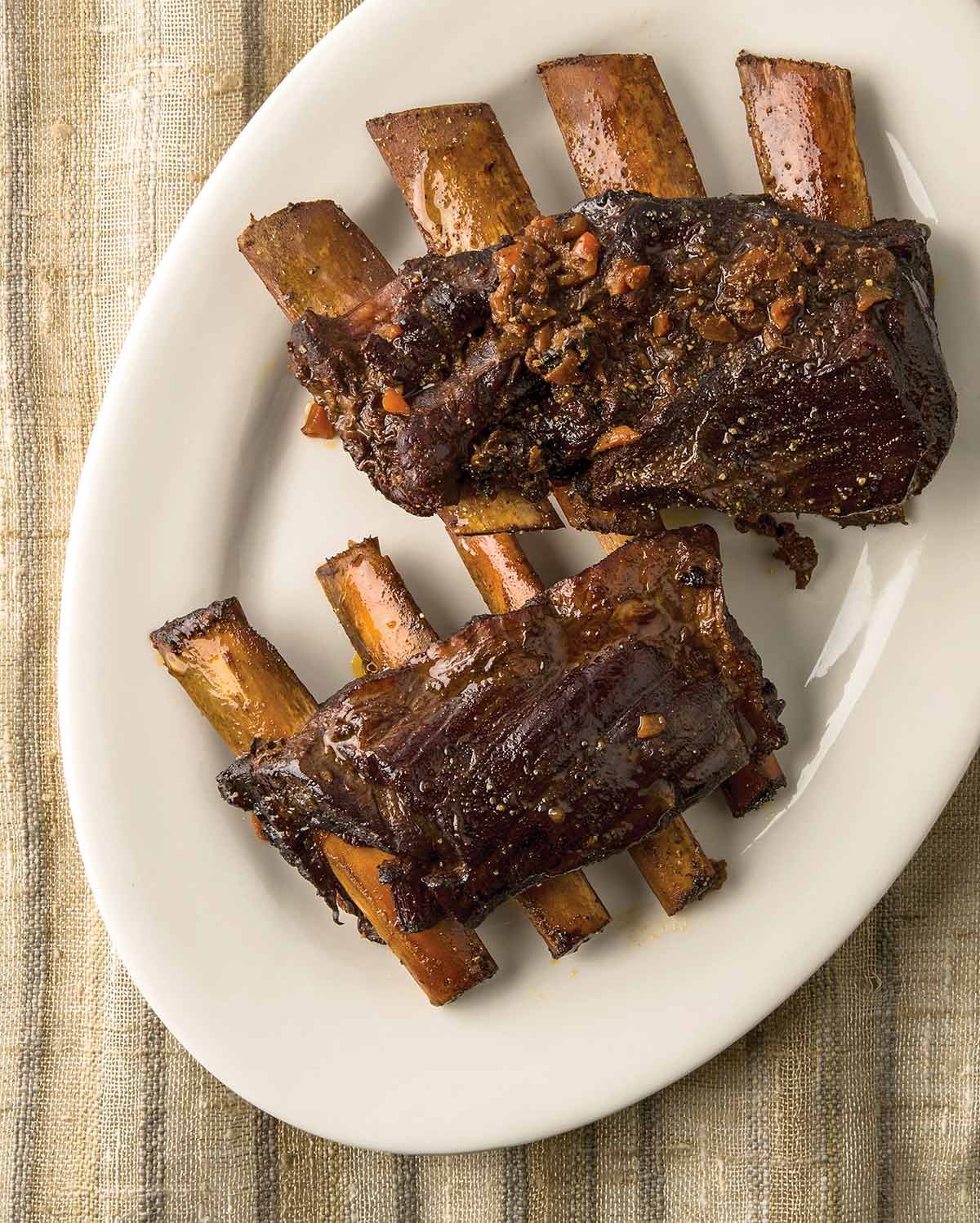 You can't just barbecue a venison rib like pork or beef ribs, largely because deer and their cousins are almost always older than their analog in the barnyard.
A typical whitetail is two to four years old, and the largest bull elk and moose can be well over a decade old. Beef is normally about eighteen months old when slaughtered, although grass-fed animals tend to be a few months older than that. Hogs are rarely more than a year old, and most of the ribs you find in a supermarket came from pigs that were about four to six months old.
Age does two things: It makes the meat tougher and more flavorful. To enjoy the latter, you must deal with the former. The answer is to braise or otherwise par-cook your venison ribs before finishing them in another way, if you choose to go that route.
Slow, moist, moderate heat gradually breaks down the connective tissue in the ribs and makes them tender enough to enjoy. On large animals, you can follow beef short rib recipes, and on deer and antelope, think closer to baby back ribs.
How do you get there? The simplest way is to season your ribs and braise them in broth with some herbs and vegetables until they are tender. This takes a few hours. You can also use a pressure cooker. Cover the venison with some water or broth and cook at full pressure for about thirty minutes.
Fat is the other issue. As any of you who have ever eaten it know, deer fat can be problematic. It is made up of very long-chain fatty acids that will coat your mouth unpleasantly as it cools. I go into this at length in this article.
The long braising with these venison ribs solves a lot of that, since it renders out most of the fat.
This particular venison ribs recipe is an adaptation of a wonderful dish in a wonderful book, Paul Bertolli's Cooking by Hand, which would be one of my "stuck on a desert island" cookbooks. It works best with ribs cut from a large animal: certainly elk, caribou and moose, but also the exotic red deer, nilgai, and oryx.
It will work with regular deer ribs, but do this with a big buck, not a little doe or button buck.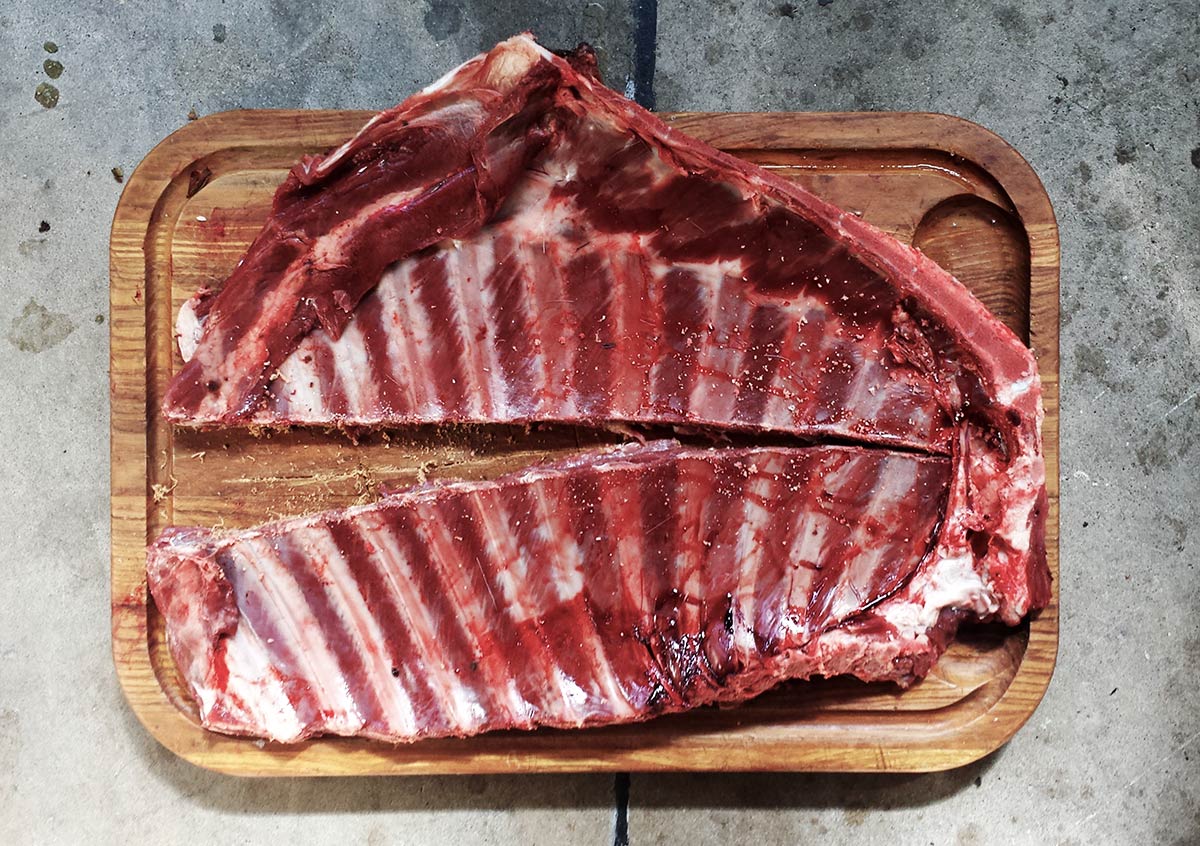 You will want the ribs cut somewhere between four and six inches long, and either in a block of ribs or as individual ribs. Trim any excess fat off the cap of the ribs, but you do want some fat remaining.
This recipe is what the Italians call an agrodolce, a sweet and sour sauce highlighted by balsamic vinegar and saba, which is boiled down grape must. Yeah, I know, you don't have any lying around. Only reason I do is because I grow grapes. Fortunately, you can get really close by boiling down purple grape juice and using that.
Time is all this recipe asks of you. Venison ribs can require a long while to get tender, sometimes up to 4 hours if you have an old bull or buck. But they will, eventually, and that long cooking time infuses them with so much flavor you'll wonder why you haven't done this before.
Once made, they keep a week in the fridge, although after Night One I shred the meat off the bones and store it in the sauce. It's great on pasta or polenta later in the week.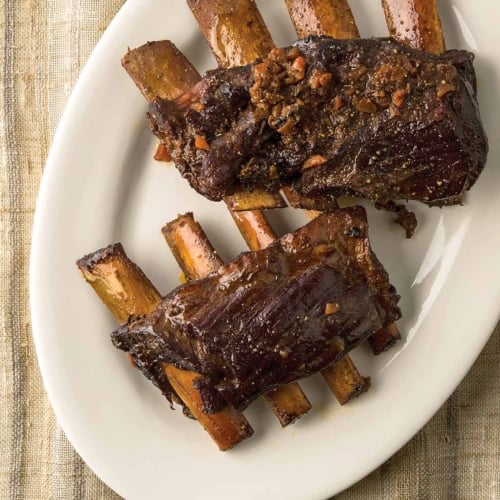 Italian Braised Venison Ribs
I prefer to do this recipe with elk, moose, caribou or nilgai ribs, but regular deer ribs work fine, too.
Ingredients
3

cups

purple grape juice,

or 1 cup saba

2

pounds

ribs,

each about 4 to 6 inches long

Salt and black pepper

4

slices

bacon

¼

cup

olive oil

1

large celery stalk,

minced

2

carrots,

minced

2

large onions,

minced

1

ounce

dried mushrooms,

1 standard package

¼

cup

tomato paste

2

cups

red wine

½

cup

balsamic vinegar

10

fresh sage leaves,

or 1 tablespoon dried and ground

1

sprig fresh rosemary,

or 1 tablespoon dried

1

quart

venison or beef broth
Instructions
If you are not using the saba, boil down the grape juice to 1 cup in a small pot. Set aside. Take out the ribs and salt them well. Preheat the oven to 350°F.

In a large, heavy, lidded pot like a Dutch oven, fry the bacon over medium heat until crispy. Remove, eat one slice, then chop and set aside.

Pat the ribs dry with a paper towel and brown them in the bacon fat, adding olive oil if you need to. When you brown the ribs, don't brown the side with the bone showing—if you brown this side, too, the bones will fall off the meat too soon. When the ribs are browned, remove to a plate.

Add the minced vegetables and cook over medium heat until they are well browned, stirring occasionally. This should take about 8 to 10 minutes. Crumble the dried mushrooms over the vegetables and add the tomato paste and mix well. Cook this another 3 or 4 minutes, stirring often. You want the tomato paste to darken.

At this point you'll notice that the bottom of the pot has a brown residue on it. Add the red wine and use a wooden spoon to scrape it all off. Boil the red wine down by half, then add the cooked-down grape juice and the balsamic vinegar. Mix well and return the ribs to the pot, bone side up. Pour in any juices that have accumulated with the ribs, too. Add the herbs.

Let this cook down a few minutes, then add the venison broth and mix well. Put the meat back in the pot. Cover the pot and put it in the oven to cook for at least 2 ½ hours. You want the meat to be thinking about falling off the bone, but not actually there yet. This could take as long as 4 hours with an old elk or moose.

When the meat is ready, gently remove it from the pot and set aside. Now you have a choice: You can use the braising liquid as-is, or you can make it smooth. I prefer it smooth. To do this, you can either push it through the medium plate of a food mill, use a "boat motor" stick blender, or pour everything into a blender and buzz it. I prefer the food mill option. Taste the resulting sauce. If it is to your liking, you are good to go. It might be too thin, however, so in this case boil it down until it's like a barbecue sauce. Right before you serve the sauce, add some black pepper.

Coat the ribs in the warm sauce and serve with mashed potatoes or another mashed vegetable; I am big on mashed celery root with this recipe. To drink, you'll want a big red wine like a Barolo or Bordeaux, or a big malty beer. A good Belgian beer like Chimay is a good choice.
Notes
Should you have leftovers, shred the meat and store it in the sauce. It is amazing on polenta or with pasta. 
Keys to Success
The celery, carrots and onions need to be pretty fine, so I mince them in a food processor. Just make sure they don't become a paste.
Nutrition
Calories:
925
kcal
|
Carbohydrates:
53
g
|
Protein:
84
g
|
Fat:
30
g
|
Saturated Fat:
8
g
|
Polyunsaturated Fat:
4
g
|
Monounsaturated Fat:
16
g
|
Trans Fat:
1
g
|
Cholesterol:
288
mg
|
Sodium:
1418
mg
|
Potassium:
2176
mg
|
Fiber:
4
g
|
Sugar:
38
g
|
Vitamin A:
5384
IU
|
Vitamin C:
10
mg
|
Calcium:
94
mg
|
Iron:
13
mg
Nutrition information is automatically calculated, so should only be used as an approximation.