Root Vegetable Ragu with Polenta
March 07, 2014 | Updated September 01, 2022
As an Amazon Associate I earn from qualifying purchases.
Root vegetable ragu is one of my favorite vegetarian suppers when the weather cools. It's easy to make and interesting to eat if you have a variety of root veg to work with.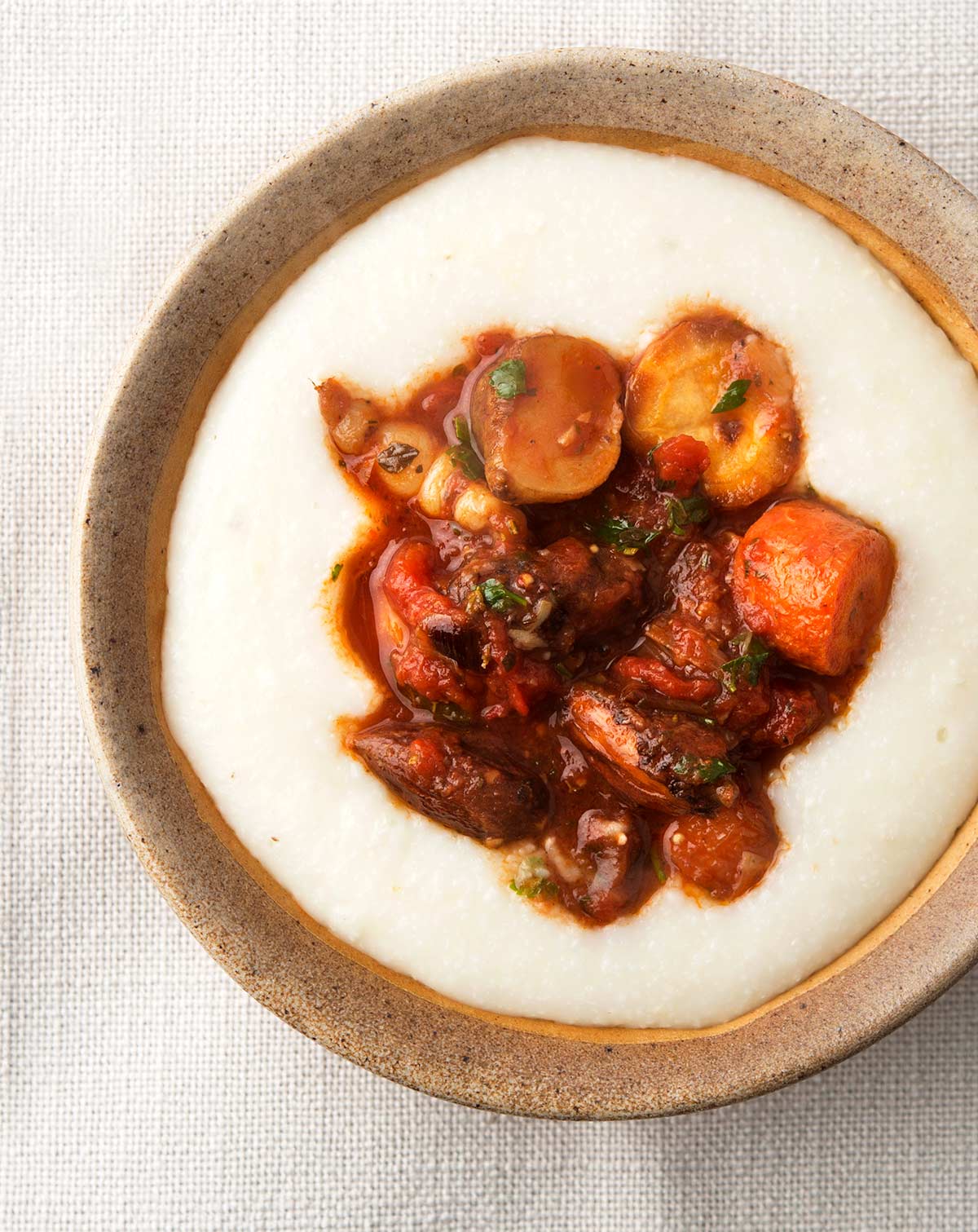 My vegetable ragu has a lot of unusual vegetables; unusual roots fascinate me. Every year I grow something I've never heard of: Skirrett? Check. Parsley root? Gotchya. Salsify, and it's cousin scorzonera? Every year. Even the carrots I grow are odd; I prefer a French version that's bright yellow.
Why? For starters I am attracted to the unusual, always have been. Second, I think biodiversity is important, and some of these varieties are pretty rare. Third, I can buy regular carrots anywhere, so why bother growing them?
Finally, there is taste: Parsley in a root? Another root that tastes like artichoke hearts? Crunchy little tubers that look like the Michelin man and taste like water chestnuts? Count me in.
I get my seeds from a lot of different places, but Seeds from Italy, Cook's Garden and John Scheeper's are my favorite sources. As for cooking roots, no one has written a better guide than Diane Morgan in her aptly titled book, Roots: The Definitive Compendium with more than 225 Recipes.
Sometimes I cook my roots solo, to highlight them, but sometimes the best way to walk through all this novelty is in a vegetable ragu… or sugo or ragout or whatever you feel like calling it. A soup or stew would also be good, but I was not in a stew mood when I made this.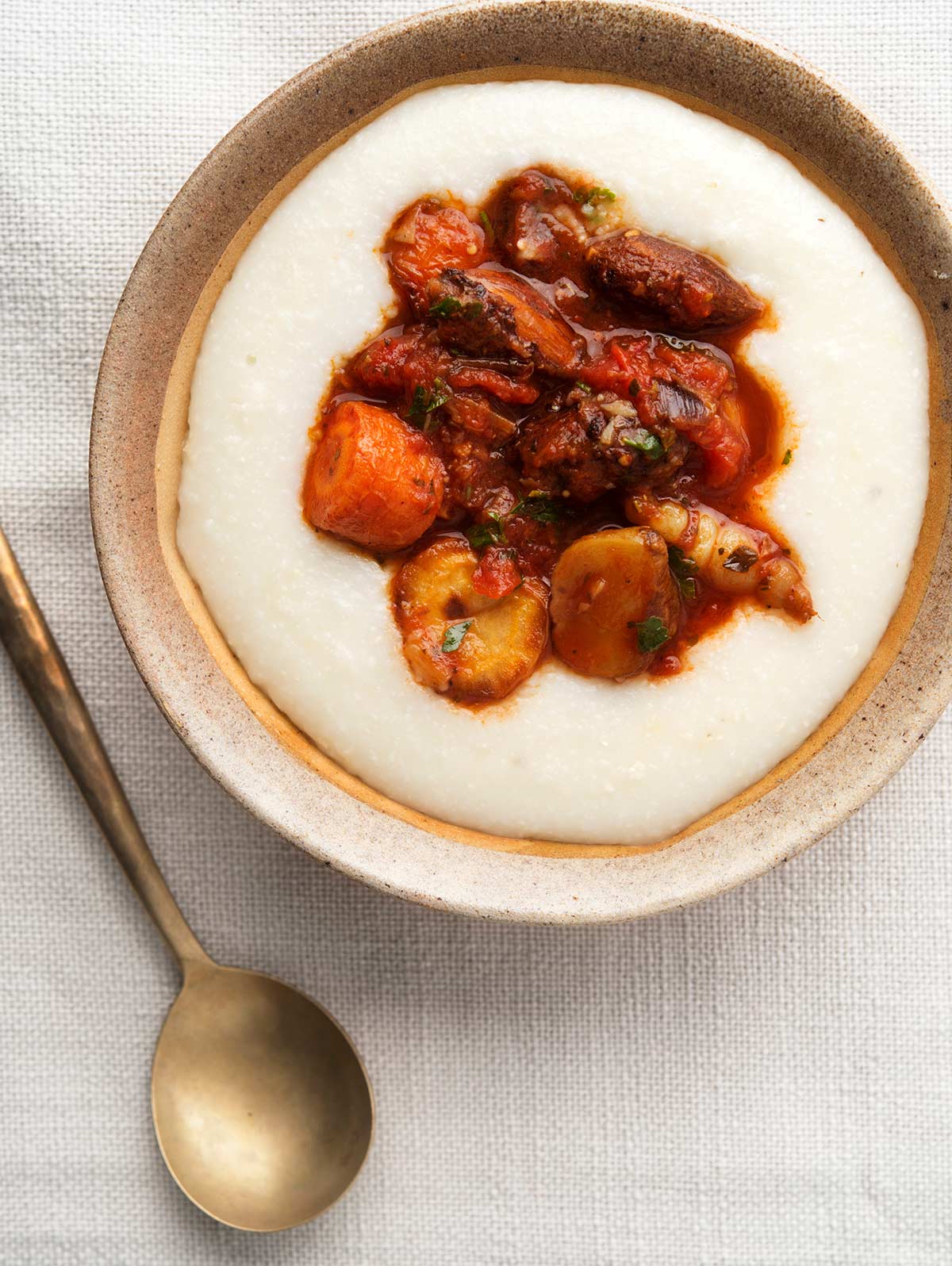 Making a Better Vegetable Ragu
A ragu is exciting. Visually there are all those colors and shapes, and texturally not all vegetables cook at the same rate, so some will be soft and some still a bit firm. There is a lot going on, even if you are an avowed carnivore.
The key here is variety, as you can already tell from the picture.
If you don't garden, tour your supermarket produce aisle or farmer's market. Go with a couple parsnips, beets, rutabagas, turnips, potatoes, carrots, for starters. Some markets will have things like yuca (manioc) or taro or yams that aren't overly sweet. You can also add winter squash, too, although that's not even remotely a root.
Choose a selection of colors and flavors for your vegetable ragu that, in your mind, will play well together. I go for the downright weird…
What the heck is hopniss? And crosnes? Isn't that an auto-immune disease? Scorzonera? Huh? Bet you didn't know there was so much diversity underground, eh? There is, more than you know. Bottom line, do your best to use at least three different kinds of roots for your vegetable ragu. It'll make things more interesting.
Cooking Times Matter
Here's a rough guide on when you should add the various vegetables. Now, let me start by noting that you can put them all in the roasting pan at once, and then they will done at different times, and have different textures. I do that a lot.
But if you want everything cooked more or less evenly, follow this rough guide:
Beets take the longest to cook, sometimes a full hour.
Most vegetables for a vegetable ragu will need about 40 minutes, so that's your default.
Turnips, onions, cauliflower and peppers need only about 30 minutes.
Another trick is to cut longer-cooking vegetables smaller than the rest, so in this example, beets get cut smaller than turnips.
If you liked this recipe, please leave a ⭐️⭐️⭐️⭐️⭐️ rating and a comment below; I'd love to hear how everything went. If you're on Instagram, share a picture and tag me at huntgathercook.
Roasted Root Vegetable Ragu with Polenta
I know you probably don't have many of the vegetables in this recipe. It doesn't matter. The point is to use lots of different vegetables that can be roasted. Variety is the key.
Ingredients
RAGU
2

onions,

quartered

1

head garlic,

cloves peeled

1

pound

fingerling potatoes or jerusalem artichokes

1/2

pound

crosnes

(optional)

1/2

pound

hopniss

(optional)

4

or 5 salsify roots

(optional)

2

large carrots,

cut into chunks

2

or 3 parsley roots or parsnips

2

tablespoons

olive oil

Salt and black pepper

1/2

cup

white wine

1

large can peeled whole tomatoes,

28- or 32-ounce

2

bay leaves

1/2

teaspoon

dried thyme

2

tablespoons

chopped parsley

2

cups

chopped chard or other leafy greens
POLENTA
4

cups

water

Salt

1

cup

polenta or grits

1/2

cup

grated pecorino or parmesan cheese

2

tablespoons

butter or olive oil
Instructions
Preheat the oven to 450°F. Cut all the vegetables for the ragout into pieces you'd want to eat with polenta: bite-sized or whatever. Coat with the olive oil and sprinkle with salt. Put the veggies into a roasting pan and roast in the oven until they are nicely browned, about 30 to 40 minutes. Turn them occasionally.

Meanwhile, make the polenta. Bring the water to a boil in a medium pot and add a healthy pinch of salt. Sprinkle the polenta into the boiling water with one hand while you stir the water with another. This helps prevent lumps. Turn the heat to medium-low until the polenta bubbles gently. Cook, stirring every few minutes, until the polenta is creamy, about 30 minutes. When it's creamy, turn the heat as low as it will go for now.

When the vegetables are ready, move them into a large, wide pot, like a high-sided frying pan. Pour the white wine into the roasting pan and use a wooden spoon to scrape up any browned bits at the bottom of the pan. Pour all that into the pot with the vegetables.

Crush the canned tomatoes by hand into the pot and pour in all the juices from the can. Add the bay leaves and thyme. Stew this over medium-low heat for 15 minutes. Add the butter and cheese to the polenta, stirring well. If the polenta is too thick, stir in a little water. The polenta should be smooth and be able to flow a little in a bowl.

Add the chard and parsley to the ragout and cook until the chard has wilted, about 3 to 5 minutes. Serve in bowls over the polenta.
Notes
Don't like the fact that this is vegetarian? Add diced bacon or ham, or a little Italian sausage out of the casing. Not a fan of polenta? Eat this with crusty bread, or with short pasta like gemelli or penne.
Nutrition
Calories:
536
kcal
|
Carbohydrates:
80
g
|
Protein:
13
g
|
Fat:
17
g
|
Saturated Fat:
7
g
|
Cholesterol:
28
mg
|
Sodium:
439
mg
|
Potassium:
1305
mg
|
Fiber:
10
g
|
Sugar:
12
g
|
Vitamin A:
6797
IU
|
Vitamin C:
59
mg
|
Calcium:
251
mg
|
Iron:
4
mg
Nutrition information is automatically calculated, so should only be used as an approximation.