Simple Roast Pheasant
April 03, 2014 | Updated June 18, 2020
As an Amazon Associate I earn from qualifying purchases.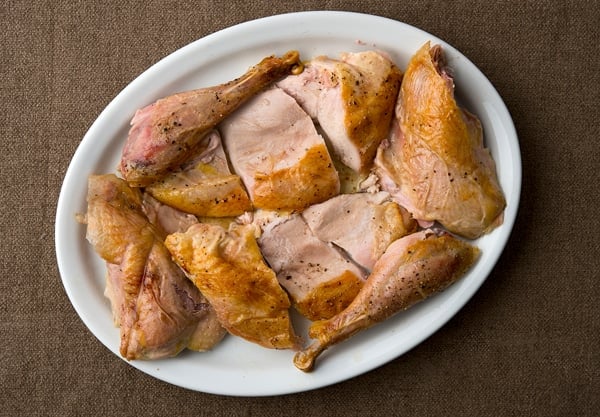 When life gives you a beautiful pheasant, one that you have not shot up, you should roast it whole like a chicken. But a pheasant is not a chicken — it can get dry and ugly very fast if roasted poorly. That's where this recipe comes in.
I designed this recipe for young birds, but I have also found that ranched birds are ideal; you can often find whole pheasants in places like Whole Foods or other specialty markets.
This roast pheasant recipe, unlike many of the others you may have seen, relies on a few special tricks. One is an eight-hour brine; this will season the bird and help it to retain moisture.
Brining is a critical step when roasting lean game birds such as wild turkey, pheasant, sharp-tailed grouse, or even smaller birds such as chukars or quail. You risk dry birds if you skip this step.
It can also help chicken or Cornish game hens, although you'll need to check, as many store-bought chickens are pre-brined.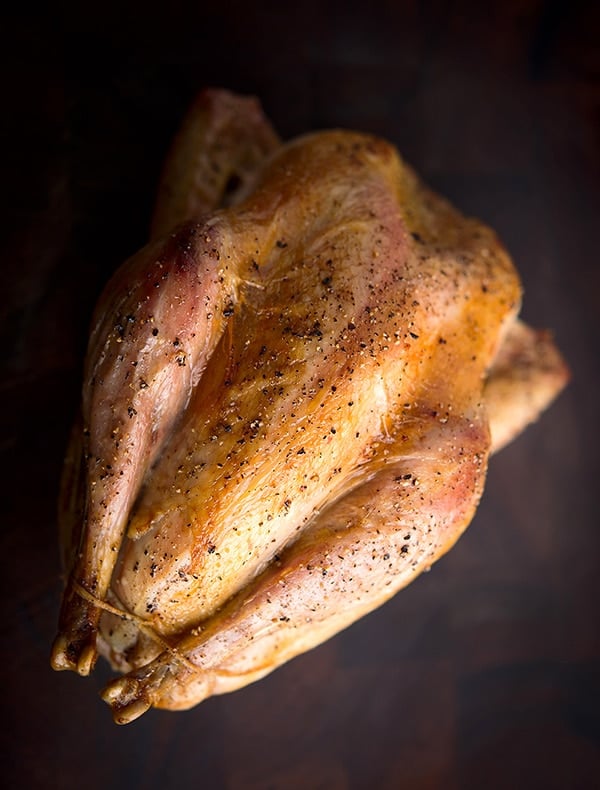 Another trick is a searing hot oven, followed by a stint in a cooler oven. This isn't a terribly new idea, and if you happen to have the Englishman Hugh Fearnley-Whittingstall's The River Cottage Meat Book, he goes into this pretty thoroughly. I like my second, cooler step a bit cooler than he does, however.
The third is resting the bird. Fearnley-Whittingstall is big on this, but then again so are all cooks worth their apron.
Serve your roast pheasant with root vegetables, mashed potatoes or roasted Brussels sprouts. A big white wine or a light red is a good choice, as is a hard cider or pale ale.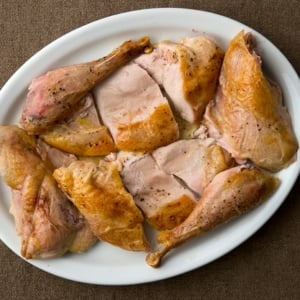 Roast Pheasant
Follow these general instructions and you will get a lovely, moist bird. This technique also works with ruffed grouse, chickens and guinea hens. Serve with a nice white wine, some mashed potatoes and a vegetable of your choice. A good option is to cut up some carrots, potatoes, parsnips, celery root and turnips and roast them with the birds. I have a similar recipe for roast partridge, if you are looking for something a little different.
Ingredients
2

whole pheasants

8

cups

water

1/2

cup

kosher salt

2

tablespoons

sugar

2

bay leaves,

optional

1

tablespoon

crushed juniper berries,

optional

2

tablespoons

olive oil or softened butter

Black pepper to taste
Instructions
Brine the bird. Make a brine by bringing the water, salt, bay leaves, juniper and sugar to a boil. Cover and let cool to room temperature. When it cools, submerge your pheasant in the brine and keep it in the fridge for 4 to 8 hours. The longer you brine, the saltier the pheasant will become. I brine pen-raised birds for 4 hours, old roosters for 8 hours.

Optional step: If you really want a crispy skin, take the birds out of the brine and set them uncovered in the fridge for 12 to 24 hours. This dries out the skin (but not the meat} and helps you get crispier skin.

When you are ready to cook, take the pheasant out of the fridge and let it sit at room temperature for at least 30 minutes and up to an hour. Heat your oven. Get it to 500°F if possible, but at least 400°F. Give yourself at least 15 minutes of preheating, and up to a half hour. Oil the bird. You can do this with olive oil or you can smear butter all over it. Crack some black pepper over the bird.

Stuff with a piece of onion or apple and a few fresh herbs. A cut lemon is a good choice, too. Do not pack the cavity. Truss the bird if you want. I do this often because it helps the pheasant cook more evenly. (Here's

a video on how to truss a chicken

, which is basically the same thing as a pheasant.)

Roast the pheasant uncovered for 15 minutes at your high temperature. Take the pheasant out and lower the temperature to 350°F. Leave your oven door open to speed this process.

Optional step: Baste the bird with either butter or a glaze. When I do this, I like to use a boiled-down combination of butter and maple syrup.

Return the pheasant to the oven and roast uncovered for 30 to 45 minutes. You want the internal temperature of the thigh meat to be about 155°F to 160°F and for the bird's juices to run pretty clear. A little pink in the juice — and in the bird — is what you want. The higher end of this cooking time will give you a well-done bird, which I try to avoid but many people prefer.

Remove the pheasant and let it rest for 10 to 15 minutes. This resting time is vital, as it lets the juices redistribute within the pheasant. It will also finish off the cooking process through carry-over heating.
Nutrition
Calories:
476
kcal
|
Carbohydrates:
5
g
|
Protein:
52
g
|
Fat:
26
g
|
Saturated Fat:
7
g
|
Cholesterol:
162
mg
|
Sodium:
9538
mg
|
Potassium:
555
mg
|
Fiber:
1
g
|
Sugar:
4
g
|
Vitamin A:
405
IU
|
Vitamin C:
12
mg
|
Calcium:
43
mg
|
Iron:
3
mg
Nutrition information is automatically calculated, so should only be used as an approximation.