Roast Haunch of Venison
November 03, 2021 | Updated May 30, 2022
As an Amazon Associate I earn from qualifying purchases.
Roast haunch of venison immediately makes me think of a roaring fire, cold weather, a hunt, lots of booze and tall tales. Now set that picture in Ancient Rome.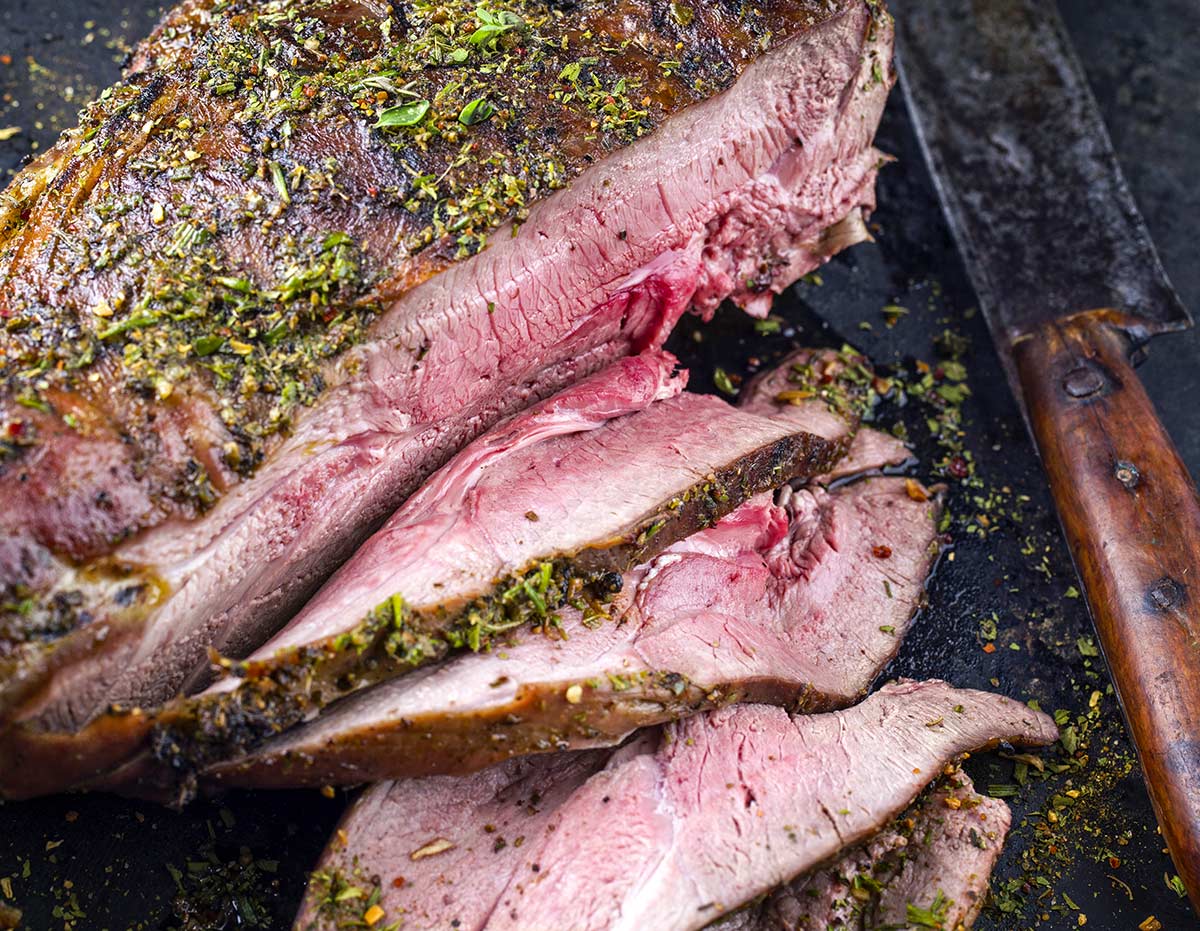 Many years ago, I adapted this dish rom that most famous of cookbooks from Ancient Rome: Apicius. Only in reality, that book is likely not from the Rome of the Caesars, but later, in the 400s, after the Visigoths burnt the place down. Small matter.
This roast haunch of venison is typical of Roman, and later Middle Ages meats: Sweet, salty, herby. You'll see a few odd ingredients here. I'll walk you though them.
The first is fish sauce. Isn't that Asian? Well, yes, but the Romans loved a similar sauce galled garum, and you can buy its modern cousin, Colatura di alici, in specialty shops. But fish sauce is easier to get. Just buy a clear, filtered one.
The others are the herbs rue and lovage. I grow them both in my yard, but if you don't, chances are you are out of luck. I offer substitutions below. Both are intensely aromatic, and rue is bitter. It's there to offset the honey.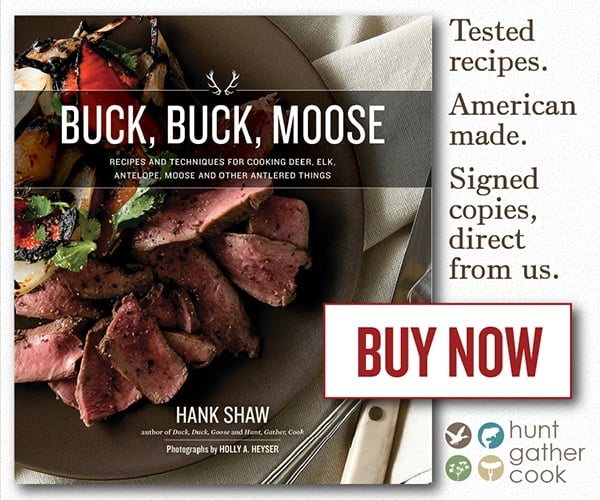 What is Haunch of Venison?
Fair question, at least to Americans. For the British, haunch is often just another word for a roast. Like "joint," it's a term for big hunk of meat roasted.
Technically speaking, however, a haunch should be bone in, from the hind leg, and often including either the shank or the hip, or both.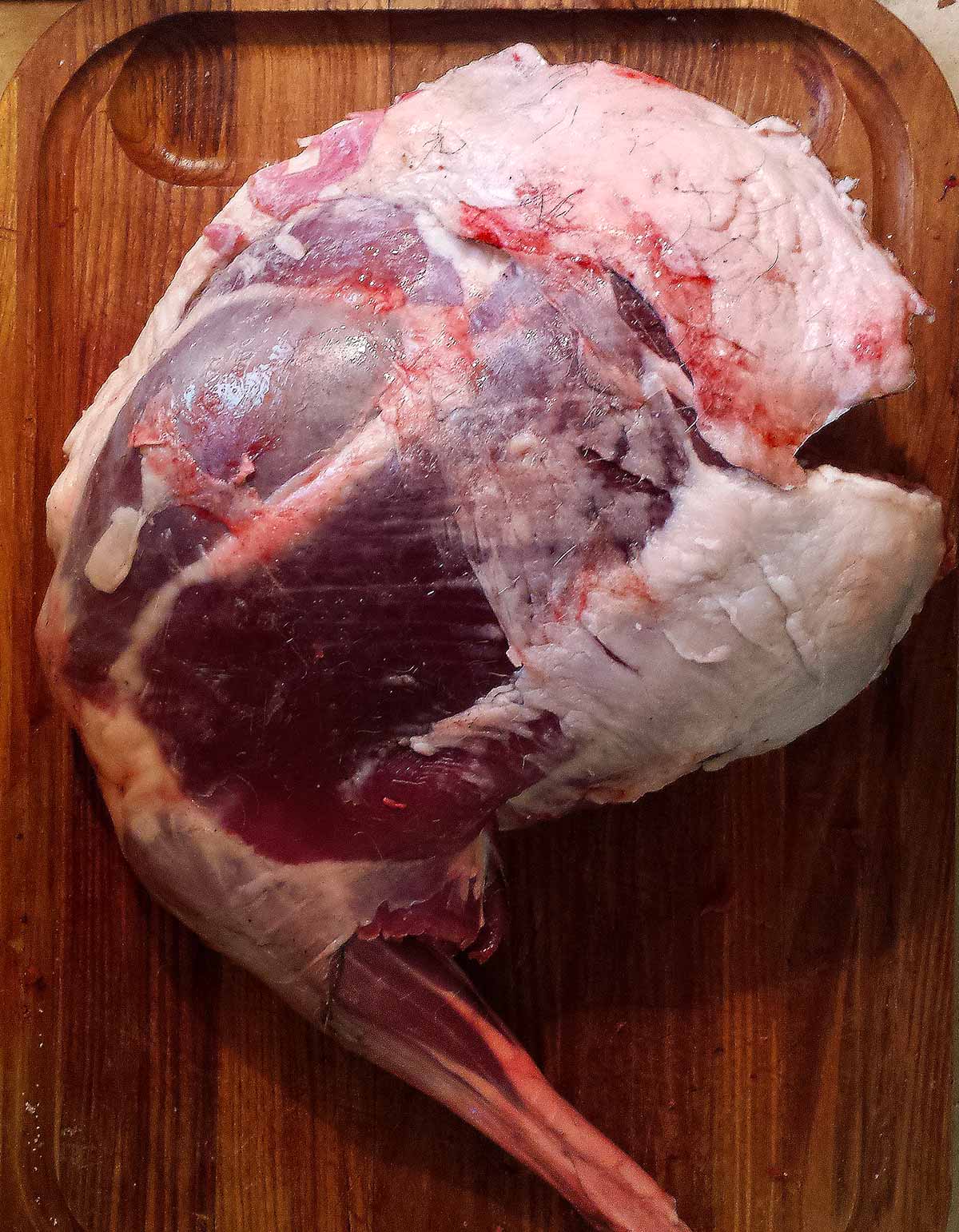 Couple notes here: First, you want to keep some fat on the haunch, as it adds flavor, and if you serve your roast piping hot, it will be delicious. (Here's more on why venison fat can get waxy, if you are interested.)
Second, since this haunch of venison is roasted medium, not well-done, that shank will be undercooked. Save it for later, where it will serve as a great beginning to venison stew.
Cooking Methods
The absolute best way to roast a haunch of venison is in front of a real fire, spinning on a string so it cooks evenly. Good luck with this one, unless you have an old school fireplace. Another good option is to roast it in a pellet smoker — even though it won't be set on "smoke," the smokers are heated with wood and that aroma will carry through.
Finally, yes, you can use an oven. If that's what you are going for, I'd sub in smoked salt for regular, as a cheater's method of getting some smoke flavor.
Accompaniments
Since this dish is essentially a roast with sauce, I normally serve roast haunch of venison with polenta or mashed potatoes. Too New World for you? Then eat it with farro or barley. Just substitute farro or barley for rice in your favorite risotto recipe. Or make it a holiday meal with wild mushroom stuffing.
Want to go real old school? Make polenta with barley. It's what the gladiators ate.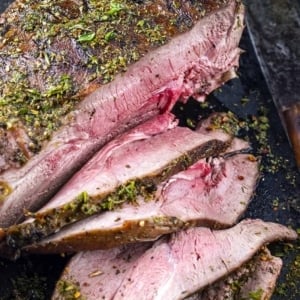 Roast Haunch of Venison
This venison roast is typical of Roman meats: Sweet, salty, herby. I like using the whole hind leg off a whitetail doe or pronghorn for this recipe.
Ingredients
4 to 6

pound

venison roast

salt and pepper

3

tablespoons

olive oil

1

teaspoon

rue,

minced (If you can't find rue, use rosemary)

1

tablespoon

lovage,

minced (If you can't find lovage, use celery leaves)

1

tablespoon

oregano,

minced

1

tablespoon

mint,

minced

1

tablespoon

, parsley, minced

2

cloves

of garlic

2

tablespoons

flour

1

minced medium white or yellow onion

1

teaspoon

Thai fish sauce

1

tablespoon

honey

1

cup

sweet wine
Instructions
Salt venison roast about 12 hours. Take it out of the fridge 30 minutes before cooking. Preheat oven or pellet smoker to 325°F.

In a pan, add olive oil, then brown venison on all sides. When browned, place in an ovenproof roasting pan in oven, ideally on a roasting rack. How long depends on the roast. If you have an internal probe thermometer, insert it into the thickest part of the roast. Pull the meat when it hits about 130°F or even a little less. Set the meat on a cutting board to rest, and grind black pepper over it.
SAUCE
While the venison is cooking, in a mortar and pestle, mash all the herbs together with the garlic and a pinch of salt until it's a paste. You could also use a food processor.

When the roast is resting, add flour to the pan to make a roux. Stir and cook over medium heat until its tan-to-brown. I put the pan on the stovetop over two burners set on medium low for this.

Add the onion and cook until it's translucent. Add sweet wine and stir it into the roux, which will seize up a bit. If it's too thick, add some water or stock. Reduce heat to medium, add fish sauce, honey, then the herb-garlic mixture. Let it cook down. The sauce should be the consistency of melted ice cream. Think turkey gravy. Taste to adjust for seasoning; fish sauce is very salty, so you will probably not need more salt.

Slice the roast thinly, lay down sauce, and serve.
Notes
You can also do the browning step for the venison on a grill. 
Nutrition
Calories:
301
kcal
|
Carbohydrates:
8
g
|
Protein:
35
g
|
Fat:
11
g
|
Saturated Fat:
2
g
|
Cholesterol:
129
mg
|
Sodium:
158
mg
|
Potassium:
540
mg
|
Fiber:
1
g
|
Sugar:
2
g
|
Vitamin A:
162
IU
|
Vitamin C:
4
mg
|
Calcium:
32
mg
|
Iron:
6
mg
Nutrition information is automatically calculated, so should only be used as an approximation.