I have been awash in pork this week. I shot a wild boar on California's Central Coast on Monday, and have been busily butchering, breaking down, freezing, salting, curing, making fromage du tete (recipe to come), smoking shanks, making stock as well as four different batches of sausage.
With all this, I am dead tired at the end of each day. I really want something quick and easy after all this. And while I did eat cold pizza one day, I thought I might as well cook up some fresh wild pig for a change.
Stir fry is almost always my quick and easy answer, especially when I have great fresh vegetables kicking around. It's April, and that means asparagus season. I eat lots and lots of asparagus from March to May, and never again. I will not willingly eat crappy asparagus from South America, which I am sure is fine if you happen to live there, but I don't want my produce flown in. Rant over.
Anyway, this is a very basic stir fry you can adapt to whatever you happen to have on hand. You could even make it vegetarian if you sub in some good mushrooms for the wild pig.
Speaking of wild boar, you should know that wild pigs can be very tough, even when using the backstrap as I did here. I have no idea how old Mistah Brown the Boar was, but his teeth were ground down, so at least four years or so. That's an old pig. And yeah, the backstrap was a little chewy. Not unpleasantly so, but a lot tougher than the flaccid pork you normally get at the Chinese takeout place.
If this worries you, slice the loin into medallions and pound them between two pieces of plastic wrap. Then cut them into slivers for this recipe.
This lovely little dinner comes together fast, as all stir fries do, so have everything ready before you start, including the rice. It's fresh, brightly flavored, savory — and best of all after a long day with my knives — easy.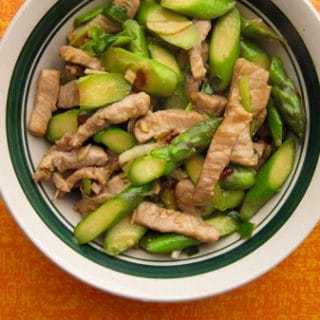 Pork Stir Fry with Asparagus
This is a really easy, very basic Chinese style stir fry. If you remember the basic method, you can stir fry any lean, boneless meat along with any seasonal vegetable. The marinade, the Chinese "trinity" of garlic, ginger and green onions and the sesame oil never change. If you don't like chiles, leave them out. Note this is not a "saucy" Chinese stir fry. If you want a saucier dish, double the marinade.
Ingredients
1

pound

pork or wild pig loin,

sliced into thin strips

3

teaspoons

corn or potato starch

2

teaspoons

soy sauce

1

teaspoon

Shaoxing wine or sherry

1/2

teaspoon

salt

1

teaspoon

sugar

3

teaspoons

sesame oil

3

tablespoons

peanut oil,

lard or vegetable oil

3

large garlic cloves,

sliced thin

1

to 3 small dried hot chiles,

crumbled

A 1-inch piece of ginger,

peeled and minced

3

to 5 green onions,

sliced on the diagonal into bite-sized pieces

1

pound

of asparagus,

sliced on the diagonal into bite-sized pieces

Sesame oil to garnish
Instructions
Slice the pork into slivers and mix it well with the marinade: The starch, soy sauce, Shaoxing wine, salt, sugar and sesame oil. Let this marinate on the counter while you cut all the vegetables, or abou 20 minutes or so.

Heat a wok or large saute pan over high heat on your hottest burner for a minute or two. Add the peanut oil or lard and swirl it around. When it starts to smoke, add the minced garlic and ginger, as well as the crushed chiles. Stir fry this for 30 seconds.

Add the pork and any marinade in the bowl and stir fry for 2 to 3 minutes, until the pork or wild pig turns opaque. Add the asparagus and green onions and stir fry 2 minutes, or until you begin to see some liquid start to form in the bottom of the wok. Don't cook for more than another 3 minutes or the pork will be overcooked. Turn off the heat and drizzle the sesame oil over everything. Serve with rice.