Korean BBQ Venison
April 29, 2018 | Updated June 16, 2020
As an Amazon Associate I earn from qualifying purchases.
Korean barbecue is something of a misnomer; it's really Korean grilling, as the heat is hot and fast. No matter, it's damn tasty, and worth your time to learn.
Although I've eaten Korean BBQ lots of times, and I have an Anglo version of classic Korean bulgogi in my cookbook Buck, Buck, Moose
, I'd never really made honest Korean barbecue, like from an actual Korean recipe.
I changed that when I received a new cookbook called Korean BBQ: Master Your Grill in Seven Sauces
. It's written by Chef Bill Kim, a Korean American living in Chicago, so it's a perfect start for me, a novice at Korean food. As the title suggests, the book centers on making little tubs of several sauces, all of which can hang out in your fridge for weeks and not spoil.
You then employ one or more of these sauces for the many dishes in the book. Once you have a few of these made, you can grill up all sorts of things quick and easy on a weeknight. This Korean BBQ marinade is one of them.
It's not bulgogi. It's a barbecue sauce developed by Chef Kim's mother, and is sweet from brown sugar and fruit — there's a kiwi and an Asian pear pureed in it — salty from soy, and spicy from ginger. There's no chile in it, so it's not a "hot" barbecue sauce.
If you know me, you know I am not normally big on marinades. Marinades can only penetrate a few millimeters into meat, even over a few days. So you need to use thin pieces of meat for marinades to really shine… or manipulate the meat in other ways.
Normally you'd use flank or skirt steak for this. You can get flanks off most deer, and all elk; skirt steak is reserved for elk and moose. Or beef, of course. But I didn't have any, so I used a flatiron steak I'd cut from an elk. A flatiron is thin, but not as thin as a flank. So I cheated.
If you want a marinade to penetrate deeper into meat, you need to give it a way to do so. Easiest method is to use a jaccard
, a nasty looking device with many little blades on a spring-loaded handle that you punch into meat to tenderize it manually — and it lets the marinade into those little punctures.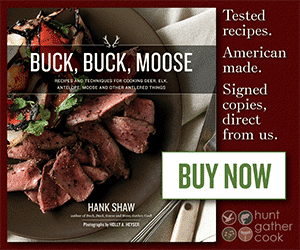 Thus armed, I marinated the elk a full day in the fridge. I made some simple kimchi as a side dish, which seemed like the thing to do, then fired up the smoker. You could use any grill that gets to 500°F or hotter.
You want to sear thin meat cold — this prevents it from overcooking while you get the grill marks you want. You also want the to be meat semi-dry, so shake off excess marinade and pat it dry with paper towels. Why? Wet meat doesn't brown.
Sear hard for only a few minutes on each side, let it rest 5 minutes, slice and serve. Damn good.
Korean BBQ Venison
Obviously you can use beef or lamb here. You want to use flank or skirt steak, or a flatiron steak or backstrap here. Don't use a cut with sinew. You can marinate the meat as little as an hour or as much as a full day; more than that and the meat gets mushy.
Ingredients
2

pounds

venison flank, skirt, flatiron or backstrap

1

cup

brown sugar

1/4

cup

water

1

cup

soy sauce

1

small onion, chopped

1

Asian pear, peeled and chopped

(or regular pear)

1

kiwi fruit, peeled and chopped

(or a few slices of pineapple)

8

cloves

garlic, chopped

A

1-inch piece of ginger, peeled and chopped

1/4

cup

sesame oil
Instructions
If you are using any cut of meat other than flank or skirt and you have a jaccard, stab the meat many times with it to make punctures the marinade can penetrate; you can use a narrow-bladed knife point, too.

Mix all the remaining ingredients together in a blender and puree. You will have more Korean BBQ sauce than you need, but it keeps for weeks in the fridge and freezes well.

Add about 1/2 cup of the BBQ sauce to a heavy Ziploc bag and put the meat in it. Massage everything together so the marinade gets into every crevice. Refrigerate at least 1 hour, and up to 24 hours.

Get your grill very hot, at least 500F. Remove the meat from the marinade and wipe it mostly dry with paper towels. Pour the marinade into a small pot and boil it for a few minutes, so you can use it on the meat later. (This is a food safety thing.)

Sear the venison hard on a very hot grill for 4 minutes, then turn. Flank steak will need another 2 to 4 minutes, backstrap a bit longer. Remove the meat, let it rest 5 minutes, then slice and serve with some of the boiled down marinade, cole slaw, kimchi, and maybe some rice.
Notes
If you are not an expert at grilling meats, you will want to use the finger test for doneness to determine when your meat is ready. You want this meat rare to medium. 
Nutrition
Calories:
764
kcal
|
Carbohydrates:
72
g
|
Protein:
76
g
|
Fat:
19
g
|
Saturated Fat:
4
g
|
Cholesterol:
179
mg
|
Sodium:
3389
mg
|
Potassium:
1286
mg
|
Fiber:
3
g
|
Sugar:
62
g
|
Vitamin A:
20
IU
|
Vitamin C:
27
mg
|
Calcium:
100
mg
|
Iron:
11
mg
Nutrition information is automatically calculated, so should only be used as an approximation.