Kak'Ik, Guatemalan Turkey Soup
November 25, 2019 | Updated June 15, 2020
As an Amazon Associate I earn from qualifying purchases.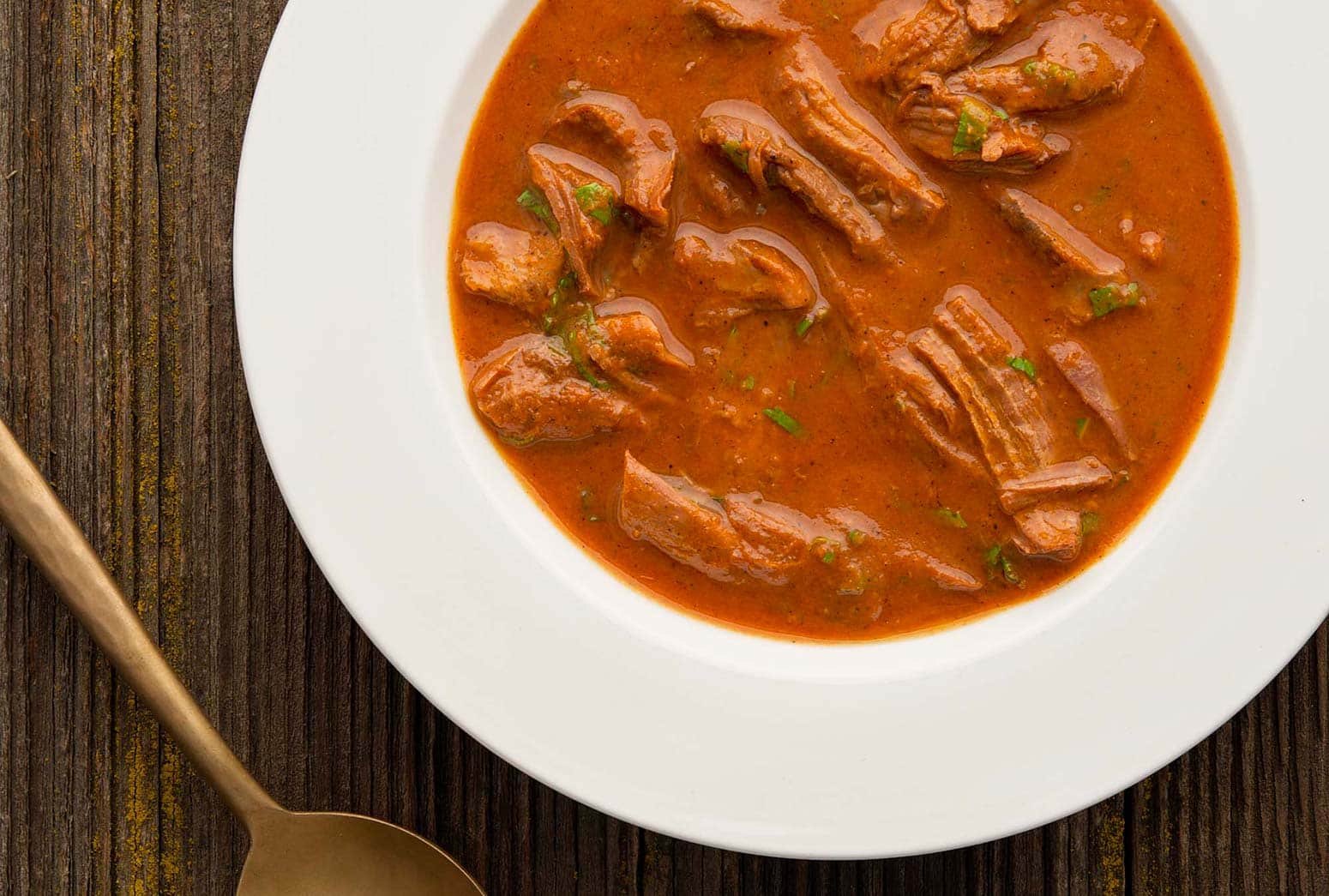 This Guatemalan turkey soup is another of those dishes where everyone's version is slightly different, and arguments arise from minor differences. Think gumbo, chili, goulash or spaghetti sauce and you get the idea.
It's called kak'ik in Mayan, which basically means "red and spicy." It is indeed very red, but it's not terribly spicy, unless you want it to be. Kak'ik is arguably the national dish of Guatemala, and versions of it have been made long before the Spaniards showed up.
What makes this turkey soup distinctive are a few set ingredients:
Turkey, for one. Use a wild turkey or a heritage breed if you can, because the Guatemalan birds are very different from a typical supermarket turkey in the United States. That said, regular store-bought will be OK.
Garlic and onions, and lots of them. Use white onions if you can.
Tomatoes and tomatillos. Always more tomatoes than tomatillos by volume; the tomatillos are there primarily to add tartness.
Chiles of some sort. I've seen recipes in Spanish with no chiles, with a few, and with lots. My take is to use a few to help with flavor and color, but don't overdo it.
Achiote or annatto. Essential. You don't need much, and the Maya grind pure annatto, and if you can get that use it. Otherwise use a little achiote paste from a Latin market.
Herbs, almost always mint and, if you want to go real-deal, culantro. Culantro is native to the Americas and tastes like cilantro — this is why you see cilantro so often in Latin cuisine; it's like the native culantro, only easier to grow. Obviously cilantro is fine.
Beyond that, you absolutely want to char a lot of your vegetables, either under a broiler or on a comal (or dry cast iron pan). Like the Mexican stew chocolomo, one of my favorites, char is a key flavor here.
And, you want things to simmer a long time. This is an easy soup, but not a quick one.
In Guatemala, kak'ik is served with either white rice or small tamales made with white corn. Just simple tamales, masa only, no filling. Basically it's the starch that goes with the soup. Interestingly, the Maya, historically, were never too keen on tortillas — that's an Aztec thing — but they still make a dizzying array of tamales.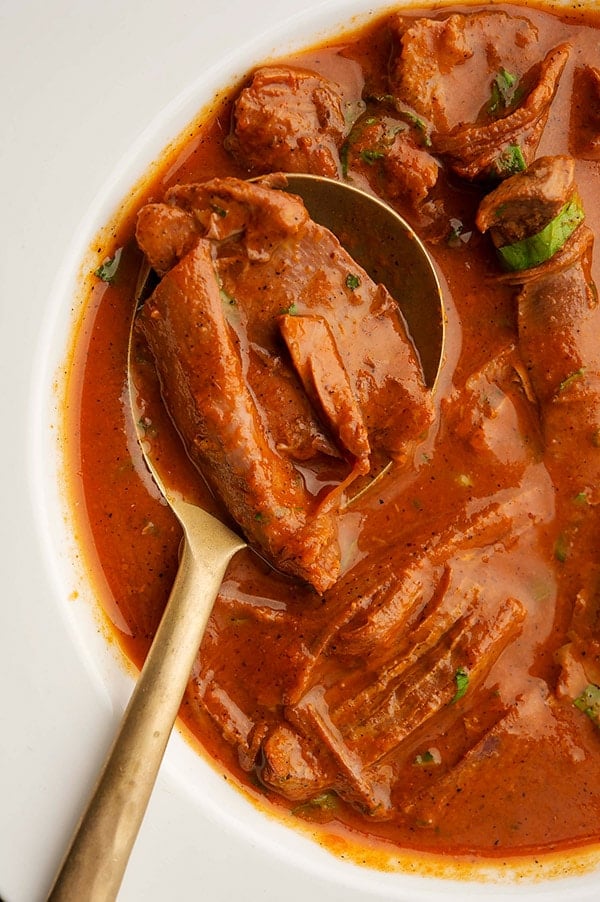 I'd make these tamalitos, as small tamales are called, but I reckon why bother when rice is as good and takes a third of the time to cook, let alone prep? Some eat their turkey soup alongside tortillas, too.
Oh, and you want a little bowl of fiery dried or fresh little chiles, too. I suggest chiltepin or chile pequin, which are easy to find. But hot sauce will work just fine.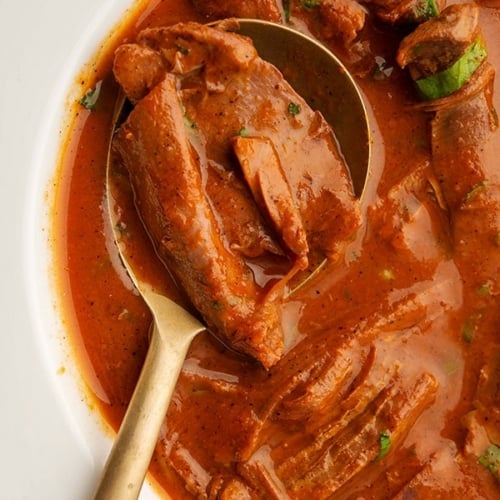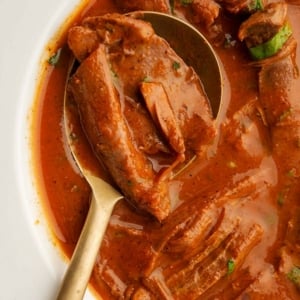 Kak Ik, Guatemalan Turkey Soup
This is my version of the famous Guatemalan dish kak'ik, which means "red and spicy" in Mayan. I use wild turkey legs here, but store-bought are fine, too.
Ingredients
TURKEY
2

turkey legs,

thighs and drumsticks

1

quart

turkey or chicken broth

Salt
SAUCE
6

plum tomatoes,

sliced in half

6

large tomatillos,

husked and sliced in half

2

dried guajillo chiles

1

white onion,

peeled and quartered

2

heads

garlic,

cloves separated but unpeeled

2

tablespoons

achiote paste
TO FINISH
1/2

cup

minced fresh mint

1/2

cup

minced fresh culantro or cilantro

masa to thicken soup

(optional)
Instructions
Simmer the turkey. Put the turkey legs in a large pot with the broth, and add enough water to cover everything by 2 inches. Bring to a simmer and cook, partially covered, until the turkey is tender, anywhere from 90 minutes to 3 hours depending on the age of the bird.

Meanwhile, make the sauce for the soup. Put the halved tomatoes, quartered onion, garlic cloves and tomatillos, cut side up, on a baking sheet and broil until partially blackened, about 15 minutes. Keep an eye on them so they don't completely incinerate.

Open the dried chiles and remove the seeds and stems. Pour boiling water over them in a small bowl to rehydrate while the other vegetables are charring.

When the vegetables are nicely charred, remove the baking sheet from the oven and, when it's cool enough to handle, peel all the garlic; keeping the skins on in this process prevents the cloves for carbonizing. Put all the sauce ingredients into a blender and puree.

Pick all the meat off the turkey legs and reserve. Strain the broth; I do this by setting a fine-meshed sieve over a big bowl. No need to clarify it in this soup. Wipe out your soup bowl and add back the shredded turkey, the strained broth and the contents of the blender bowl. Tip: save back some broth to rinse out every bit of goodness from within the blender bowl. Bring all this to a simmer and let it cook 15 minutes.

When you are ready to serve, stir in the minced herbs and add masa to thicken if you want. Don't add more than a tablespoon at a time, and stir it in well. Serve with rice, little masa dumplings or tortillas.
Notes
NOTE: You can find achiote paste in Latin markets, and in the "ethnic" section of large supermarkets. If not, look for annatto, which is the main ingredient in achiote paste. 
Nutrition
Calories:
285
kcal
|
Carbohydrates:
8
g
|
Protein:
35
g
|
Fat:
12
g
|
Saturated Fat:
4
g
|
Cholesterol:
120
mg
|
Sodium:
564
mg
|
Potassium:
805
mg
|
Fiber:
2
g
|
Sugar:
3
g
|
Vitamin A:
635
IU
|
Vitamin C:
22
mg
|
Calcium:
65
mg
|
Iron:
3.7
mg
Nutrition information is automatically calculated, so should only be used as an approximation.