Grilled Teal
September 16, 2019 | Updated October 29, 2020
As an Amazon Associate I earn from qualifying purchases.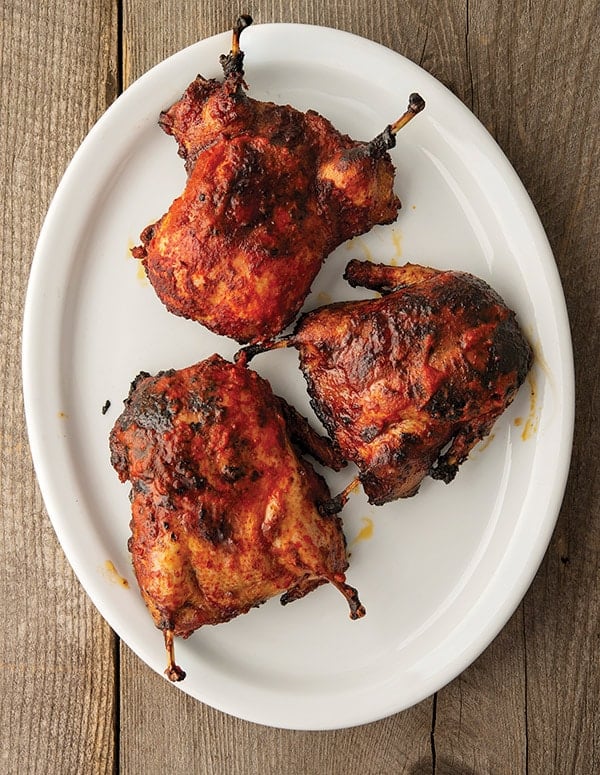 Grilled teal is arguably my favorite way to eat these little ducks. And since many states have a September teal season, it's a perfect fit for Indian Summer grilling.
I find that the best way to grill teal, or really any duck, is to spatchcock it. I know, that sounds kinky. Really it's just a funny word for snipping out the backbones, and, ideally, pulling out the ribs, of a bird (usually a chicken) before grilling it so that the bird lays flat over the coals.
This is as easy as it sounds. Use some good shears to cut along either side of the backbone; save the backbones for soup stock or whatever. Pull out the ribs where they meet the breastbone. Use the shears to cut the saber bone — a bird's version of a collarbone — as close to its base as possible. It's sharp, and since you will be eating your grilled teal with your hands, you don't want to get cut on sharp bone.
You can straight up grill your teal then and there, with only a little salt, black pepper and lemon. Or you can marinate them.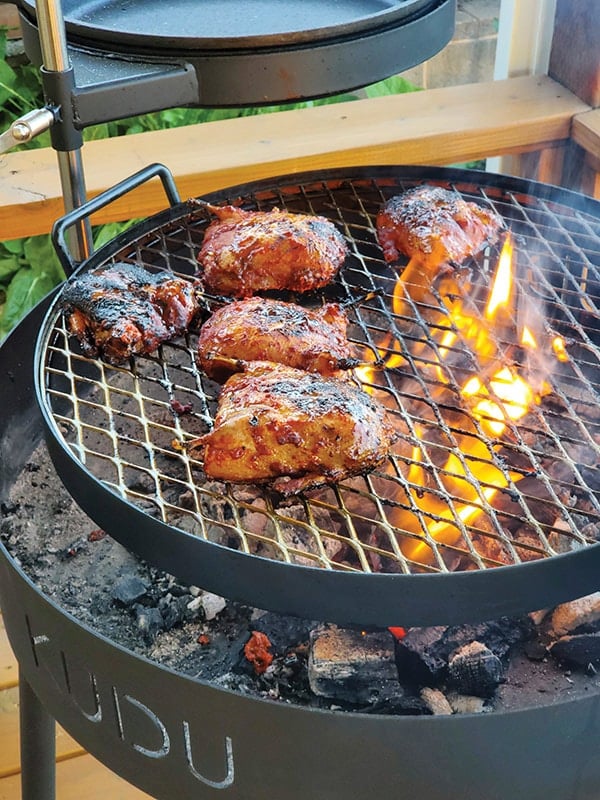 Teal and other small birds are great candidates for marinades because they are, well, small, and marinades don't penetrate very deep into meat. So you get more flavor marinating a teal than, say, a specklebelly goose.
I chose a zippy Mexican marinade for my teal, and the recipe for that is below. But you can also use any of my various venison marinades for duck, or use whatever makes you happy.
Grilling teal is simple: Start with the birds breast side up, and do most of your grilling on that side; this keeps the breast meat from overcooking. Grill the breast side only a few minutes, to cook the skin and crisp it up.
Serve your grilled teal any way you'd like. I love it with a tomato salad and grilled potatoes, or some good crusty bread.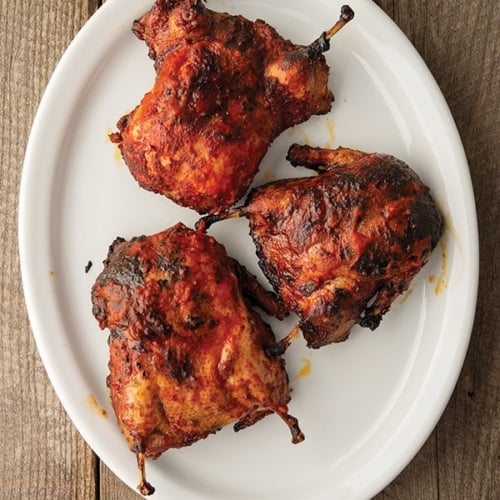 Grilled Teal
This is a general method for grilling teal, along with a zippy Mexican marinade whose ingredients are in most supermarkets. I used green-winged teal here, but any small duck would work fine.
Ingredients
MARINADE
4

dried guajillo,

New Mexican or California chiles

1

small onion,

quartered

3 to 5

garlic cloves,

unpeeled

1

teaspoon

dried oregano,

Mexican if you can find it

2

tablespoons

tomato paste

Hot sauce,

salt, and lime juice to taste

4 to 8

whole teal
Instructions
Start by seeding and destemming the dried chiles. Put them in a bowl and pour boiling water over them. Set a plate over the bowl to cover and let this sit. Heat up a cast iron or other heavy skillet and, when it's hot, set the quartered onion and the unpeeled garlic cloves on it to char. Do not oil the pan. Rotate the onion and garlic so it's nicely charred.

Put the onions, garlic, tomato paste, oregano and the rehydrated chiles, along with a little bit of the soaking water, into the bowl of a blender. Puree, adding enough of the chile soaking water to give the mixture the consistency of barbecue sauce. Add salt, hot sauce and lime juice to taste. This marinade can be made ahead of time, up to a week. It stores well in the fridge.

The day before you want to cook your teal, cut out their backbones with shears. I like to pull out the ribs, too. Rinse them well and set the birds, breast side up, on a cutting board. Use the palm of your hand to flatten them a bit more.

Massage the marinade into the teal, and use a little more than you think you need. Set them, breast side down, in a covered container that will just about hold them all. Refrigerate for a day or even two. Now yes, you can marinate the teal for less time, but they won't be as good.

When you are ready to grill your teal, take the container out and let the birds come to room temperature for 30 minutes or so. Start a hot fire on your grill. Charcoal and wood are my preference, but it works fine with gas, too.

Make sure your grates are clean. Set the ducks, breast side up, over the coals, and grill, covered, for about 8 minutes. Flip the birds and let them grill, uncovered, for another 3 to 5 minutes. Flip them one more time and paint with a little sauce, let that sit a minute, then serve.
Notes
One note when grilling any duck: Watch for flare-ups that will happen when your bird starts dripping fat on the coals. There are two easy ways to handle this: Move the ducks away from the direct heat, and/or use a spray bottle with water to douse the flares.
Nutrition
Calories:
312
kcal
|
Carbohydrates:
8
g
|
Protein:
46
g
|
Fat:
10
g
|
Saturated Fat:
3
g
|
Cholesterol:
174
mg
|
Sodium:
197
mg
|
Potassium:
801
mg
|
Fiber:
2
g
|
Sugar:
4
g
|
Vitamin A:
1169
IU
|
Vitamin C:
20
mg
|
Calcium:
28
mg
|
Iron:
11
mg
Nutrition information is automatically calculated, so should only be used as an approximation.