Grilled Pigeons Egyptian Style
September 04, 2013 | Updated June 18, 2020
As an Amazon Associate I earn from qualifying purchases.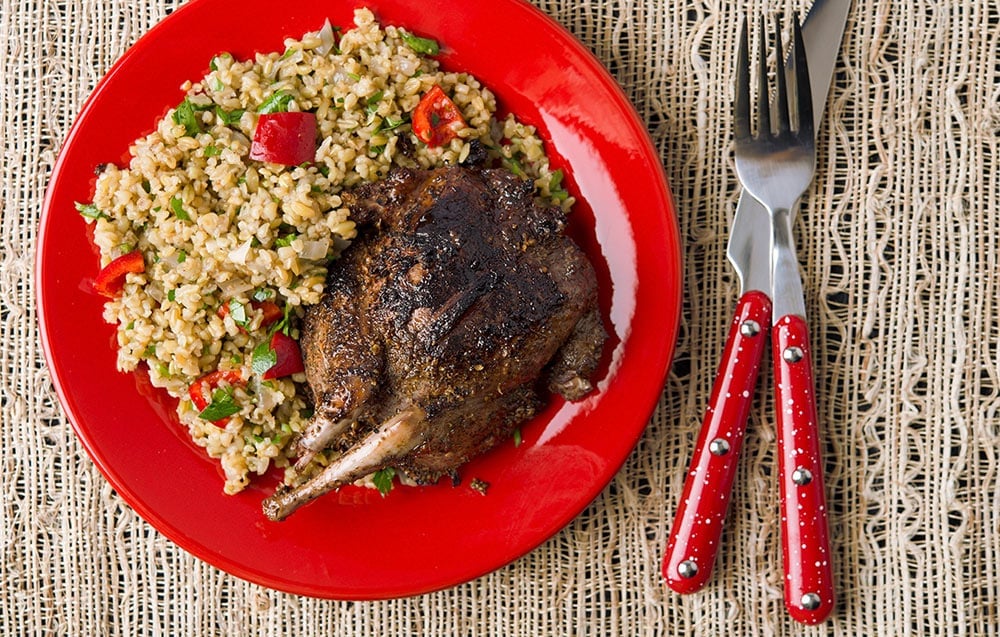 Pigeons are an unloved species. Scorned as flying rats, denigrated both in the field and at the table. How this came to be so has a lot to do with Columbia livia's habit of nesting en masse in cities. Yes, I have seen city pigeons eat cigarette butts and half-chewed Doritos. But take the pigeon out of the city and you have one of the finest game birds in the world.
Don't believe me? Well, for starters, pigeons are fast. Really fast. Doves happen to be fast, with a top speed of around 55 miles per hour. What about ducks? Aren't they speedsters? Yep, a canvasback can top 70 miles per hour.
Now consider the pigeon. He normally flies around 45 to 50 miles per hour, but if you freak him out, a fast pigeon can top an astounding 90 miles per hour. No other game bird flies this fast.
And even if you hit one, you better hit it squarely or use something bigger than dove loads. Pigeons can absorb an enormous amount of punishment. I've hit pigeons dead on with target loads and they just shrugged it off. Lesson learned. Now I hunt them with No. 6 shot. Doves will die with No. 8s or even No. 9s.
But don't pigeons taste terrible? Absolutely not. If if you like doves or squab, you like pigeons. They are basically the same.
The only thing about pigeons you need to remember is that they are larger, smarter, tougher and older than doves. A typical pigeon you might shoot can be between 3 and 6 years old. Think about that for a second: A six-year-old deer is getting up there. So yeah, an old pigeon can be tough.
All of this brings me to a recipe. You see, several cultures not only eat pigeons, but enjoy them very much. The British are one; wood pigeons are widely eaten in the United Kingdom. But it's the Egyptians who are mad for pigeons.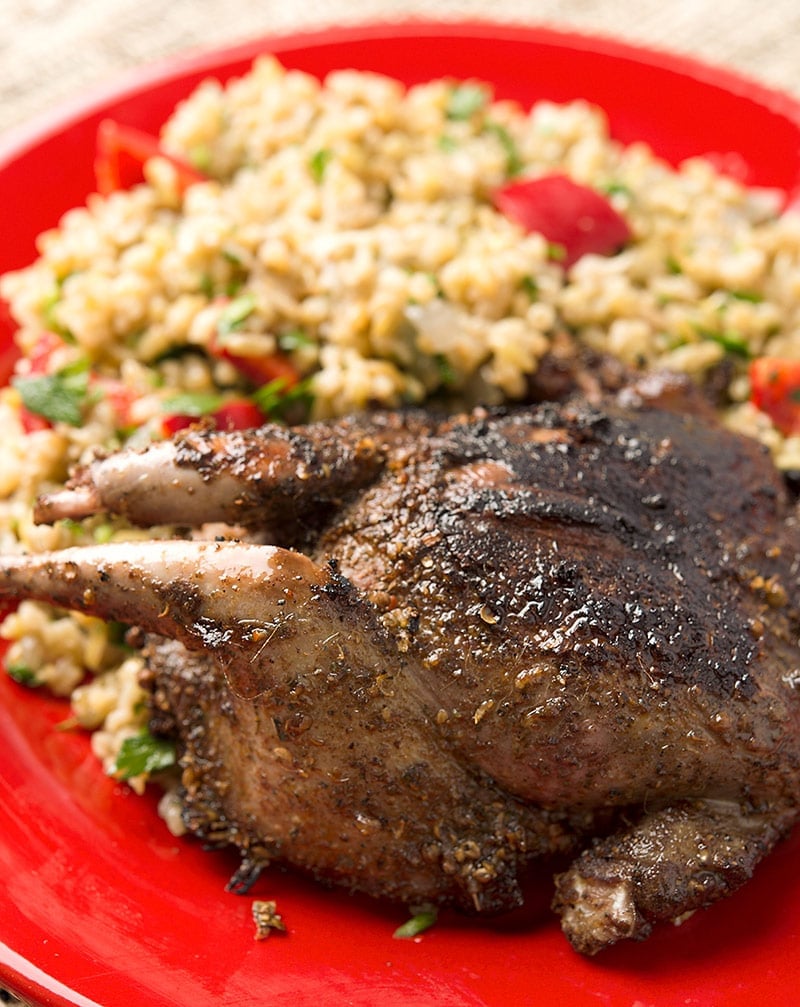 One of their national dishes is hamam mashi, a stuffed pigeon that's either grilled or roasted. My friend Soraya, who lived in Cairo for a while, told me that you can pretty much get grilled or roasted pigeon anywhere — it's like the hot dog vendors in New York City.
This dish is a version of the Egyptian favorite. Instead of stuffing the pigeons, I made the stuffing into a side salad.
It's pretty easy to make, and is everything you might want from Middle Eastern food: a beguiling mixture of aromatic, fiery and sweet spices, some smoky charcoal flavor, lots of olive oil and lemon.. and the pigeon.
Just remember that the key to cooking small birds on a grill is very high heat and doing most of the cooking with the breast side up. I cooked these pigeons on an open grill with no cover, and I prefer it that way: You get more of a smoky flavor without overcooking the meat.
What does a grilled pigeon taste like? A lot like a skinny duck. Pigeon is red meat, very dense and close-grained and savory; it's flavor is a little like venison or beef, but concentrated. For small birds, you'd be surprised how filling they are. One is a fine serving, and two will satisfy most people.
So the next time you're out hunting Mr. Pigeon flies a little too close, take a whack at him. If you're lucky enough to bring him down, he may just surprise you at the table.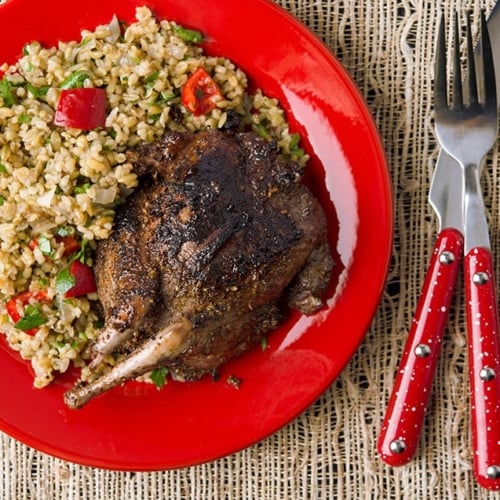 Grilled Pigeons with Green Wheat Salad
I got my inspiration for this recipe from a similar one in Paula Wolfert's great book, Mediterranean Grains and Greens. Paula bakes her pigeons, however, and I prefer them grilled. My friend Soraya says grilled pigeons are all over the place in Cairo, where she used to live, so there you have it. What the hell is green wheat? The Egyptians call is freekeh, and it's slightly unripe wheat that's been parched (slightly burned) and dried. It cooks really fast and has a great smoky flavor. But... you can only get it in specialty shops, or online. If you want to go an easier route, use bulgur wheat, which is readily available in most supermarkets. Still too hard? Use rice.
Ingredients
4

to 6 pigeons

or 8 to 16 doves, plucked

Olive oil to coat them
EGYPTIAN SPICE RUB
1

teaspoon

ground cinnamon

1

teaspoon

cayenne

1

teaspoon

ground cumin

1

teaspoon

ground coriander

1

teaspoon

black pepper

1

teaspoon

ground cardamom

(optional)

1/4

teaspoon

cloves

2

teaspoons

dried oregano

1

teaspoon

dried mint

1

tablespoon

kosher salt
GREEN WHEAT SALAD
2

cups

freekeh or bulgur wheat

2

cups

pigeon or dove broth

or chicken broth

2

tablespoons

olive oil

1/2

cup

minced shallots

2

minced garlic cloves

1

red bell pepper,

diced

3

tablespoons

high-quality olive oil

1/4

cup

chopped parsley

Salt and black pepper

Lemon juice to taste
Instructions
Mix all the spices for the rub together. Coat the pigeons or doves with oil, then dust with the spice rub. Put the birds in a covered container in the fridge for 3 hours, or up to overnight. An hour before you plan to cook them, take the birds out of the fridge and let them rest on the counter to come to room temperature.

Meanwhile, make the green wheat salad. Bring the broth to a boil and add the freekeh or bulgur. Stir, let it come back to a boil, then cover and turn off the heat. It should be ready in 30 minutes or so.

Put the olive oil in a frying pan and turn the heat to medium-high. When the oil is hot, saute the shallots for a minute or two, or until they just start to brown. Add the garlic and bell pepper, saute for another minute, then turn off the heat.

Get your grill hot. Charcoal is your best bet here, but any sort of open flame will work. When the grill is hot, drizzle a little more olive oil on the pigeons and set them on the grill, breast side up. Let them cook like this for 10 minutes, making sure they don't get burned to a crisp. You want to do most of the cooking with the breast side up. Flip the birds and set them breast side down on the grill, making sure the middle of the breast slips between the grill grates -- this helps the birds lie flat. If you want to get better contact with the grill, place a brick on the pigeons while they cook on this side. Grill for 3 to 5 minutes, depending on how hot your fire is and how well done you like your birds; I prefer my doves and pigeons to be pink inside. Take the birds off the grill and let them rest, breast side up.

To finish the salad, mix the green wheat or bulgur into the frying pan and add the olive oil, parsley, salt and pepper, plus lemon juice to taste. Serve alongside the pigeons.
Nutrition information is automatically calculated, so should only be used as an approximation.