Gooseberry Sorbet
July 30, 2013 | Updated June 22, 2020
As an Amazon Associate I earn from qualifying purchases.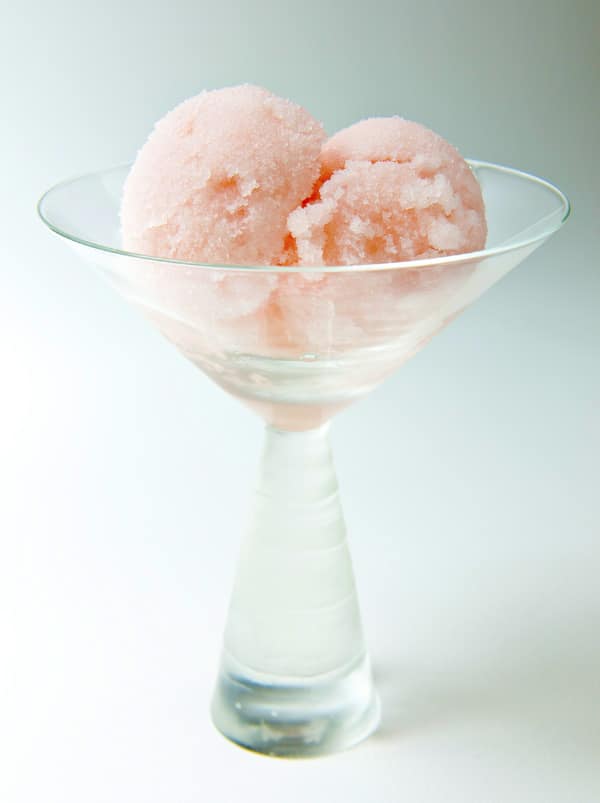 Wild gooseberries, really any gooseberries, are too tart to make a good ice cream, at least to my mind. Like lemons, they are more sorbet material.
So when summer rolls around, it's time for gooseberry sorbet.
We get these crazy Sierra gooseberries up in our mountains here in California, which ripen to a delicious scarlet color. They have an aroma like Sweet Tart candy and just enough sweetness to want to get beyond those hideous spines that protect each fruit.
Even the Eastern wild gooseberry will sport hairy spines, so you will need to make gooseberry juice before you can start making sorbet. The juice takes a day to make, but it can store in the fridge a long while.
And once you have juice, you can make gooseberry sorbet easily.
I always add liqueur to my sorbets, because it lowers the freezing point of the mixture, making the resulting sorbet smoother. But what liqueur to add to wild gooseberries? Something light in color, definitely. And something that will complement the flavor of the gooseberry. Go with vodka, peach schnapps, or any light-colored, medium-alcohol liquor.
Like this recipe? Try my mulberry sorbet if you have them, or blackberries, or black raspberries on hand.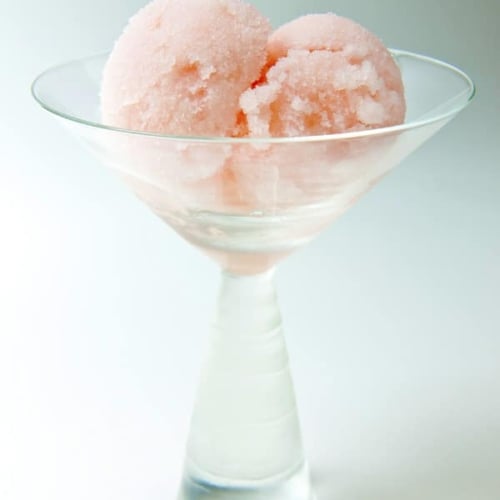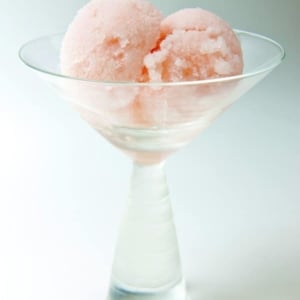 Gooseberry Sorbet
Any gooseberry or even currant will work with this method. So will grapes or, for that matter, any berry you choose to use. While this sorbet will store in the freezer for a week or so, after that it tends to get icy, even with the vodka. So make this and eat it relatively quick. Should not be a problem, since it tastes to good...
Ingredients
1 1/2

to 2 pints gooseberry juice

3

tablespoons

vodka or peach schnapps

Sugar to taste

, but at least 3/4 cup
Instructions
Pour the gooseberry juice into a bowl and sweeten it to taste. Remember that sugar helps give the sorbet a smoother texture and that our perception of sweetness decreases with cold foods, so make this pretty sweet; I use 2 cups of sugar normally.

Mix the sugar, gooseberry juice and liqueur together until the sugar is dissolved. Pour into the container of your ice cream maker and follow its directions.
Nutrition
Calories:
17
kcal
|
Carbohydrates:
1
g
|
Protein:
1
g
|
Fat:
1
g
|
Sodium:
1
mg
|
Potassium:
1
mg
|
Fiber:
1
g
|
Vitamin A:
1
IU
|
Vitamin C:
1
mg
|
Calcium:
1
mg
Nutrition information is automatically calculated, so should only be used as an approximation.