Mulberry Sorbet
May 31, 2010 | Updated June 24, 2020
As an Amazon Associate I earn from qualifying purchases.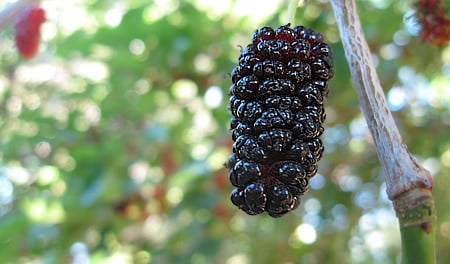 Mulberries. Until recently, a mere mention this tree would get me going. I hate mulberry trees. They'll conquer your yard and are nearly impossible to kill. Mulberries can send out suckers in all directions, sprouting new trees even if you chop down the main trunk. What's worse, those that do fruit produce boring, low-acid fruit not worth eating.
Such was my belief for years. I had a mulberry problem in my yard when I lived in Fredericksburg, Virginia, and it was about that time when I got it into my head that the berries were no good. I can't exactly remember why, other than I must have eaten some very, very ripe fruit.
One day, years back, I walked around a little park near my house. I'd been there before, and had not noticed much worth remembering; a few good oaks, but that was it. This time I heard starlings congregated in a corner of the park. They were on a tree.
It was a mulberry tree, and it was loaded with berries. What the hell, I thought. I was in mid-walk and it couldn't hurt to pick a few for a trail snack.
Now there is this great episode of "The Simpsons" where they flash back to when Homer and the town drunk, Barney Gumble, were in high school. Barney did not drink at all then, and was set to attend Harvard University. Homer brought over some beer. Barney demurred. Finally, Homer convinces him to drink one. Barney's eyes light up. He shouts, "Where have you been all my life?" and finishes the rest of the six-pack.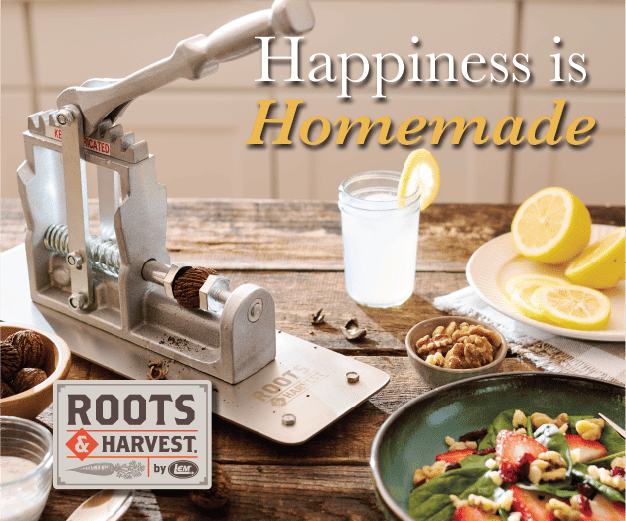 I felt like Barney. These mulberries weren't at all insipid. No, they were tart and sweet and irresistible. And I am betting no one knows that this tree exists, tucked in a quiet corner of a little park.
Ever get one of those "I've been here before" moments? That's what happened to me as I was eating those mulberries. Unlike most of my deja vu moments, however, I can remember the details of this one: When I was a boy, I used to play in the woods behind my elementary school in New Jersey, and right at the edge of those woods stood a mulberry tree. Put me there right now and I can walk you right to it, if the tree still lives.
Looking back I am sure lots of people knew this mulberry, but at the time it felt like the secret larder for me and my friends — in between "playing Army" or somesuch, we would gorge ourselves on mulberries, which I remember being ripe right as school was ending in late June.
The day after my discovery, I returned to the park with a plastic container and picked three cups of mulberries in about 10 minutes. I also saw that there would be more ripe in a few days. Mulberries don't all ripen at once, and they ripen from a light crimson to a deep purple with reddish undertones. Mulberries are always redder than blackberries.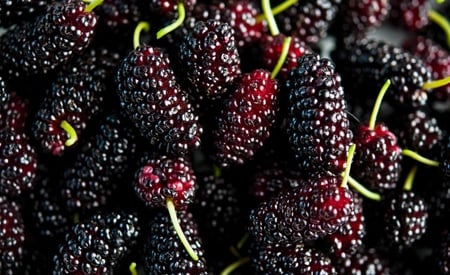 Mulberry trees are easy to recognize: They are the only thing in North America that looks like a "blackberry tree." The trees have a light-colored bark and lightly serrated leaves with prominent, light-green veins.
There are several varieties of mulberry in the United States, including a native American mulberry. Colonists brought over the Chinese white mulberry centuries ago because we thought it might be a good idea to try to raise silkworms, which love these mulberries. Sadly, the worms all died. The trees did not. And by all accounts, the fruit of the white mulberry does indeed suck — no acid at all. I have never eaten one, however, so tell me if your experience is different.
(Like this recipe? I make a damn good gooseberry sorbet, too.)
As you might imagine, mulberries are super high in Vitamin C, reasonably good for iron, potassium and Vitamin K, plus they'll give you a little fiber, too. Mulberries are also high in resveratrol, the substance present in red wine that experts say helps fight cancer. But who eats berries for the vitamins? We eat them because they taste good. Or at least I do.
My initial urge was to just eat these berries in a bowl, with cream. Berries and cream is my favorite breakfast in the world. But that wouldn't make for much of a blog post, would it? So I thought about something to do with the berries. They seemed a little acidic — go figure, given my prejudicial thoughts about mulberries — for ice cream, so I decided on mulberry sorbet.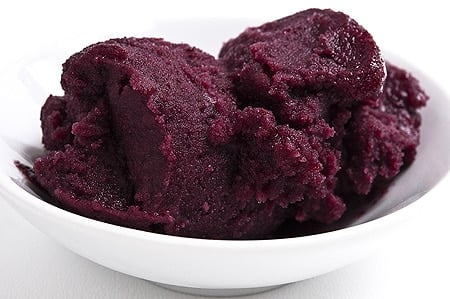 I often spike my sorbets with some alcohol to improve the texture, so I added some homemade elderberry liqueur to the mix. It was really good.
Mulberries have a flavor all their own. Flavors and textures are tough for me to describe, but I'll try: Mulberries are denser and a little chewier than blackberries, which they most resemble. They are not as tart as blackberries, and my main flavor impression is a kind of high sweetness, like an alto to blackberry's baritone. If blackberries are a cabernet sauvignon, mulberries are a pinot noir.
There are lots of other things I could do besides mulberry sorbet. I probably could do a mulberry ice cream. A mulberry sauce for venison or hare would be excellent, too. Do you have a favorite use for mulberries?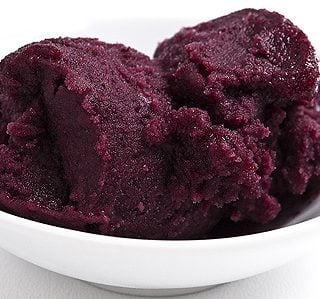 Mulberry or Blackberry Sorbet
This recipe makes a smooth, deep purple sorbet sexed up a bit by the addition of a little liqueur. I make this sorbet with wild mulberries from a tree near my house, but blackberries would be just as good, as would black raspberries. As for the liqueur, try to find cassis, which is made from black currants. Most liquor stores carry it. I happen to have homemade elderberry liqueur around in the house, however, so I used that instead. You also could use Port wine.
Ingredients
1

cup

sugar

1

cup

water

5

cups

mulberries or blackberries

2

tablespoons

cassis

or Port
Instructions
If you are using mulberries, pick off all the green stems from the berries.

Bring the sugar and water to a boil over medium heat. Let it simmer gently for 3-4 minutes. Turn off the heat and let it cool a bit.

Meanwhile, Put the berries in a blender. Pour the syrup over them while it is warm but not hot. Buzz into a puree.

Push the berries through a fine-meshed sieve set over a bowl using a rubber spatula or wooden spoon; this removes a lot of the seeds and stems.

Pour the liquor into the bowl with the pureed berries and chill in the fridge for an hour or so.

Pour into your ice cream maker and follow its directions.
Nutrition
Calories:
140
kcal
|
Carbohydrates:
34
g
|
Protein:
1
g
|
Fat:
1
g
|
Saturated Fat:
1
g
|
Sodium:
11
mg
|
Potassium:
170
mg
|
Fiber:
1
g
|
Sugar:
32
g
|
Vitamin A:
22
IU
|
Vitamin C:
32
mg
|
Calcium:
34
mg
|
Iron:
2
mg
Nutrition information is automatically calculated, so should only be used as an approximation.