Italian Giblet Bolognese
November 17, 2014 | Updated October 28, 2020
As an Amazon Associate I earn from qualifying purchases.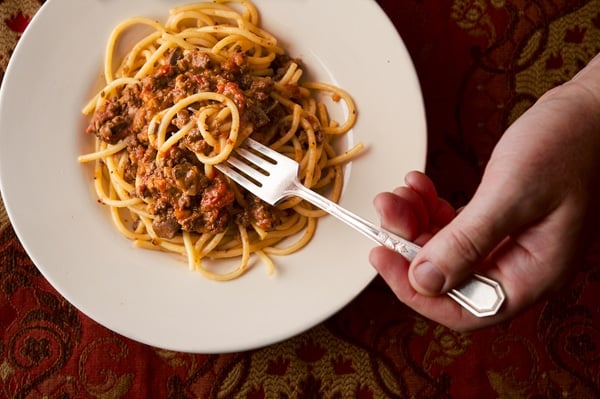 Many years ago, when I first started making Bolognese sauces for pasta, I began hearing of people who put chicken livers in their version. At the time I thought this was nasty — it took me a while to love livers — but I have come around.
As it happens, this is, apparently, a well known variant of the classic Bolognese sauce, which is itself the godfather of our meat sauces here in America.
More important than any claim to authenticity is that this is a great way to use the giblets from your birds in a way that everyone will enjoy. It's a lot like Cajun dirty rice in that the bits are chopped fine or even ground, so you don't get big honkin' globs of liver in your sauce.
Since I am a duck hunter, I get lots of duck giblets, which, for the record, are livers, hearts and gizzards. But chicken giblets are classic, and are a lot easier to buy in the store. The giblets from any bird will work.
If you are a hunter or a farmer, you will need to clean your gizzards, which have nasty pockets of grit in the center of them; they come cleaned in the store. Here how to clean a gizzard. Incidentally, it'll take a limit or two of ducks to make this sauce.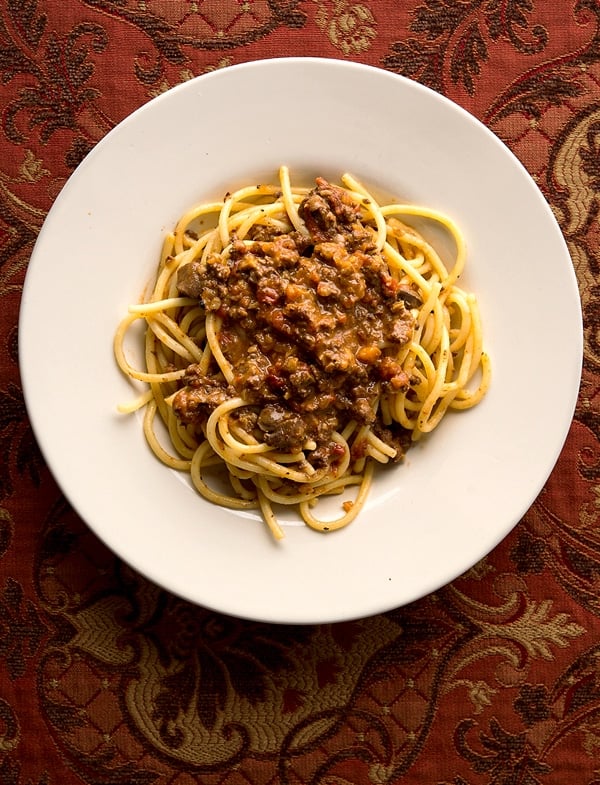 After that, this is basically a traditional meat sauce, best simmered a long time to let the flavors meld. If you like spaghetti and meat sauce — and if you don't there's something wrong with you — you will like this version. Like most sauces and stews, this one is best a day after it's made. It will keep for a week in the fridge.
It's a bit more tomatoey than a traditional Bolognese, and you can taste the giblets, but nothing is off-putting about this sauce at all.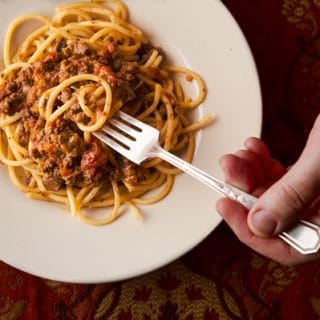 Giblet Bolognese
This is a Sunday supper kind of dish, as it's best if it simmers a long time. I love the use of giblets here, and I encourage you to save some for this recipe. Any bird giblets will work, and if you feel unusually squinchy about, say, livers, leave them out -- although they are traditional. You could also use venison liver and heart here, or those from rabbits or really any other animal. And yes, you can use all ground meat. But that would be boring... The mushrooms add a lot. Use them. And don't use fresh, as you want the mushroom soaking water. I used porcini, but morels or any "woodland mix" you buy in the supermarket is fine.
Ingredients
1

ounce

of dried mushrooms

1

small onion,

peeled and roughly chopped

1

celery rib,

chopped

1

large carrot,

chopped

1

large garlic clove,

chopped

1

pound

various giblets:

hearts, livers, gizzards, minced or ground

4

ounces

of ground meat:

venison, beef, duck, pork, etc

1/4

cup

olive oil

Salt

A few gratings of nutmeg,

about 1/2 teaspoon

3 to 5

whole cloves,

or 1/4 teaspoon

2

bay leaves

1

quart

whole tomatoes,

crushed by hand

1

cup

sweet sherry or Marsala wine

1/3

cup

heavy cream

Black pepper to taste

Grated cheese for garnish
Instructions
Break up the mushrooms and submerge them in 1 to 2 cups of hot water. Let them sit while you proceed.

Pulse the onion, celery, carrot and garlic in a food processor until you get somewhere between a fine mince and a paste. Don't puree it. Set the vegetables aside in a bowl for now.

Heat the olive oil in a large Dutch oven or heavy lidded pot set over medium-high heat. When the oil is hot, add the giblets and the ground meat. Brown them well, sprinkling some salt over them as they cook. When they are close to being done, stop stirring them so a crust, what the French call a "fond," forms on the bottom of the pan. Brown is good, black not so much. So watch your heat. When it forms, remove the meats and set aside.

Add the vegetables to the pot. Let the moisture from the vegetables soften the meat crust in the pot. Salt them as they cook. Use a wooden spoon to scrape up all the browned bits. Cook over medium heat until the vegetables soften well, and then let another crust form.

While the vegetables are cooking, mince the mushrooms. Keep the mushroom soaking water, and strain it if there's debris in it. When the crust has reformed in the pot, add the mushrooms and the cup of sherry. Use the wooden spoon to scrape up the browned bits again. Let all the sherry cook away until yet another crust forms.

Add the nutmeg, bay leaves, cloves, and 1 cup of the mushroom soaking water. Scrape up the crust one last time. Bring the sauce to a simmer and add the juice/sauce from the jar of whole tomatoes. Crush the tomatoes by hand into the pot. Return the meats to the pot, stir well, add salt to taste and simmer, partially covered, for at least 90 minutes. You want the gizzard bits to be fairly tender.

To finish, get your water boiling for the pasta. Turn the heat to low on the sauce and add the cream. Bring the sauce back to a bare simmer and when the pasta is ready, grind black pepper over the sauce. I like to put the pasta in a large bowl, add one ladle of the sauce over it and toss to coat. I then give everyone some pasta and add a bit more of the sauce on each person's plate. Grate some cheese over everything and you're good to go.
Notes
For pasta, spaghetti, tagliatelle, pappardelle, or any substantial, short pasta shape is a good choice. Nothing too light -- vermicelli's too light. Polenta would be another great accompaniment.
Nutrition
Calories:
276
kcal
|
Carbohydrates:
15
g
|
Protein:
15
g
|
Fat:
15
g
|
Saturated Fat:
4
g
|
Cholesterol:
158
mg
|
Sodium:
73
mg
|
Potassium:
573
mg
|
Fiber:
2
g
|
Sugar:
6
g
|
Vitamin A:
7854
IU
|
Vitamin C:
25
mg
|
Calcium:
35
mg
|
Iron:
4
mg
Nutrition information is automatically calculated, so should only be used as an approximation.