As an Amazon Associate I earn from qualifying purchases.
Garlic parmesan risotto should be the first recipe you learn when you want to make risotto: It's easy, there are no hard-to-find ingredients, and the result will make you want to make this Italian classic over and over.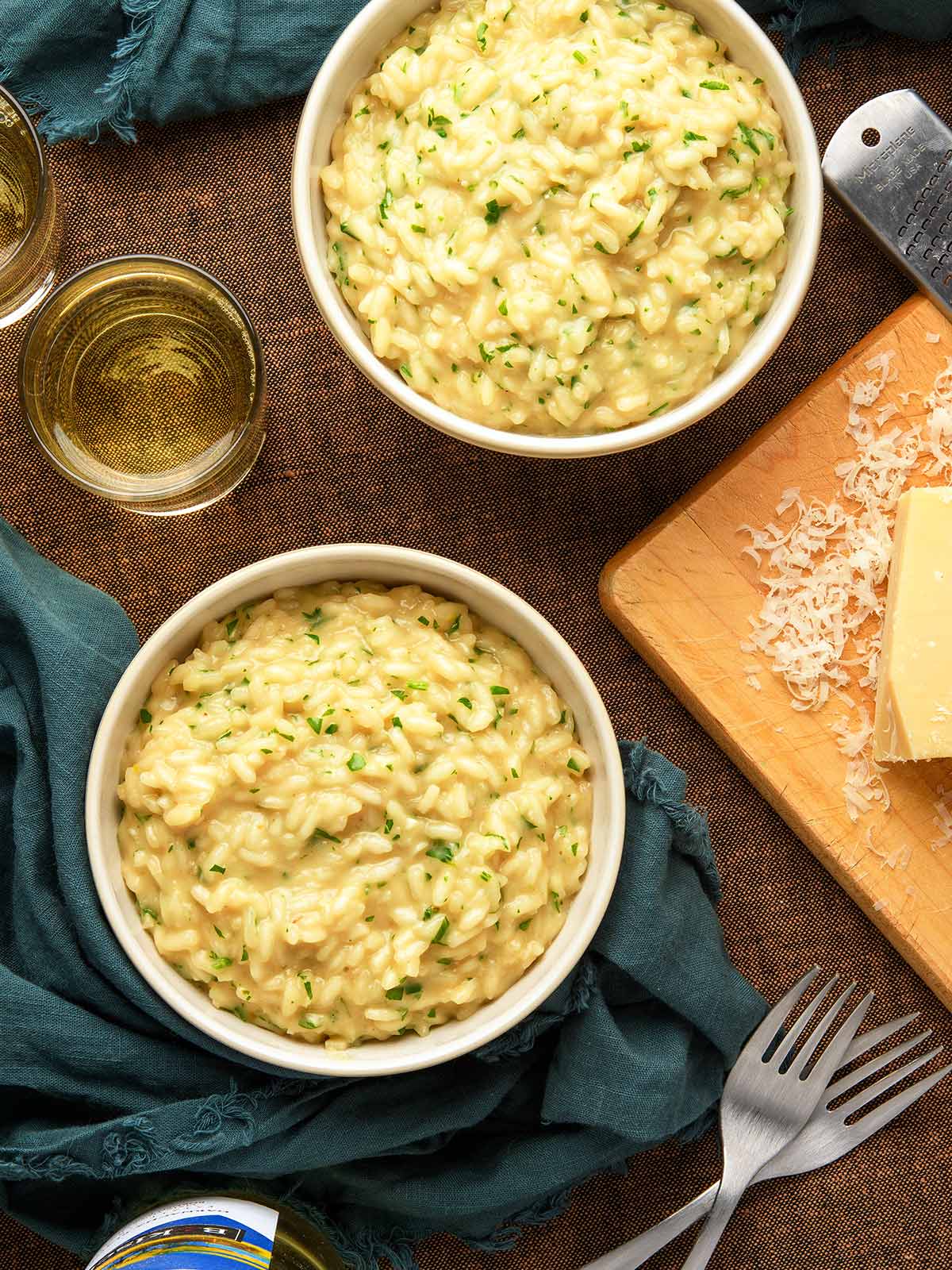 What's more, garlic parmesan risotto is a naturally vegetarian, although little bits of bacon or guanciale thrown in there would certainly be nice.
I have been making risotto for decades, both in restaurants and at home, and it remains one of my favorite things to cook because it is a meal-in-a-bowl that is endlessly versatile. I have an entire page of risotto recipes for you to browse if you want, but I'll go over risotto basics here.
Risotto Basics
First and foremost, you need risotto rice. You can't make decent risotto without it. Period.
Risotto rice is a medium- or short-grain rice that can absorb an enormous amount of liquid, all while sloughing off starch as you stir it — it is this starch that makes risotto creamy.
Any recipe that adds cream to risotto is cheating.
Arborio is the most common risotto rice, and it's available in most supermarkets; Texas grows quite a lot of it. Carnaroli is my favorite for garlic parmesan risotto or other non-seafood risottos, while Vialone nano is my go-to for seafood and fish risotto.
Yes, you need to stir risotto a lot, almost constantly. Otherwise you won't get that creamy starch. Just drink a glass of wine as you do it, listening to your favorite song.
Risotto requires way more liquid than other rices. This is a) because the rice itself absorbs so much, and b) because you are stirring an open pot. That liquid should be flavorful.
Risotto really likes butter and cheese. Use lots, but only at the end. If you add too much fat at the beginning, it will coat all the grains of rice and slow the risotto down.
Garlic Parmesan Risotto
OK, so my recipe for garlic parmesan risotto is different from all the rest because I use two whole heads of roasted garlic in it. Yes, you read that right.
Don't worry, roasting the garlic really mellows it out, and when you squeeze the good stuff into the pot with the rice, it's roll-your-eyes-back-in-your-head good.
You can roast the garlic up to a couple days ahead, too, so that saves you time if you're scrambling.
Please, for the love of all that's holy, grate your own parmesan! That stuff in the green can is vile and should be outlawed. Finely grated cheese melts easier, so use the finest grater you have.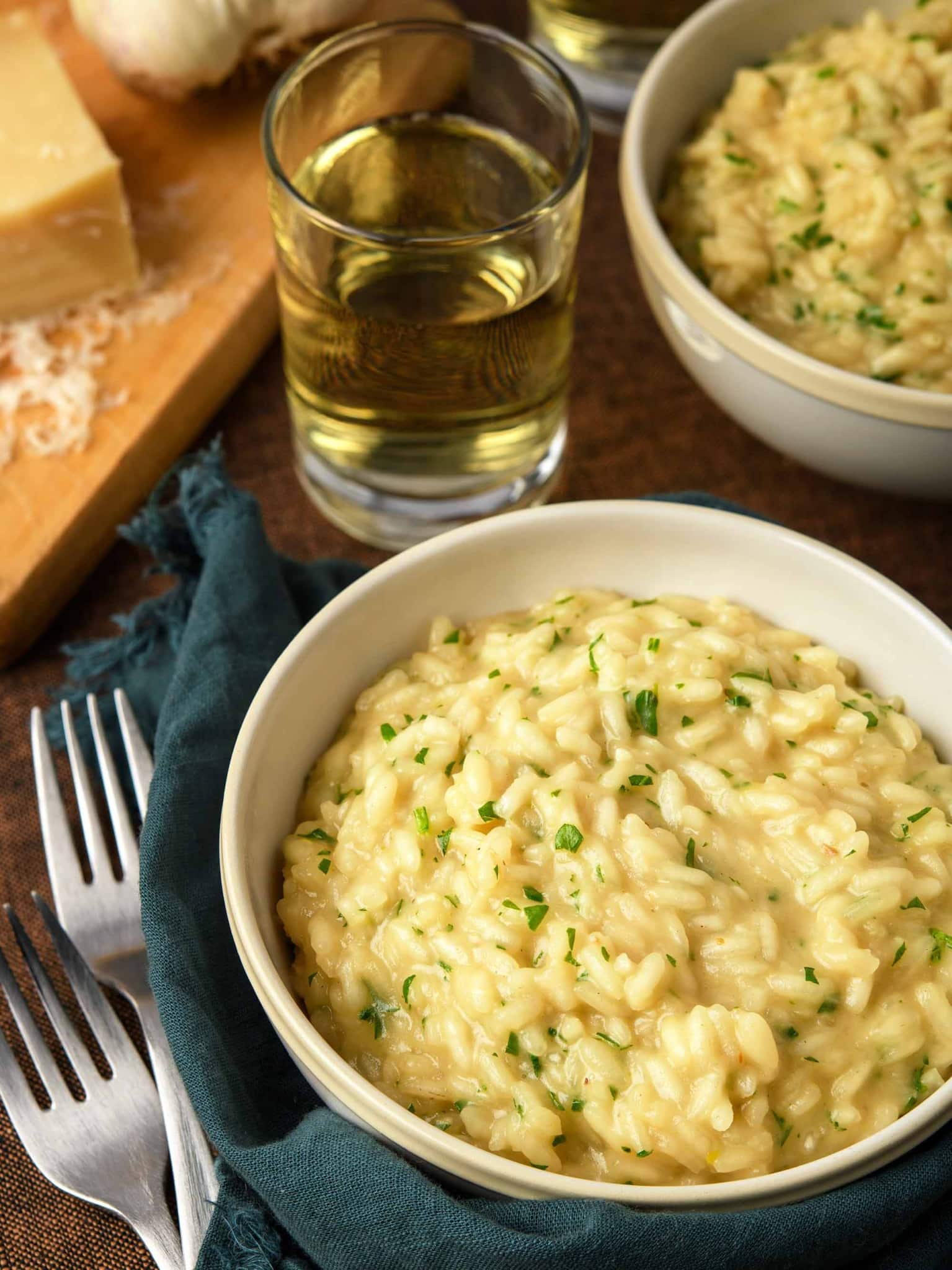 Stock Choice
You can go full vegetarian and use a vegetable stock for garlic parmesan risotto, and that's a good option. But I prefer a poultry stock: Chicken for non-hunters, pheasant, rabbit or grouse stock in my case.
This is a light-colored risotto, so if you make a mushroom stock, keep it light. Ditto for any meat stocks you might think about using.
A really cool vegetarian option in the summer: corn cobs. Yep. Make a corn cob stock! Simmer a half dozen cobs with some salt and maybe a few herbs for an hour or three, strain and use that. It adds a really nice touch — and uses a part of the corn many people throw away.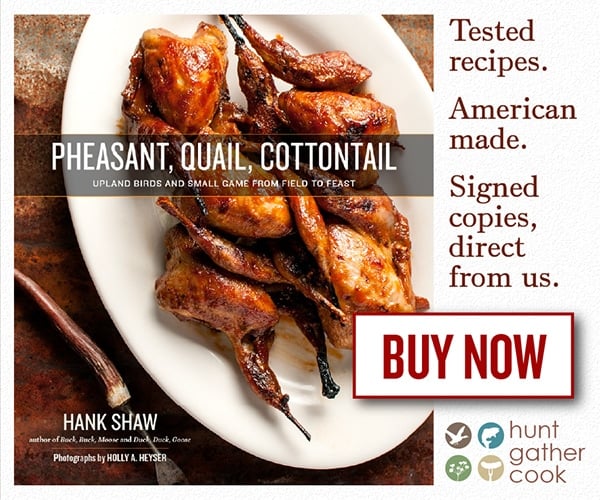 Risotto Leftovers
Should you have leftover garlic parmesan risotto, pack it into a lidded container and keep it in the fridge.
I like to take it out the next day and mix the rice with a beaten egg, then make little patties. Roll them in breadcrumbs and fry until pretty and browned in some olive oil. Serve with a lemon wedge.
It's almost better this way, actually.
If you liked this recipe, please leave a ⭐️⭐️⭐️⭐️⭐️ rating and a comment below; I'd love to hear how everything went. If you're on Instagram, share a picture and tag me at huntgathercook.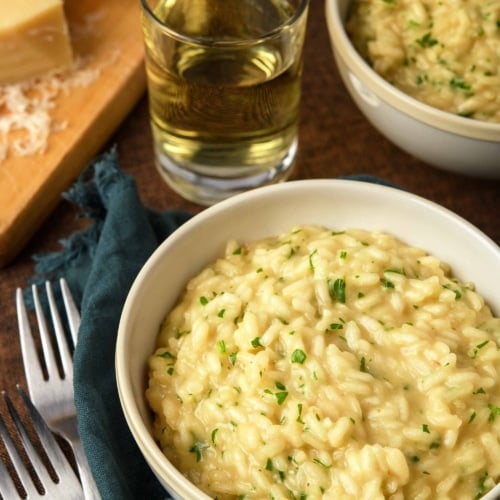 Garlic Parmesan Risotto
This is an easy risotto recipe that makes a great one-pot meal, or works well as a side with steaks, poultry or fish.
Ingredients
1

head

garlic

Olive oil for drizzling

4

tablespoons

butter,

divided

1

shallot,

minced

3

cloves

garlic,

minced

2

cups

carnaroli rice,

or other risotto rice

1/2

cup

white wine

6

cups

stock

(see above for options)

3

tablespoons

minced parsley

1/2

cup

grated parmesan cheese
Instructions
Preheat the oven to 375°F. Slice the top off the head of garlic and set it into a packet made of foil. Drizzle some olive oil over the cut part and seal the packet. Roast this in the oven for 45 minutes to 1 hour.

When the garlic is soft, squeeze it out of the husks and reserve. This step can be done up to a couple days in advance.

Heat 2 tablespoons of the butter in a pot set over medium-high heat. Sauté the shallot until soft but not browned, then add the garlic and rice. Cook this, stirring often, for a couple minutes to toast the rice.

Stir the white wine into the rice. It will be absorbed quickly. When it has almost boiled away, ladle in about 1/2 cup to 1 cup of the stock and stir that in. Let this cook, stirring often, until that has almost cooked away. Repeat with more stock, cooking and stirring, until the rice is fully cooked, but not mushy. This will take about 20 minutes or so.

When the rice is ready, stir in the rest of the butter, the parsley and the grated cheese. Let this cook about a minute or two, then serve. You want the risotto to be wet, as in you'll need it to be served in a bowl, not on a plate. If the rice is too stiff, add a little more stock or water to thin it out.
Notes
If you can't use wine in your cooking, just use more stock.
Nutrition
Calories:
408
kcal
|
Carbohydrates:
60
g
|
Protein:
12
g
|
Fat:
12
g
|
Saturated Fat:
7
g
|
Polyunsaturated Fat:
1
g
|
Monounsaturated Fat:
3
g
|
Trans Fat:
0.3
g
|
Cholesterol:
27
mg
|
Sodium:
281
mg
|
Potassium:
335
mg
|
Fiber:
2
g
|
Sugar:
1
g
|
Vitamin A:
475
IU
|
Vitamin C:
5
mg
|
Calcium:
105
mg
|
Iron:
4
mg
Nutrition information is automatically calculated, so should only be used as an approximation.